This Year's Most Stylish Christmas Jumpers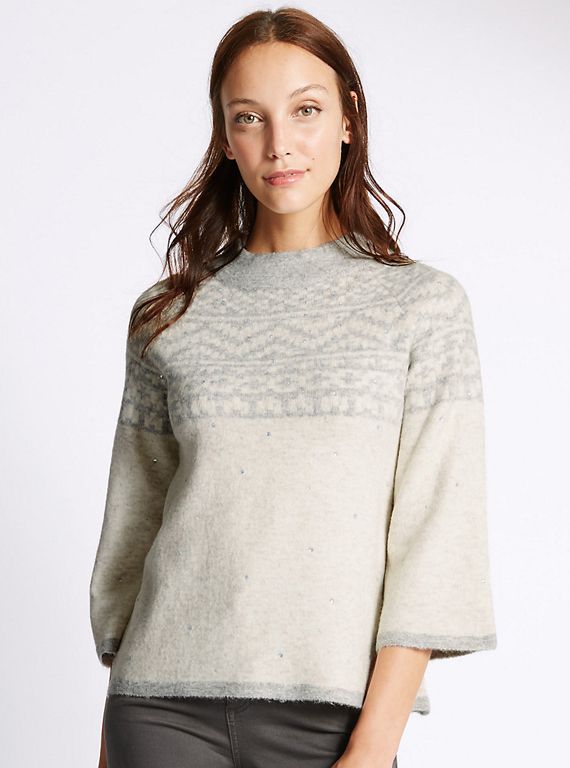 The novelty knit is over: Meet this year's most stylish Christmas jumpers.
OK, you might not typically think of yourself as a Christmas jumper person, but hear us out. Not only could donning a festive knit save lives, if you opt to support Save The Children's Christmas Jumper Day, but it could see you through sartorial dilemma after sartorial dilemma this festive season.
But banish all thoughts of Mark Darcy, tinsel-covered pom poms and unflatteringly cut knits in hideous hues right now.
That's right, the reign of the novelty jumper is officially over - at least as far as we're concerned - because the high street is packed out with rail upon rail of the most stylish knitwear we've seen this side of the North Pole. This year, it's less Santa meets explosion in a woollen mill and more classic style meets subtle sparkle…
With the likes of M&S, Warehouse and even Hobbs getting in on the act, you can be sure your favourite brand has something for you. From party-ready cold-shoulder numbers to softly shimmering fairisles and cable knits, our edit will have the most tinsel-shy amongst you feeling festive in a jiffy… Throw them over jeans in preparation to battle the Black Friday crowds or tuck them into a pencil skirt for the ultimate work-to-party look now and they'll still be cheering you up come January!
And if you're secretly yearning to don an outrageous novelty knit, but can't face becoming a laughing stock? Worry not. From George's penguins to Marks & Spencer's baubles, our high street favourites have somehow succeeded in turning our best beloved Christmas motifs from cringeworthy to classy.
Whatever your style, shape or budget, we've got the knit for you. Click through to meet your new favourite jumper…
Buy now at marksandspencer.com for £29.50
Fairisle Yoke Tunic and Hat Set, £18, George
Thanks to its subtle smattering of sequins and metallic thread detailing, this stylish jumper will get you into the spirit of things without making you feel like a Christmas bauble gone wrong. The matching hat will set you up for Christmas shopping now, and have you positively yearning to set out on that post-lunch perambulation come Christmas Day. Buy now at direct.asda.com for £18.00
Celestial Sweater, £89, Hobbs
This elegant knit will work just as well with a pencil skirt as it will with a pair of jeans. Which is lucky as, thanks to its ultra-soft cashmere-wool blend, you'll never want to take it off. Buy now at Hobbs.co.uk for £89.00
Embellished Snowflake Cable Knit Jumper, £29.50, Marks & Spencer
A modest scattering of sparkly snowflakes elevates the status of this classic cable knit jumper to festive season must-have. Buy now at marksandspencer.com for £29.50
Celyn Christmas Knit Top, £69, Coast
This adorable embellished roll neck jumper is Christmas Day perfect. Tuck it into a high-waisted midi skirt for a more grown-up feel. Buy now at coast-stores.com for £69.00
Beaded Christmas Jumper, £20, Matalan
No fairisle jumper should be without a little sparkle this season. This bejewelled beauty will take you anywhere... Buy now at Matalan.co.uk for £20.00
Poise Bead-Embellished Jumper, £140, Reiss
Dressy enough for a night out, but roomy enough to conceal the fallout from dinner, this little gem will see you right through the festive season. Buy now at Reiss.com for £140
Constellation Sweater, £89, Hobbs
Woven with metallic thread, this jumper will be your day-to-evening hero this Christmas. Dress it up with a pencil skirt, or down with jeans. Buy now at Hobbs.co.uk for £89.00
Mistletoe Christmas Jumper, £45, Warehouse
A novelty jumper you'll actually want to wear? Yep, we've found the holy grail. Who could resist those cute little pearls? Just one downside: you will have to fend off a flock of admirers determined to get you 'under the mistletoe'... Buy now at Warehouse.com for £45
Sparkle Fairisle Funnel Neck Jumper, £29.50, Marks & Spencer
This jumper's fluted sleeves make it the perfect buy for the forward of fashion. So stylish, you'll want to wear it all year round. Buy now at marksandspencer.com for £29.50
Merry Pheasant Intarsia Jumper, £79.95, Joules
Forget Santa and snowmen - if you're going to opt for a Christmas motif, a bedazzling bird is where it's at. Buy now at JohnLewis.com for £79.95
Sparkle Tie Shoulder Jumper, £45, Warehouse
If you're still not sure whether knitwear counts as partywear, allow us to introduce exhibit A. Tapping into this season's 'cold shoulder' trend, this shimmering knit will have all eyes on you... Buy now at Warehouse.co.uk for £45
Jacquard Crew Neck Jumper, £65, Biba
This dazzling jumper from legendary brand Biba will take you from work to play in an instant. Throw it on over jeans or a skirt for a failsafe injection of Christmas cheer. Buy now at houseoffraser.co.uk for £65
Bauble Beaded Crew Neck Jumper, £45, Marks & Spencer
Who knew a chest covered in baubles could look so chic? Until we set eyes on this M&S beaut, we certainly didn't... Buy now at marksandspencer.com for £45
Bow Tie Penguin Jumper, £15, George
We defy you to resist this dapper penguin. The fluffy tummy, the sequinned bow tie... Don't worry - his understated oatmeal backdrop will ensure you look sleek, rather than silly. Buy now at direct.asda.com for £15.00
Sequin Striped Jumper, £20, Matalan
There are times when we all need more than a little sparkle in our lives. This is, emphatically, one of those times. Stick to simple stripes and neutral tones, though, and you'll still look chic 'n' sleek - even if you are shining brighter than the fairy on top of the tree. Buy now at Matalan.co.uk for £20.00