23 immersion blender recipes—including soups, curries and sauces
Looking for some tasty immersion blender recipes? See our favorite easy ones rounded up below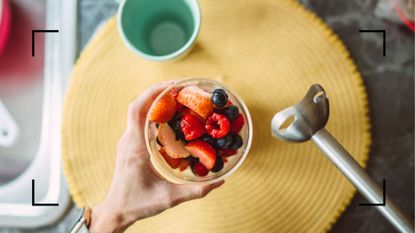 (Image credit: Future/Getty Images)
The immersion blender, also known as the stick blender or hand blender, is one of our favorite pieces of kitchen technology. So if you have one, you're probably looking to make the most of it with some fabulous immersion blender recipes.
Often overlooked, these small but mighty gadgets perform their duty in the flick of a switch, blending everything from cake ingredients to soup ingredients in mere minutes. And they're convenient too—unlike even the very best blenders, the best hand blenders are both easy and lightweight to use, and don't require you to lug out heavy appliances from your kitchen cupboards ahead of your cooking.
But if you're unsure what to make and how to make the best use out of your stick blender, it's worth noting that there are some delicious immersion blender recipes out there—from hearty soups and fresh sauces, to pâtés and spicy Indian dal—that will be ready in a cinch thanks to these brilliant gadgets.
23 easy immersion blender recipes
Soups
Typically, bigger, countertop blenders are used to make soups. But in many cases, an immersion blender (once you've figured out how to use the blender) can be much more useful when making soups, in order to easily achieve that deliciously smooth texture you're after. You can blitz nearly any kind of soup, but we often favor vegetarian recipes, as they can be blended down to incredibly smooth textures.
One of our most popular blender recipes is our healthy super greens soup (below), which makes use of antioxidant-rich veggies and nourishing stock. A hand blender is used to blitz the base of the soup before beans are added, creating a rich, hearty (and partially blended) dish that's perfect for cold winter days.
Soup immersion blender recipes:
Curries and dals
Traditionally, achieving a perfect dal consistency or an ideal curry consistency requires a whole lot of boiling and whisking. But in this instance, an immersion blender can be a handy little time-saving trick.
For a dal, taking your stick blender to your pot of lentils or chosen pulses will break down the skins to enrich the sauce and create a cohesive, well-combined and creamy texture. For a regular curry, a stick blender can also be incredibly helpful in mixing up any herbs, nuts and seasonings you want to use.
You can use an immersion blender in many recipes, but one of our favorites is our aubergine and potato curry below. You'll use your hand blender to mix up some of the most flavorful ingredients—including chilli, tumeric, and ginger, to create a delicious paste which forms the base of the meal.
Curry/dal immersion blender recipes:
Cheesecakes
A perennial favourite, cheesecakes always seem to have us coming back for more. There's always a fresh recipe to try, and for most cheesecake recipes an immersion blender can be supremely helpful in making the imminently tasty fruit topping. For instance, if a recipe calls for a fruit puree you can add this layer of fresh flavour by mixing your ingredients with a stick blender—rather than resorting to a shop-bought coulis or having to labour over pushing soft fruits through a sieve. You could even try a hand blender to help you whizz up the biscuit base ingredients too.
Cheesecake immersion blender recipes:
Sauces
From thick, rich tomato sauces, to thinner, more delicate sauces, there's a trick every cook needs up their sleeve. You guessed it; a handy little stick blender. Using an immersion blender on sauces results in a wonderfully smooth texture that will coat the other ingredients in your dish beautifully—something that isn't easily achieved without a blender.
You can use your hand blender to make our delicious seafood paella, as detailed below. The blender will be there to assist you in mix up the stock sauce into a blended, thicker sauce, that is perfect for cooking your other seafood ingredients and rice in.
Sauce immersion blender recipes:
Pâtés
While most pâtés call for a food processor, you can get similarly good results with an immersion blender. For the best finish, start slowly and move the head with the blade on it up and down until you have your desired consistency. Of course, you can make all sorts of different kinds of pâté—from duck liver to mushroom, depending on your preference and dietary requirements.
A firm favourite is our hot-smoked salmon pâté, which you can find below. This simple recipe takes just minutes to make and keeps well too. It also makes the ideal starter for a dinner party, as you won't need to spend all evening in the kitchen once your guests arrive.
Pâtés immersion blender recipes:
Smoothies/milkshakes
Of course, immersion blenders are also incredibly handy at creating deliciously silky smooth drinks too—such as milkshakes and smoothies. The mechanisms work to expertly blend your ingredients thoroughly enough, so you're left with a creation that you can easily tip into a glass and drink through a straw.
One of our favorite immersion blender milkshake recipes is the chocolate hazelnut recipe found below. And it's so incredibly easy to make too—all you need to do is drop Nutella, milk, and ice cream into a container, and whizz with your stick blender until it's at the consistency you want!
Smoothie/milkshake immersion blender recipes:
Purees
Anyone who has ever watched five minutes of MasterChef will know the value of a puree—they have the capacity to take a dish to another level of flavor. While you may not be competing to win MasterChef in your own kitchen, it can be fun to experiment with different techniques and to try something new, and a hand blender can help you create all kinds of new puree treats.
An easy way to put an impressive spin on dinner is to make your own pea puree. This really couldn't be easier with an immersion blender to hand (or in hand). We've served our pea puree with scallops and a Parmesan crust, but it also goes really well with a classic fish-and-chip dinner.
Puree immersion blender recipes:
When you're done with your recipe-making, you might also want to check out our guide to how to clean a blender, to ensure yours stays in tip-top condition. And, if you are keen to buy more items to help with your recipe making, you could also check out our guide to the best hand mixers.
Rosie Conroy is a food and drinks journalist with over a decade of experience working for big-name titles in both print and online. Formerly the Digital Food Editor of woman&home, Rosie went on to head up the team at SquareMeal, reviewing the best London restaurants and hunting out emerging culinary trends. With previous experience in food styling and recipe development, Rosie knows what to look for in a good piece of kitchenware and has extensive experience testing consumer goods—from kitchen electricalz and cooking accouterments through to new foodie treats.