The best flower delivery services to surprise your loved one with
Flower delivery services that offer vibrant, beautifully-arranged bouquets at the click of a button.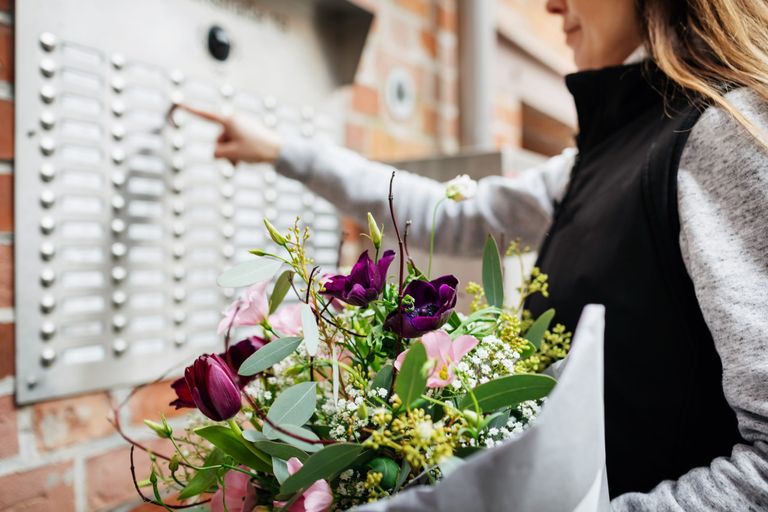 Welcome to woman&home'sonline shoppingguides, where we revealwhere to buy the most popular and top-rated products. This guide is about where to get flowers delivered online, but you may also be interested in our edits of plant delivery services, best wedding gifts, and letterbox gifts.
Is there anything more smile-inducing that receiving a bunch of blooms in the post? It's a thoughtful gift, that's actually really easy to organise - especially when you book via a flower delivery service.
Busy people rejoice, there are now tons of choices when it comes to flower delivery services offering vibrant, freshly cut flowers that will brighten up the recipient's day no end. Whatever the occasion - whether it's Valentine's Day, Mother's Day, a friend's birthday, engagement or just to let someone know you're thinking of them - there's a bunch to suit it. Flower delivery services are also great news for forgetful people, with many offering next day - or even same day - delivery to homes and offices. Phew.
We've all got better uses for our time than elbowing our way down the local supermarket aisle for a bunch of flowers, so let someone else do the hard work for you. At a click of a button, you can organise a beautiful bouquet, straight to your loved one's door. So the only question left is - which flower delivery service do you go for?
Which flower delivery service should you choose?
With so many out there to choose from, there are some key considerations:
Do you want a classic bouquet or something out of the ordinary?
How much do you want to spend?
Will you opt for an arranged bouquet or letterbox style?
Do you need next day delivery?
Our handy guide to the best flower delivery services will tell you the average price for a bouquet, what to expect and why your recipient will absolutely love them. All the florists featured deliver nationwide and offer the chance to personalise your bouquet with a special message too.
Our favourite flower delivery services in the UK
These are the woman&home team's favourite go-to flower delivery brands:
Botanical fresh flower box
£12.95, notonthehighstreet.com These beautiful letterbox flowers win the award for best value blooms (with prices from £12.95!) and they make the perfect gift to show someone you're thinking of them - or as a treat for yourself. Choose from either 'colourful' or 'natural' varieties. Price range: From £12.95 What to expect: Stunning wildflowers that offer something more modern than a classic bouquet. Why they will love them: Wild flowers are paired with fragrant botanicals like eucalyptus and lavender, meaning they'll enhance any living space in terms of both sight and scent! Next day delivery available? Not at this time, but there is 48 hour delivery available at the checkout. All flowers are delivered in 3-5 days anyway.
£28, bloomandwild.com Bloom and Wild are a firm favourite on the flower delivery service circuit, with a huge range of beautiful bouquets. Price range: £26 - £69 What to expect: Hand-packed, beautifully arranged flowers in letterbox or bouquet format Why they will love them: 1.5million people can't be wrong! They're the most-used flower delivery service in the UK, and for good reason. Flowers are vibrant, well-presented and there are so many to choose from. Next day delivery available? Yes
£20, bunches.co.uk Bunches are a fantastic, affordable flower delivery service. Classic and timeless. Price range: £14.99 - £50 What to expect: Tried and tested stem combinations Why they will love them: Family business Bunches have sold over seven million bouquets since they opened in 1989, thanks to their reasonable prices and simple, elegant bouquets. A sure-fire crowd pleaser. Next day delivery available? Yes
Hand-tied bouquet made with seasonal flowers
£35.00, interflora.co.uk Interflora is perhaps the most well-known flower delivery service in the world, with a huge network of over 1,200 florists. And for those of you who own an Alexa, sending that special bouquet couldn't be easier. You can now order flowers in an instant with Alexa Skill. Price range: £30 - £400 What to expect: A huge range of styles Why they will love them: Interflora will cater for any flower-delivery need, so you can guarantee the perfect bunch for your significant other. Next day delivery available? Yes
£60, graceandthorn.com Inventive, modern flowers and plants that show traditional floristry rules were meant to be broken. Price range: £95 - £250 What to expect: Huge, wild bouquets that are a work of art. Why they will love them: For something really special, this east London florist will definitely deliver. Perfect for that friend who favours the unusual. Next day delivery available? Yes, apart from on Sundays, but also only in the London area.
No.1 Glorious Autumn Premium Bouquet
£40, waitroseflorist.com Chris Wood is the creative mind behind the beautiful flowers at Florist by Waitrose & Partners. Price range: £25 - 100 What to expect: Classic flowers with plenty of luxurious chocolate and wine combinations Why they will love them: Waitrose is a trusted brand when it comes to quality and their extensive florist range is no exception. Teamed a bouquet up with some delicious truffles or favourite bottle of wine and you have the perfect gift. Next day delivery available? Yes
Mulberry Letterbox Flowers
£25, marksandspencer.com These aren't just any flowers, these are M&S flowers… Ok, we know that's getting old now, but on a serious note, M&S do offer a beautiful range of blooms! Price range: £20 - £50 What to expect: Timeless bouquets, beautifully presented. With a variety of letterbox options on offer, too. Why they will love them: M&S's classic, understated presentation makes for an elegant gift. Next day delivery available? Yes
£32, arenaflowers.com Arena Flowers are a new ethical flower company with some wonderfully original flower combinations. Price range: £30 - £75 What to expect: Stunning, huge bouquets delivered to your door Why they will love them: These floral arrangements are truly spectacular and will impress whoever receives them no end! Perfect for celebrating a really special occasion. Next day delivery available? Yes
was £39.99 now £24.99, prestigeflowers.co.uk Prestige offer well-presented bouquets with speedy same-day delivery in some cases. Price range: £20-£170 What to expect Colourful arrangements with extra special treats. Why they will love them: The brand offers a variety of well put-together arrangements, which look high-end. Many also come with extras, like chocolates. Next day delivery available? Yes, and same day.
from £50, hauteflorist.co.uk Price range: £35 - £100 What to expect: Beautiful, intricate arrangements which will no doubt impress a loved one. Why they will love them: These are perfect for occasions with unique colour combinations and designs. Next day delivery available? Yes