This 25% off Black Friday electric scooter discount is big enough to get me over my fear of looking like an idiot
I'll be zipping around in no time with this amazing Black Friday electric scooter deal – so who cares about age?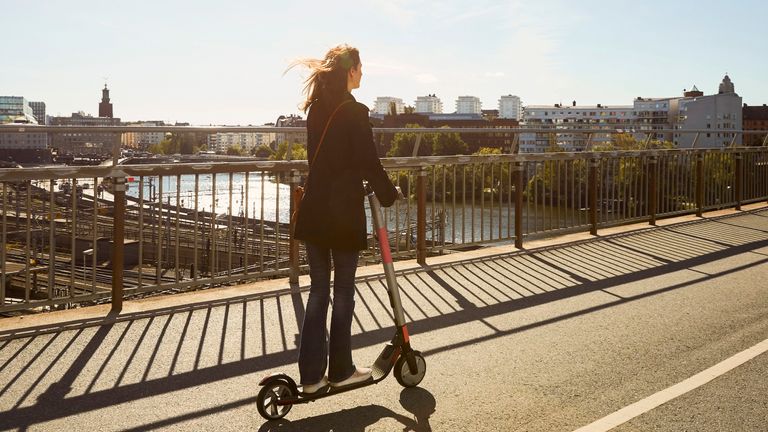 (Image credit: Getty Images / Maskot)
Fancy an amazing Black Friday electric scooter deal? I know I do. But, if I'm being honest, I was a little hesitant about it at first. The main doubt that was plaguing my mind was whether or not I would look like a complete idiot zipping across town on one. But when it comes to electric scooters this is the ideal time to buy, thanks to some of the best Black Friday deals around right now.
I've been harbouring the idea of buying an electric scooter for a while now. In fact, if I'm being completely honest I can pinpoint the exact moment when I knew I wanted one. A few weeks ago, I saw my neighbour, Steve, zooming towards me on his way home from work. Steve's quite a big fella, but that day he had the grace of a swan gliding across crystal clear water. Two things popped into my head immediately after seeing him. 1). I bet that makes his commute home half the time. 2). I want one.
But there have been a couple of things holding me back. Firstly, the price. For an adult-sized, sturdy model, like the Iconbit Tracer Street Electric 350w Motor Kick Scooter that I'm going to get, you have to expect to pay a few hundred pounds. But, seeing as safety is so important, it's worth buying something at the top of your budget to make sure you don't put yourself in danger.
The other thing holding me back is my age. While kids look great on scooters, I was worried I would look like a fool. Or, more accurately, an old fool. But after seeing Steve, who definitely has a couple of decades on me, I've started to realise that age isn't a factor when it comes to electric scooters.
See the full deal below. But, be warned, this discount is too good to miss so won't be around for long!
Iconbit Tracer Street Electric 350w Motor Kick Scooter: £299.99 £224.99 (save 25%) | Amazon
Save £75 This bargain buy has a 350 Watt motor to help you reach speeds of up to 20Km/h. There is a clear, colourful display to let you know how fast you are going, although the 8-inch rubber wheels ensure a smooth ride, however quickly you are travelling. There is both an electric brake, and manual one, which is good news for safety, plus it's lightweight, so ideal to carry about.
For a while I considered buying an e-bike. Just as I felt it was more age appropriate. However, I soon came to the conclusion that I had no room to store it in my house. An electric scooter, like this one, folds away neatly – so it won't get in the way.
I can't wait to try it out. I hope I look as smooth and effortless as Steve. And, even if I don't, if it means I cut my commute time down then that's a big win for me!
Happy shopping!
Faye M Smith is an award-winning journalist with over 15 years experience in the magazine industry. Her continued work in the area of natural health won her the coveted title of theHealth Food Manufacturers' Association (HFMA) Journalist of the Year Award 2021.
Currently Acting Health Editor across several brands including woman&home, Woman and Woman's Own, Faye specialises in writing about mental health, the menopause, and sex and relationships. In fact, having previously been the go-to sex columnist for Now magazine, there isn't much she won't discuss when it comes to women's health. This makes her the best person to review must-buy sex toys, describe how to have a mind-blowing orgasm or explain how to navigate sex in the shower without it ending in a medical emergency.
While not anti-gym, Faye's fitness routine is more focussed on finding inner balance rather than burning excess calories. An advocate of mindfulness, she loves power breathing, yoga and plenty of walking in nearby woodlands rather than a sweaty HIIT class. Follow her @fayetuned