The best Uniqlo Black Friday deals worth shopping right now
These are some of the best Uniqlo Black Friday sales we've spotted, to help you bolster your capsule wardrobe for less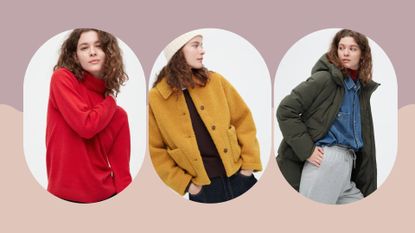 (Image credit: Uniqlo)
The Uniqlo Black Friday sale is in full swing and there are plenty of key wardrobe essentials on offer to get your closet set up for the season ahead.
Although Black Friday has officially ended, you can still enjoy Uniqlo Black Friday offers over the weekend, as this period is coined 'Cyber Weekend', and is packed full of great discounts for shoppers to continue to enjoy. This year Uniqlo in the UK has dedicated a page on its website to its Uniqlo Black Friday offers (opens in new tab) and have also named the period 'Kanshasai Festival', a time of giving back to customers. In the US, the Uniqlo website the brand has called the same period Arigato (Thank You) Event and the website details giveaways and incentives for customers that are running until the end of the weekend (27th November)
With the Uniqlo Black Friday sales ongoing, there are some fantastic offers to be snapped up. With the brand offering discounts on some of its most classic and timeless pieces, including money off cashmere sweaters and reductions to its seamless down jackets - which are some of the best winter coats on the market. Uniqlo is the place to shop for capsule wardrobe staples, and the Uniqlo Black Friday sales will get you set up for the season for less.
The best Uniqlo Black Friday deals in the UK
Best Uniqlo deals currently available in the UK
Best offers in the US ahead of the official Uniqlo Black Friday sale
These are the best Uniqlo pieces we've identified on offer right now in the US, at the best prices. The Uniqlo site doesn't specify exactly how much these items are discounted by, but we genuinely feel that these are great prices for the products - and therefore worth your money.
Best Uniqlo deals currently available in the US
How long will the Uniqlo Black Friday sale last?
In the UK, Uniqlo will run various discounts between 24 November to 4 December in a combination of Black Friday, Cyber Monday and 'Kanshasai' offers. The brand's Black Friday offers launched on 24 November, and run until 27 November, meaning offers are live from Black Friday and over 'Cyber Weekend'. Then, the online-exclusive Cyber Monday deals launch on 28 November. So, if you see something you like, it's worth snapping it up right away. However as part of the Kanshasai Festival, the website states that there will be offers run until the 4 December, although they have not revealed exactly what these will be.
Meanwhile, in the US offers run from 23 November until 27 November, then from 28 November until 4 December, the retailer's 'Cyber Monday all week' offers will run, so there are lots of opportunities to grab a deal.
Will Uniqlo have a Cyber Monday sale?
Uniqlo Cyber Monday sale will start on the 28 November. Although Cyber Monday is only one day and always falls the first Monday after Black Friday as a culmination to the sale period, Uniqlo has revealed online that they will continue to have offers in the UK until the 4th of December as part of its Kanshasai Festival. In the US, Uniqlo Cyber Monday deals will launch on the 28 November and last until the 4 December in a week long event as part of its Arigato event. Both events aim to show appreciation to customers.
How much does Uniqlo shipping cost?
In the US, Uniqlo's standard shipping fee is $7.99, which takes 5-7 business days, but offers free, in-store pickup on all orders. Priority shipping takes 3-4 business days and costs $17, while express shipping is $22 and will take 2-3 business days.
In the UK, Uniqlo orders are free to collect from in-store pick-up, and can be ready the next day as long as you order before midnight. However if you want it delivered to your door, prices vary. For standard delivery, which is 2-4 days it costs £3.95, however this is free for orders over £50. For express delivery - if you want your shopping in 1-3 working days, the cost is a flat £4.95, however much you spend. To collect from a local parcel shop the cost is £2.95. To get your item in the post as soon as possible, make sure to order by 6pm as that is the cut off time, Monday to Thursday. Orders placed after 6pm Friday-Sunday will be shipped on the next working day.
Does Uniqlo offer refunds?
Online orders in the US can only be returned via post and not in person in-store. There is a 30-day window for items to be returned and a $7 associated fee that will be deducted from your refund for the return label fee to cover the associated costs of the return. Shipping fees are, as standard, not refunded, and alteration fees are also not refundable. Take care when buying items marked as Final Sale as these are also not eligible for a refund.
In the UK items bought online can also not be returned in store and must be returned via post. There is a 28-day window for returns. There is a £2.95 return shipping fee to cover associated returns costs, which will be collected from your refund amount. All returned items must be returned in a resalable condition including the original packaging, tags and/or labels.
What Uniqlo products were on sale last year?
There were some great savings to be found at Uniqlo during last year's Black Friday sales.
In the UK, customers snapped up amazing deals on cashmere and coats, perfect items to purchase as we head deep into winter months. With luxurious and classic knitwear, it's the ideal time to get some Christmas present-buying done too.
Meanwhile, in the US, customers could save to 70% off selected items in the Uniqlo black Friday sale, with sweatshirts retailing for under $29, t-shirts starting from $5.90, selected outerwear and blazers selling for under $20 and jeans for under $30.
Rivkie is a fashion editor, writer and stylist with over fifteen years' experience in the industry. Having studied design and pattern cutting at the London College of Fashion, Rivkie fell in love with styling and journalism, covering fashion weeks in London, Paris and New York.
Specialising in plus size fashion, Rivkie has long championed that style is for everyBODY and has been a regular talking head on a host of radio stations and television shows, pushing for greater representation for plus size women and fashion throughout her career.