The Most Flattering Fashion Buys On The High Street This April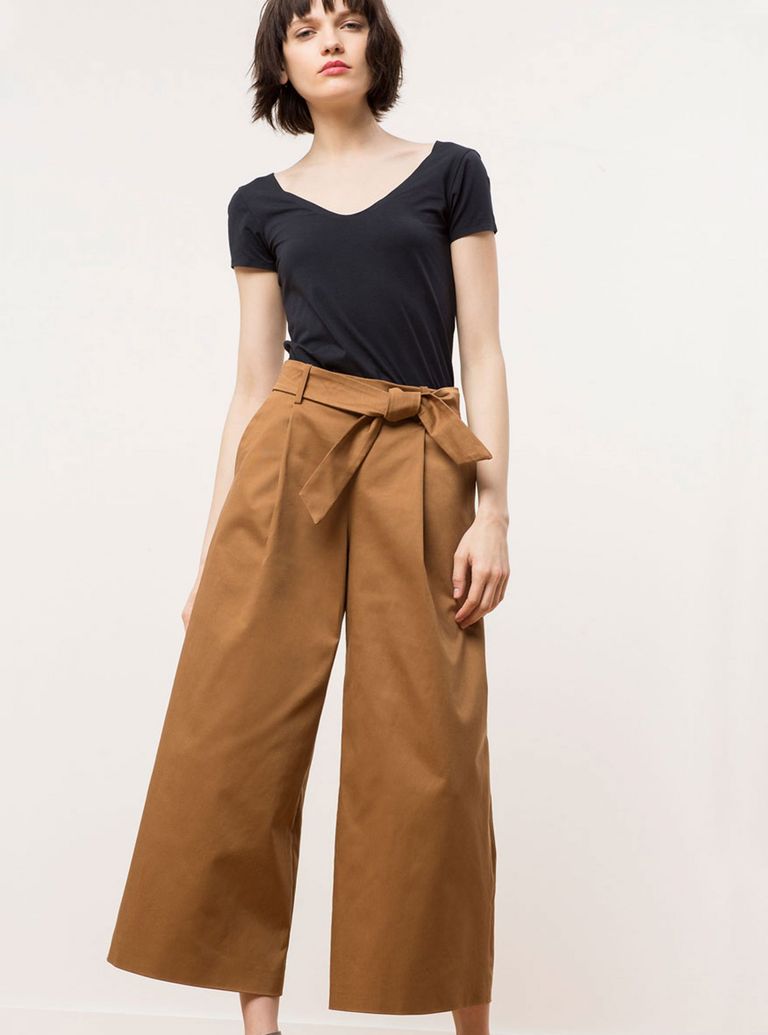 We show you the essential items that will flatter your figure no matter your body shape...
As much as we love retail therapy, shopping can often be stressful. We can spend hours and hours in the fitting rooms, twirling in front of the mirror, wondering whether that dress suits us or whether those jeans make our bum look big. It can be difficult to know which are the most flattering shapes on us, and how to wear them so that we will look and feel great.
But shopping doesn't have to be this stressful, as you can go out knowing what shapes will always make you look fabulous. There are certain essential items that will flatter any figure, no matter what your body shape is, so you can always look your best. These key items use draping, pattern, dark colours and length to streamline your body and hide any insecurities you might have. Whether you're insecure about your stomach, legs, chest or arms, we know just the right shapes to flatter your figure. We know you'll look gorgeous in whatever you wear, but the most important thing about dressing yourself is feeling confident. Confidence radiates and makes you look EVEN better!
Start with a great pair of wide leg trousers. The style will suit any body shape - their tailoring ensures you will look structured, but still floaty and feminine. Opt for a lighter shade ready for summer - we love these culottes from Uterque. Oh, and don't be afraid of a shorter length - culottes are extremely flattering, especially when paired with some leg-lengthening heels.
Click through for more easy, beautiful clothes that will always flatter...
Hobbs dress, £249
A shirt dress is the holy grail of figre-flattering buys; it's easy to wear, comfortable and suits every shape. We adore this monochrome style from Hobbs - it's just the right length, and can be worn all year round. Cinch in your waist with the self-tie belt, or keep it loose and opt for a more flattering style.
Reiss blouse, £145
The draping on this blouse will flatter a bustier chest, but the delicacy of the materials would also look fab on those will smaller breasts. This elegant cream blouse from Reiss is also extremely versatile; dress it down with jeans or pair with a pencil skirt for a glamorous evening look.
Zara shirt dress, £49.99
In addition to being the style of the season, the belted shirt dress is so flattering. A classic style that won't date, we love this Zara option. Keep it simple and pair with a biker jacket and comfy brogue shoes.
NYDJ Marilyn Jeans, £139.95
A great pair of jeans are the ultimate in laid-back style. Opt for a straight-leg style that are comortable and are extremely flattering; not so tight-fitting that they cling to your lumps and bumps, but not too baggy that they'll make you look frumpy. NYDJ make great styles that will withstand the trends.
French Connection oversized trench coat, £180
An oversized coat is a great cover-up, but sometimes they can drown us and aren't particularly flattering. However, a belted number such as this charcoal coat from French Connection will cinch in your waist, helping you show off those curves whilst still keeping out the spring chill.
Wallis Bardot Dress, £55
A shift dress will truly flatter any figure; it will hide any insecurities whilst also being structured and pretty. This lace dress from Wallis is the style to be seen in this season thanks to the Bardot-style neckline, and the nipped-in waist will give you the figure you've always dreamed of.
Coast skirt, £89
Never underestimate the power of a midi skirt - the style is incredibly flattering for all shapes, thanks to the slightly below-knee length and high-waist fit that slims the torso. This Coast style is perfect for those who want to minimise hips, too, thanks to the side striped that give the illusion of a simmer frame.