How to successfully sell clothes on Depop: Tips from Depop insiders
We asked insiders and top sellers about how to sell on Depop and they shared their secrets and top Depop tips on how to make money from the social commerce app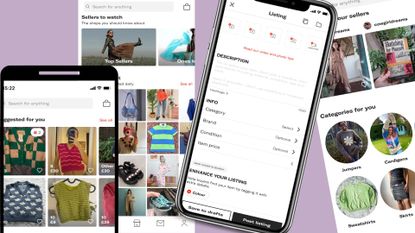 (Image credit: Depop)
To get the best advice on how to sell on Depop successfully, we reached out to some of the social commerce platform's top sellers, as well as insiders from the brand, who shared their top Depop tips and secrets for making money by selling clothes on the app.
If you have a pile of old clothes you've decided you want to find a new home for, Depop is one of the most well-known and successful apps to sell clothes and pre-loved items online.
First launched in 2011, Depop was revolutionary when it first launched, as it allowed its users to customize their profiles and build a following - much like a social media account - in order to attract more potential customers. The easy messaging function on the app also made it easier for buyers and sellers to connect, make offers on items, and negotiate deals (such as 'bundles', where several items are sold at once for a special price) with each other.
There are now over 26 million registered users on Depop and the app has become a lucrative source of income for some sellers, who have mastered how to sell clothes online for profit (so much so that some have even quit their jobs to sell on the platform full time).
With up to 140,000 new listings going up on the app every day, it may seem daunting, or even impossible, for new sellers on the platform to get items noticed and get to grips with how to sell on Depop like the pros. This is what top sellers, insiders and people who work at Depop had to say...
How to sell on Depop successfully
So, you've made the decision to start a Depop 'shop' and you've got an idea of some of the items you want to sell, but you might be wondering how you're going to make the most out of your items and ensure that they're sold.
With so many new items listed every day, you can literally shop for anything on Depop. The search function allows shoppers to search specific brands and items, while the homepage will show you 'suggested for you' items based on your likes, as well as popular categories that can be easily browsed. Despite the many different items sold on Depop, there are factors that are consistent across categories if you want to sell on Depop successfully.
Firstly, from top sellers to those who work at Depop, everyone we spoke to about selling on the platform had the same top piece of advice: take good photos. The image you attach to your listing is the first thing potential buyers will look at - likely before they look at the caption or description - so this really is the most important part of the process.
Another integral factor to selling on Depop successfully is to make sure the descriptions that you upload alongside your photos are accurate and as detailed as possible. Depop seller Hannah May Atkins (opens in new tab) explained to woman&home that sellers should, "list the relevant information, like the material composition and measurements: people often want to know these things, and the fewer steps they need to take before a purchase, the more likely they are to buy."
How do you increase your chances of selling on Depop?
You will increase your chances of selling on Depop if you are consistent with your listings and can dedicate time to building your profile and conversations with fellow sellers and buyers on the platform.
Posting several items at once will bring a level of credibility to your profile and encourage potential buyers to follow your account so they can see more of your items in the future. Depop's spokesperson told us exclusively that you should always "start with listing a few items as opposed to just one, and make sure your descriptions are accurate and detailed so that buyers can find your listing".
Helen Diamond (opens in new tab), 34, is a top seller who also works for Depop, and she echoes this sentiment. "Be consistent," Diamond says, as "the more you list, the more you sell, so stay active on the app and keep your followers interested."
Another key factor to selling on Depop is getting positive reviews. Getting a positive review can be as simple as selling a good quality items that matches the photos and description you put online, or shipping items punctually and being friendly and communicative with others on the app can also help you gain higher ratings and better reviews too.
What sells the most on Depop?
Depop told us that there are a few categories that always sell particularly well on the platform, with "vintage streetwear" proving "extremely popular" at the moment. "Buyers are searching for classic brands such as Nike, Adidas, Stussy, Carharrt and New Balance," Depop told us.
"Y2K style is another very popular category", our insider also revealed. "Items inspired by the style of the 2000s such as baby tees, beaded necklaces and midi skirts are steadily selling well. We also see consistent interest for one-of-a-kind and customized items, as well as garments that are hand-made or upcycled from existing pieces".
Depop seller Helen Diamond tells us that staple brands such as "Nike and Zara" will always perform well, but also notes that "different things sell well for different shops - knowing your followers is key". In other words, don't be confined to the brands, categories and trends you think will sell the best on Depop, and find a niche within your items that will attract potential buyers and followers.
How do I get my items noticed on Depop?
Other than making sure your photos are the highest quality they can be, a solid description will get your items noticed no matter how many followers you have. Most people will use the search function to look for the items they want, so think about what you would search for if you were looking for the item you're selling.
"Add keywords in your item description", our Depop insider said, explaining that you should consider adding detail such as, "Does it have zips, buttons or embellishments? What material is it made of? Is it vintage, handmade or preloved?"
Seller Helen told us that "running a sale via Depop's discount system" - which can be done by selecting a lower price (opens in new tab) on any of your items, or even your whole shop - "can be a really useful way to get a bit more traction."
Depop seller Echo Ladd (opens in new tab), 51, from Washington added that, "if your item is sitting without selling for a month or so, repost it. You will lose likes and/or comments, but those don't sell. Start fresh, and the algorithm will see it as a new item, which is always a plus."
While a social media following isn't necessary to start selling on Depop - as your items can easily be found with the search function - Helen Diamond explained that "using TikTok and Instagram to showcase your items can be a huge tool [to get noticed] and it's fun to get creative in making content. Be your own brand ambassador!" New users could make videos in which they showcase the new clothes they're uploading to Depop, and some Depop users even offer a discount on items if the buyer follows them on Instagram.
Common reasons why your clothes aren't selling well on Depop
If you're struggling to sell your items, there could be a couple of things that might be slowing down your progress. We asked top sellers and a Depop spokesperson what common mistakes people might be making when it comes to selling on Depop, and they gave us some even more great advice…
Don't commit the crime of 'spam tagging': Atkins explains that "this is where the seller puts loads of tags in their description, to try and maximise the reach of the item. While this seems like a good idea, the Depop algorithm actually doesn't respond well to this, and it can mean your item gets lost. Instead, choose five good, relevant tags, and you're more likely to reach the people who are looking for what you're selling."
Consider lowering the price of your items: One of the main draws of Depop is that you can often find high-quality, vintage and pre-loved items for a better price than what you might see in a vintage shop or market. Make sure your prices are competitive and if you are open to offers from buyers on the item you're selling, make this known in the description as it removes that hurdle of the potential buyer having to go back and forth on prices.
Choose your moment and think rationally about offers: That said, don't accept offers that you think are less than the item is worth, and always do your research, not just on the price your item is selling for elsewhere, but how many other users are selling the same thing. Echo Ladd says that "if the market is saturated with an item, I'll often put it away until the next year, or be prepared to take a big loss if it does sell".
Offer free shipping: You can also offer free shipping to help seal the deal - just remember to bear this in mind when setting the price of your item and calculating what your profit will be from the sale.
Top tips for selling on Depop in 2023 from people who have made over $2,600
We spoke to top sellers on Depop (defined by Depop as someone selling 50+ items at an average of £15/$20 (opens in new tab), or someone who's sold items for £2,000/$2,6000 and above, for four consecutive months) to find out their top tips for selling on the platform in 2023.
1. Photos are everything
The most-repeated piece of advice we received from the top sellers we spoke to was that clear, well-taken photos are possibly the most important factor when selling on Depop. If you're taking photos inside, Echo Ladd says that finding a "background that's light in color and not busy" is the way to go. "Don't take any attention from the item", Ladd says, adding: "Sellers often find cute backgrounds, but you aren't selling a background, so focus on the item."
Both Ladd and Hannah May Atkins agree that photos should be taken on a model if possible, rather than simply laying the item flat on a surface or draping it onto a mannequin, as potential buyers will be able to see how the clothes fit on a real person.
"There are a few really simple ways to maximise the quality of your photos", Atkins tells us. "First, good light: I always find that natural daylight is the best way to capture a photo, and gives the most accurate representation of clothes."
While it may sound obvious, Atkins also recommends "washing and ironing your clothes, so that they look 'fresher' in your photos."
"Making your photos look consistent," she adds, "will also add to the overall cohesion and professionalism of your page, and this is important to grab the attention of a potential buyer when they click on your shop."
2. Consistency is key
So you've got the items you want to sell, you've taken great photos, and you've nailed the description to go alongside the listing. But equally important if you want to successfully build a following and get your items noticed - racking up purchases and glowing reviews as you go - is being consistent with your profile. Helen Diamond tells us that "if you have 20 items to list, concentrate on the busiest times for the app. Think Sunday evenings for maximum scrolling time!" Once you've bulk-listed your items at a popular time for customers, Diamond recommends "drip-feeding the rest across the week, meaning there'll always be new items for your followers to see."
Echo Ladd agrees, explaining that "one of the main keys to success on Depop is posting every single solitary day, and staying active with your customers."
"I think Depop has an algorithm that the more you post the more they will get your things up and active," Ladd says. So it pays off to make sure you're consistently posting items and that you have a strategic approach to your shop.
3. Don't be afraid to jump on shopping trends
Staying on top of the latest fashion trends isn't just beneficial to your personal wardrobe, it'll also give you an edge when you're selling clothes on Depop. Have a look at what's selling well on the app by browsing your homepage, and peruse other platforms such as Instagram and TikTok to see what influencers and people you follow are wearing at the moment, to grab inspiration as to what you should be listing on Depop.
Helen Diamond claims this is one of the best ways to sell successfully on Depop, telling us that users should "keep up to date with shopping trends - jumping onto a current fashion moment like Cottagecore or Dark Academia style can be really lucrative."
4. Find your personal style
As much as it can be lucrative to cater to a certain market on Depop, all the top sellers we spoke to claimed that it was just as important to carve out your niche as a seller. Hannah May Atkins tells us that the first piece of advice she gives new Depop sellers is to "sell something you're passionate about", adding, "When I started, I was selling what was popular, but I was never engaged with that style and that meant I wasn't maximising my success because I was never ahead of the curve." She explains that, "Once I moved to items that more closely resembled my personal style, I found that my passion and enthusiasm for that look naturally filtered through to my shop and connected better with customers."
Helen Diamond agrees, advising new Depop users to "find your tribe - my followers for example are into '90s-2000s women's vintage, film cameras and quirky high street items like Zara sweater vests, Joanie slogan jumpers and Miista footwear."
Echo Ladd, on the other hand, found her niche "selling restored vintage Dr. Martens. There were so many nice shoes out there that just needed some attention, and maybe new laces or insoles, and I just had a lot of fun bringing life back into such a solidly made shoe." Her advice for new sellers? "Don't obsess over other people's shops, because yours will be unique. Find a style you like and stick with it." Finding a particular style that appeals to you is key to growing a dedicated community of followers on the platform.
5. Treat potential buyers with respect and kindness
Lastly, one of the most important things to keep in mind when selling on Depop is to treat your customers, followers and potential new customers with respect. This includes being transparent in the descriptions of your items, as Hannah May Atkins tells us: "It's important to be transparent about the faults of the item, since this will minimise complaints and help customers to have accurate expectations. There's no point selling something for a bit more at the expense of a bad review, a return, or an unhappy customer."
Maintaining positive relationships with your customers and potential customers is also key to ensuring further purchases are made. "Positive reviews from other buyers and sellers will help build your profile, so make sure to ship items on time and be friendly and communicative," a spokesperson for Depop advises. Echo Ladd goes one step further when communicating with her customers: "I try and treat everyone I interact with on Depop like they are friends that I am selling to. I ship quickly because I know I love my purchases to arrive sooner rather than later, and I send thank you notes with a little gift - maybe a pair of socks with shoes, something like that." These small gestures will secure positive reviews and happy customers, which in turn betters your chances of building a follower base.
Hannah is the UK Shopping Writer for woman&home. As a shopping writer, Hannah has written on everything from period pants to wine subscriptions, and is especially interested in sustainable alternatives to well-known products, as well as books and homeware accessories.
Before she joined the team at woman&home Hannah headed up the social media accounts for Wonderland in 2019, where she was also a Contributing Editor for the magazine's sister titles. During the COVID-19 pandemic, Hannah also explored evolving shopping trends at New York Magazine's The Strategist UK, researching everything from face masks to status candles and even pens.