Best wedding gifts—unique ideas for every type of couple that will be appreciated more than cash
Expert advice on how to pick the best wedding gifts, plus perfect present ideas from recently-married couples themselves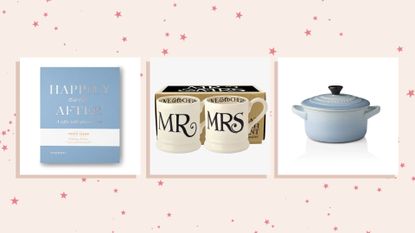 (Image credit: Future)
Contributions from
Picking out the best wedding gifts for couples who have just tied the knot is a challenging task, especially if you're invited to multiple weddings in one year and have numerous people to buy for.
Our roundup of the best wedding gifts features a selection of products that are etiquette expert-approved, will appeal to all sorts of different couples, as well as universally crowd-pleasing options that are budget-friendly yet brilliant.
All of the products in our guide have been selected or suggested by recently-married couples themselves, or tried and tested by the woman&home product specialists, so you know that whichever wedding gift you choose you'll be on to a winner and picking the best gifts for couples to mark the biggest day of their lives.
Where to buy the best wedding gifts in the UK
The best wedding gifts to buy in 2022
From personalised prints to useful home gadgets, these are our best weddings gifts picks for newlyweds...
---
---
---
---
---
---
---
---
---
---
---
---
---
---
---
---
---
---
---
---
What do you need to consider when buying a wedding gift?
There are a few important things to take into account when considering different wedding gift ideas and what to buy:
The personal taste of the couple - it's important to take into account what you know the couple like in general, and their taste when it comes to their home and personal style. If they generally favour more practical, stylish items, perhaps shy away from buying anything that might potentially clash with their home decor. Or, if you know they love travel, or food, buying them a gift that aligns with those passions could be a brilliant option—and the above list of gifts are things they'd likely never buy themselves!
Your budget - Don't push yourself outside of your financial comfort zone for the sake of a wedding gift—always only pay for what you can afford. It's also key to consider how close you are to the couple. If they are only distant friends, don't put yourself under pressure to spend a fortune, just for the sake of keeping up appearances.
How long the couple have been together and whether they've lived together before - This is so important when considering wedding gift ideas, as the couple may have all they need for their home if they've been living together for some years, but really cherish a gift that buys them quality time together. On the other hand, a couple who has recently moved home will really appreciate any contributions towards their new pad - as well as know that moving house is an expensive business.
We spoke to wedding and British etiquette expert Jo Bryant (jobryant.com (opens in new tab)), who explained that sometimes, it can actually be helpful to buy the couple an upgrade to products—such as a kettle or coffee machine—that they may have bought on a budget many years ago!
She explained, "Sometimes a wedding if a chance for a couple to have a bit of an upgrade with their things, so buying them a very nice toaster, for example, could actually be a brilliant idea, even if they already have one."
Jo also answered some of the most common wedding gift idea questions for us, too hopefully soothing any of the wedding gift anxiety you may be feeling and will make it easier to know what to select from our best wedding gifts ideas edit...
What makes a good wedding gift for couples who have everything?
"If a couple is truly established in terms of practical home and kitchenware, they may not not want extra clutter in their lives, in which case, an experience might be a better gift," suggests entrepreneur and founder of Buy Me Once (opens in new tab) wedding registry service Tara Button.
"This could be offering to pay for a couple's massage or adventure on their honeymoon, or offering tickets to an event that you can attend along with them on their return from honeymoon. Either way, it's an excellent opportunity to create memories for them. If you know their taste well enough, you might want to consider a personalised piece of art. My sister had one of my wedding pictures turned into a cartoon which is great fun to look at and helps us remember the day."
Do I always have to buy something from the couple's wish list, or can I get something else I think they'd like?
"If you are looking at the list and you can't afford something, then you can buy your own present for the couple—I think that's fine," says Jo Bryant. "As a couple, if you are writing a list for your wedding, you need to make sure you have a list with a really wide price range."
Tara agrees although adds: "A wedding list is a great guide to what a couple really wants in their future lives together, so it's always worth looking at the list seriously first to see if any of the presents resonate with you."
She cautions, "Also, make sure that you don't buy a different version of something they already have on their list. For example, if they have chosen a certain style of lamp or toaster, don't buy them your own version as it may not fit in with their vision for their home."
Am I sure they don't already have one?
Am I sure they will use / enjoy it regularly?
Am I sure the style will fit their taste?
If the answer is yes to the above, then go for it. Taste may be the trickiest one, but a look at their wedding list should give a clear indication of the type of style they like.
When should you give a couple their wedding gift?
"Practically, it can be a real pain if you turn up on the wedding day itself with presents, especially if you're in a public venue, as they've got to find somewhere safe for them," says Jo. "So, sometimes I recommend that you take a card on the day that says 'present to follow', so they can enjoy it after the honeymoon, or after the wedding. It's actually not that common to turn up to a wedding with a gift now. Because it usually does end up falling to someone in the family to remember them for the couple on the day."
"You used to send your thank you letters for your gift before the day. If you want to send your present before the wedding to make sure it gets there in time, I think it depends how superstitious you feel. In the same way that some people don't like receiving baby presents before the safe delivery of a healthy child. But I think it's usually best to wait until after—and it's usually something nice to look forward to!"
If a couple has asked for cash, do you think it's still okay to get them a present instead?
"I think that may be up to the couple to make clear," says Jo. "If you've got more traditional people on your guest list, perhaps people of an older generation, they might appreciate having a few presents on the list. But sometimes, people do have targeted things they want to save up for—a new sofa, an extension to their house etc. I think it's nice to share that if that's the case, so people know you won't just be heading down to the local on a Friday night to spend it!"
Tara adds: "It's worth taking the wishes of the couple seriously, as it could be they do not want more items in their home. Clutter and excess items can cause stress and unwanted presents can give a couple a feeling of guilt - they don't want the item, but don't feel they can give it away as it was a present."
"If however, you know the couple well enough that they would adore what you have chosen for them and the present would have significant meaning for them, then go for it. However, I'd warn them first, if you get significant pushback on buying a physical item, then go with their wishes."
How much should I spend on a wedding gift?
"I think it does depend on how well you know the person," says Jo. "I'd say go for a bit lower than you'd normally spend if you don't know the person all too well. But I think if you do know them very well and you're close, I'd say err on the side of generosity. I think you have to switch it round in your head and say, if it was my wedding, how would I feel if I got this gift from this person? That's always a good litmus test. Also, compare it to what they got you, if you're already married!"
Tara suggests, "If cash is tight, but you're keen to make a big impression with your present, then it's all about making your gift as personal and meaningful as possible. When I was rather skint, one thing I liked to do is to design the text of a reading or poem from the couple's wedding ceremony in an attractive way and then buy a frame I could afford (you can even get nice frames from charity shops and replace the picture). This created a personalised memory for them."
Is it okay to split the price of a gift between friends?
"I think that's fine. Because sometimes, if you're not doing that, it can feel like you're just buying a bit of rubbish that might get lost in their house they'll forget about. Whereas if you've got a good group of friends and it's not going to cause any rows—they're all willing to spend the same—I think it's totally fine for people to join together to buy a more significant item, or the more pricier item that a couple might really treasure."
Tara agrees adding, "If this allows you to get something you know that the couple will really like, rather than several gifts that may not be ideal, then I would say clubbing together is preferable."
However, Tara also adds a note of caution to whoever has been given the responsibility of organising the best wedding gifts for the big day: "Just a note of caution; It's important that everyone clubbing together is firmly agreed on what the present is and how much it will cost each person. Make sure you can trust the people you're splitting with and, if you are the one buying the present, get the cash in advance of buying the present so you don't end up out of pocket."
Aleesha is a digital shopping writer at woman&home—so whether you're looking for beauty, fashion, health or home buys, she knows what the best buys are at any moment. She earned an MA in Magazine Journalism from City, University of London in 2017 and has since worked with a number of brands including Women's Health, Stylist and Goodto. A year on the w&h news team gained her invaluable insight into where to get the best lifestyle releases first—as well as an AOP awards nomination.