Melasma and pigmentation can fade if you follow our beauty editor's advice
How to prevent, fade and treat pigmentation in all its forms, from sun spots to melasma and more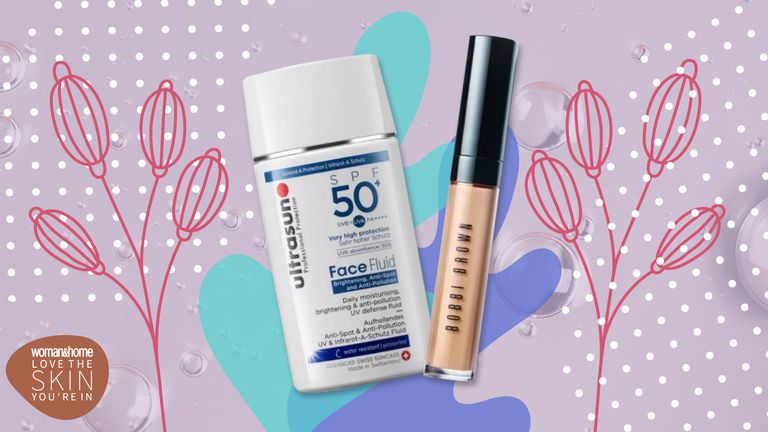 (Image credit: Future)
Pigmentation comes in so many forms. Whatever is causing you to experience this skin concern and whatever you call it—sun spots, hyperpigmentation, age spots, melasma—most of us have pigmentation to some degree. But that doesn't mean there's nothing you can do to prevent, fade, and treat existing spots.
It's no great surprise that the main course of action is making changes to your skincare routine. Getting to to the root of your pigmentation problem and what has caused it will help you determine the skincare ingredients and products that can help you tackle it.
Much like dehydrated skin or rosacea many of us notice pigmentation worsening once we hit our forties and beyond. This comes down to hormones, lifestyle factors, and simply the good old passage of time (thanks a bunch, time). We've consulted an array of skin experts to find out everything you need to know about pigmentation, where it comes from, how to stop it forming, and how to treat it.
Just remember it's a long game and that patience and persistence pay dividends. In the meantime, there's always the best foundation or mastering how to apply concealer, both of which will go a very long way to help even things out.
Pigmentation—causes, types, and how to spot it
"Pigmentation is the general term used to describe patches and spots of darkened skin. These spots and patches result from excess melanin production," explains Nilam Holmes, skin specialist and founder of Dermaspa.
"There are different types of pigmentation, which mainly fall into two common categories: hyperpigmentation and melasma. The two forms are very different in nature and therefore have to be treated differently," says Nilam.
What's the difference between hyperpigmentation and melasma?
Hyperpigmentation
"Hyperpigmentation can be anywhere on the face and body. It usually presents itself as freckle-like spots of different sizes, or clusters of spots that form patches of pigmentation. It's found at the surface of the skin and caused by factors such as sun exposure, skin inflammation, and acne, and affects men and women equally. As it is caused by external factors, it is relatively simple to treat and also easy to prevent."
As well as the sun, hyperpigmentation can also surface as the result of inflammation, perhaps post-acne, or some other skin injury. Darker skin tones can be more prone to hyperpigmentation, as there is already increased melanin in the skin, which is why offering effective hyperpigmentation treatments for Black skin is particularly important.
Melasma
"Melasma is deeper set, and usually presents itself in patches on the face. These patches are mostly seen on the cheeks, upper lip, and forehead in a symmetrical pattern and are often referred to as butterfly pigmentation. Because it is caused by internal factors like hormone changes, it only affects women and is harder to treat without treating the root cause," explains Nilam.
A common time for hormonal changes to cause melasma is during pregnancy, and also using certain contraceptive pills. Both of these of these increase the production of the female hormone estrogen and can lead to melanin production going into overdrive, causing dark spots. "There is very little that can be done to remove melasma but it can be managed by balancing hormones, and the effects can be limited by using certain treatments and sun protection," explains Nilam. Making sure you have the best facial sunscreen for your skin type on hand is a good place to start.
Are freckles pigmentation?
During the summer, UV light is at its strongest, triggering your body to produce more melanin. This dark pigment collects on the skin's surface, either as new dark spots or deepening existing ones so they become more noticeable. Whether you call this freckles or pigmentation usually comes down to how long they hang around for.
"Freckles usually occur in childhood and present as flat, round spots on the skin that are produced because of overproduction of melanin," explains skin specialist Dr. Emma Cunningham. "They're produced by melanocytes in the skin that are responsible for pigment production and is in direct response to UV radiation."
"As we age, these areas of pigmentation can become larger and develop into something called solar lentigos which are more prominent areas that don't fade in winter. They're also referred to as skin abrasions as a result of an accumulation of pigment over the years in the response to UV damage."
Whether you spin it as cute freckles or pesky sun spots, pigmentation is a sign of skin damage and so worth trying to avoid. "Melanin is produced in an attempt from your skin to protect itself from further damage," explains award-winning cosmetic doctor Dr. Rita Rakus. "Age spots are an obvious long term sign of sun damage, although they don't tend to appear until your 30s as darker, discolored areas of skin."
How to treat and fade pigmentation
Wear facial SPF
Unsurprisingly, the single best thing you can do to tackle pigmentation is wear sun protection every day and avoiding direct sun exposure. Truly even the best skincare products or treatments aren't worthwhile unless you're wearing sunscreen 365 days a year. No excuses!
If you find daily SPF hard to stick with because you don't like the way most of them feel, you probably haven't found the right formula yet. These three products are reliable, lightweight, and no trouble to wear daily.
Use targeted ingredients
Once you're protected, go into attack mode. Plenty of products claim to fade pigmentation but there are only a few ingredients that we really know work. A steady regime combining these with sunscreen should yield results in a matter of months.
Vitamin C
Using one of the best Vitamin C serums offers powerful antioxidant protection against UV light, among other benefits. "Vitamin C has long been established for fading pigmentation and restoring clarity." Says dermatologist and Murad skincare founder Dr. Howard Murad. "It brightens to promote a more even tone while encouraging gentle exfoliation to promote cell turnover to help purge dark damaged cells."
Tyrosinase inhibitors
This is a large group of ingredients which all work to subdue melanin in the skin by inhibiting the melanocyte cell from producing it in the first place. The most commonly used and well-researched of these include niacinamide (aka Vitamin B3), licorice root, tranexamic and kojic acid.
Acid exfoliators
Skincare acids come in many forms, but most work to shift old cells and reveal fresh new ones for improved clarity. "Products that contain Alpha Hydroxy Acids (AHAs) help to exfoliate dead and hyper-pigmented cells to stimulate the production of new cell growth," says Dr. Murad. Look for glycolic acid and lactic acid. Or for sensitive skin and post-inflammatory hyperpigmentation, gentler mandelic acid.
Retinoids
"Retinol, a derivative of vitamin A, helps the skin in so many ways. Skincare products that include retinol increase the cell turnover of the skin. As a result, retinol improves so many skin complaints including pigmentation," explains Dr. Zainab Al-Mukhtar, facial aesthetic expert. The strongest retinoids, like tretinoin, are available on prescription for those with severe concerns. The best retinol creams and serums available over the counter contain pure retinol at concentrations up to 1%.
Allies of Skin Mandelic Pigmentation Corrector Night Serum
Contains a clever combination of antioxidants, three exfoliating acids and tyrosinase inhibitors including niacinamide. It also has peptides to reduce inflammation and hydrating hyaluronic acid. Phew! Powerful results on pigmentation guaranteed.
Beautypie Dr Glycolic Pore Purifying Glow Toner
Combines 9.2% glycolic with niacinamide, a versatile tyrosinase inhibitor that also brightens, prevents inflammation, regulates oil production, and boosts the skin barrier.
Try a professional pigmentation treatment
The old adage that prevention is better than cure could have been invented for pigmentation. But that's not to say there aren't effective professional treatments that can really make inroads on existing spots.
"Hyperpigmentation can be treated very easily and quickly in clinic," says Nilam. "Treatments such as IPL, facial peels and microneedling are all very effective in reducing hyperpigmentation. I have found I can clear hyperpigmentation by at least 90% within two treatments using the Lumecca system" (find about more about Lumecca in our tweakments guide). "Results can be permanent too if the clients protect themselves from future sun damage."
"It is more complex to treat hyperpigmentation in darker skin tones that produce much more melanin," Nilam continues. "Because treatments tend to cause heat and inflammation there is a higher risk of increasing hyperpigmentation in these skin types. I tend to use treatments such as gentle peels, microneedling or skin rejuvenation such as Morpheus 8 in much darker skin tones."
Unfortunately melasma is a trickier condition to treat, because it is often caused by hormone fluctuations. "When it comes to melasma I have found I can temporarily reduce melasma with the same clinic treatments as hyperpigmentation, but it is more a case of managing and controlling it rather than clearing it."
If all else fails, conceal
A solid skincare routine and a professional treatment or two can do a lot, but you're unlikely to completely eradicate dark spots and improvements do take time. Luckily for us we live in a world where the option of makeup is always available to you and high coverage concealer is absolutely the way to go.
While firm, pot-based concealers often have the edge for full cover (making them a lifesaver for the occasional blemish) if you have larger areas of hyperpigmentation a creamier formula that's spreadable and almost foundation-like in consistency will look more natural.
Unlike your undereye concealer, which you may prefer a shade lighter to brighten, ensure concealer for pigmentation matches the area of skin with the pigmentation exactly. This means a bit of trial and error as testing on your hand isn't going to cut it.
Picking a product with a doe foot applicator makes smooth application easier. Dot onto the area you wish to conceal then follow the golden rule with any concealer—which is pat, don't rub. This ensures the coverage stays where you put it without blending away into nothingness. A dusting of setting powder on top will make it ultra budge-proof.
woman&home thanks Nilam Holmes of Dermaspa, Dr. Emma Cunningham, Dr. Rita Rakus, and Dr. Howard Murad of Murad Skincare for their time and expertise.
As woman&home's Beauty Channel Editor, Fiona Mckim has tried more beauty products than she's had hot dinners and nothing makes her happier than raving about a brilliant find on womanandhome.com or her instagram grid (@fionamckim if you like hair experiments and cute shih-tzus)

Fiona joined woman&home as Assistant Beauty Editor in 2013, working under industry legend Jo GB, who taught her everything she needed to know (clue: learn about ingredients and employ extreme cynicism).
In a previous life, Fiona studied journalism back home in bonnie Scotland and honed her skills as a features writer at publications including Junior and Prima Baby, with a brief and terrifying stint on the showbiz pages of a tabloid newspaper in between. She's a skincare fanatic who can't resist adding an extra step to her routine, adores fragrance, has fun with makeup and never turns down the chance to test a new hair tool. Basically, she loves it all.

When not slathering herself in self tan or peering at a tiny ingredients list on a moisturiser, you'll probably find Fiona enjoying something to do with food - cooking it, eating it, cajoling her friends into trekking across London to try a hyped pop-up in a dirty car park.
Come to think of it, the hot dinners and beauty products are probably about even.