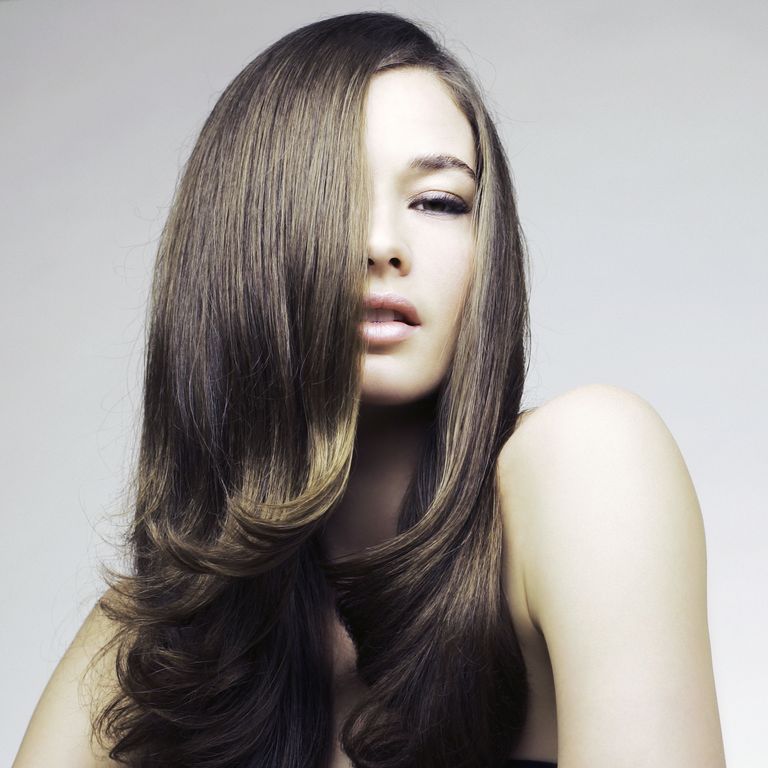 Our guide to which hairstyles are hot for the current season
When you're craving a makeover, winter is the perfect time to try a little something new. After all, the long hot summer can be rough on our hair (hair gets sunburnt too!): the sun and heat can dry it out and leave it brittle and straw-like, so use your winter hairstyles as a little refresher to breathe new life into it.
If new life is what it needs, why not consider taking the plunge with a dramatic chop? It's the perfect way to get rid of the dry ends and get a chic new style at the same time. And there's not one kind: what about the uber-trendy lob (that's long bob' to us) or clavicut'? Just ask your hairdresser to take the lengths out so the tip just brushes your collarbone. Add some long layers if you like to wear it rough and sexily-mussed (salt spray will help with this too) or leave it blunt for a polished, precise finish.
Click through to see our favourite winter hairstyles...
If you like your hair long, with party season approaching it's the perfect time to try out some winter hairstyles fit for all the festivities. With the nights drawing in, this is the perfect setting for hairstyles with a little – or a lot of – drama. Try vintage waves: one of the most failsafe winter hairstyles. Big, beautiful waves that manage to toe the line between casual elegance and bombshell beauty with ease.
Or you might want to try changing up the colour too: deeper, richer hues suit winter weather perfectly, so talk to your stylist about going a few shades darker then your current colour. Ask them about balayage – a clever technique that takes your colour to whole new depths while looking natural but expensive, lighting up your face as well as giving you a brand new look for winter.
Winter hairstyles: Glamorous waves hairstyle
After the drying heat of the summer, go natural for the winter to replenish dry ends and dull colour. If your hair is naturally curly, invest in a good trim and then use one of our favourite hair oils throughout the winter to protect and nourish your locks. See our best curly hairstyles
Winter hairstyles: Elfin crop hairstyle
The winter is a great time to try going a shade lighter. Opt for a mix of white and honey blondes to stop the colour looking too harsh against mature skin. See our best short hairstyles
Winter hairstyles: Sleek bob with fringe hairstyle
Keep your locks looking healthy and treat them to a hair-thickening cut. This chin-length bob will instantly revive ends - add an eye-skimming fringe to give your cut style and shape. See our best short bob hairstyles
Winter hairstyles: Voluminous updo hairstyle
With harsh winter weather, sometimes an updo is the only way to go. This voluminous 'do is just undone enough to withstand the treturous weather - and still come out looking great. It's also so simple to achieve: Randomly twist and pin sections to the crown of the head, ensuring you aren't pulling the hair tight. Finish by teasing out a few lose ends to give an undone look to your style. See our best updo hairstyles
Winter hairstyles: Demure updo hairstyle
Brighten up your look this winter with a foxy red hue. We recommend this dark copper for natural brunettes. See our best red hairstyles
Winter hairstyles: Long tied back hairstyle
Looking for a fuss-free syle to work every day? Try this relaxed low ponytail - the perfect trend for any busy woman. When tying your tresses back, make sure you tease hair up at the crown so you don't look too severe. See our best updo hairstyles
Winter hairstyles: Long curly hairstyle
Winter is the perfect time to add some high drama to your style - especially for a/w 2012. Dark, gothic and opulent clothes call for a glamorous hairstyle. Think retro waves with a modern, undone twist.
Winter hairstyles: Colour extensions
Like some instant, no commitment colour? Hair extensions don't just give you length they can transform your shade from regular to rocking - definitely something worth investigating.
Winter hairstyles: The structured bob
The perfect little cut when your hair is thick and straight or a gentle wave that can be straightened with hot irons. The parting gives you subtle volume and the graduation near the face takes away that structured bob look. Delicious!
Winter hairstyles: Long layers
Long hair needs the versatility that layers bring. This style has the look of one length hair but the layers frame the face beautifully without the centre parted 'curtains' effect.
Winter hairstyles: Big curls
Our style bounced and waved thanks to a bit of smart curling with heated rollers. As we mentioned, those longer layers support the curls and the shorter face framing layers make soft and gentle waves.
Winter hairstyles: The slick pony tail
Easier than an up-do, more stylish than most day or evening looks, there's nothing to beat a beautifully sleek pony tail. On grown up ladies it looks the biz if you keep it low into the neck and hype the shine.
Winter hairstyles: Elfin cut
Bright blonde is so this season. If you're brave enough it's a skin lifiting shade that really flatters. We love this sweet little cut that's perfect for small, heart shaped faces of any age.
Winter hairstyles: The short wispy cut
How we love a really great cut and this definitely is a great cut! Short and wispy it's a smashing look for medium to fine hair - and we know how tricky it is to find a terrific look for what is the most testing of hair types.
Winter hairstyles: The blunt bob
Really gorgeous bob with a sharp, blunt finish that's perfect for those with straight and weighty hair. What's new with the bob this season? A heavy fringe that hovers above the brows.
Winter hairstyles: The clever fringe
What's so special about this long, soft and natural look? Jo Hansford's subtle and sexy colouring plus a clever cut with a deep, sideswept fringe.
Winter hairstyles: The chunky fringe
The key hair look of the season has to be a deep and chunky fringe. If your hair kinks and bends, spoiling the finish, add styling mousse when it's damp then roll dry over a circular vent brush with a ceramic core for a perfectly shaped fringe.
Winter hairstyles: Warm colour
Move your growing-out bob on with a snippy little cut. How does it work? The sides are taken up, the back cut into the neck and the fringe swept to one side. Finally, blast your new cut with some rich warm colour and you're good to go for winter.
Winter hairstyles: Curly layers
If you've spent summer and autumn trying to tame your naturally wavy hair into a smooth bob then forget it for winter. Wind your top layers over big rollers, scrunch dry those bottom layers then unwind rollers an run fingers through for soft waves - easy!
Winter hairstyles: Wild colour
Short hair can take pretty wild and wonderful colour. This look couldn't be more sexy and stylish and spiking the style makes those hot shades really show. How to get the look? Rough dry into shape then pull little pinches of wax through ends to give you shape.
Winter hairstyles: Mature hair
Who says you can't wear long hair past a certain age? There is no certain age - and anyway, long hair softly waved is super flattering against your skin and disguises a softening jaw line. This deeply parted style with long, sideswept fringe has a beautiful forties feel.
Winter hairstyles: The simple bob
This ultra sharp bob looks so precise and pretty tricky to style. Actually it's fairly simple if - on those days when you feel like taking time to really crack the look - you blow dry it, using volumising lotion and rolling hair under with a circular brush.
Winter hairstyles: The sexy bob
The sharp bob gets sexy with a little coaxing and a touch of texture to give it a fresh new look with a natural edge.
Winter hairstyles: The evening bob
The sharp bob dressed for evening, looking sleek and stylish thanks to smart new smoothing products, a deep parting and side sweep.
Winter hairstyles: The shaggy bob
The new way to take your bob for winter - fabulous shaggy layers that soften the look and make it wonderfully versatile. Emphasise the shagginess with a little texturising cream to give it extra oomph!
Winter hairstyles: Scrunch dry
A different spin on the look with lots of scrunching but keeping that this season fringe straight and with a little roll-under curve. How do you get the scrunch? Dry hair by literally scrunching in your hand and playing the dryer through fingers. Then add extra curve with curling tongs.
Winter hairstyles: The beehive
Change the look completely with a fabulous Hepburn style up do. The best up dos don't come courtesy of long hair - too much to get up into a tidy shape! Medium length is far easier. Backcomb the top for a little height, pin up and smooth with a touch of serum.
Winter hairstyles: The deep fringe
There it is again, that signature autumn look, the deep fringe. This time cut into a long bob that's been finely highlighted with shades of blonde. It's so true - don't get older, get blonder! And yes it works, so think about adding some touches of lightness to mid toned hair.
Winter hairstyles: Short extentions
Ever wanted to grow your hair overnight? You can. Our model has a short, chin length style that's been given a little extra length thanks to hair just a few short natural hair extensions plus a little shaggy layering right through the style.