Why Pink Hair Could Take Years Off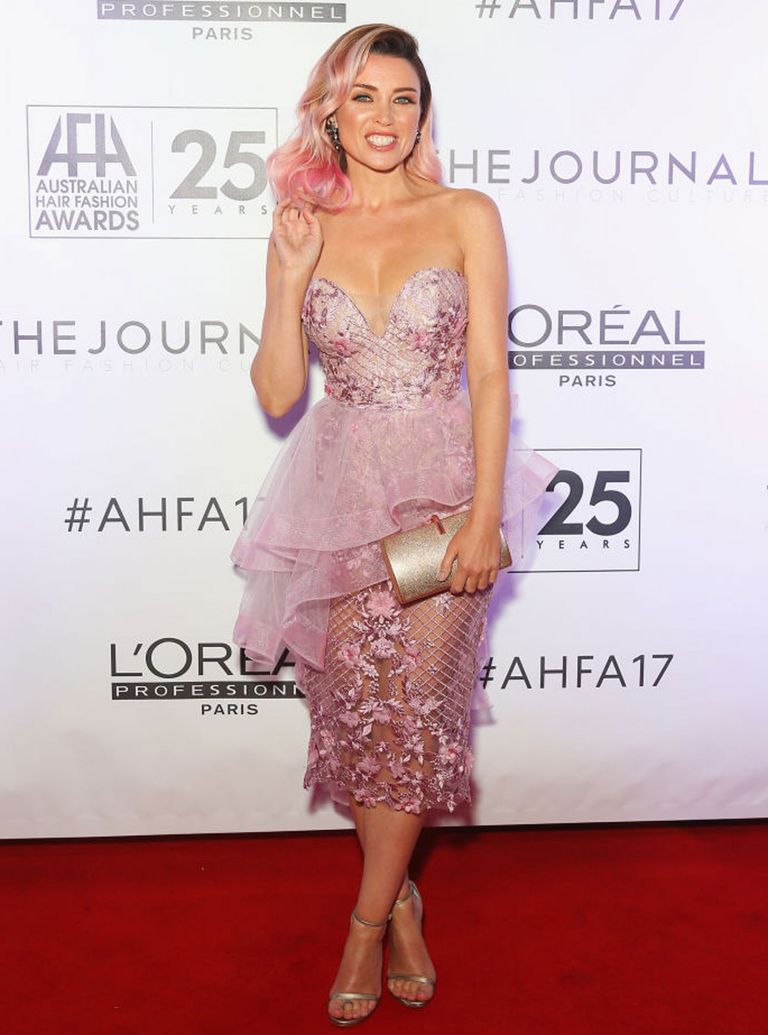 If you have even a passing interest in fashion or celebrity culture, you've probably spotted a candyfloss 'do or two on the red carpet over the last couple of years. You probably also swiftly decided that pink hair is a look best left to the young and fearless.
And yet... as another very glamorous, very grown-up star has fallen in love with pink hair, it might be time to rethink your stance. This could just be the easiest way to knock a decade off your look, put a spring in your step and a smile on your face (which we all know isvery youthful). Dannii Minogue is the latest star to dye her hair the rosy hue. The 45-year-old singer debuted the flattering look at the Australian Hair Fashion Awards last night. She uploaded a picture to Instagram simply captioned 'Current mood'. Within a matter of minutes fans were bestowing compliments upon the star, who herself explained that temporary 'hair colour is certainly the new makeup for me, and I'm enjoying the freedom to experiment with new hues and tones.'
Keep scrolling for other celebrities following the trend..
Helen George, better known as Trixie from Call The Midwife, showed off new pink locks at this year's SAG Awards.
Helen Mirren cemented the trend in 2013, proving you don't have to be under 30 to take advantage of the hue's glow-inducing credentials. Styled with a silver smoky eye and matching outfit, the candyfloss colour positively lit up her complexion. Will you follow suit?
Following in the well-heeled footsteps of Helen Mirren and Cate Blanchett, Celebrity make-up guru Mary Greenwell, has gone pink at 59, telling the Telegraph "It gets me noticed. If you feel you're starting to become invisible, go pink!" As a world-reknowned beauty expert, Mary also noted how easy on the complexion her new hue is. "My new look has done my skin wonders too. It's an unbelievably flattering colour for someone older. I have realised why Barbara Cartland surrounded herself in blush pink."
Fancy giving pink a spin? If you're feeling brave and want to go the full Mirren, head to a professional. Bring pictures of the shade you want and ask for an all-over wash of Crazy Colour, which can last anything between 2-6 weeks depending on your hair type and how often you wash it. Bleached or grey hair is porous so hangs onto colour longer, which may be a good thing or not depending on how taken with the results you are!
If you're not sure about fully committing, ask for balayage. This freehand painting technique means your hairdresser can customise your pink look, like Cate Blanchett's marshmallow ombre or a tiny toe-dip in the trend, January Jones' chic streaks.
Or, for a truly low risk option, chuck on an at-home hair chalk. They take about five minutes and should only last one (or in my experience, two) vigorous shampoos. We loveKevin Murphy Colour Bug, £14, which can be diluted with conditioner for a washed out pastel shade andBleach Hair Crayon in The Big Pink, £4,a chunky crayon for drawing on pretty pink highlights.
So, are you tempted? Yes, it's a strong look and not for everyone, but if you're in the market for a change and like to make a bit of a splash there's no denying pink hair is fun, fabulous and flattering to boot.
If it's good enough for Helen...