How To Handle Holiday Hair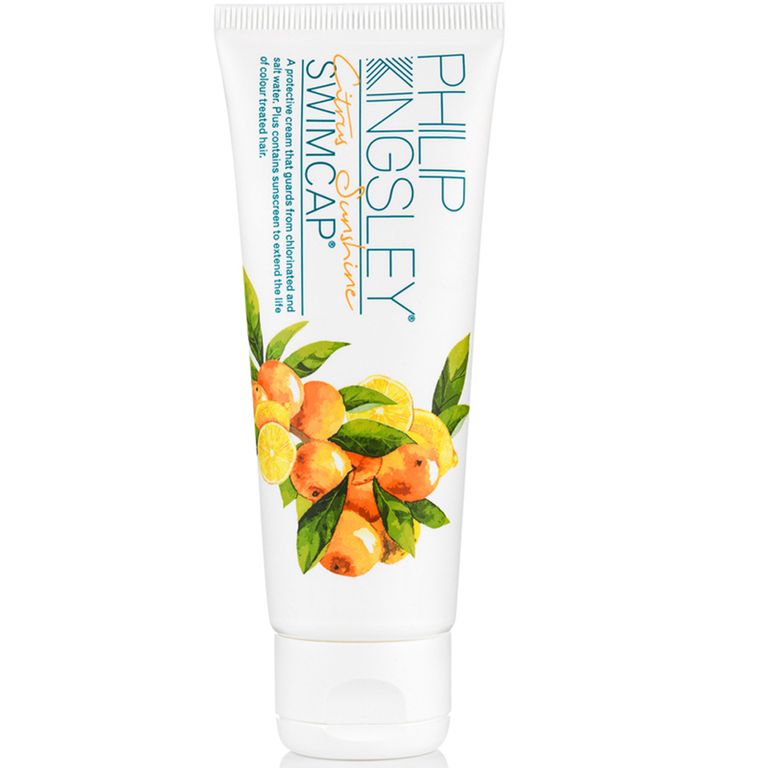 Make minimum effort to get maximum results with our tips for glam holiday hair
'I love the pool but I hate what it does to my hair'
Originally developed at the request of the first US Olympic Synchronized Swimming Team, Philip Kingsley Swim Cap, £13 guards against discolouration and damage caused by chlorine, saltwater and the sun.
Chlorine can seriously dry out hair by stripping away natural oils, while the copper in water can leave coloured hair with a green tinge. 'Apply an intense treatment to damp hair so that when you are in the pool, it will never fully rinse out., which will create a barrier against chlorine and help to minimise frizz,' says Jamie. Our fave budget buys for the job is TRESemmé Keratin Smooth Deep Treatment Masque, £5.50. 'Rinse hair with fresh water before and after swimming to limit the amount of chlorine being absorbed and thereby limit the damage,' says Lee. The best investment is a conditioner that you can spritz on your hair after a dip, such as Lee Stafford Breaking Hair Leave-In Treatment, £7.99. at Boots, with UV filters for coloured hair protection. Copper deposits in water accelerate damage, according to P&G expert Jennifer Marsh.
How to handle holiday hair
'We're about control when it comes to hair,' says w&h Beauty Director, Jo GB. Here's how to manage summer style. 'I step off the plane and turn into a frizzball' 'Frizzy hair is caused by humidity or moisture in the air,' says hairdresser Lee Stafford, 'so when you go from a cool, air-conditioned plane straight into a hot, humid environment, hair reacts to surplus water coming in and out of the hair shaft, distributing hydrogen bonds that hold a style together, resulting in frizz.' The best way to tackle this problem is to prep hair in advance. 'Create a foundation to your hair to fight frizz by washing it the night before your flight with moisturising products to smooth. Lee Stafford Frizz OFF Shampoo and Conditioner, £9.99 at Boots, also contains keratin to help flatten the hair cuticle and reduce breakage. Pro tip: 'Just as you moisturise on a plane to sop skin drying out, travel with a bottle of oil to work as a defrizzer by keeping hair moisturised.' says celeb hairdresser Jamie Stevens. Perfect for the job are TRESemmé Oil Elixir, £9.99, or the John Masters Organics Dry Hair Nourishment & Defrizzer, £32.50, with lavender, rosemary and cedarwood.
Holiday hair: Get in condition
Condition is key for softer, healthier, especially if it's coloured, feeling parched from the sun, heated appliances or loss of oestrogen. Try a weekly conditioning hair mask - takes 15 minutes max - Remove tangles first with a wide-toothed comb - Shampoo hair, then towel dry by squeezing out water; never rub otherwise you'll ruffle up the cuticles, which need to stay flat for soft hair. - Part hair into sections and apply a conditioning mask halfway down. Comb hair through to the ends, from the top, so that mist of the mask is on the lengths, which are the oldest. - Leave on for 5-15 minutes, rinse and let it dry naturally. See the difference after one treatment with Pantene Moisture Lock Intense Hydration Mask, £6.99 or if your super dry, try Ojon Damage Reverse Restorative Hair Treatment Plus, £19.
Holiday hair: Frizz fighters
Must try: 'Humidity can be holiday hell for some,' says celeb hairdresser Leo Bancroft. For defrizz care, there is a new band of hair preps that act as barriers to frizz. In 30 plus degrees., John Frieda Frizz Ease Forever Smooth Anti-Frizz Primer, £9.99 is a must and seals out moisture. I use it with a little oil over the top to add shine and softness. As well as SPF, we nowhere FPF (frizz protection factor) - an anti-humidity complex that reduces up to 82% of frizz, as found in the new leave-in tamer Redken Frizz Dismiss Smooth Force Lightweight Lotion Spray, £16.55. In the range, choose a FPF to suit your hair texture and the humidity you're in: for fine hair in British summer use FPF10; or choose FPF40 for corse hair in the tropics.
Holiday hair: Make waves
Style it: ' Soft waves are an easy look and best achieved when hair is wet,' says Kerry Warn. 'Divide hair into two equal sections, twist each into a bun at the back and secure. Once dry, release and you'll have tousled waves. If you have a natural wave, John Frieda Beach Blonde Sea Waves Salt Spray, £6.99, can be applied to wet hair, mussed up and allowed to dry naturally for texture and movement.
Holiday hair: Pool-to-bar
'I never manage pool-to-bar chic hair.' 'Accessories are a great way to go,' says Jamie. 'Think head scarves and flowers this summer. Or you could put your hair in a braid throughout the day so that when you take it out in the evening, you'll have ready-made waves.' Put in TRESemmé Perfectly Undone Wave Creating Sea Foam, £5.50, before you do the plait to give your hair some grab; then, to hold the wave and give definition once you take the plait out, hairstylist Guido Palau recommends a touch of Redken Braid Aid 03, £19, a new gel designed to add grip and prevent slip making plaits and twists easier to manage.
Holiday hair: Quick styles
Fast fix 'In hot weather, undoes can look pretty either as a bun with a soft fringier slicked backwash gel, adding a low knot.' says Kerry. 'If you want to glam it up, create volume around the crown or from the forehead; this instantly changes a look,' Take a section of hair rom the forehead and apply a spritz of John Frieda Volume Refresh Dry Shampoo, £5.89, massage in the product then pin back into a quiff. You can either levee the lengths of the hair loose or pull back into a ponytail.' Summer holidays should be all about relaxing, so get comfortable with the whole undone, messy, natural wave feel. Simply scrunch salt spray, such as Redken Fashion Waves Sea Salt Spray, £16.30, into damp hair and let it dry. Easy trick: A pre-shampoo treatment is a fab start to parched hair. Try the iconic Philip Kingsley Elasticizer, £31.50, which has just been reformulated with the aroma of geranium and neroli.