Long hairstyles that flatter every face and will never go out of style
Get inspired with our pick of the best long hairstyles and expert tips on how to make long hair work for you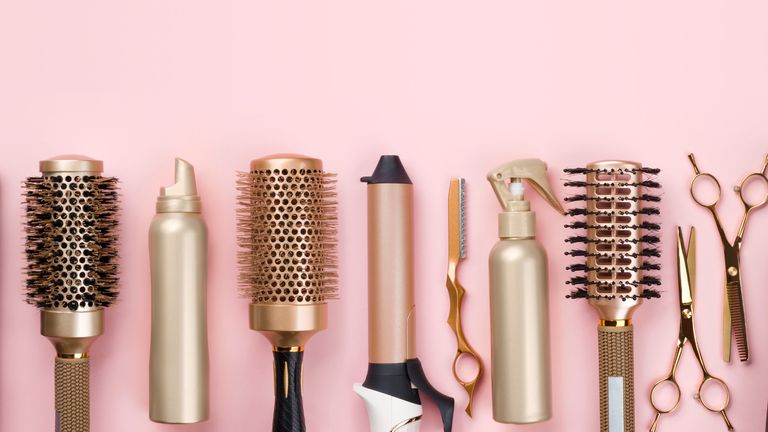 (Image credit: Getty images)
Forget that hackneyed rule that says you have to chop off long hair once you hit 40. With the right cut and care, long hairstyles can look both fabulous at every age.
The trick is getting the right hairstyle for long hair and making sure your hair is in great condition. Blow drying with the best hair dryer is crucial, as is using heat protection for hair, the best shampoo and conditioner and visiting your the salon for regular trims.
Now we can forget mandatory short haircuts over 40, more women than ever women are embracing length with back-grazing styles, explains Jonathan Andrew, Fudge Professional Global Brand Ambassador. "Long hair is definitely a trend at the moment, I think 2020 has given people a lot more time to think about their look and where they want to take it. For people considering growing out haircuts or pushing to get the longer hair they have always wanted this has been the year to do it."
Sound familiar? If you have embraced longer hair then you probably also want to make sure that your hair suits your face shape and hair texture. From blunt fringes that will update your look and face-framing layers to flatter your features, we've curated our pick of the most flattering long hairstyles and all the advice you need to make them work.
What are you waiting for? Let's go to great lengths with our hair!
Can I keep my long hair past 40?
"I think the stigma that the older you get the shorter your hair should be isn't as relevant as it once was," says Jonathan Andrew. "People are far more creative and open minded when it comes to hair these days and there are so many options available."
"For me, when your hair gets longer as you get older the condition becomes more important. Long hair can suit everyone but as you move past 40 you need to maintain optimum condition. This brings in so many opportunities to show it off with a beautiful simple blow dry, adding in some movement keeps it feeling and looking fresh but adds a chic finish to it. You just have to look at J-Lo to see how impactful longer hair can be."
What face shapes suit long hair?
The good news is just about anyone can find a long hairstyle to suit their face shape and hair type, it's all in the shaping and style.
"For me long hair is the great equaliser for different face shapes and suitability as you can keep it long but adjust to suit," agrees Jonathan. "For instance a fringe can change the look. Heart shaped faces can go for a choppy wispy fringe and a longer face can go for a more solid heavy version.For rounder faces try shifting your parting and going for something more swept, this can be a fringe or a longer shaped finish."
"For oval face shapes the ball is in your court and most things will work. You can see here that the length can stay long but tailored to your face shape. I always try to encourage some long soft invisible layers to add shape and movement unless we are going for a structured one length finish."
How to keep long hairstyles in good condition
Naturally the key to maintaining a beautiful looking long hairstyle is keeping it in as good condition as possible. This means regular trims, of course, and making an effort to air dry hair at least once a week, then after that it comes down to daily maintenance.
"It's all in the routine, agrees Jonathan. "When talking to my clients I try to bring in similarities from other skill sets, like skincare. For most women at bare minimum they are familiar with a cleanser and moisturiser but usually there are day creams and night creams, eye serums, oils, the list can go on. The same principle comes in with haircare.
"A great shampoo and conditioner is the key, try Fudge Professional Damage Rewind, £13, beautybay. this repairs your hair and makes it 90% stronger in one use. Using this will be a huge boost but I always say once a week treat yourself. Leave the conditioner on longer and wrap your hair in a warm towel to create a more luxurious experience and boost the results."
"To keep on theme try some Fudge Professional Blow Dry Aqua Primer, £15.50, beautybay. This contains hyaluronic acid which repairs your hair inside and out whilst boosting hold, shine and heat protection to keeps the condition working towards the same goal."
Ready to get inspired? Discover our top celebrity long hairstyles and pick your perfect match
The best celebrity long hairstyles
Naomie Harris
Actor Naomie's hairstyle is almost all one length, which works perfectly with those beautiful natural curls. That length creates weight that 'pulls' the hair so the curls sit nicely at the top and are allowed to be bouncy and beautiful at the ends. Subtle highlights accentuate the ends, giving them extra definition.
Jerry Hall
It was big news when Jerry chopped her trademark waist-length hair into a shoulder-skimming crop in 2014, but she couldn't resist growing it out a little in the years that followed. This mid-length side swept style is the best of both worlds - flattering on that killer bone structure while still having all the flow and swish a supermodel could desire.
Lucy Liu
Lucy Liu shows how to make long hair look ultra special without having to spend hours piling it up on top of your head. With a razor-sharp centre parting, loose wave and pinning the top section back, she accentuates her face shape and shows off those flowing locks at the back. Shine is crucial here, so try misting a gloss spray on a dressing brush and running it down your hair to finish the style.
Nina Wadia
British actor Nina Wadia makes the most of her versatile layered hairstyle by tonging it back away from the face to create easy, glamorous curls. This length is incredibly flattering and easy to maintain, while subtle warm tones throughout add softness to the look.
Naomi Campbell
Naomi pulls off waist length locks like nobody else. Here they are curled around a large barrel tong, from the cheekbone down for beautiful, modern glamour. If you are considering an ultra long hairstyle (extensions or otherwise) bear in mind this is a high maintenance look, so regular trims, moisturising masks and good blow dry tips are all your friends.
Jennifer Aniston
We've all probably tried to copy Jen's hair at some point, haven't we? The reason her 'do always looks good is because she knows what suits her, from that expensive looking not-quite-blonde not-quite-brown shade, to this sleek cut with face framing layers that hit right around her jaw for flattering shape.
Rochelle Humes
TV Presenter Rochelle tends to switch between straight and curly hair, but one thing she nearly always has is a decent bit of length. This medium long hairstyle is beautiful in it's simplicity, with only a few eye-framing layers around the front which ensures those lovely soft curls do all the talking.
Catherine Zeta-Jones
Catherine always brings the glamour, and this side-swept style is pure Hollywood. Her ultra-long dark hair is puled back from her face perfectly displaying her facial features, then swept to the side and cascaded down one shoulder. This style is a modern and unique take on the usual up-do or ponytail, and although it might require some skill to master at home would be a fabulous choice for a party.
Duchess of Cambridge
Catherine's signature blow-dry has long been our hair inspiration, but her look recently has been all about incorporating huge, glamorous curls into her long hair. You can bet we'll be trying this out for ourselves at home using hot rollers and plenty of hairspray.
Duchess of Sussex
We love how often Meghan Markle changes her style and we particularly adore these super-long glamorous waves. The centre-parting looks very modern and allows her long locks and shaggy fringe to fall down and flatter her face, then loose curls finish off the look beautifully.
Julianne Moore
Not satisfied with having the most glorious hair colour in the industry, Julianne Moore is also giving us hair envy with this style. The modern middle parting and cool slightly angular waves look fresh and youthful. To copy the look try our tousled wave technique this 7 amazing uses for hair straighteners story.
Demi Moore
Demi is known for her amazing long, shiny hair, and tends to keep it pretty understated on the styling front. If you find you prefer your long hair to one side and curled, like Demi, keep it that way. Or, if you prefer having it up and super-straight, make that your signature style. It's certainly worked for Demi all these years!
Sarah Jessica-Parker
SJP is another celeb who has stuck with her long hair for decades , and it's working as well now as ever. Preferring a centre parting, Sarah keeps her lengths sleek but relaxed. Instead of ironing the life out of your hair consider one of the best hair straightener brushes instead.
Heidi Klum
Okay, so we may not all be supermodels, but we can all take inspiration from from Heidi's relaxed long hair cut. This shaggy fringe looks brilliant and modern and is surprisingly low maintenance compared to heavier fringe options.
Sophia Vergara
The reason Sophia's signature hair looks so good is because it looks so healthy. Those ends speak of regular trims and that shine can only be achieved with plenty of TLC. Don't get tempted to skip cuts and blast your hair on the highest heat just because you're growing it - pin this picture on your mirror and think care, care, care.