Go For The Crop: Celebrity Style Inspiration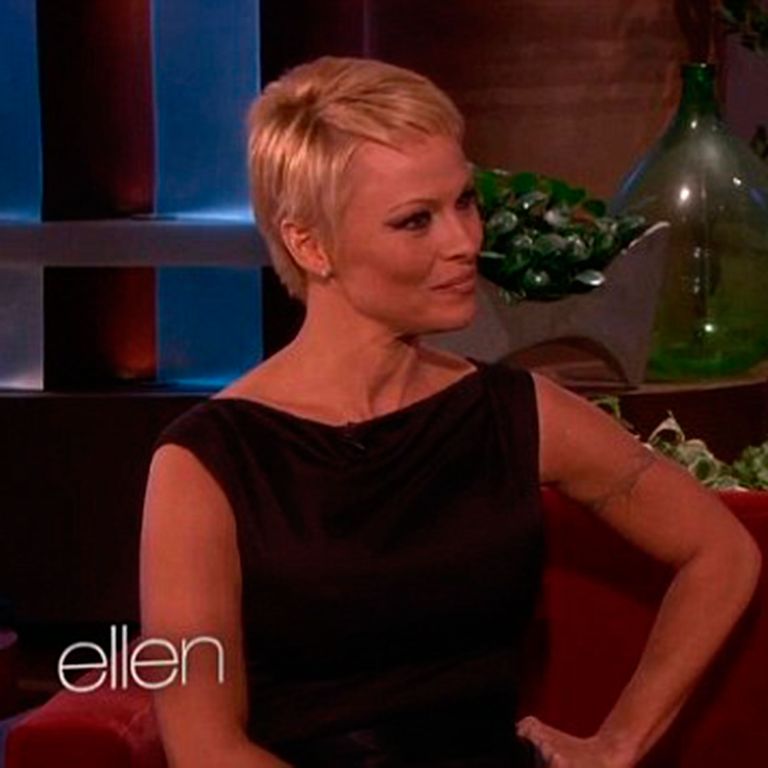 Thinking of going for the crop? Take your inspiration from these stylish stars
Virtually unrecognisable in a recent appearance on the Ellen chat show in America, actress and blonde bombshell Pamela Anderson unveiled her new cropped pixie cut hairstyle in all its glory. Explaining that she felt her long, blonde peroxide locks had lived another life, Pammy also told Ellen de Generes that losing her long hair had helped her run the New York marathon (which she completed in five and a half hours - not bad!).
The look is a dramatic change for Pamela and we think the pixie cut looks absolutely fabulous! Gone are the damaged, split ends and dry texture and in its place a feminine, glossy cut that allows Pamela's features to shine and takes years off her look. If this isn't an advert for taking the short haircut plunge, we don't know what is!
If you're thinking of shedding some length, get inspired by our roundup of stylish stars with the best cropped hairstyles. These celebs know that a shorter do can be incredibly flattering and anti-ageing – not to mention low maintenance! Can you imagine just waking up in the morning, washing your hair and then being ready to go? With cropped hairstyles, styling really is that easy.
Whatever your hair type or face shape, there's a cropped cut for you. It's just about working with your hairs natural texture for short hair perfection. Fine hair is ideal for the adorable pixie cuts that have been cropping (sorry) up all season, as seen in our gallery on actress Carey Mulligan, while thicker hair looks fabulous when it's styled in a loose and long crop, like on Dame Helen Mirren.
Will you go for the chop? Get inspired with these beautiful cropped hairstyles and bring your favourite pic to your next salon appointment.
Find more hairstyle ideas here.
Anne Hathaway
It may have been chopped for a film role but actress Anne Hathaway's boyish crop really alowes her features to shine. Delicately teased across her forehead, it's the rich hue that sets this style alight.
Marion Cotillard
The French actress Marion Cotillard chose a feathered fringe as the focal point for her Parisian crop. Perfectly groomed brows, smokey eyes and nude lips complete her look.
Cut close in, Rihanna's gamine style is a lesson in how to perfect the perfect pixie crop. Her petite facial features carry off the high forehead fringe and her choice of pillar box red lips and sophisticated make-up give the singer that grown-up feel.
Fern Britton
Fern may have caused a stir with her new tattoo on our August 2011 cover, but it's her fabulous hairstyle that's the really youth-enhancing feature. The strong highlights work brilliantly to give the look real texture and depth. For the latest w&h news and exclusive offers follow us on Twitter or 'like' us on Facebook
Annie Lennox
Friend and cover star of woman&home, Annie Lennox has long-favoured the close, gamine crop. Her signature white blonde shade allows her structured facial features to really shine - and those crystal blue eyes really pop!
Tilda Swinton
A pioneer of the close crop hairstyle, Tilda Swinton has reworked her shorter look many times over the years. Here, at the Cannes Film Festival, the style is softer, gently tumbling across her forehead to frame her face.
Sharon Stone
Noone can dispute how incredible Sharon Stone looks at 53 and her gorgeous locks are the finishing touch to her amazing shape. Sharon favours sunny highlights running through her short hairstyle to create a textured, volumised look.
Natalie Portman
With beautiful features like Natalie Portman's, you can afford to go as short as you like at the salon. The actress's style is softened with the subtlest of waves and is kept off the face, allowing her fresh-faced make-up to really shine through.
Michelle Williams
With more than a nod to Mia Farrow's famous signature cut, MIchelle Williams manages to transcend time with her close gamine crop. Honey-hued highlights stop the style looking flat.
Kristin Scott Thomas
With cheekbones to die for Kristin can pull of any hairstyle going. Here she opts for a gentle fringe to soften her chiselled looks - and a slick of raspberry red lipstick sets the look alight.
Kylie Minogue
It's the combination of Kylie's dark blonde highlights and peachy, fresh make-up that makes this look really work - and of course, a gorgeous smile always helps too!
Jane Fonda
Not only does former model and actress Jane Fonda's age-defying figure wow us every time she hits the red carpet, but her stylish tresses always cause a stir too. Not afraid to stick to a style that works for her, Jane favours flicked-out ends to frame her face and give the look a feminine edge.
Judi Dench
Award-winning actress Judi Dench has embraced her silver shade and is proof that a stylish cut and soft, dewy make-up will roll back the years instantly.
Jamie Lee Curtis
How to work your grey shade to its maximum potential? Find a great cutter who really understands your hair and make like Jamie Lee Curtis - with a glossy, cropped cut with plenty of depth.
Helen Mirren
A gentle side-swept fringe and the glossiest of textures all work to make Helen Mirren's longer crop cut an absolute style winner.
Halle Berry
Tousled and textured, thanks to a pea-size amount of product, Halle Berry has teased our her cropped tendrils to keep her style voluminous.
Ginnifer Goodwin
Never one to shy away from trying a new look, actress Ginnifer Goodwin chose a side-swept fringe for her elfin-like cut. The richness of her brunette shade works beautifullly against her deep brown eyes.
Emma Thompson
Full of volume and with a warm sandy shade going through it, Emma Thompson's hairstyle really hits the mark.
Carey Mulligan
When actress Carey Mulligan really hit the limelight, she transformed her look, ditching her brunette shoulder-length style in favour of this textured, highlighted crop. Kohled eyes and dewy, peach-hued cheeks add to her youthful look.
Audrey Tatou
Working a retro-looking, deep and rich style, Audrey Tatou simple accessorised with a slick of scarlet red lipstick. For the latest w&h news and exclusive offers follow us on Twitter or 'like' us on Facebook