7 Flattering Hairstyles For A Round Face Shape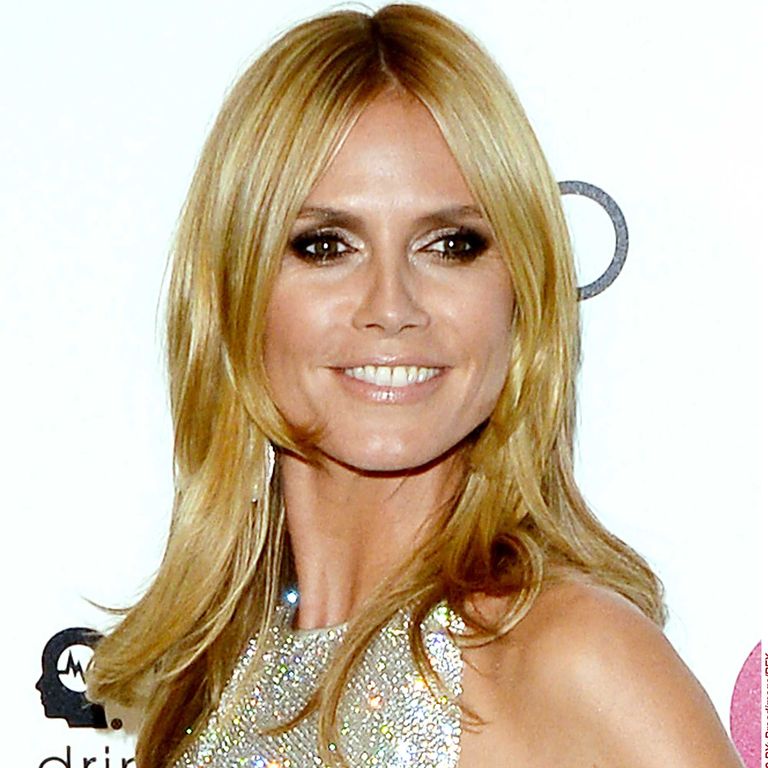 (Image credit: Rex Features (Shutterstock))
Make the most of your natural beauty with a feature falttering cut...
26 February 2015
Round faces have a soft and endearing appeal, but the right cut can add youthful elegance, too. Whether you prefer your look short, straight, long or choppy there is a hairstyle out there to suit you.
A short round face shape lends itself better to shoulder skimming hairstyles which effortlessly elongate the face, but that doesn't mean longer cuts should be overlooked. If you prefer long lengths worry not, you don't have to chop it all off to achieve a flattering look. Simply request for a light feathering around the face next time you find yourself in the salon chair.
As-well as giving finer tresses movement, shorter layers placed around the face will draw the eye to the chin creating a fictional contour along the jaw. Team this feature framing cut will a centre parting and you will have perfected the illusion of a lengthened oval face shape a'la Heidi Klum at last weekend's Oscars.
Blunt fringe
A blunt heavy fringe can be really flattering on a round face. Chopped just above the eyelashes, in a straight line it can balance the round bottom half of the face and seemingly transform it into a heart shape. But when it comes to cutting in a fringe, width is important. When you visit the salon request for yours to be snipped from cheekbone to cheekbone, angled down at the corners by an extra three quarters of an inch. This will prevent your shorter face shape from appearing 'boxed in' and draw attention to your eyes.
Centre parting
A centre parting is the simplest way to elongate a short round face without reaching for the scissors. Parted in the middle, the hair will naturally fall across and soften the temples, creating the illusion of an oval face shape - the most versatile and sought after frame. Experiment with this parting at home and watch how easily it helps you pull off every style of sunglasses and hat. Take heed from Catherine Zeta-Jones and tuck the rest of your hair behind your ears to further accentuate the fictional contour.
Pixie crop
Don't be afraid to go short. Jennifer Hudson's side-parted voluminous crop gives definition to her round face. But before your hairdresser picks up the scissors, make sure you ask for softness around the ears - too short and sharp on the sides and your restyle might look masculine.
Short and sweet
Whilst super sweet, a short round bob can drown an already circular face shape. If you have converted to this recently favoured style, ensure your hairdresser snips the lengths level with your jowls and keep them straight, blunt and choppy - this will strengthen your jawline. Copy Michelle Williams and pair your new style with a striking side fringe to really accentuate your new strong square shape.
Side-swept faux bob
A sweeping-side fringe that falls just below the highest section of the jaw, is a quick route to a more defined face shape. Pinning the remaining ends underneath the nape of the neck, will enhance volume which squares off the jowls and creates a trendy faux bob at the same time.
Mixed length layers
If you are blessed with long thick locks ask your salon stylist for loose, feature-framing layers to sprinkle some sophistication on your short circular face shape. The first set should begin slightly below the chin, to contour a heart shape point at the jaw, whilst the rest should fall two thirds of the way down. Highlight and bring forward the shorter face framing set by adding a gentle curve to the longer layers - you can do this by wrapping sections around a curling iron and feathering them away from the face with a soft birstle brush. An ombre colour, such as the one Mindy Kaling opted for at last week's Oscars afterparty will also strengthen a rounded jaw. Find out more about the power of colour contouring and how it can flatter every face shape here.