14 of the best Christmas party themes and ideas for holiday parties
These simple Christmas party themes make hosting a festive gathering easy and fun.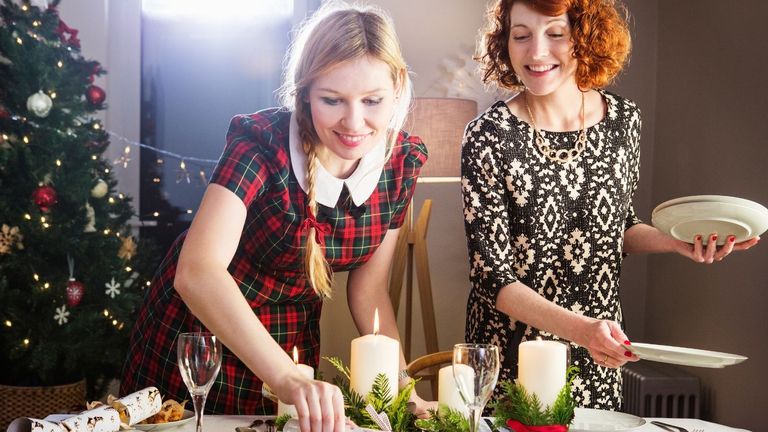 (Image credit: Getty Images )
Christmas party themes can range from elegant, tried-and-tested options to something fun and quirky, but the most important thing about any festive theme is that it's easy to achieve.
When it comes to hosting a Christmas party for friends or family, it can be the smaller details that your guests will truly appreciate rather than grand party pieces. Think personalised place settings, handmade decorations, surprising party favours or luxury Christmas crackers (instead of the cheap ones filled with throwaway toys) that suit your chosen theme.
Whether you fancy a casual festive film night or have a gold-themed dinner in mind that will go with your brand new Christmas party dress, this is our pick of the best Christmas party themes and ideas for 2021...
Best Christmas party themes for December 2021
1. Scandinavian hygge
For a cosy feel, go Nordic with your Christmas party theming—think wooden decorations, warm lighting and fluffy faux-fur rugs and fabrics. Add in candles, mulled wine and get the fireplace going if you have one, to bring the theme to life. A simple palette of white and grey with wooden accents works best for this. Don't forget to serve some nibbles alongside those warming spiced drinks.
2. Christmas cocktails
Get the party started by theming a night around cocktail hour. It's easy to grab the ingredients needed for some classic cocktails, from a martini to a mojito, that your guests can have a go at shaking up themselves. Factor in some cocktails with a seasonal twist, too, such as Eggnog, Baileys cocktail or hot spiced cider and get your guests to glam up their Christmas party outfits (any excuse to get out of our activewear after another year of lockdowns!)
3. Sparkle and shine
Add a touch of luxury to your get-together by adding metallic accents to your Christmas decorating ideas, such as rose gold and copper, with twinkling coloured lights. Guests can even add to the theme by wearing sparkles and sequins in their outfits.
4. Festive film night
If you love hosting friends or family but prefer a casual event, simply host a film night packed with Christmas classics. Guests can come over in their comfiest gear— even their best Christmas pyjamas if they like—and all you need to provide is a decent TV to watch films on and plenty of snacks. Want to go that extra mile for your Christmas party? Why not provide matching Christmas pyjamas for your attendees?
Save time scrolling through streaming services with our pick of the best Christmas movies available to watch this year too:
5. Classic Christmas theme
You really can't go wrong with a traditional Christmas party theme, combining green and red accessories, tartan and the best Christmas food. Traditional Christmas parties are always a hit and bring a real festive feel to the month. Opt for fresh greenery and sprigs of holly as Christmas centerpiece ideas, play Christmas tunes and carols as background music and, of course, don't forget your tree.
6. Chalet chic
Many of us still couldn't get away on vacation this year, so bring a bit of the Alps to your home with a chalet-style theme. A few touches will transport guests to the mountain slopes, including faux fur rugs, blankets and lanterns. Cosy Fair Isle jumpers and a cheese fondue won't look out of place either.
7. Winter wonderland
For a winter wonderland feel, simply go for a silver and white color scheme in your home and add touches of fresh ivy, holly and mistletoe if you can. It's a simple but effective way of adding that Christmassy vibe to the home and is perfect for those who prefer a "less is more" approach to decoration.
8. Games night
One of the hallmarks of the festive season is getting together with friends or family to play some good old Christmas games, so why not theme your gathering around them—both classic and new. Whether you create your own quiz, pick up a deck of cards or find a hilarious new yuletide themed game for the grown-ups, this idea brings some structure and lots of laughs to your party.
9. Scottish Highlands Christmas
Both festive and chic, a Scottish theme is easy to achieve and brings a touch of the Highlands to your party. Decorate your dining table with a plaid runner and stag statues. You can even adapt your menu to offer classic Scottish dishes such as venison and cranachan (a traditional dessert).
10. Going for gold
Christmas is a time for sparkle, so why not go gold for a really luxurious space that your guests will be wowed by. Metallics can be used on the tree or as a garland for the fireplace and to add that extra Midas touch, why not ask your guests to incorporate gold into their outfits too?
11. Outdoor magic
If you're lucky enough to have a garden and some outdoor heaters, why not invite guests outside for drinks or dinner. The use of outdoor lighting, tealights in jars, some holly and mistletoe, or even a festive wreath, will make for an incredibly atmospheric evening. Mulled wine or cider would make an extra layer of cosiness for your guests along with hot Christmas dessert ideas like Christmas pudding, hot apple pie or mince pies warmed in the oven before serving.
12. Whimsical woodland
Easy to achieve and wonderfully rustic, a woodland theme means you can make the most of what's around you—especially if you have a holly bush or some berries in the garden. Add some candles and earthenware plates and this is as simple as Christmas party themes can get.
13. Christmas tea party
If you're not massively into cooking, opt for a Christmas tea party for friends or family instead of a big meal. You can serve scones, cakes, sandwiches and hot tea or even champers, and add a few touches of Christmas theming for a easy yuletide event like the best mince pies.
14. Minimalist and modern
Not into overly festive Christmas decorations? A clean and contemporary look is just what's needed. Opt for a grey, white and gold palette, punctuated with greenery. Keep your Christmas tree decorating ideas simple and decorate for your Christmas party using candles instead of an eclectic mix of decorations.