Bestselling books from the past decade that have stood the test of time
These bestselling books range from romance to thrillers to real-life stories and so much more...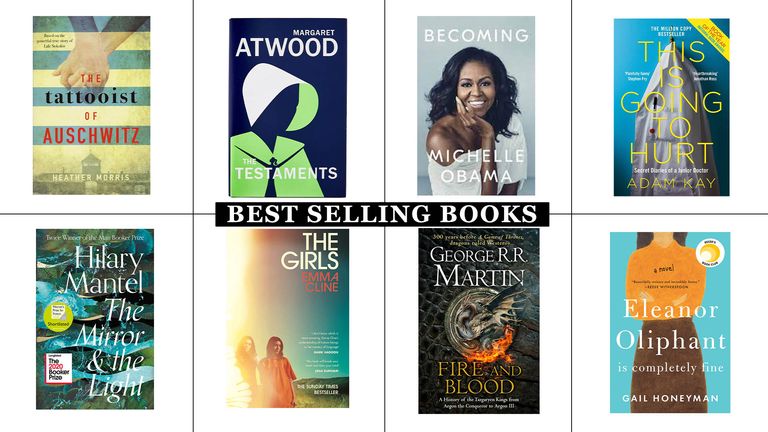 (Image credit: Future)
Bestselling books retain their popularity for good reason. But as many authors are painfully aware, there is no secret formula when it comes to longevity. The ingredients that give any book—from the best science fiction books to the best mystery books—a chance at big success, however, are great characters, engaging storylines, nifty twists, original ideas, fabulous covers, clever titles and beautiful, readable prose.
Bestselling books don't need to be lofty or life-changing. In fact, the bestselling book of the last decade was the ever-so-slightly controversial Fifty Shades of Grey, from writer E.L. James. The sexy fiction book centered around BDSM enthusiast Christian Grey has sold 15.2 million copies worldwide since its release in 2011—while the entire series (including Fifty Shades Darker and Fifty Shades Freed) sold 35 million print and eBook copies between 2011-2019.
Bestselling books can be from any genre, on any subject—whether it's a tale about a troubled commuter swigging vodka from a water bottle, the escapades of teenage wizards, a junior doctor documenting the wonderment and agony of life within the NHS, or a gang of OAPs solving a whodunnit. As long as a book resonates, the readers will follow—and follow the 30 titles below they certainly did. Our edit is comprised of books released over the last decade that have all made bestseller lists, selling into the hundreds of thousands—some even into the millions. The below books have been hugely popular in print, but many have also soared in the eBook and audiobook charts too. Curl up with your kindle or a trusty paperback and delve into one of these addictive reads, safe in the knowledge that they
Bestselling thriller books
The best thrillers leave you desperate to turn the page—and these bestselling books from over the last few years do this expertly. With twists and turns aplenty, the below books have been huge hits over the past decade—with some delving into the foggy underbelly of crime, while others see their protagonists attempt to solve mysterious murders.
The Girl On The Train by Paula Hawkins (released Jan 2015)
It's impossible to compile a bestselling books list without this Paula Hawkins novel. The novel once described to this reviewer by its mildly astounded author as 'my depressing little book' sold millions of copies, has been translated into 40 languages and was adapted into a major Hollywood movie starring Emily Blunt. Nothing little or depressing about any of that. The combination of simple-yet-enticing premise (woman sees something through the train window on her daily commute that sets off a chain of devastation) unreliable narrator-protagonist (said woman is an alcoholic) and killer twist (no spoilers here) gave this psychological thriller exactly what it needed to break records. If you are somehow yet to read it, you are in for a treat.
---
I Let You Go by Clare Mackintosh (released May 2015)
This is one of the bestselling books both in the UK and in the US. I Let You Go is always talked about in terms of "that twist"—and it's with good reason. Following a tragic accident, Jenna moves from the city to an isolated cottage on the Welsh coast, where she tries to piece her life back together. Meanwhile, Detective Inspector Ray Stevens is doing his best to seek justice for a young mother—a quest that will see him stop at nothing, even if it means putting his personal life on the line. What links these two characters? The truth, once revealed, will leave you gasping.
---
The Girls by Emma Cline (released June 2016)
There is undoubtedly something morbidly fascinating about Charles Manson and his cult, and so this novel—a fictionalised account of life inside the Manson 'family'—was destined to be one of the bestselling books of our time. Dark and dreamy, it follows 14-year-old Evie Boyd as she is drawn deep into the seemingly seductive world of Manson and his band of disciples, who lived together at a ramshackle Californian ranch in the late 1960s. As brutal as it is brilliant, what makes this one of the bestselling books of our time is its refusal to shy away from the multitude of horrors that took place behind the façade of a sanctuary. One reading experience you are guaranteed never to forget.
---
Behind Closed Doors by B A Paris (released Feb 2016)
A word-of-mouth thriller that went on to shift over a million copies and top both the Amazon and iBooks charts. Behind Closed Doors is one of those bestselling books that set a trend for domestic noir that has endured to this day, making it one of our bestselling books picks. From the outside, Jack and Grace appear to be the perfect couple, but there is something about their glossy façade that hints at pretense. Why are they never seen apart, how does a woman who hosts so many dinner parties stay so slim, and why are there bars at the bedroom window? Slick, tense, gripping and unsettling, this book is the very definition of unputdownable.
---
Origin by Dan Brown (released Oct 2017)
With a worldwide sales record that tops 200 million books, you can't argue with the fact that author Dan Brown is a very big deal indeed. And this, the fifth in his series of action-thrillers starring professor of symbology and iconology Robert Langdon stormed up the charts when it was released in late 2017. Origin opens in typically dramatic fashion with a shocking incident at the Guggenheim Museum in Bilbao, where Langdon has traveled in order to see the unveiling of something that will "change the face of science forever". Forced to flee with the museum's director Ambra Vidal, our hero hotfoots it to Barcelona on the trail of another perilous mystery. Fast-paced and far-fetched, it's an undeniably fun read—so no surprise it's made our bestselling books list.
---
Lethal White by Robert Galbraith (released Sep 2018)
The fourth in JK Rowling's (writing as Robert Galbraith) crime series starring private investigating duo Cormoran Strike and Robin Ellacott struck a chord with more readers than ever, perhaps thanks in part to the BBC drama series Strike, but also because it delves deep into the shady lives of British politicians. After an agitated young man arrives at Strike's office ranting about the death of a child, the detective finds links between his case and that of a minister who's being blackmailed. As he juggles both cases alongside a tumultuous love life, Strike must also try to make sense of his feelings for Robin who, unbeknownst to him, is struggling with far more than just a crumbling marriage.
---
Best selling literary/classic books
The bestselling books in the literature genre from the past couple of years have become cult favorites and must-reads—and for good reason. Covering a huge assortment of topics, from the magical worlds of witchcraft and wizardry to the life of a 29-year-old social misfit, there's something for almost everyone here.
Go Set A Watchman by Harper Lee (released Jul 2015)
The 1960 novel To Kill A Mockingbird is one of the great American classics and, until the year 2015, the only published work by its author Harper Lee. So, when reports of a new book began to circulate the reading world was unsurprisingly excited, and pre-orders for Go Set A Watchman were the highest since the final Harry Potter book was released. Touted as a sequel to its famous predecessor, the book was actually written first, and features Mockingbird's young Scout as an adult woman struggling against the tides of racial injustice, societal constraints and her feelings towards her lawyer father Atticus.
---
Harry Potter And The Cursed Child: Parts I & II by JK Rowling, John Tiffany & Jack Thorne (released Jul 2016)
This 'scriptbook' may not be a novel in the traditional sense, but that did not stop it soaring straight to the top of the bestseller charts, such is the power of anything and everything relating to Harry Potter. Picking up the story 19 years after Harry defeated Voldemort, it follows his second son, Albus Severus Potter, aboard the Hogwarts Express as he heads off to school and towards a very different destiny to that of his famous father. While not written by Rowling herself, it is based on her original story, and there is plenty of magical wonderment here to satisfy discerning fans of the bestselling books franchise.
---
The Book Of Dust Vol 1: La Belle Sauvage by Philip Pullman (released Oct 2017)
It had been 17 years since Philip Pullman's final book in his bestselling books trilogy, His Dark Materials, was published, so the excitement when this first of a brand-new series of fantasy novels by the same author arrived was off the scale. La Belle Sauvage, which has been described by Pullman as "not a prequel or sequel, but an equel" is set ten years before the events of His Dark Materials and introduces Malcolm Polstead, an 11-year-old boy who is about to find himself at the heart of an epic adventure. Escaping into another world feels like a tonic we could all benefit from in 2020, so if you have yet to step foot inside Pullman's imagination, this could be the perfect time.
---
The Power by Naomi Alderman (released Oct 2016)
Winner of the Bailey's Women's Prize for Fiction 2017, this bold slice of feminist speculative fiction imagines a world where teenage girls wake to find they have a new power. They can now generate electricity with their bare hands and use it to inflict pain, to control and to claim back their freedom from the men that may have oppressed them. And it is not only the young who have this power—it can be awoken in older women too. Told from the point of view of four characters—US politician Margot, gangster's daughter Roxy, runaway Allie, and Nigerian Tunde, the man who documents what's happening, it's a gripping, visceral and thought-provoking tale. Well worth repeated reads, we love this book for women.
---
Eleanor Oliphant Is Completely Fine by Gail Honeyman (released May 2017)
With her story boasting numerous accolades, astounding global sales and a Reese Witherspoon-produced movie in the pipeline, Eleanor Oliphant is perhaps the most prominent and memorable literary character of the past five years, so we couldn't miss it off our bestselling books list. The 29-year-old titular heroine is a social misfit doing her best to muddle through a life that has been scarred by her troubled mother, and the novel follows Eleanor as she navigates work, alcohol dependency, infatuation and a tentative friendship with IT helpdesk dude Raymond. Such was the clout of this book's success after it was released that an entire sub-genre of 'up-lit' novels followed in its wake—well-earned praise indeed. This is also a fantastic book club book too, for those on the hunt for something to chat about.
---
Where The Crawdads Sing by Delia Owens (released Aug 2018)
This spellbinding slow-burn of a debut novel caught the attention of both Richard and Judy's Book Club and Reese Witherspoon, who's also snapped up the movie rights. The book, which begins in the 1950s among the marshlands of North Carolina, is a coming-of-age murder mystery and heartbreaking love story with a bewitching protagonist at its heart. As vivid as it is affecting, the story is one that will stay with you long after reading. Thoroughly deserving of its meteoric success and bestselling books status.
---
Bestselling feel-good books
Sometimes, a feel-good book is the perfect tonic for those days when you're not sure what to read. In the below list, you'll find everything from the best romance books that will have your heart bursting and tears falling in equal measure, to poignant, meaningful books discussing the important issues in life. We defy you not to read these and smile.
After You by Jojo Moyes (released Sep 2015)
Three years after Me Before You catapulted author Jojo Moyes to the top of the global bestseller lists (and the book-to-movie adaption to the top of the blockbuster list), she released this follow-up that picked up 18 months after Lou Clarke was forced to bid a tearful farewell to Will Traynor. Far from taking the great leaps forwards that her former love had urged her to, we find that Lou has done little more since Will's death than buy a flat and get a job in an airport pub. When a fall topples her quite literally into the path of paramedic Sam, however, it marks the start of a new chapter—and adventure—for our much-loved protagonist. A warm-hearted, funny and hope-filled read.
---
Fifty Shades of Grey by E.L.James (released May 2011)
The biggest selling book in recent years, Fifty Shades of Grey is an erotic romance novel that follows the budding relationship between Anastasia Steele and the alluring Christian Grey, a young entrepreneur. After an interview between the pair, things quickly take a more sexual turn, and Anastasia is opened up to a well-hidden world that pushes the boundaries of pain and pleasure.
Sweet Sorrow by David Nicholls (released Jul 2019)
From the author of such literary hits as Starter For Ten, One Day, and Us—which are some of the bestselling books in the romance genre of the last few decades—arrived this coming-of-age tale of first love, family and finding out who you really are. Set over one long summer in 1997, it charts the ups, downs (and sideways-es) of teenagers Charlie and Fran, who bond over their mutual passion for the Bard. What Nicholls does so well is to convey the myriad complexities of human emotion without ever slipping into sentimentality, and it is this deft hand that makes reading his books such a joyful experience.
---
The Thursday Murder Club by Richard Osman (released Sep 2020)
As Pointless presenter Richard Osman himself tweeted in early December, his debut novel The Thursday Murder Club has become the 10th bestselling hardback novel in UK chart history. A triumph well deserved by a book that manages to delight and enthrall in equal measure, as the titular club—comprising of a group of elderly amateur sleuths living in a retirement village—set about discovering who knocked off a local landowner. The characters are wonderful, the plot perfectly executed and there are moments of genuine poignancy too. With two more books featuring the same cast in the pipeline and a film in the works with Steven Spielberg's production company at the helm, this is one club you'd be foolish not to join. One of the best books of 2021 in our opinion.
---
The Boy, The Mole, The Fox And The Horse by Charlie Mackesy (released Oct 2019)
Former Spectator cartoonist Charlie Mackesy's debut book of illustrations won the prestigious Waterstones Book Of The Year 2019, becoming one of the easiest buy-for-anyone Christmas gifts of that year. Celebrating warmth, kindness, friendship and positivity, the delicate drawings and accompanying lines of calligraphy are a tender reminder that there is always a chink of light to be found, even in the darkest times. One of the most beautiful bestselling books on our list.
---
Bestselling real-life books
While fiction is no doubt utterly compelling, real-life stories will always pack a heavy punch when we know that the words on the page are reflecting reality rather than an imagined world. These bestselling books in the non-fiction genre from the last decade reflect some of the most interesting parts of society—from life and death stories from inside the NHS, to tales from the White House and, on a lighter note, the reality of love in your 30s.
When Breath Becomes Air by Paul Kalanithi (released Jan 2016)
Dr Paul Kalanithi was 36 and reaching the end of a six-year residency as a neurosurgeon when he was diagnosed with terminal lung cancer. In only a few devastating minutes, he had gone from being a doctor who saved lives to a patient facing his own death, and the impact it had on him was colossal. In the last 22 months of his life, Dr Kalanithi wrote this memoir, musing on his feelings, his legacy and everything in between. Poignant and life-affirming, tragic yet touching, it more than deserves its status as one of the bestselling books of the past five years – if not ever.
---
The Unmumsy Mum by Sarah Turner (released Feb 2016)
Sarah Turner began sharing her experience of motherhood in 2013, when she started a parenting blog that quickly garnered her an army of devoted fans. As 'The Unmumsy Mum', Sarah was willing to share not simply the highs of first smiles, first steps and first sleep through the nights, but also the lows of exhaustion, baffling baby behavior and all the mad changes your body goes through during and post-pregnancy. This book was a natural progression from blogging to bestsellerdom, and it is an uplifting, side-splitting triumph.
This Is Going To Hurt by Adam Kay (released Sep 2017)
This Is Going To Hurt is the bestselling narrative non-fiction title of the decade, shifting over 1.18 million copies to date and, with a BBC comedy series in the works, that number looks set to keep rising. Hilarious and touching, the book is a series of diary entries made by comedy writer Kay when he was a junior doctor, and his remembered incidents and musings range from genuinely funny to tragic. A true love letter to the NHS, it raises serious points about how often the mental health of medical professionals is overlooked and is in essence a call to arms, reminding all Brits to continue to protect and support the beloved health service.
---
Becoming by Michelle Obama (released Nov 2018)
A memoir written by the former First Lady of the United States was always going to light up the charts, but Becoming has gone a step further and become one of the bestselling books in the audiobook market too. As if that wasn't enough, there is also a Netflix documentary, a tie-in journal, and Michelle Obama has launched her own vastly popular podcast series. The book chronicles all the events that shaped her life, from growing up on the South Side of Chicago, to juggling her career with motherhood and what it was like living at the world's most famous address. Full of warmth, wisdom and intelligence, it's a fascinating insight into the world of an individual whose positivity, determination and huge-heartedness have seen her become one of the most iconic women of our generation.
---
Everything I Know About Love by Dolly Alderton (released Jan 2018)
Journalist and former dating columnist Dolly Alderton made the bestseller lists with her debut novel Ghosts in October 2020, but it was this memoir, released two years previously, that earned her that huge reading base. Shortlisted for Waterstones Book of The Year 2018, Everything I Know About Love is a coming-of-age story about life, relationships, friendships, family, and more, and Dolly shares everything about her disastrous dating experiences and various heartbreaks—not to mention that house party she attended that had a Rod Stewart theme. Enjoyable, relatable and honest, it's also very funny indeed.
---
Me by Elton John (released Oct 2019)
The first and only official autobiography of the music icon known as Elton John is an insightful, eye-opening and informative story about a life that has been anything but ordinary. Beginning with the singer's childhood growing up in the London suburbs, the book goes on to cover Elton's transformation from quiet boy Reginald Dwight to eccentric performer and confidante to the stars, touching on his friendships with John Lennon, Freddie Mercury and George Michael. He talks candidly about the various struggles he's been through, including how he kept a decade-long addiction to drugs a secret, and about setting up his AIDS foundation, finding love with husband David Furnish, and becoming a father. As humble in tone as it is fascinating in content, this rock memoir should be read by all.
---
The Secret Barrister (released Mar 2018)
Courtroom dramas have long been a popular format in books, films, and TV shows, but many of those add a hefty amount of gloss (and glossing over) to make the setting more exciting. As it turns out, there is a lot more to a criminal case than two impassioned hotshot lawyers shouting "objection" over each other and bumping off members of the jury behind the scenes. In fact, the reality of life as a criminal barrister is one most people knew very little about until this anonymous first-hand account was published in 2018. The Secret Barrister covers everything from the criminals to legal staff, police and witnesses, revealing with fair yet no-less-shocking honesty how broken and open to manipulation the justice system is in this country. No wonder it became one of the most read and talked-about books of the year.
---
Hinch Yourself Happy by Mrs Hinch (released April 2019)
Following an 11-way auction, Penguin snapped up UK influencer Sophie Hinchcliffe's first book and promptly went on to sell over 220,000 copies in the first ten days of release. Described as "the Marie Kondo of household chores" Mrs Hinch won her army of 3.8 million Instagram fans by sharing cleaning hacks and tips, showcasing her immaculate home, and offering advice on how not to become overwhelmed by housework. In the book, she opens up about her own life and makes the case for cleaning as an antidote to stress and anxiety while suggesting ways to make the practice of polishing, sweeping, scrubbing and dusting more fun. As well as Hinch Yourself Happy, Sophie has also turned her hand to a journal, a book of lists and a memoir, all of which have sold by the bucket (and mop) load.
---
The Body by Bill Bryson (released Oct 2019)
This book was still sitting high on the Amazon charts a full year after its release, and it's no surprise. This astonishing guide to the human body is a captivating and humorous triumph. It takes a special writing talent to hold a reader's attention for as long as Bryson does, and with The Body he has proved yet again that he's the go-to author when it comes to the wry transference of facts. As well as discussing everything from how we heal to how we feel, think and function, Bryson shares incredible stories and anecdotes while ruminating on his own responses to the things he's learning. The result is a strangely moving and endlessly entertaining read that will leave you wanting to take a lot better care of yourself.
---
Bestselling historical fiction books
These books, set decades ago, do an incredible job of painting a picture of a world we'd find it difficult to recognize nowadays. The best historical fiction books shine a light on society as it once was, and the realities of life at that time—and these bestselling books do it the best.
The Tattooist Of Auschwitz by Heather Morris (released Jan 2018)
In 1942, Slovakian Jew Lale Sokolov arrived at Auschwitz and was instructed to tattoo those prisoners who had been selected for survival. It was here that he first saw Gita, a terrified young woman with whom he fell instantly in love, vowing from that point onwards that he must do whatever it took to ensure the two of them made it through the war alive. One of the reasons The Tattooist Of Auschwitz is so captivating is its foundation of truth—over the course of three years, author Heather Morris listened as the real Lale told her his story—but it's also a vital and unflinching examination of past atrocities that we should never allow ourselves to forget.
---
The Mirror And the Light by Hilary Mantel (released Mar 2020)
Hilary Mantel novels are some of the most popular in the historical literary space, and so the third and final novel in the Wolf Hall trilogy was long-awaited and much anticipated. This one picks up Oliver Cromwell's story in 1536 and follows him through to his untimely death by execution in 1540. Shortlisted for the Women's Prize for Fiction and longlisted for the Booker Prize in 2020, this mighty and mesmerizing tome looks likely to remain one of the bestselling books around for a long time—and rightly so.
---
Bestselling dystopian/fantasy books
These dystopian/fantasy bestselling books might detail lands and worlds that are foreign to us all, but many of them, at their core, provide valuable lessons about the world around us now—and how we should be interacting with one another. The following novels are some of the most popular of the past decade, and well worth your time.
The Testaments by Margaret Atwood (released Sep 2019)
Shortlisted for a host of awards and co-winning the Booker Prize in 2019, there was never any doubt that Margaret Atwood's long-awaited follow-up to her 1985 modern classic The Handmaid's Tale was going to be a huge success. Picking up ten years after that novel's open-ended conclusion, The Testaments returns to Gilead through the narrative strands of three different women—a girl brought up within the confines of this new state, another outside on the run, and a woman at the center of the regime who's hiding a dark secret. Gritty, gripping and gut-wrenching in its subject matter, the novel answers lots of questions yet raises many more. An important, topical and thoroughly entertaining read.
---
Fire And Blood by George RR Martin (released Nov 2018)
Set 300 years before the events that played out in the TV series Game Of Thrones, this epic novel covers the history of the House Targaryen, beginning with how Aegon the Conqueror created the Iron Throne and following him and his ancestors right up to the civil war that scattered their family and almost destroyed their dynasty. For those who are fans (and there are many hundreds of thousands all over the world), this weighty tome provides an in-depth background to a world that has stretched imagination into a new realm. There was never any question that a new book by George RR Martin would storm straight to the top of the charts, and the success of Fire And Blood proves that readers' appetite for dragons, battles and fantasy adventure is as strong as ever.
---
Midnight Sun by Stephenie Meyer (released Aug 2020)
Fifteen years after the first Twilight book was published and promptly became a phenomenon, Stephenie Meyer decided to return to the story that made her a household name—but this time, it was dishy vampire Edward Cullen's turn to narrate what was to become one of the bestselling books of the series. What was the pale-skinned young man thinking during all those pensive moments he spent gazing across the school cafeteria at Bella? Why did he eventually decide to grant her ardent wish to remain with him? And what about his long history and how it relates to the other vampiric characters from the original four novels? All those questions and more were answered in this lengthy tome, which has proved itself to be a must for fans of the franchise.
---
Isabelle Broom is the author of eight escapist fiction novels. She won the Romantic Novelist's Association Best Contemporary Romance Novel award in 2019 and The Great British Write Off short story competition in 2015, with her winning entry, The Wedding Speech, later being adapted into a short film.
Following a degree in Media Arts from the University of West London, she spent an eventful summer working in a bar on a Greek island, became an avid traveller, and vowed to one day write stories set in all her favourite locations around the world. Before this dream became a reality, Isabelle spent a gloriously fun 11 years working at heat magazine,
As well as heading off on adventures abroad—a pastime she now gets to call 'research'—Isabelle is lucky enough to write book reviews and travel features on a freelance basis. To find out more about her novels—and her mildly chaotic Suffolk-based life—you can visit isabellebroom.com, follow her on Twitter and Instagram (@isabelle_broom) or search for Isabelle Broom Author on Facebook.