How often should you be cleaning your home? This handy timeline will help you keep on top of the housework
What needs cleaning daily, weekly, monthly, and so on...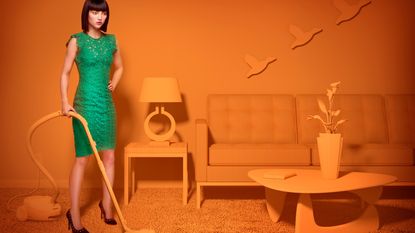 (Image credit: Chris Clor Getty)
When it comes to cleaning out homes, we all find ourselves sticking to a different routine - whether you clean every day and have a deep clean once a month or prefer to have a deep clean without tidying in between, there's no sure fast way of doing things any quicker - until now!
Even the best air purifier might make your home healthier when it comes to breathing but there could still be pesky bacteria lurking out of sight.
We all wash up after cooking dinner but aside from putting the best induction pans in the dishwasher, is there more we should be cleaning often in the kitchen?
Forget dragging the vacuum cleaner out every other day, or plumping your best pillows, did you know that there is a timeline that you can stick to which will leave your home feeling clean and fresh for longer - without breaking your back or bank balance on costly cleaning products.
Knowing what needs cleaning each day, week, or month can help you set up a cleaning routine to ensure your home is kept in top condition. Here Improb (opens in new tab) shares their top tips for cleaning throughout the year, so you are on top of everything when it comes to spring cleaning this year...
Every day
A few unavoidable tasks need doing every day, including making your bed, cleaning dirty dishes, and laundry when needed. Nowadays, many people choose to just do loads as required instead of having a set schedule.
If you use a coffee maker, clean this out every day to keep it in top condition for your morning cup of coffee.
Finally, after eating your dinner at night, wipe down your kitchen counters and tables to avoid dirt from building up. For this purpose, you may want to consider a homemade cleaning spray, which you can scent with natural essential oils.
Every Other Day
Bathroom towels can be changed every other day or a couple of times a week. These are often neglected for much longer but soon start to defeat their purpose if they are carrying a whole load of germs.
Your kitchen and bathroom sinks and bathroom surfaces can be sanitized every other day, which will avoid having to give them a deep clean as regularly.
Squeegee your shower walls every other day if this isn't part of your daily routine.
Weekly Cleaning
Every week, it's time to clean or vacuum the majority of the floors in your home, including your carpets and bathroom floors. Then it's time to tackle the furniture, digging down the side of the sofa with the adaptor nozzle.
Set aside time to give your bathroom surfaces a full scrub down. This includes your shower, bath, and sink areas.
Inspect your fridge once a week, whilst making a shopping list you can wipe the shelves down at the same time and check for any expired food and dispose of this during your cleaning session. Then check the kitchen appliances that you use every day and give them a quick wipe down including your kettle, toaster, and sink handles. Don't forget the inside of your microwave - this needs cleaning more often than your oven, ideally weekly.
Bedding should be changed at least once a week, and most people find it easier to get into a routine of doing this at the weekend. And while you're at it, dust down any furniture and clean your mirrors once a week to help avoid a build-up of dirt and dust.
And remember to sanitise sponges or clean the rags you've been using for cleaning ready for the following week.
Once a Month
Clean your dishwasher, washing machine, and vacuum every month in order to keep your cleaning tasks germ-free and more efficient throughout the year.
For your dishwasher, remove the racks and give them a full scrub down to avoid grime and grease building up.
You should dust your blinds and clean any light fixtures at least once a month.
Finally, vacuuming woodwork or vents around your home can be attended to once a month.
What to Clean Every 3 Months
Time to tackle the smaller decorative items, such as lampshades, using hot water, though you can also remove dust by using a lint roller too.
Your shower curtain should be washed or replaced every quarter to avoid a build-up of dirt and grime.
And give the areas behind and under your furniture a good clean over, moving them out if needed to get to all the hard-to-reach areas.
Finally, give your mattresses a good vacuum if their care instructions allow for this.
What to Clean Every 6 Months
Twice a year, deep clean your oven using a specialist spray or cream. But avoid scouring grime too much, as this can damage the lining of your oven. Take a look at your kitchen range hood and give it a wipe down during this time.
While your fridge should certainly be wiped down weekly, a full deep clean twice a year is a good idea, where you remove everything first. Although many people opt to do this more often, which is understandable, considering how often we use our fridges.
Finally, if it's the right season, clean your patio furniture and deck surfaces, especially if they've been stored away during the winter months.
What to Clean Every 12 Months
As long as you are vacuuming your carpets regularly, a deep clean of carpets and upholstery can be left for up to a year at a time, although many homeowners opt to do this twice a year.
If you have a fireplace in your home, this should be cleaned out and swept thoroughly once a year, and spring is the perfect time to do this.
Your curtains and drapes should be washed once a year, and these are often neglected by homeowners.
Finally, call a professional in to clear out your gutters once a year to avoid blockages and leaks.
Selina is a Senior Entertainment Writer with more than 15 years of experience in newspapers and magazines. She has covered all things Entertainment for GoodtoKnow, Woman&Home and My Imperfect Life. Before joining Future Publishing, Selina graduated from the University of Sheffield in 2006 with a degree in Journalism. She is fully NCTJ and NCE qualified and has 100wpm shorthand.