7 big bathroom trends 2022 to watch out for this year
The biggest bathroom trends 2022 have been revealed by experts and interior designers alike. But which will you use to freshen up your space this year?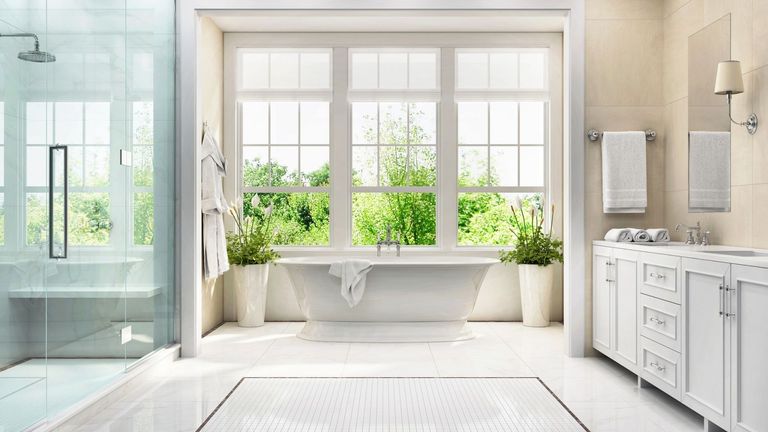 (Image credit: Getty)
By Emma Kershaw published
The top bathroom trends 2022 will help you take your space to the next level of interior design, whether you're seeking the ultimate spa-like experience at home or plan to give your bathroom a bit of a makeover this year.
Although they're used every single day, bathrooms tend to be one of the more overlooked spaces in the home. A full bathroom renovation is costly and a huge inconvenience, but applying the top interior design trends of 2022 to your space can be as simple as adding a few real plants or more spa accessories, like candles, to the room.
However, if one of your New Year's resolutions for 2022 is to finally overhaul a bathroom that has long needed a makeover, interiors and trends experts have come together to share their predictions for what we'll be seeing in bathroom design this year.
From bold wallpaper—yes, wallpaper—to neutral accessories, these are the top bathroom trends that should be on your radar (and the trends to avoid) in 2022...
Top Bathroom trends 2022
1. Marble moments
While the use of marble in the bathroom is nothing new, the luxury stone slabs will prove more popular than ever in both bathrooms and in kitchen trends for 2022.
Instantly adding a luxurious feel to any space, popular choices include classic white marble with distinctive gray or gold veins running through the stone, and black marble that gives a sleek, contemporary finish.
"Marble is being adopted at a higher rate by renovating homeowners this year, with increased usage in shower flooring, non-shower flooring, and non-shower walls," Houzz reports.
Although a worthwhile investment, marble often comes in at the higher end of the price scale and can be out of budget for some. For a less expensive option, choose marble effect tiles in porcelain. They will still have the opulent look and feel of real marble tiling, but at a lower price point and with the added benefit of being easier to clean and maintain.
2. Industrial inspiration
According to B&Q, industrial-style bathrooms will reign supreme in 2022. Think New York City loft-style exposed brick, brass accents, and rustic bathroom accessories.
"Achieving the industrial decor aesthetic can be done without a major overhaul to your space," comments B&Q's Director of Interiors & trends expert, Susie Spence.
"You can't go far wrong so long as you're co-ordinating carefully to complete the monochrome industrial-inspired space, bringing your New York-inspired look all the way across the Atlantic to your very own bathroom,"
3. Plenty of plants
B&Q also suggests bringing a touch of nature to your bathroom design with plenty of greenery. Low-maintenance house plants you can buy online are your best bet, and bonus points if they're air-purifying—think Snake Plants, Bird's Nest Ferns, and Monstera Plants.
"Just search Instagram or Pinterest and you'll find tons of inspiration for this trend," says Susie. "Plant walls are a great way to bring a touch of serenity to your bathroom. Simply dot them around a baron wall to create an urban jungle. If [you're] tentative about keeping a whole wall of plants alive, opt for artificial ones to achieve the same look!"
4. Black accents
Adding black accents will give your bathroom a sleek and sophisticated finish without overwhelming the space with too many dark hues. Contrast hints of black with neutral colors and raw materials for a bold look. Black faucets and light fixtures are a great place to start.
"Black finishes transcend all styles of interior décor making them a popular choice in any room," says Peter Legg, lead designer at där lighting.
"Recently this color has been increasingly adopted within the bathroom to add drama and depth but, when used in small areas, black can sometimes be overpowering," Peter warns. "Combinations contrasting the tint with ribbed and opal glass shades are rising in popularity as they introduce softness, balancing out the look and creating a perfect blend."
5. Bold wallpaper
Have you ever thought about wallpapering your bathroom? If not, 2022 could be the year to give it a go. Rikki Fothergill from Big Bathroom Shop predicts that bright and bold wallpaper will prove popular this year, adding a playful pop to otherwise serene bathrooms:
"As the new year approaches, it may feel as though we are taking a step back in time," says Rikki. "Wallpapered bathrooms of the 1980s will be making a comeback and with the right choice, any room can be transformed."
"Whether you decide to create a tropical-themed powder room or choose a romantic floral pattern for your washroom, the possibilities are endless. This is another opportunity to get creative and bring some fun to a room.
"Vinyl wallpaper is best to use in a bathroom due to its resistance to moisture and humidity. If decorating a large space, go for a large-scale print or pattern. For a smaller space, choose a singular wall or the corner of a room to give the illusion of a bigger bathroom."
6. Blue bathrooms
Pantone's Color of the Year for 2022 was "Very Peri" and this was closely followed by Dulux's "Bright Skies", heralding the arrival of a huge interior paint color trend for 2022 - blue hues.
These calming shades are set to be very popular this year, especially in the bathroom. "With Dulux choosing "Bright Skies", blue is bound to be a popular choice for bathroom tiles", explains Rikki.
"Deep blue tiles could make for a beautiful feature wall, oozing luxury with their high gloss finish. For a more subtle introduction of colour, opt for a pastel blue tiled floor. There are plenty of options when it comes to trying out this trend to change up the space, like using a variety of colours in Mosaic tiles to create a statement shower."
7. Spa aesthetic
Create a serene spa-like experience at home with the addition of a few luxurious extras such as the best scented candles (or opt for flameless candles if you have small children and/or pets).
Hannah Conway, director of Bathrooms Of Distinction, explains how you can achieve a relaxing space with a few simple tweaks:
"In the highly stressful lives we all lead our bathrooms are becoming more of a sanctuary as it is a place where we can practise mindfulness in a peaceful and private environment. Minimal changes can be made to achieve this such as keeping away from bright and vibrant colour schemes and decluttering. You can go bold and install a bath and minimalist furniture or simply add a few candles and crystals and get yourself an over bath book or tablet holder, which we are seeing more of recently."
Bathroom trends to avoid in 2022
Bathroom trends come and go, and while some can change your space for the better, there are some interior design ideas that you might want to think twice about if giving your bathroom a makeover in 2022...
1. Open shelving
While open shelving can look chic in a living room or kitchen, in a smaller space like a bathroom, where you have fewer aesthetic accessories to display and more clutter that you need to tuck away, the more closed bathroom storage you have, the better.
"If you're anything like my family, there will be multiple shampoo bottles, bath salts, makeup and medications needing a home," says Steven Jaques at InHouse Inspired Room Design. "Only a few of us can create beauty out of a crowded countertop, and floating shelves can only hold so many bathroom necessities."
Prospective buyers for a home will always look at how much storage is on offer in spaces like the bathroom. So, if you're planning a new design for your bathroom, it's worth maximising all the storage space you can. However, as Steven points out, storage solutions can still make a stylish addition to your bathroom:
"There's no need to compromise on style—even storage solutions can be stylish, with a combination of closed storage in preferred finishes and open storage to keep everyday essentials within easy reach."
2. White bathrooms
"All too often we hear people say, 'I'm going for white because I might want to sell my house in the future.' But boring bathrooms have the negative effect of failing to meet your needs now and the needs of prospective purchasers," explains Steven.
"Treat yourself to luxurious and spa-like bathrooms. The deep intensity of colour creates a surprisingly warm atmosphere to sink into, especially when paired with wooden textures. Whether this is in the form of black bathroom furniture coupled with wooden countertops and black handles, or black basins sitting on top of rich oak-effect cabinetry, deep finishes are going to be one of the key trends for this year."
3. Fleeting trends
All of the top bathroom trends for 2022 featured in this article have been selected by experts and interior designers because of their timeless nature and potential to add value to your space.
However, it's always important to asses what you can afford and what design and decor will be right for your home before changing your space because of a trend.
"Don't go for something just because it's all over Instagram or social media, only go for it because you absolutely love it," advises award-winning designer, Nicola Burt.
Nicola advises that you should stick with timeless trends that will see you through, as you'll be thankful for it years down the line: "Bathrooms are expensive to refurb so go for furniture and finishes that will outlast short-lived trends."
After watching 13 Going on 30 one too many times, Emma decided that she wanted to be a journalist and studied Multimedia Journalism at the University of Salford. She started her career as a fashion copywriter before delving into the world of digital journalism and her published work can be found in the likes of woman&home, Cosmopolitan, Metro, i-D and Apartment Therapy. Emma writes about interior design, travel, film and television, celebrities, and internet culture.
When she's not writing or editing, Emma can be found doing yoga (badly), reading the latest TikTok trending novel, or listening to the ten-minute version of Taylor Swift's "All Too Well" on repeat.