The best vibrator for a buzz alone or with your partner
Our best vibrator round-up is packed with tried and tested reviews and recommendations for top orgasms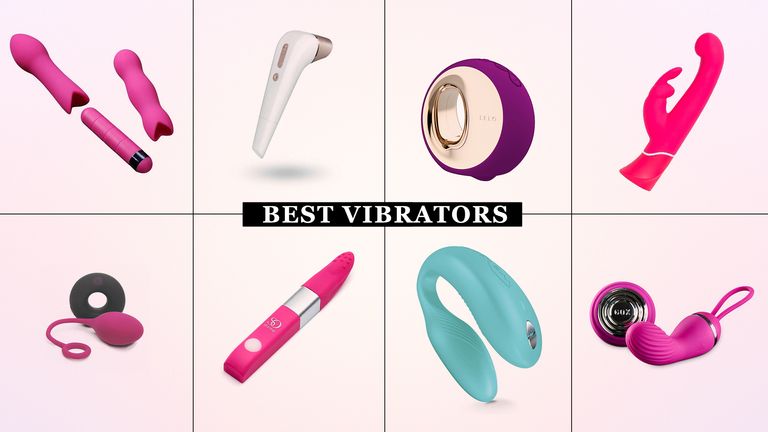 (Image credit: Future)
Whether you're looking for the best vibrator to use with a partner or a sex toy for solo use, there's something for everyone in our round-up.
Trying to find the best vibrator is no mean feat. While getting to know the touches and techniques that turn you on (or off) with the help of a sex toy can improve body confidence, relieve stress and provide lots of fun, it's important to remember that everyone is different. We all have different tastes, desires and preferences when it comes to sex toys, and the intensity of your orgasm can vary depending on stress levels, where you are in your monthly cycle or just what's going on in your mind.  
To help you on your search we've tried and tested popular sex toy brands such as Satisfyer, We-Vibe and Durex. 
We tested a range of vibrators, from bullet vibrators to rabbit vibrators. We used all the products included in this round-up at least three times and for varying lengths of time until they helped us orgasm. We considered price, type of vibrator (such as those which are used internally as penetration or externally on the clitoris), ease of use, noise levels, embarrassment-if-seen factor and whether they turned us on and helped us orgasm.
The best vibrators as reviewed by our experts
1. Satisfyer Pro 2
Best vibrator overall
Specifications
Material: Silicone, ABS plastic
Dimensions: 165mm x 46mm x 65mm
Charge time: 1.5 hours
Running time: Approx 90 mins
Waterproof: Yes
Reasons to buy
+Powerful clitoral stimulation+Sleek design+Good for sensitivity
Reasons to avoid
-Only for solo use-Slightly heavy to handle-Loud underwater
If you're experiencing loss of sensation or aren't interested in penetration, this could be the best vibrator for you. Although the shape looks like something a doctor would use to check inside your ears, the rose gold handle is really sleek and makes this toy easy to grip.
This vibrator is designed to sit snugly around your clitoris and uses vibrations to create a 'suck and blow' type of sensation and pulsation. Never used a toy like this before? It will change the way you masturbate forever. Firstly, it's ultra quiet even on some of the higher settings (there are 11 in total). But, as the suction vibe is so different, it's worth starting with the lowest setting and building up when you're ready – as this can be quite a powerful and intense sensation and can make orgasms very fast.
While it may give your partner some tingling sensations when used as foreplay, this piece of kit is mainly for solo use.
See our full Satisfyer Pro 2 review
2. We-Vibe Sync
Best vibrator for couples
Specifications
Material: Silicone
Dimensions: 74.8 mm x 31.4 mm x 41.7mm
Charge time: 2 hours
Running time: 90 mins
Waterproof: Yes, apart from remote
Reasons to buy
+Use with partner+Can be controlled three ways+Stimulates both G-spot and clitoris
Reasons to avoid
-Takes time to set up -Bluetooth is unreliable-Needs to be used with lube
In a long-distance relationship? The We-Vibe Sync is great as it can be controlled by anyone in the world you give permission to – all they have to do is simply download the free app. Even if you're in the same room as your partner, this vibrator can add some fun to your evening. Once you have carefully slipped the We-Vibe Sync inside of you, both you and your partner can benefit from the buzzes during penetration. With vibes hitting both your clitoris and G-spot at the same time, and with 10 different pulsations to choose from, all you have to do is find a setting that you both like. 
Plus, the We-Vibe Sync is relatively quiet, so you wouldn't be disturbing the neighbours. Just make sure you use the sample of water-based lube that comes in the box, as it definitely helps heighten sensation.
See our full We-Vibe Sync review
3. PLSRx The Bullet
Best budget vibrator
Specifications
Material: Silicone
Dimensions: 90mm x 15mm
Charge time: n/a, battery operated
Running time: Approx 2 hours, depending on battery brand
Waterproof: Yes
Reasons to buy
+Great value+Versatile+Sleek packaging
Reasons to avoid
-Noisy-Not rechargeable
For the price of a pizza for two, this three-in-one sex toy will provide enjoyment that lasts a whole lot longer than a cheesy slice. Before this vibrator is even unwrapped, this pick comes out on top for being packed in a sleek black box, which you could easily store under your bed without anyone giving it a second glance.
Unwrapped, the whole device is just under 10cm in length, but it's definitely no simple bullet. It comes with two contoured 'sleeves', which create wider girths, meaning you can enjoy experimenting with penetration. The four pulsation speeds give you even more variety and there's enough variation in each one to keep it interesting. It's easy to use, waterproof and comes loaded with a battery, which lasts for about two hours.
However, there is one downside. Owing to it being battery operated, this can be slightly noisy (think electric toothbrush!). We've found that you can keep battery-operated toys like this quiet by popping a slip of paper around the batteries in the battery compartment to muffle the rattling as it vibrates.
4. Lelo Ora 3
Best clitoral vibrator
Specifications
Material: ABS plastic / silicone
Dimensions: 83.5mm x 88mm x 43.5mm
Charge time: 2 hours
Running time: Up to 60 mins
Waterproof: Yes
Reasons to buy
+New type of sensation+Ultra stylish+Doesn't look like a sex toy
Reasons to avoid
-Expensive-Won't work for everyone-Can be difficult to use
The Lelo Ora 3 is circular, sleek and looks expensive – but, well, that's because it is! You could leave this on your kitchen table and no one would know it's a vibrator. Everything about this device is different to what you're used to, so ideal if you have tried pretty much everything else and are feeling a bit bored. But, because of this, using this vibrator is almost like learning to walk again.
Firstly, you have to put your thumb through the centre in a certain way to use the controls – you can follow the handy diagram but it does feel odd at first. There are 12 modes to choose from to increase or decrease sensation, so unless you're happy to stay at the same setting for the duration, it's best to get the handling right before you begin. The most unique aspect of this vibrator is that it's meant to replicate a tongue-like action, mimicking oral sex. To be honest, the jury is still out on that one – but it's best used with the lubrication sachet that comes with and plenty of imagination.
See our full Lelo Ora 3 review
5. Happy Rabbit G-Spot Rechargeable Rabbit Vibrator
Best rabbit vibrator
Specifications
Material: Silicone
Dimensions: 240mm x 133mm x 38mm
Charge time: 150 mins
Running time: up to 120 mins
Waterproof: Yes
Reasons to buy
+Both G-spot and clitoral stimulation+Waterproof+Quiet
Reasons to avoid
-Intimidating for first-timers-Intense settings-Can't hide away easily
If you've not tried one of the best rabbit vibrators before, then you're in for a treat, as they can help you have a blended orgasm. This is when you have two different types of orgasm at the same time (usually a clitoral orgasm and an internal or G-spot orgasm). Rabbits are perfect for achieving this because they're designed to stimulate both the clitoris and the vagina at the same time.
But this vibrator is not for the faint-hearted – even the shape of the shaft is a bit overwhelming, despite the cute rabbit-shaped feature. You'll need plenty of lube before you can insert this toy comfortably. With an easy control button, this sex toy has 15 variations, which makes the shaft and the bunny ears move at different times. It's worth noting that these are specifically designed to greatly increase your chance of having an orgasm – which it does, but it's quite fierce at times, so can make you orgasm in a matter of seconds, which isn't great if you're extra sensitive down below.
There's no hiding what this is, and you wouldn't want kids to stumble across it - but it definitely does the job, and quickly; it was an obvious addition to our best vibrator guide.
See our full Happy Rabbit G-Spot Rechargeable Rabbit Vibrator review
6. Durex Intense Delight Vibrating Bullet
Best small vibrator
Specifications
Material: Smooth ABS (plastic)
Dimensions: 92mm x 22mm
Charge time: n/a, battery operated
Running time: 5 hours, but depends on battery brand
Waterproof: Yes
Reasons to buy
+Good for first-timers+Quiet+Waterproof
Reasons to avoid
-You might become bored quickly -Not rechargeable
Even if you're the one wielding it about, a large dildo can be intimating, especially if you've never used one before, but a small vibrator is the best sex toy for first-timers. This pick is standard in shape – roughly the same length as a compact tampon and as wide as your thumb. While its dimensions mean it's not effective for penetration, it's perfect for clitoral stimulation and external erogenous zones, such as nipples and perineum.
This is a bargain as it comes with a battery that lasts for up to five hours (you just unscrew one end for access), so it's ready to use as soon as you get it out the packet. Despite it only having one vibe setting, which is on the gentle side, this toy is waterproof so you can use it in the bath and shower. What's more, it's really quiet. It's ideal if you're still figuring out how to have an orgasm alone or with a partner and want to gain some confidence before moving on to something else.
7. Mantric Rechargeable Remote Control Egg Vibrator
Best egg vibrator
Specifications
Material: Silicone / ABS plastic
Dimensions: 170mm full length, egg at widest part 35mm
Charge time: 60 mins
Running time: 60 mins
Waterproof: Yes
Reasons to buy
+Hands-free fun+Use with partner
Reasons to avoid
-Can be uncomfortable-Needs plenty of lube
You may not have tried an egg vibrator before, but they're very versatile. You can use them while your partner goes down on you, but on your own they can be an equal treat. Why? Because with it buzzing away inside you hands-free, you won't feel like you're going solo. This toy takes an hour to charge, and then you only have an hour to use before it needs charging again – but that should be more than enough time fo you to have some fun. 
The Mantric consists of a ring controller and smooth egg, which goes inside your vagina. Syncing the two is easy and there are five modes and two speeds to try. The egg part is just slightly thinner than a Cadbury Creme Egg, so you need to insert it with water-based lube. The vibrations target your G-spot, which can be slightly daunting, but there's a large hook at the end so you can remove it quickly if you panic or don't enjoy the sensation. 
8. So Divine Get Lucky USB Rechargeable Vibrator
Best quiet vibrator
Specifications
Material: Silicone
Dimensions: 120mm
Charge time: 1 hour
Running time: 90 mins
Waterproof: Yes
Reasons to buy
+Ultra quiet+Great value+Good for travel+No charge lead
Reasons to avoid
-Small-Limited use
The last thing you want when you're using your sex toy is buzzing so loud the neighbours complain. A quiet vibrator is essential, especially if you don't live alone. Step forward, the Get Lucky. This bargain looks just like a finger, but with nine small bumps at the tip to provide extra sensation. It has three speeds and four different pulse patterns. Not only is this ultra quiet, it comes fully charged so there's no waiting around. Win-win. You simply pull it apart into two sections to reveal the USB port, meaning you'll never lose the charger for it. If you keep the two sections separately in your bag, you don't have to worry about it going off unexpectedly.
This vibrator is controlled with just one button, so you have to click through to get the sensation you want, which can be slightly tricky, especially when turning it off (you need to press firmly). Overall, it's discreet and does the job – a great toy for beginners or those in need of a quiet sex toy. 
9. Hot Octopuss DiGit
Best mini vibrator
Specifications
Material: PC/Silicone
Dimensions: 87.5mm x 48mm x 31mm
Charge time: 2 hours
Running time: up to 40 mins
Waterproof: Yes
Reasons to buy
+Good for couples+No charging+Not intimidating
Reasons to avoid
-Gimmicky-Battery doesn't last long
Looking for a bullet vibrator? The Hot Octopuss DiGit could be the one for you. Not only does this vibrator come with a choice of six vibrations and speeds, it's also fully waterproof, so you can use it in the bath and shower.
But, that's not all. The main difference between this bullet vibrator and others on the market is the fact that it has a flared tip to give your clitoris a wider range of vibes. It also has a handy finger strap, so the Hot Octopuss DiGit feels like an extension of your or your partner's own hand. The stylish design and versatility of this vibrator means it's something you will have in your collection for a long time.
Plus, it really does pack a punch when it comes to the rumbles it can create. It's just a shame the battery doesn't last for very long before it needs charging, as you'll want to use this again and again.
See our full Hot Octopuss DiGit review
10. Sent To Thrill Elara Your Gyrating Love Ball
Best vibrator for toning pelvic floor
Specifications
Material: Silicone
Dimensions: 153mm length, 115mm at widest point
Charge time: 4 hours
Running time: 2 hours
Waterproof: No
Reasons to buy
+Strengthens pelvic floor+Curved shaft+Versatile
Reasons to avoid
-Not fully waterproof
Did you know you should be doing at least 100 pelvic floor squeezes a day to help tone down below? Well, this handy vibrator combines both pleasure and your essential pelvic floor homework, ideal if you have bladder weakness. But don't let the medical side of this device put you off – it's great at creating orgasms, mainly thanks to the generous size of the gyrating tip, which is covered in ridges.
It has ten rotating patterns, which your pelvic floor muscles will contract in response to. Although quite gentle, there's more than enough variation to keep things interesting. One of the best things about this device is the curved shape of the shaft – it just makes handling so much easier. It comes with a remote control, too, so you can go hands-free, but our preference was to hold on to the toy itself, especially when focused on the pelvic floor.
The only thing that lets this down is that it's only splashproof, and not waterproof, so you can't mix things up and take it into the shower. Overall, though, it's good value and will help you orgasm while providing extra benefits for your pelvic floor . 
What are the different types of vibrators?
Before you can find the best vibrator for you, it's important to know about the different types of vibrators and how they work. 
G-Spot vibrators: Phallic in shape, these have a shaft to penetrate the vagina. 
Rabbits: A Sex And The City staple, it has a similar girth to a G-Spot vibrator, but comes with vibrating "rabbit" ears, to target your clitoris at the same time. 
Clitoral suction vibrators: They envelop the clitoris with gentle suction sensations rather than powerful vibrations.
Bullets: Smaller and thinner vibrators, these are for clitoral stimulation and external erogenous zones.
Vibrating cock rings: Worn around the base of a penis, this will press against your clitoris when your partner is inside you, while the restriction of the ring could help them to feel harder.
Love eggs: Placed inside your vagina (with lots of lube), these egg-shaped vibrators usually come with a remote control to give to your partner so they have total control over your pleasure (even when you're on the go). When you're on your own, the remote means no tricky fiddling with buttons.
Finger vibrators: Can be used for G-spot and clitoris stimulation during foreplay and masturbation.
Couple's vibrators: Available in a variety of shapes and sizes, they're worn during sex by both parties to increase sensations for a couple.
What should I consider before buying a vibrator? 
When it comes to choosing a sex toy remember we are all unique, so what might be gentle for someone, may be far too powerful for someone else. If you've never used a vibrator before, go for a smaller one with a few different speeds to see which works best for you.
Clitoral and bullet vibrators are always a great option for beginners because they make it easier to target the super-sensitive clitoris. You can then see how you enjoy using it, or if you'd like to start using it with a partner, which can influence your next purchase.
If you're shopping for a vibrator online, you might want to think about how discreet the packaging itself will be when it lands on your doorstep. Although some companies, such as Durex, promise to send their toys out without branding, watch out if you buy from another seller, such as Amazon, who treat all packages in the same way and may inadvertently include a description of what's inside on the box.
How do I clean a vibrator? 
If you invest in one of our best vibrator recommendations, make sure you clean it properly to prolong it's life. Follow these five simple steps:
1. If your vibrator is waterproof, clean it with warm soapy water and then spritz it with good quality antibacterial sex toy cleaner.
2. If your vibrator isn't waterproof, wipe it down with antibacterial sex toy wipes before following up with a spritz of antibacterial sex toy cleaner.
3. Leave your toy to air dry before putting it into storage somewhere safe.
4. You should store sex toys of different materials separately to keep them in their best condition (some materials will actually MELT if they touch!). You can do this by storing them in special sex toy storage bags.
5. If your vibrator takes batteries, remember to remove them between uses to conserve power.
Whichever toy you pick, enjoy!