10 Hobbies That Will Improve Your Health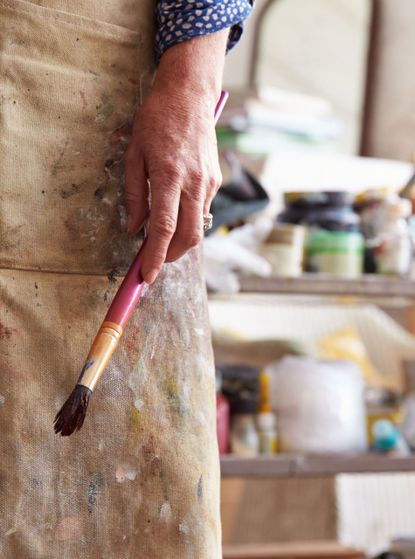 Make room for me time with these stress-busting activities...
Achieving your goals needn't mean punishing yourself. Why not make this the year you lose weight, improve your physical and mental health AND have more fun than ever before? Immersing yourself in any new hobby will enhance your ability to focus on the present moment and encourage your brain to grow new brain cells and forge new connections, which, in turn, can boost creativity and cognitive function, but these activities take the benefits a step (or three) further?
Whether you fancy getting crafty, channelling your inner scribe or pulling on your dancing shoes, or you'd just like an evidence-backed excuse to curl up in bed with your favourite novel, indulge in your favourite sweet treat or get out in the garden, you'll find something here that'll float your boat. The improvements in strength, balance, heart health, immunity and memory, and reductions in symptoms of depression, stress, anxiety and chronic pain which come with them, you can treat as an added bonus?
"Getting into physical hobbies promotes good health," Dr. Partha Nandi, a medical doctor and leading patient advocate, agrees. "These hobbies not only benefit the body, but also help in making your mind more alert and sharp." But you don't have to get physical to reap the benefits. "Science is finding that the hobby diverts the focus of attention away from the problem causing the stress and places it on the hobby. People who engaged in leisure activities were 34 percent less stressed and 18 percent less sad during the activities." Plus, "hobbies are a great way of meeting new people, and interaction is great for the spirit and body".
Indeed, a study recently published in Art Therapy found that 45 minutes of free artistic activity, using materials such as marker pens and clay, reduced cortisol levels in 75% of participants.
So dig out your colouring pencils, pull on your pinny and dust off that library card right now: doctor's orders?
Colouring
Shading between the lines was once reserved for children, but in an era of increasing workloads and round-the-clock technology, colouring is proving itself a simple and positive way to introduce yourself to the concept of 'mindfulness' - put simply, living in the present moment. French women were the first to fully embrace the concept, with Art-therapie: 100 Coloriages Anti-Stress (opens in new tab) selling upwards of 350,000 copies. According to the Mental Health Foundation, 59% of British adults feel more stressed today than they did 5 years ago and 'mindfulness' experts are advising us to pick up the colouring pencils if we want to escape that statistic. "I don't think anybody should feel silly or stifled," adult colouring book illustrator Millie Marotta told us. "I've certainly spoken to people who have said to me they used to colour in secret, in their children's colouring books, after their children had gone to bed and now they've been given permission, if you like, to indulge their creative side and I think that's a wonderful thing."
Journalling
You might not have thought seriously about keeping a diary since you were knee-high to a grasshopper, but, according to psychologist James Pennebaker, regular journalling can strengthen the immune system by helping us come to terms with stressful life events, buffering their impact on our health. It's even been found to diminish the symptoms of asthma and rheumatoid arthritis. The most important rule? There are no rules. If you're looking to free up your creativity, you might like to try 'morning pages', i.e. at least three pages of stream-of-consciousness writing, completed first thing each morning. Avoid the temptation to think too much or self-censor. Alternatively, you might like to keep a gratitude journal. You may have heard about the benefits of writing down three to five things you are grateful for each day, from getting a seat on the train to having a roof over your head. However, research suggests that you should focus on quality over quantity: writing once a week, in more depth, seems to provide a bigger boost to psychological wellbeing than writing more frequently. Then there's the newest kid on the wellbeing block - bullet journalling. Described by its founder, Ryder Carroll, as "an analogue system for the digital age", the bullet journalling system encourages you to use a blank notebook, customised exactly as you choose, as a repository within which to organise reflections, plans, goals and ideas. You can buy an 'official' bullet journal (opens in new tab), complete with index pages, or just pick up a blank notebook. Enthusiasts claim that the system inspires productivity and helps them work towards long term goals. You could use it to mastermind your next career move, or simply next week's meals - the world is your oyster!
Pottery
Not only is pottery a great way of whistling up a homemade present for a loved one, it's been scientifically proven to reduce levels of the stress hormone cortisol and is thought to benefit those prone to depression. It's also said to be good for arthritis sufferers, since it provides gentles exercise for the wrists and hands. "Using a lump of moist clay, you put it on the potter's wheel and you shape it into your very own creation," one enthusiast remarks. "As the wheel spins and the clay begins to form, both your mind and body are synergized with your surroundings and with the universe. It is here where you can find the therapeutic benefits of pottery." "Considering the amount of brain area devoted to the sensitivity and movement of the hands, it is likely that behavior maximizing the use of the hands may be the most engaging," says neuroscientist Dr Kelly Lambert. To find a local pottery class, head to craftcourses.com or the Crafts Council website (opens in new tab).
The benefits of spending time in nature for our psychological wellbeing are well-documented. "I suffer from severe depression and I use gardening as a treatment. On a really bad day it's the only thing that works," one afficianado told The Telegraph. However, scientific evidence suggests that gardening can not only reduce stress and fight the symptoms of depression, but improve heart health and immunity, lower your risk of stroke, boost hand strength and dexterity and reduce your risk of dementia by up to 50%. Getting outside will also give your vitamin D levels a boost. The sun is our main source of this key nutrient; consequently, many of us are deficient, but it's crucial to maintaining optimal health.
Baking
Bestselling author Marian Keyes, who sought solace in baking whilst battling a severe bout of depression, credits the hobby as one of the keys to beating her illness. "I started baking cakes because I was so totally unable to do anything else and I found it comforting and it got me through the day," she explains in Saved By Cake (opens in new tab), her debut cookbook. In John Whaite Bakes (opens in new tab), the former Great British Bake Off winner discusses his own battle with depression. "You're making something destructive into something constructive, and at the end of it you've got something to be proud of, something to eat, something to show off about," he says.
Reading
Neuropsychologists at the University of Sussex have discovered that being engaged in a good book for just 6 minutes can reduce stress levels by more than two-thirds, making it more effective than having a cuppa (which reduces stress levels by an average of 54%) or going for a walk (42%). It's also been found to relieve blood pressure more effectively than walking or stroking a pet. The NHS has even begun to "prescribe" fiction to certain patients. But you don't need to visit your GP to get your next narrative fix. The School of Life offers a Bibliotherapy service, providing personalised recommendations based on your life experience, goals, concerns and reading experience. If that sounds a bit too self indulgent, pick up a copy of The Novel Cure: An A-Z of Literary Remedies (opens in new tab). "Transported by the story, we see through other eyes, feel another set of feelings and experience different lives to our own. By reading, we are expanded, enriched and, perhaps, are better placed to understand ourselves," explain its authors. "Try reading Fernando Pessoa's The Book of Disquiet when your mind is too agitated to sleep," they recommend. Or, conversely, The Postman Always Rings Twice (opens in new tab) by James M. Cain when you're in an energy slump - it's better than caffeine."
Regular mindfulness meditation has been scientifically proven to change the structure of the brain within a few weeks, resulting in decreased anxiety and improvements in focus, memory, visuo-spatial processing and other aspects of cognitive functioning. It is also thought to boost immunity and appears to decrease the likelihood of relapse in those prone to depressive episodes. 10 minutes a day is all it takes. Try a smartphone app such as Headspace (opens in new tab) (the first 10 sessions are free), or pick up The Headspace Guide to Meditation and Mindfulness: How Mindfulness Can Change Your Life in 10 Minutes a Day (opens in new tab), written by the UK's leading mindfulness expert (and former Buddhist monk) Andy Puddicombe.
Dancing
Been inspired by Strictly? Then stop dilly-dallying and get your dancing shoes on. Dancing is a safe, effective and - above all - FUN way to boost your mental and physical wellbeing. Ballroom and Latin dance classes have been scientifically proven to boost strength, balance and heart health, whilst a 2-week tango course has been found to ameliorate the symptoms of depression, stress, anxiety and insomnia in mood disorder patients. It's never too late to start, either! A group of older adults with an average age of 80 who participated in a 12-week programme of low-impact dance classes was able to reduce their daily intake of pain medication by 39% as a result. With further evidence suggesting that dancing can reduce your risk of dementia by an incredible 76%, there's really no downside. Find a beginner's class near you at dancesport.uk.com, or treat yourself to a few classes with a professional partner for the full Strictly experience?
Knitting
According to the UK Hand Knitting Association, the number of knitters in the UK is currently at 7.5 million and rising. And you can't move for needles and balls of yarn on Hollywood film sets or behind the scenes at Fashion Week, according to insiders, with pop star Harry Styles, actresses Cameron Diaz and Sarah Jessica Parker and supermodel Cara Delevingne all papped knitting. A poll by DIY knitting company TOFT of 450 British women aged 25 to 60 revealed that all reported feeling less anxious, depressed and stressed as a result of taking up the hobby. Similarly, a study of more than 3,500 knitters, published in The British Journal of Occupational Therapy, discovered that 81 per cent of respondents with depression reported feeling happy after knitting, with more than half saying they felt 'very happy.' Further research has linked knitting with improvements in chronic pain and indicated that it may stave off age-related cognitive decline.
Yoga
The NHS has endorsed yoga as an safe and effective way to enhance strength, flexibility and balance at any age. It may be particularly beneficial for people who suffer from high blood pressure, heart disease, aches and pains, depression or stress, and has even been shown to improve memory and cognitive function. Maintaining a sustained focus on controlled breathing techniques as you work to execute flowing transitions through a series of stylised postures helps you to develop your awareness of the present moment and become more mindful, which researchers believe can have long term cognitive benefits. Many celebrities are fans, including Madonna, Julia Roberts and Jennifer Aniston. Find a class near you at localyogaclasses.co.uk.