How long does it take to learn how to swim? Three women reveal what it's like to start swimming as adults
How long does it take to learn how to swim? Here, three women tell their stories of what it's like to learn to swim over the age of 40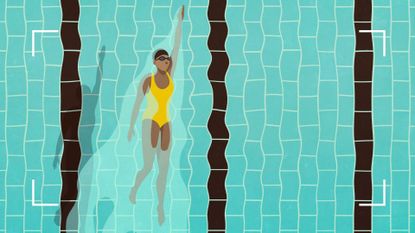 (Image credit: Getty Images)
How long does it take to learn how to swim? For adults who never learned as children, the time it would take to pick up the skill from scratch and prior negative experiences in the pool are often two of the biggest barriers.
One out of every three adults in Britain - that's 14.2 million people - claims to be unable to swim 25 meters, according to research conducted by Swim England (opens in new tab) in 2019. The number of people who cannot swim is surprisingly high in older age groups, with one in five over 65s stating they could not swim at all in the same survey.
To understand the real benefits of swimming and why it's never too late to learn, we spoke to Nicole Martin, certified swim instructor, swimming teacher and lifeguard trainer, and owner of Core Aquatics UK (opens in new tab), and several women who learned to swim later on in life.
How long does it take to learn how to swim?
It's all about the effort that you put into your goals and attendance rather than how many lessons you take, so it can really depend, says Nicole.
"We often have adults who come to us as swimming has been recommended by their doctor to help recover from health conditions. However, they then realize they can't swim or aren't able to do what they are asked which leads them to take lessons."
The reasons for lower swimming rates in the older demographic vary, but can usually be traced back to a lack of lessons as a child. Many public pools in Britain, also known as 'baths', were closed in the 1940s and 50s due to War War II, leaving countless kids without the necessary facilities to master basic swimming skills.
For younger generations, studies from James Cook University (opens in new tab) show that it's prior negative experiences in the pool and a lack of access to lessons that stop them learning as children.
Misconceptions that learning to swim for adults is terribly difficult - or even impossible - hasn't done any favors to mend this estrangement with water later on in life though.
Fortunately, the gap between age groups at the pool is closing - and it's women who are leading the shoal. To find out more about this growing interest, woman&home spoke to three women who learned to swim after 40 to show that, no matter what your background with swimming, it's never too late to take the plunge.
Minreet Kaur, 41, London
How long does it take to learn how to swim? "One year after some basic lessons at school," says Minreet, a 41-year-old British Punjabi journalist turned swimming teacher.
If you told Minreet as a child in the 1980s what she'd be doing for a living at the age of 41, she'd probably have recoiled.
She "hated swimming" in her school days, having never felt comfortable with deep water or wearing a bathing suit in public. Despite her parents' efforts to encourage her to keep trying, she couldn't be swayed, and by the end of her primary education, she had officially hung up her togs.
Fast forward to 2021, and Minreet's attitude to swimming couldn't be further from the disdain she carried through childhood.
Not only does she swim nearly every day, but she also teaches Asian female adults about water safety and how to swim confidently. She is now on a mission to help her fellow "sisters" fall in love with the pool, in the hope that, like her, they can become happier and healthier versions of their former selves.
Her ultimate goal? "To coach an Asian woman to get into the Olympics!" she tells woman&home.
This dream, edging closer towards a reality every day, would have likely sounded absurd to a young Minreet. As a South Asian child growing up in west London, she often felt out of place amongst the predominantly white clientele at her local pool. The lack of representation had a detrimental imprint on her psyche, leading her to believe she was simply incompatible with the popular watersport.
"I have always felt swimming isn't a sport for someone like me," she says. "I had lessons with the school but didn't enjoy it and also felt excluded as I didn't see anyone like me."
Like many young girls, Minreet also suffered from insecurities about her body image. This discomfort made the pool's mandatory uniform, a skin-tight maillot, an absolute deal-breaker in her relationship with swimming.
"I used to always feel paranoid about my hairy legs and also showing skin," she recalls.
Minreet's anxiety, coupled with the ordeal of being pushed into the pool, was enough to put her off the taste of chlorine for years to come. It was only in her 40s, after realizing the health benefits of swimming, that she mustered up the courage to take another dip.
"I saw how important it is to swim and how it can save our life and others' lives," Minreet explains.
She was also inspired by her mother, who at the age of 71, has been reaping the rewards of a daily pool session for over four decades.
Now more than a year into her swimming journey, Minreet, too, has been touched by the transformative powers of the water.
"I find it so relaxing, it's like meditation," she says, adding, "It helps me to be a child again." Minreet's physical health has also enjoyed an upgrade, with fat loss and stronger muscles just two of the perks to emerge from her newfound passion.
Nailing techniques that once seemed daunting has been another exciting part of the process - proving once again that you're never too old to gain new skills. For Minreet, mastering the front crawl and learning how to do tricks, such as a "tumble turn, a handstand, and a dive" have been key milestones in her progress.
It's Minreet's students, however, that have truly solidified her love of the sport. The former journalist decided to become a swim teacher on a whim during the Covid-19 pandemic, after being asked by multiple people in the South Asian community to help them brave the water. Already struggling to find work in media, it seemed like the perfect opportunity for a meaningful career change. The experience has introduced Minreet to a whole network of new people and she's been able to pass on the magic of swimming to other women, one small splash at a time.
"I taught a lady in her 70s how to do breaststroke and when she did this without a float she was shocked that she could float and didn't sink. She loved the feeling of being independent and being able to swim to the deep end and back," Minreet recalls. "She felt she has managed to accomplish her dream. It was so lovely to see her smile and leave happy."
As for how she knows she's made a difference, the reviews say it all. "I realize the importance [of what I do] when the people I teach tell me they feel confident and want to come back for another lesson," she says.
Emma Levings, 48, Gloucestershire
How long does it take to learn how to swim?: "Two and a half months," says 48-year-old Emma Levings, a convert to open water swimming.
Like Minreet, Emma had written off swimming at an early age. Having never taken lessons as a child, trips to the local baths with her family typically involved maximum splashing and no swimming - leaving the Gloucestershire native with lots of happy memories, but no actual skills in the water. As she got older, her anxiety around swimming led her to dismiss the activity altogether.
"I had created this dialogue for myself which was 'I'm not a swimmer'," Emma says. "Swimming pools and open water were avoided at all costs unless I was lazing in a shallow pool in the sun on holiday."
This water boycott was lifted in the summer of 2018, however, when Emma entered every non-swimmer's worst nightmare - a super sprint triathlon. Unable to swim more than 10 meters and terrified of both contained pools and open water, her mission to complete the 500m race would be no easy feat. It was this very challenge, however, that pushed Emma to reset her perspective. It was time to sink or swim, quite literally.
"This was my lightbulb moment," she says. "What if I changed the story from 'I don't swim' to conquering my fears and learning to swim confidently?"
At first, Emma tried to self-teach - a decision that she'd quickly come to regret. Despite having strong aerobic fitness, her return to the water after such a long hiatus turned out to be far more draining than she'd envisioned.
"I went to the open-air pool nearby armed with a child's swimming float and tentatively got into the 'slow lane' where ladies and gents were gliding what seemed like effortlessly up and down the lengths looking very serene," she recalls.
Her strategy to mirror their graceful moves, however, didn't exactly go to plan.
"Clenching the float out in front of me and kicking for dear life, I ran out of steam after about 10 meters," she admits. "I was going to need a proper teacher."
After finding herself an instructor, Emma booked five swimming lessons and committed to training at least five times a week. With just two and a half months until the triathlon though, no second in the pool could go to waste.
Emma spent the first several sessions performing "endless drills" and "meticulously mastering the technique", in a relentless pursuit to nail that coveted swim stroke.
"I was determined," she says. "I stayed in the safety of the shallow end, doing five meters one way and five meters back, over and over." By the end of her fourth week, she was congratulated by her coach for making enough progress to advance to the next stage of training - completing a full 50m length. Just a fortnight later, Emma was swimming a 'slow and steady' 32 continuous lengths of an Olympic pool or in race lingo, a full mile.
This milestone, which was three times the distance of the swim in the super sprint triathlon, gave her the much-needed confidence to know she'd be just fine on the big day.
"Despite my nerves, I adored every single minute of the race with swimming being my favorite discipline!" she says. "Following this, my ambition for swimming knew no bounds."
Now fully acquainted with the pool and the benefits of cold water swimming, Emma set herself her next challenge of befriending its far more volatile cousin: wild swimming. The switch from chlorine to salt wasn't easy, and after suffering a panic attack and being rescued during her first wild swimming race, she enlisted professional coaching to make the process easier.
Before she knew it, she had entered the Dart 10k (opens in new tab), which is the UK's answer to a swimming marathon. The annual event sees its participants cover a whopping 10,000 meters of the River Dart in Devon every September, passing by iconic landmarks and breathtaking nature along the course.
Already a fit person, Emma's training for the mammoth journey was far more mental than physical. "I had to overcome my fear of open water. There are no 'ends' or ropes to cling onto and I initially found the vastness of open water overwhelming," she says.
Since successfully completing the course in 2019, Emma's confidence in her swimming ability has skyrocketed. So much so, that she now prefers lakes and rivers to the confines of the pool. She's also experienced a boost in her mental wellbeing, with her regular dips lifting her mood and reducing her anxiety levels to "an all-time low."
For Emma, it's these invisible wins that outshine the glow of any trophies or medals waiting for her at the finish line.
"Swimming for me isn't just about events, distance, or achievements," she says. "I find it so therapeutic. My swimming became a form of moving meditation."
Pauline McGonagle, 56, Dover
How long does it take to learn how to swim?: "About a year, with no prior swimming experience," says Pauline McGonagle, a 57-year-old Ph.D. candidate who learnt how to swim when she moved abroad.
Pauline was no stranger to deep water as a child. Growing up on the coast of Donegal in the 1960s, the Atlantic Ocean was always in view. Its steely waves dotted with dingy fishing boats and fearless swimmers. While many people talk about the benefits of swimming in the sea, ironically, it was this proximity to the ocean, and all of its hazards, that led Pauline to keep a wary distance from its shores for years.
"I was afraid of swimming and large expanses of water," she tells us. "The town was a place for holidaymakers but it was also a place of lots of tragedy at sea. I know up to five people personally who died at sea, some never found, who worked on the fishing boats."
With no public pools nearby at that time to take lessons, Pauline, like many children from rural and urban, lower-income backgrounds, had no opportunity to learn how to swim in her youth. Body insecurities and concerns about sun damage in later years only made things worse as she was uncomfortable with the pool's minimal dress code.
"I did not like showing my body in public, mainly as I am blue/white in color with freckles and I had auburn hair," she explains, adding that she came to associate swimming with "pools at hotels where everyone was sun-bronzed, except me."
The block to learning how to swim was watertight as well. For Pauline, swimming wasn't just a sport or an activity, it was an exclusive subculture that she with her pale Irish skin would never infiltrate.
It was only when she moved to Moscow in the late 1990s for her husband's work that she began to properly consider the idea of finally learning to swim. After discovering that their new apartment complex offered a communal pool, she came to realize that, if she could learn to swim, she would be able to exercise just a few feet from her door. Unfortunately, the pool's depth made it unsuitable for a total beginner, and Pauline was once again left to dawdle on the sideline.
The seed had been planted though, and by the couple's next relocation, Pauline was ready to confront her fear. Shortly after celebrating her 40th birthday in Mumbai, she attended her first-ever swimming lesson at a nearby beach club.
"I was terrified as the pools were Olympic-sized, but they did have shallow ends," she says. "I purposefully chose times when no one was around for lessons, early Sunday mornings as by now I was less concerned with my body appearance as I was being a 40-year-old woman in rubber armbands."
Despite 'feeling sick for many weeks before lessons', Pauline refused to give up. As time went on, she found herself reaching key milestones, including treading water, completing widths, and breathing correctly.
"I remember the day I did a full length unaided with the teacher, my husband, and a few friends were shouting along the side as if I was in the Olympics," she says. "I only ever did that twice but it was euphoric."
Along with the 'initial confidence boost' of overcoming her fear, Pauline also enjoyed a whole host of mental and physical health benefits from learning how to swim as an adult, much like Minreet.
"I found it soothing and a way to forget worries and anxieties," she explains. "I found it refreshed me especially if I had a hard day at work, and toned my body."
While Pauline doesn't swim as much as she'd like to anymore, she plans to get back into the habit by joining an aqua aerobics class in the near future. In the meantime, she's looking forward to enjoying one of the biggest perks of knowing how to swim - a nice cold dip on her well-earned holidays.
"It's the only way to really cool down properly in a warm sunny environment. I hope to experience that this week, for the first time since 2017."
Emma is a Lifestyle News Writer for woman&home. Hailing from the lovely city of Dublin, she mainly covers the Royal Family and the entertainment world, as well as the occasional health and wellness feature. Always up for a good conversation, she has a passion for interviewing everyone from A-list celebrities to the local GP - or just about anyone who will chat to her, really.
Emma holds an MA in International Journalism from City, University of London and a BA in English Literature from Trinity College Dublin.