Why everyone's obsessed with The North Face puffer jackets right now
The North Face puffer jackets just became street style and everyone, including celebrities and your cool best friend, love them.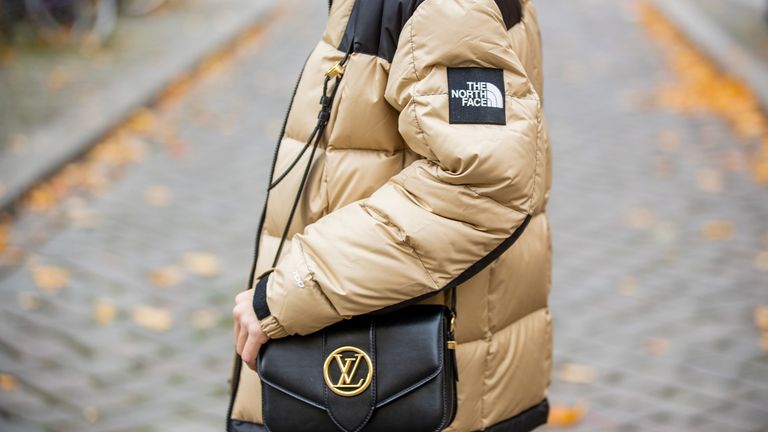 (Image credit: Christian Vierig/ Getty Images)
It seems we can't escape The North Face puffer jacket. The California rock logo and cloud-like silhouette is literally everywhere right now. Suddenly the two-tone Nupste jacket is the height of fashion when it comes to the best winter coats and even celebrities like Bella Hadid and Kendall Jenner have been spotted in theirs.  
So what is it about this puffer jacket that makes it Instagram fodder for celebrities, off-duty models and influencers? It surely can't just be a case of plummeting temperatures. Not even that can account for the fact that Google search for 'The North Face puffer jacket' is up a whopping 508%. Or that Asos reports a 400% rise in sales year on year.
One reason for The North Face's popularity is its designer collaborations, which have helped this heritage performance-wear brand stay relevant. The North Face worked with MM6 Masion Margiela on a capsule collection of fleece vests beloved by Hailey Bieber at the end of 2020. 
The recent Northface x Gucci collaboration, announced on TikTok, further propelled the brand into the fashion stratosphere. Its monogrammed puffer is so lustworthy, Vogue's deputy editor Sarah Harris has been waxing lyrical about hers.
The current obsession with nostalgia is also working in The North Face's favour. The 90s were the golden age for the brand thanks to East coast rappers like LL Cool J. 2018 saw Kanye West wearing the relaunched Nupste and the brand became cool all over again. 
But ultimately the appeal of a North Face jacket is its comfort. We're living at a time when comfort wins over style and feel-good fashion trumps anything catwalk-led (aka the rise of 'sadwear'). And let's face it, there's something anxiety-alleviating about a coat that feels like a toasty duvet wrapped around your shoulders.
Wear yours with Uggs and the best leggings and you've just nailed 2021 street style.