The best artificial Christmas trees to decorate your home in style this festive season
We've assessed the best artificial Christmas trees available to buy for 2021 to ensure your home looks as festive as possible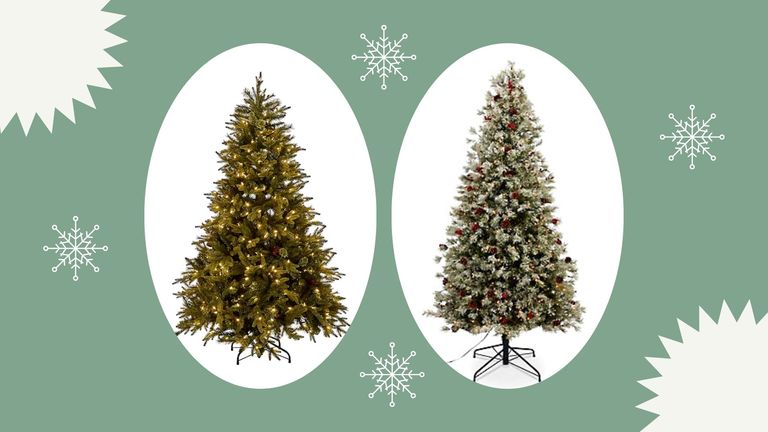 (Image credit: Future)
Our guide to the best artificial Christmas trees to buy for 2021 will guarantee your home has a show-stopping festive display—whether you're after a pre-lit tree, a snowy one, or a regular pine-green tree.
After all, when planning our Christmas decorating ideas, putting up the tree is key to helping build the anticipation of Christmas. And while the best real Christmas trees are a lovely addition to many homes, recently, artificial Christmas trees have become the tree of choice for many. They often work out to be much more affordable, and they're generally much easier to assemble. Not to mention the fact that artificial trees are usually safer for babies and pets, with no dropped needles.
So why not save yourself the chores by choosing an artificial tree that will see you through—not only for the whole month of December, but for years to come? We've rounded up our picks of the best artificial Christmas trees in the US and the UK—from snowy trees to pre-lit options, and classic fluffy green picks. There are also some less traditional Christmas tree alternatives, such as twig trees, which have soared in popularity recently. And, we've made sure to include an option for all budgets. So before you start planning your Christmas tree decorating ideas, take a look at the best artificial Christmas tree options on offer for 2021.
How we picked the best artificial Christmas trees
So just how did we choose the best artificial Christmas to include in our guide? In order to share an accurate cross-section of the trees available, we made sure to include models from many of the top retailers that sell Christmas trees online across the US and UK, including Walmart, Target, Home Depot, John Lewis, B&Q and Cox & Cox.
We examined each tree for:
Style and look—arguably the most important factor
Quality and durability
How easy they each are to assemble and then pack away again
Which are pre-lit and which aren't
The height and widget of each tree to see which type of space it would be best for
Value-for-money—was each tree worth its price?
Of course, the ideal tree for your home will mostly depend on your personal style preference and budget—but we've aimed to share a deep dive into the pros and cons of each tree below.
Best artificial Christmas trees 2021
Best artificial Christmas trees: US
1. Holiday Living 6-ft Hayden Pine Artificial Christmas Tree with 500 Constant White Warm White LED Lights
Best pre-decorated artificial Christmas tree
Specifications
RRP: $167.40 (down from $279 in Black Friday sales)
Dimensions: 5—8.9ft H x 48" W
Reasons to buy
+
Comes with decorations
+
Lush branches with space for more decorations
Reasons to avoid
-
If you don't like pine cones on trees, you won't like this one
This stunning tree available at Lowe's is perfect for those who prefer not to spend too much time decorating. Given that it's pre-lit with 500 warm white LED lights (to create that perfect festive glow), and also comes pre-decorated with rustic pine cones, it's ideal if you'd like to add on just a few more baubles and be done!
But if you do want to add more decorations, rest assured that it'll be easy—this tree has over 2,300 lush verdant branch tips that means there's plenty of space for any of your ornaments.
And if you're after a deal ahead of Christmas, this is a great chance to snap up a Black Friday Christmas tree bargain. Currently, the Holiday Living 6 ft pre-Lit Hayden pine tree is on sale for $167.40, a $111.60 saving on its original price of $279. So there's no better time to snap it up if you want it.
2. Wayfair 4.5' H Pre-lit Slim Fraser Green Fir Artificial Christmas Tree
Best full artificial tree
Specifications
RRP: $108.99
Dimensions: 78" H x 40" W
Reasons to buy
+
Simple assembly
+
Pre-lit
+
Great fullness and quality
Reasons to avoid
-
Branches need a fair bit of primping
With over 1,339 glowing reviews, this much-loved Andover Mills tree at Wayfair is one of their most popular artificial Christmas tree offerings. This pick is 4.5 feet tall, so it isn't the biggest tree, but what it lacks in height it makes up for in quality, fullness, and realistic looks.
The tree is pre-lit (so no faffing about with tangled lights of your own), with 800 incandescent warm lights that switch on as soon as the tree is plugged in. We love the warm, clear lights (an essential for many of the best Christmas centerpiece ideas) on this tree which create a cozy, festive atmosphere in the home and emulate the more traditional Christmas decor. Assembly is simple, with three separate pieces that need to be slotted together—and given that the tree is smaller than the average height of an adult, it's much much easier to put together than some other, taller trees (and much easier to transport into your home than a real one!) Plus, a stand comes included, so there's no need to buy one separately.
Made from artificial Fir, this is one of the most real-looking and traditional artificial trees we've seen—though it does have the neat uniformity that might give its artificial nature away to any visiting guest. Be aware that the leaves will need some primping too, though this just gives you a chance to create a unique tree. However, some homes may love that it's a bit sleeker than the average tree—its slim build and the fact that it's that little bit smaller means that it would fit perfectly in smaller homes, flats, or simply in a tighter corner of your living space.
3. National Tree Dunhill Fir Tree
Best traditional artificial Christmas tree
Specifications
RRP: $486
Dimensions: 7.5ft H x 59in D
Reasons to buy
+
Very traditional look
+
Easy to assemble
+
Handy foot pump for lights
If you're after a mighty, traditional tree to fit in a big area of your home, look no further than this option from the National Tree Company Store. At 7.5 feet (and also available in 9ft and 10ft), this is a better option for large home and homes with higher ceilings—be sure to measure your space before purchasing! On assembly, this artificial tree does need a bit of work, fluffing, and primping to extend the branches, in order to make it look more realistic, so make sure you wear gloves in order to protect your hands and arms. But when this is done, you'll be left with a very full tree that not many would doubt is the real deal.
This is another pre-lit option, offering dual-color LED lights. This means you can set the lights to the typical, warm white lighting that is often the most popular—or, you can use the multi-color function, which will adorn the tree with red, blue, and green lights. And there are around 900 lights on this tree, so you can be sure that it'll be lit up, well, like a Christmas tree. And handily, there's a foot pump to program the lights. It's so pretty that you might not require even the best Christmas decorations.
One warning however is that some shoppers on Amazon experienced a much more sparse tree than appears to be the usual—so don't hesitate to contact Amazon should you receive a tree that isn't as full as it should be.
In terms of storage, the branches of this tree are designed to fold back up easily when you're ready to pack it away post-Christmas. It also breaks up into four pieces, so should be easy to put away in a basement or loft space for the duration of the year. However, this tree is undoubtedly expensive, so only plump for it if you have the budget.
4. Home Depot 7.5 ft Wesley Long Needle Pine LED Pre-Lit Artificial Christmas Tree
Best big artificial Christmas tree for an affordable price
Specifications
RRP: $149
Dimensions: 7.5ft H x 53in D
Reasons to buy
+
Great full shape
+
Colored lights
Reasons to avoid
-
Quality of lights is questionable
For a big tree at an affordable price point look no further than this Home Accents option at Home Depot. At 7.5ft in height and 53 inches in diameter it's definitely one of the more sizeable trees out there, so once again, make sure you have the room to accommodate it in your home.
This tree offers a full shape but one fluffed out and branches separated, it's not the fullest tree out there—if you're after a wider, thicker tree, this might not be the option for you. However, with 550 color-changing lights (a few less than other options) it's a great choice if you prefer not to have a white-lit Christmas tree, and instead favor something a bit more fun and unique. Handily, this artificial tree also comes with a remote control, so you can adjust the lights and colors easily from afar, saving that annoying duck under the tree that we often have to do. However, some shoppers have commented that some of the lights fail after a few weeks, so be sure to check each one is working when you purchase and keep your receipt after buying, too.
But on the plus side, this tree is very easy to set up, and comes complete with a metal stand frame for easy, instant assembly (it's not circular though, like some other stands, so consider whether this is to your liking). Overall, this is a great tree at a fantastic price—but there are a few small drawbacks to bear in mind that you may be willing to compromise on for the cost.
5. Target 6ft Unlit Artificial Christmas Tree Alberta Spruce
Best budget artificial Christmas tree
Specifications
RRP: $40
Dimensions: 6 Feet (H) x 34.0 Inches (W) x 34.0 Inches (D)
Reasons to buy
+
Affordable
+
Offers great value-for-money
+
Easy to assemble
This Alberta Spruce 6ft tree offers fantastic value-for-money, at just $40. If you're on the lookout for a simple, easy-to-manage tree that won't set you back hundreds of dollars, this really is a great option.
It's not the skinniest tree on our list but it is pretty slimline, so if you're after a thick, full tree, you might want to look elsewhere. However, its slender shape (it measures 2.8inch width) means it'll handily fit in almost any spare corner of your home. One huge perk of this artificial tree is the fact that it's very easy to set up when assembled—the branches are pre-attached and easy to pull down and into shape, though it may take a little primping to make them look their best.
This tree is unlit, so if you want lights or decorations on it, be aware that you'll have to get those sorted yourself. But for a slim, easy to use and assemble tree that will fit in any space—be it a small corner by the fireplace or a tiny apartment.
6. Costway 5Ft6Ft7Ft9Ft PVC Artificial Pencil Christmas Tree Slim Green
Best slim artificial Christmas tree
Specifications
RRP: $49.99
Dimensions: 6' H X 2.1' D
Reasons to buy
+
Fits in even the smallest of spaces
+
Very affordable
Reasons to avoid
-
Not super realistic-looking
Walmart's Costway PVC Artificial Pencil Christmas tree is the ideal option for those on a budget—or shoppers who want to adorn other, smaller rooms of their home (such as a bedroom) with a tree during the festive season.
At 6ft, it's a tall tree, but it's perhaps the skinniest, slimline option on our list—hence its 'pencil' name. Its 6ft version is just 2.1' in width, so it'll fit into even the tightest of corners, rooms with minimal floor space or small rooms such as a children's bedroom or living rooms in small apartments or homes.
Made of dense PVC needles, it's arguably not the most realistic-looking tree, but there's no doubt it does the job. Plus, it divides into three separate pieces meaning it's incredibly easy to assemble and disassemble, as well as being easy to store either side of the festive period.
The main plus of this artificial tree is the fantastic price of $49.99, which is one of the most affordable options we've seen. For a small, easy-to-use tree and a very reasonable price, this is our main pick—though we wouldn't recommend this to be the main tree in your living area if you have the space for a bigger one. Also comes in 5, 7, 8, and 9ft.
7. 7.5 ft Wesley Long Needle Pine Flocked Slim LED Pre-Lit Tree
Best snowy artificial tree
Specifications
RRP: $199
Dimensions: 7.5 ft H x 41in D
Reasons to buy
+
Snowy trees are bang on trend
+
Pre-lit for instant ambience
Snowy artificial trees are super popular this year, and this is a brilliant option available at Home Depot. An artificial long-needle pine tree, its default 7.5ft has a whopping 924 tips. And, it's pre-lit, which means the tree will instantly look festive and beautifully decorated without you doing a thing to it!
It has a huge 350 LED lights, and brilliantly, the lights stay lit even if the bulbs go out or get damaged, which is a huge plus. It conveniently comes with a foot pedal too that you can use to turn the lights on or off without awkwardly climbing under the tree.
This Home Depot tree is available in a range of sizes, including 4.5ft, 7ft, 7.5ft, and 9ft, so there should be an option to suit your needs and the size of your home. It also comes complete with a folding metal stand and a pre-attached center pole for guaranteed easy installation and disassembly.
Overall this snowy artificial tree is a fabulous option for anyone looking for an instantly festive vibe in their home. And although it's on the pricier side, we reckon it's well worth the investment given its impressive frosty decor the cozy ambiance it creates.
8. National Tree Company 'Feel Real' Pre-lit Artificial Mini Christmas Tree
Best potted artificial tree
Specifications
RRP: $52.16-$146.99
Dimensions: 22in L x 22in W x 36in H
Reasons to buy
+
Great for a tabletop
+
No need for decorations (unless you want them)
Reasons to avoid
-
Not a replacement for a regular-sized tree
A stylish and festive mini potted tree is a must for many homes at Christmas time. This pick from Amazon is ideal for those after an artificial tree that looks as realistic as possible, as it's been made with the National Tree Company's 'Feel Real' technology, with 363 individually crafted branch tips creating a full and fluffy-looking tree.
It also comes potted in a sturdy burlap bag base (as opposed to a metal stand), which is a bit tick in the box for durability, meaning this mini tree should be able to withstand many a festive season. With 100 white lights already on it, it also requires minimal decoration too, and could even be popped up without any decor if you prefer. Be warned that it's meant for indoor use, however.
There are three size options with this tree, too. You can get it 2ft tall, 3ft, or 4ft, depending on your needs—but it's worth noting that the smaller size is best for a desktop or table, rather than a floor position. Amazon users adore this tree, with many stating how 'pretty it looks'—although some have warned that you'll need to fluff it, to begin with, to get it looking its best.
Best artificial Christmas trees: UK
1. Hayes Garden World Real-Feel Spruce
Best realistic artificial Christmas tree
Specifications
RRP: £209.99
Dimensions: 183cm H x 100cm D
Reasons to buy
+
Super realistic
+
No plasticy scent
+
Great guarantee
So confident in its realism is this tree, that it comes with an adorable tag that reads 'Good enough to fool Santa'. And we have to agree that this tree has us fooled. It may not be cheap but it's well worth the investment if you are looking for the best artificial tree with a realistic appearance.
The realism is largely thanks to the placement of the hand-wrapped branches. The lower tier features two layers with six hinges on each. With the second-tier offering five layers, with assorted hinged branches in a formation of six; eight; eight; seven and seven to create a natural spruce effect. No real tree is the perfect shape, after all.
An added bonus, there was no discernible plastic scent, meaning you'd never get a whiff of it being faux. The branches can also handle heavy decorations with ease—at most taking on a realistic minimal droop. Best of all, this tree comes with a lifetime guarantee. Hayes states the 'Life expectancy for this tree is 15 years.' This means it's a great investment and makes it a far more affordable purchase in the long run, rather than buying a cheaper tree that comes with no guarantee. The only improvement we'd make for this tree is to have it pre-lit, to save adding your own.
2. Christmas Tree World 6ft Green Woodland Pine Half Tree
Best artificial half Christmas tree
Specifications
RRP: £74.99
Dimensions: 183cm (6ft) H x 62cm D
Reasons to buy
+
Great for a smaller home
+
Very realistic-looking
Reasons to avoid
-
Half-size may not appeal to everyone
With half the tree and over half the budget this tree is a complete steal, making it a great option for those on a smaller budget or those with a smaller space at home.
The beautifully realistic Woodland Pine Half Tree has bushy branches made from a mix of molded PE and traditional PVC tips, to emulate the look and feel of real spruce. It's an attractive deep fir green, so it certainly wins in the style stakes.
The folding metal stand means this tree is easy to assemble, and the plastic tips prevent any scratching or damage on the floor. However, one drawback is that if the weight isn't evenly distributed on the stand, the tree constantly wants to fall over—this is where constructing it against the wall will come in handy. The branches need pulling into place, which we'd recommend doing once it's in place against the wall.
Where a full-sized tree might be too big and overwhelming, this quirky half tree design is perfect—because who really needs to see the back of the tree anyway? Generally, most of us only make use of the front as a place store presents, making this half tree excellent for both budget and space-saving, with no wasted floor space or wasted decorations.
See our full Christmas Tree World 6ft Green Woodland Pine Half Tree review
3. B&Q Fairview Berry & pine cone design Artificial Christmas tree
The best low maintenance artificial Christmas tree
Specifications
RRP: £208
Dimensions: 7.5ft
Reasons to buy
+
Already partially decorated—minimal effort required
+
Snowy effect
Reasons to avoid
-
Not for you if you don't like snowy trees
Christmas comes ready-made with this B&Q tree, which stands at 7.5ft tall. This lovely Fairview tree is already partly decorated, coming with pre-lit, snowy (and sparkly) branches, to create an instantly festive feeling in your home. Not only that, but it also comes adorned with faux berries and pine cones, to really ensure your home feels like a winter wonderland with minimal effort!
This tree is also pre-lit, with 320 warm white LED bulbs, so there's no need to buy lights for it too (unless you want extra). Really, all there is to do is add a Christmas tree topper, and a few other sparing decorations if you want, and your tree is ready to go—making it our favorite low-maintenance pick. As with many of the best artificial Christmas trees, you will need to assemble it yourself, but the good news is that the stand comes included, so there's no need to purchase any extras to get it set up.
At £208, this pick is more of an investment, but we reckon it'll be worth it for a dazzling tree that you really don't need to do much with year after year.
4. The White Company Pre-lit Mini 1.5ft Christmas Tree
Best small artificial Christmas tree in a pot
Specifications
RRP: £35
Dimensions: 1.5ft/46cm H x 37cm D
Reasons to buy
+
Great for small spaces or less traditional decor
+
Very affordable
Reasons to avoid
-
Perhaps not a replacement for a bigger tree
This petite delight from The White Company is small but mighty. The charming tree is compact in size, but effective enough to create a festive atmosphere with your decor, without you having to make space for a larger tree. It's the perfect miniature tree if you're not really a fan of decorating, or of even having a tree altogether. Not to mention it's incredibly affordable.
The pre-lit 1.5ft tree stands in a decorative woven willow basket, with a switch to control the included lights neatly hidden in a compartment located in the base, discretely out of sight. The warm fairy lights, on an undetectable green wire, are evenly distributed from top to bottom for a perfect finish. There are three settings for the lights On, Off, and Timer.
In terms of realness, the branches are thoroughly realistic-looking. Even the base around the bottom of the tree is covered in a life-like moss earth-effect covering, adding to the realism.
While the sturdy branches will support larger decorations, they might look a bit out of place because the tree is so small. We'd recommend miniature baubles if you wanted a bit of decoration. But in all honesty, this tree is magical enough au natural. It's the ideal size for a coffee table display, hallway console table, or even a dining table as a festive centerpiece.
5. Cox & Cox Alpine Fir Tree
Best alternative artificial Christmas tree
Specifications
RRP: £95
Dimensions: 180cm H
Reasons to buy
+
Stylish
+
Lovely lighting
+
Great for modern homes
Reasons to avoid
-
Branches need a fair bit of adjustment
-
Not a traditional tree
If a traditional fir tree is not your thing then you might be looking for Christmas tree alternatives. If so, a stylish Scandi-inspired twig tree may be just the thing—and Cox & Cox are the masters of stylish alternative trees. Their Alpine Fir Tree looks just like a real tree trunk, but it's actually made from a brown lightweight plastic trunk that twists into a section of faux snow-covered ground.
This alternative tree is simple to assemble—however, it does require perhaps the most 'branch styling' of all the best artificial Christmas trees. The 20 branches are quite sparse, and therefore need tweaking out so they fill more space. They're delicate, but do move, so don't be afraid to gently tease them out.
The tree is pre-lit with lights tightly wound around each branch on a copper wire, which adds a lovely hint of glamour and festivity to the tree—if you can believe it, there are 312 warm white LED lights.
Suitable for both indoor and outdoor use the tree comes complete with pegs to secure it into the ground. Alternatively for indoor use, we'd follow in Cox & Cox footsteps by hiding the base in a beautiful woven basket. This would also allow you to weigh it down and make it feel more secure because it is a very lightweight tree. This tree needn't be just for Christmas either—bring it out at the first signs of winter for an autumnal ambiance in your home.
See our full Cox & Cox Alpine Fir Tree review
6. Balsam Hill European Fir Tree
Best woodland-esque artificial Christmas tree
Specifications
RRP: From £449
Dimensions: From 5.5' H and 52" W
Reasons to buy
+
Natural looking
+
Very attractive
+
Lots of light options
This Balsam Hill beauty is the perfect choice for those who want a natural, woodland-inspired tree that'll be a showstopper in your home. This European Fir encapsulates the realistic look by incorporating sparse branches with fuller branches, and gaps in between branches, creating a tree that looks as natural as one picked straight from the ground—because after all, a perfectly symmetrical real tree just doesn't exist. With dark green needles crafted with the brand's expert True Needle technology, there's no doubt this looks like the real deal. Just be warned that the base of this artificial tree is pretty wide, so make sure you have the space for it in your home.
The European Fir comes in a variety of options, from unlit to prelit, with a few different lighting options. You can get your tree with just the Candlelight Clear LED lights, or choose the Color + Clear LED lights, for a fun variation. Balsam Hill also offers the tree in varying different heights depending on your needs—from 5.5 feet to 9 feet tall.
This is certainly one of the most attractive trees on our list, and easy to assemble to boot. There's no doubt that it's an expensive option, but many shoppers have stated how durable and long-lasting it is, so we reckon it's a worthwhile investment.
7. B&Q 6ft Smart Natural Looking Artificial Christmas Tree
Best smart Christmas tree
Specifications
RRP: £95/£155
Dimensions: 183cm H (or 6ft)
Reasons to buy
+
Utilizes smart technology
+
Lots of lighting options
Reasons to avoid
-
Very uniform which some might not like
A smart artificial tree at an even smarter price. B&Q's smart tree comes pre-lit with 300 multi-function LED bulbs for a traditional look. The dual-colored bulbs can be changed from warm white to multicolored lights. The smart design means the lights are compatible with both Google Home and Alexa devices. As with many of our smart home appliances, these days the voice control function allows you to control the lights with a single spoken command.
Not only is there the option to choose between warm white or multicolor lights, but there are seven multifunction settings allowing you to choose your desired look for every occasion. The settings include White, White White; Blink White; Multicolour Fade; Multicolour; Blink Multicolour; Colour Change, and Off. With one voice control, this tree goes from a traditional-looking Christmas tree to a bright, multi-colored tree.
In terms of realism, this tree is a thoroughly good fake. The densely populated branches are spread across three sections, all of which are an even mix of molded PE and traditional PVC tips to emulate the look and feel of real spruce. Combined with the more tinsel-like branches, the stand is very robust, helping to ensure the tree feels very stable. It's also available in 7ft, if you're after a taller tree.
See our full B&Q 6ft Smart Natural Looking Artificial Christmas Tree review (opens in new tab)
8. John Lewis & Partners Pre-Lit Birch Twig Tree, Copper
Best artificial twig tree
Specifications
RRP: £89
Dimensions: 180 H x 22 W x 7cm D
Reasons to buy
+
Very on trend
+
Will fit in a small space
Twig trees have gone up in popularity in recent years, so if you're after one then this John Lewis & Partners option is a fabulous pick. Coming in a subtle copper color, it's a great alternative to a traditional green faux Christmas tree and it will look incredibly stylish alongside any type of home decor—although we'd especially recommend it for modern homes.
This tree is fitted with 600 tiny pure white static LED lights so it'll look beautifully illuminated the instant you bring it home, with no need to hang your own lights (unless you want to). One big plus of this tree is that it will look just as chic either with decorations added or without, so it can be minimal fuss if you prefer not to spend too much time decorating your tree. That just gives you more time to make your way through the best Christmas hampers and all their treats...
It's worth noting that this twig tree is for indoor use only—but never fear, it'll definitely look impressive inside your home, standing at a whopping 6ft tall! But it's absolutely a great option for smaller spaces, given that it's thinner in width than a regular Christmas tree.
---
Popular artificial Christmas tree trends for 2021
Wondering what sort of artificial trees will be popular this year? Gardening expert at Hayes Garden World Angela Slater has shared her predictions, explaining that she reckons we'll see a mix of snowy, soft pink, and realistic-looking faux trees in 2021.
She explained, "When it comes to Christmas tree themes, snowy and frosted trees appear to be dominating the artificial Christmas tree market again as customers are seeking something a little different from the traditional green. Customers are favoring the appearance of fresh trees and are therefore opting for trees with an irregular natural shape. The snowy trees are ideally suited for a natural Scandi style decorative palette.
"Soft pink, white, and Christmas gold also appear to be dominating the Christmas scene this year. Out is the muted old gold and back in is the bright, cheerful gold we all know from our childhoods. Soft muted greys still seem to feature heavily with customers who prefer a design-led stylish Christmas tree, but these can easily be incorporated with the soft pink and white."
What are the most realistic artificial Christmas trees made of?
There are many benefits to an artificial Christmas tree—for one, you won't need to worry about how to keep a Christmas tree alive throughout December! But one thing many shoppers worry about is their artificial tree looking too fake. Most artificial trees are made from PVC (plastic), though you can also get fake aluminum and fiber-optic illuminated trees. Most of the PVC trees are designed to look like real trees, with many designed in the style of Nordmann Fir and Spruce trees.
If you're after a real-looking artificial tree though, it's best to take it on a case-by-case basis, as no matter what material fake trees are made of, some are undoubtedly more realistic-looking than others. Often, trees that have less of a uniform shape, and have more sporadic branches at different lengths, look more real realistic—so keep your eye out for those whilst shopping. And w&s has plenty of realistic options above to choose from.
But if you're wondering how to make your artificial tree more real-looking, interior designer Steph Briggs has a helpful tip. She advised, "If you have a faux tree then it's all about the fluffing! Make sure that the branches are well spaced and look as natural as possible. This takes a while if it's been crammed in a box in the attic all year but time spent here is worth it—it will make a real difference to the end result."
For more expert tips, why not take a look at our guide to how to decorate a Christmas tree, according to the professionals?
How much should I pay for an artificial Christmas tree?
The prices for one of the best artificial Christmas trees can vary dramatically, depending on the size and the desired look, as well as the brand. You can pay less for a smaller tree of course, and you can certainly get a slimmer or mini tree or even just a budget tree for under $40/£40. Most basic artificial trees cost in the region of £50/$50 and £100/$100, with pre-lit designs costing more.
But it's worth bearing in mind you generally get what you pay for when it comes to artificial trees. At the higher end of the price-band are the most realistic-looking trees, these can cost anything from $200/£200 up to $1000/£1000. It sounds pricey, but many of the expensive options come with a prolonged guarantee and offer much more in terms of extras—such as being pre-it and being supplied with spare bulbs, etc. The more you pay, generally speaking, the better the quality and the longer the life of the tree. Generally, more expensive trees are also more realistic-looking too, which is an important factor to keep in mind.
What's the best way to light my artificial Christmas tree?
Most sizable trees (anything over 4ft), will benefit from being dressed with two sets of fairy lights—to ensure the whole tree is covered, from top to bottom. Choose lights with a cord that best suits your tree, i.e green for a natural look tree, black for a more modern colored tree. We'd recommend turning the lights on while you place them, as it helps you to clearly see where they are—remembering to step back often to check them as you go. This also ensures you know they are working before you go to the effort of placing them.
Angela also recommends white LED lights this year, which she believes will be more in style than colored lights. "Plain warm or cool white LED lights are still the most popular, with novelty lights still being bought in their numbers for children's bedrooms—however, they are not likely to feature heavily on Christmas trees," she said.
Also, it's worth remembering that many of the best artificial Christmas trees can also come pre-lit, saving you the bother of decorating yourself. Decide whether this is the right option for you.
Are real or fake trees better for the planet?
Due to their synthetic nature, there is an element of concern, as with all plastics, about how good artificial trees are for the environment. It's estimated that artificial trees need to be reused for at least 10 Christmases to keep its environmental impact lower than that of a real tree.
Darran Messem, Managing Director of Certification at the Carbon Trust, gave the following statement (opens in new tab), "A real pine or fir tree naturally absorbs CO2 and releases oxygen. The best thing you can do at Christmas is to keep a tree alive and breathing. Disposing of a tree by composting produces CO2 and methane. An artificial tree has a higher carbon footprint than a natural one because of the energy-intensive production processes involved. By far the best option is a potted tree which, with care, can be replanted after the festive season and re-used year after year."
---
Now that you've chosen the best artificial Christmas trees for your home, why not take a look at our guide to the best Christmas wreaths to help adorn your front door—as well as the best luxury Christmas crackers for your table?
Or, if you're on the hunt for some festive clothing ahead of December, see our guides to the best matching Christmas jumpers and the best matching Christmas pyjamas.
---
With thanks to interior designer Steph Briggs, co-founder of independent gifts and interior retailer, La Di Da Interiors (opens in new tab), and Angela Slater, gardening expert at Hayes Garden World (opens in new tab) for their expertise for this piece.
Amy Hunt is an experienced digital journalist specialising in homes, interiors and hobbies. She began her career working as the features assistant at woman&home magazine, before moving over to the digital side of the brand where she eventually became the Lifestyle Editor up until January 2022. Amy won the Digital Journalist of the Year award at the AOP Awards in 2019 for her work on womanandhome.com.