Christmas Tree World 6ft The Woodland Pine Half Tree review
The best tree for small spaces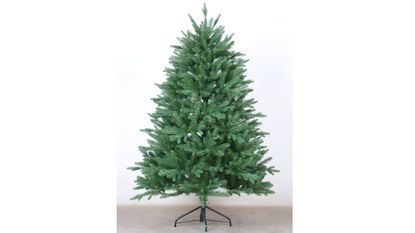 Looking for the best artificial Christmas trees for small spaces? We've found the ultimate tree for those on a budget and with smaller spaces! Half the tree and over half the budget this tree is a complete steal.
This half tree design is actually famous too! As seen on ITV's This Morning. The celebrities of The Only Way is Essex and many high profile TV shows and venues across the country have also got them in their spaces. A bargain, space-saving, a great realistic option and famous – what more could you want?
Star rating: 4.5 out of 5
Dimensions: H182 (6FT) by 62cm diameter
VIEW NOW: 6ft The Woodland Pine Half Tree, (currently) £35.99, Christmas Tree World
How realistic is it?
The beautifully realistic Woodland Pine Half Tree has bushy branches made from a mix of moulded PE and traditional PVC tips to emulate the look and feel of real spruce.The more 'fake' looking PVC branches are located on the inner regions of the tree, meaning they are there to act purely as 'filler' to make it appear denser. It's an attractive deep fir green, so in our eyes wins in the style stakes.
How easy is it to assemble?
The three-legged folding metal stand means this tree is easy to assemble and has plastic tips to prevent any scratching or damage on the floor. Make sure the feet are opened at the right angles to distribute the weight because otherwise it constantly wants to fall over. This is where constructing it against the wall will pay off handsomely. If you wish to have this tree in a corner, simply tweak the branches to make it fill out accordingly
The slender design simply slots together with ease - arriving in three sections, all with hinged branches that automatically drop down into place. All you need to do is separate the branches pulling them into place, which we'd recommend doing once it's in place against the wall. It will sit plush unless you have skirting boards, which makes it sit slightly forwards.
Is it good value for money?
Another bonus of having half a tree is half the decorations are required. You only really need to see the front and offer a place under which to store presents, making this half tree excellent for both budget and space-saving. No wasted floor space or wasted decorations, plus half the tree means half the price – what's not to love? It's a little strange but totally wonderful when you think about it. Given the fact you wouldn't cut a real tree in half to accommodate it in a small space, an artificial half tree is the only option for small spaces.
Any downsides to this tree?
Indoor use only, the tree's construction will rust in rain so don't even be tempted to pop it outside or in a room with any hint of damp – because it won't last for years to come.
Are any other sizes available?
This model is available in a range of sizes from 4ft to 6ft, with the 4ft size being ideal if you're really looking for a small space solution. The height of each sized tree is measured from the floor. There's a clear space between the bottom branches and the floor, to allow for plenty of present space. The 4ft tree starts from £34.99, making this half design even more of a bargain.
Why are half trees are becoming so popular?
David Sumner, Online Sales Manager at Christmas Tree World says, "half trees are becoming more and more popular each year, as space is becoming a premium that not every household has. Having a half tree flush to the wall means that it is taking up far less room than a full-sized tree, perfect for those who are limited on space. Much of our furniture is getting bigger, including sofas, dining sets and TV sets, so often a half tree is a perfect alternative as it means you don't have to compromise on the look of the full version and can still maximise on space."
Tamara is a highly experienced homes and interiors journalist, with a career spanning 19 years. Now the Lifestyle Editor of womanandhome.com, she has spent the last 16 years working with the style teams at Country Homes & Interiors and Ideal Home, and it's with these award-winning interiors teams that she gained a wealth of knowledge and honed her skills and passion for shopping, styling and writing about every aspect of lifestyle and interiors.
With a keen eye for the latest interior trends, there's not a lot she doesn't know about home decor – whether it's what colour we should be painting our living rooms next season, or if the latest 'must-have' buys are actually worth investing in.
A true homes and interiors expert, Tamara has served as an ambassador for leading interior brands on multiple occasions, including appearing on Matalan's The Show and presenting at top interiors trend events such as the Autumn Fair and Spring Fair.