Cox & Cox Indoor Outdoor Alpine Fir Tree review
The best artificial twig Christmas tree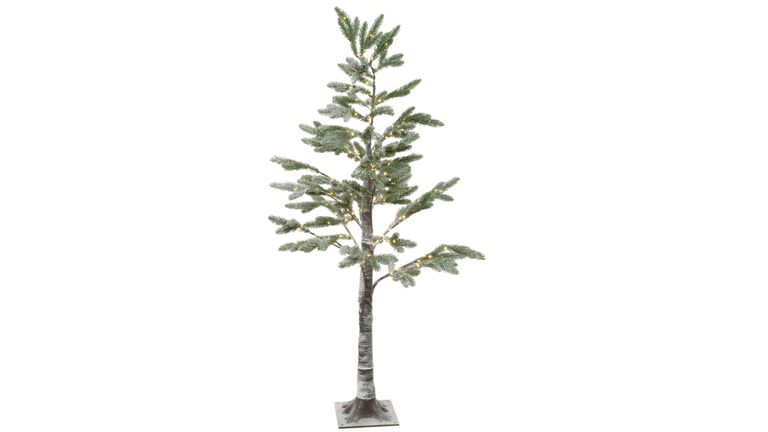 A traditional evergreen tree, of any colour, is not for everyone. If it's not your thing then you might be looking for a completely alternative tree. That's when a stylish Scandi-inspired twig tree is just the thing. Cox & Cox are the masters of stylish alternative trees so we turned to them to send us a shining example. And this year, they didn't fail us – with this new enchanting Christmas tree design.
This chic tree is one of the best artificial Christmas trees around, beautiful in its simplicity and a must for those looking for tradition with added finesse. It comes in a lightweight slim box with a handle, ideal for storing with ease each year.
Star rating: 4 out of 5
Price: £95
Size dimensions: H180
VIEW NOW: Cox & Cox Indoor Outdoor Alpine Fir Tree
How does the tree look?
First impressions on unpacking, it feels like a prop from a movie set. In the sense that it looks like a real tree trunk but it's made from a brown lightweight plastic trunk that twists into a section of faux snow-covered ground. Once the base part is screwed there's a second section to twist into place, and that's it the tree is constructed.
However, this design requires the most 'branch styling', for want of a better phrase. The 20 branches are quite sparse and therefore need tweaking out so they fill more space. They are so brilliantly woven they almost seem up moveable but don't fear teasing them out as they are highly playable.
What are the lights like?
The lights are tightly wound around each branch on a copper wire, adding a hint of glimmer to each one – adding a nice overall touch. The tree shines bright with 312 warm white LED lights. All brilliantly placed, securely too so they won't budge from their positioning – even if this tree is packed and packed for years to come.
Indoor or outdoor?
Suitable for both indoor and outdoor use the tree comes complete with pegs to secure it into the ground. Alternatively for indoor use, we'd follow in Cox & Cox footsteps by hiding the base in a beautiful woven basket. This would also allow you to weigh it down and make it feel more secure because it is very lightweight. This tree needn't be just for Christmas either and added bonus. Paper or light glass decorations would be ideal for this delicate tree. They would also help to add a further paired-back Scandi touch.