The best body exfoliators—from scrubs to mitts and acid peels
These body exfoliators will de-flake, smooth and buff your skin to perfection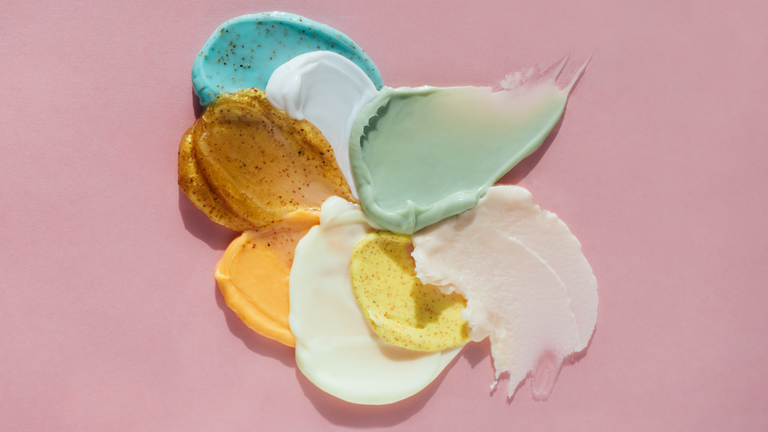 (Image credit: Getty images)
When it comes to body exfoliators, it's not always easy to be objective; one woman's spa-like scrub is another's scratchy nightmare. Ultimately, the best body peel, polish or exfoliating tool for you will depend on your skin type, lifestyle, and also the reason you want to exfoliate your body in the first place.
Are you a well-behaved regular exfoliator who knows that a consistent skincare routine should extend below the neck? Bonus beauty points for you if so! Perhaps you want to blitz ashy elbows in preparation for a self-tanning session, or have a big event and want glowing limbs to complement your dewy makeup look.
Whatever your plans are, there is a great scrub, polish, mitt or acid peel out there to suit your needs. And, while body exfoliation sits near the bottom of many of our beauty to-do lists (next to hair masks and nail care), it really is worth factoring in an exfoliation session once a week. This is because just like using the best facial exfoliator can work wonders on skin tone and texture, our bodies benefit from a helping hand to shed dull, dead skin cells too. Happily, for all but the most sensitive among us, the body—unlike the face—can handle fairly hardcore exfoliating products. This means you can really give it some welly with a coarse scrub, body brush or high percentage skincare acids without worrying too much about irritation, inflammation and the like. So satisfying.
How to choose the best body exfoliators for you
In many ways, picking the best body exfoliators is an easier job than selecting skin smoothing products you might use on your face. This is because, unless you have sensitive skin our body tends to be a bit more forgiving about what we put on it so you can choose based on personal preference.

That said, some body exfoliators are better at certain jobs than others. So thinking about the reason you want to exfoliate can provide a clue as to which product will suit your needs. If you are looking to exfoliate once a week or so as a basic skin maintenance thing, a nice sensorial scrub made with chunky grains and fragrant oils should be sufficiently effective and feel like a treat too.
If you have habitually dry skin that needs regular help to shed and wish to give yourself a circulation and drainage boost while you're at it, a dry tool you can use again and again might be best. Body brushing is the most famous (or should I say infamous) of these daily skin-sloughers, but there are plenty of mitts, pads, and whizzy gadgets out there that work on the same principle.
These dry body exfoliators also make a great pre-tanning prep exfoliator, as the oils that in many scrubs can interfere with DHA, the active ingredient in self-tan. If you find dry techniques torturous, pick a scrub or exfoliating created by a tanning brand as it'll be designed not to deactivate your self-tanner.
For specific skin concerns such as keratosis pilaris (KP), non-physical exfoliants such acid body peels can help. Look for salicylic acid for KP or spots, while gentle fruit enzymes and alpha hydroxy acids including lactic and glycolic acid work well on ashy skin or areas where cell turnover needs revved up.
Body exfoliators may lack the glamour and fashion factor of, say, a Korean skincare routine, but these workhorses will more than makeup for that in bang for your buck. These are the best body exfoliators for every skin type and need—pick your weapon and buff your way to greatness.
The best body exfoliators for every skin type
1. Sol de Janeiro Bom Dia Bright Cream
Best body exfoliator overall
Specifications
RRP: $60/£44
Key ingredients: Cupaçu butter, fruit acids
Reasons to buy
+Delicious scent+Elegant texture+Exfoliates without scrubbing
Reasons to avoid
-Scent might be too sweet for some
One of the best body exfoliators for people who usually can't be bothered to exfoliate, this silky, hydrating cream is infused with fruit acids and has the most delicious Brazil-inspired, dessert-like fragrance. It's gentle enough to use as often as you like and, trust me, once you smell it you'll never want to skip a day.
2. Soap & Glory The Scrub of Your life
Best budget body exfoliator
Specifications
RRP: $10/£7
Key ingredients : Orange peel, soap bark extract
Reasons to buy
+Gentle exfoliation beads+Classic fragrance
Reasons to avoid
-Perfume won't suit everyone
How could you live through the early Noughties and not have a soft spot for this classic Boots buy? The clear-gel formulation contains softening ingredients and eco-friendly beads that gently buff skin to perfection. It comes in a tube now, which is preferable to a tub in my book, and the nostalgic S&G 'pink perfume' lingers on your skin.
3. Sisley Energising Foaming Exfoliant for the Body
Best luxury body exfoliator
Specifications
RRP: $127/£92
Key ingredients: Rosemary essential oil, bamboo marrow powder
Reasons to buy
+Luxurious texture+Pure botanical ingredients+Exfoliates and nourishes
Reasons to avoid
-Expensive
One for the wishlist. This ultra luxurious product sits somewhere between a creamy, hydrating wash and a scrub, making it one of the best body exfoliators for dry skin. It smells expensive, thanks to pure essential oils, while the buffing action comes via ultra-fine bamboo marrow powder. This being Sisley, the texture is also gorgeous and the tube will impress any visitors to your bathroom.
4. Frank Body Original Coffee Scrub
Best energizing body exfoliator
Specifications
RRP: $18/£12.95
Key ingredients: Coffee grinds, sweet almond oil
Reasons to buy
+Effective exfoliation+Enlivening scent+Cruelty-free and vegan
This is the product that kicked off a whole category of coffee-based body scrubs, so it's only right to pay respect to original and best. Yes, the loose, repurposed coffee ground formula makes a temporary mess of your shower tiles but it's great fun to use, very effective and the aroma is guaranteed to jolt you awake of a morning.
5. CeraVe SA Smoothing Cream
Best body exfoliator for keratosis pilaris
Specifications
RRP: $25/£18
Key ingredients: Salicylic acid, urea
Reasons to buy
+Excellent value +Effective skin smoothing
Reasons to avoid
-Practical, not pampering
If you have keratosis pilaris, you'll know these chicken skin bumps are harmless but annoying. Too-hot showers, fragranced products, and abrasive scrubs can make them worse, so use this salicylic and lactic acid exfoliator a couple of times a week to remove dead cells and discourage the keratin blockages that cause KP.
6. The Body Shop Round Body Brush
Best body exfoliator for boosting circulation
Reasons to buy
+Very effective exfoliation+Boosts lymphatic drainage +Eco friendly
Reasons to avoid
-Uncomfortable
Yes, it's a bit hardcore to stand naked in your bathroom dragging dry bristles over your skin, but it's also extremely effective, eco-friendly and easier to tolerate when it's warm outside. Take two minutes to work this brush up limbs, across shoulders and clockwise over your stomach in firm strokes. After one session you'll get a circulation and energy boost, and by the third your skin will be silky-soft and radiant.
7. Face Halo Body
Best dry body exfoliating tool for tanning
Reasons to buy
+Gentler dry exfoliation +Sustainable and re-usable
Reasons to avoid
-Not relaxing
Exfoliating is an important pre-tanning step as, otherwise, the tan can build up in dry areas and appear patchy. Avoid oil-based scrubs as they can interfere with self tan's active ingredient; instead, dry exfoliate with a mitt like this. Don't apply any body cream or oil afterwards either, as it will make the tanning product become slippery and impossible to blend.
8. Amanda Harrington New Skin Body
Best body exfoliating product for tanning
Specifications
RRP: $30/£22
Key ingredients: Glycolic acid, aloe vera
Reasons to buy
+Physical plus acid exfoliation+Feels like a treat+Vegan friendly
Reasons to avoid
-Not ultra-grainy
This is another great pre-tan product, although it would also be a wise choice for your weekly exfoliating treatment, tan or no tan. it combines gold-standard alpha hydroxy acid glycolic acid with biodegradable polishing beads for twice the body exfoliation action, plus it smells like a fancy spa.
9. Kiehl's Ultimate Man Body Scrub Soap
The best body exfoliating bar
Specifications
RRP: $24.20/£17.50
Key ingredients : Oat kernels, pumice
Reasons to buy
+Satisfying to use+Refreshing fragrance
Reasons to avoid
-Can go soft
Ignore the name. While this chunky bar infused with oat kernels and a crisp citrus scent will certainly appeal to those with Y chromosomes, it's also a winner for any human who wants an eco-friendly, great value, gratifyingly manual body exfoliator. Like any bar this can get a little mushy if you leave it on the side of the shower, so keep it in a soap dish to preserve it's integrity.
10. Ameliorate Exfoliating Body Mitt
Best body exfoliator for sensitive skin
Reasons to buy
+Reusable +Gently buffs
Reasons to avoid
-Not sensorial
A gentler take on those Korean-inspired exfoliating gloves, this mitt takes a softer approach to loosening and buffing away dead skin cells. This makes it one of the best body exfoliators for sensitive or reactive skin. It's well worth checking out this brand's range of exfoliating lotions too, which combine gentle acids and hydrators to excellent effect.
As woman&home's Senior Beauty Editor, Fiona Mckim has tried more beauty products than she's had hot dinners and nothing makes her happier than raving about a brilliant beauty find on womanandhome.com or her instagram grid (@fionamckim if you like hair dye experiments and cute shih-tzus)

Fiona joined woman&home as Assistant Beauty Editor in 2013, working under legend Jo GB, who taught her everything she needed to know about the industry (clue: learn about ingredients and employ extreme cynicism).
In a previous life, Fiona studied journalism back home in bonnie Scotland and honed her skills as a features writer at publications including Junior and Prima Baby, with a brief and terrifying stint on the showbiz gossip pages of a tabloid newspaper in between. She's a skincare fanatic who can't resist adding an extra step to her routine if it's all the rage in Japan, loves fragrance, has fun with makeup and never turns down the chance to test a new hair tool. Basically, she loves it all.

When not slathering herself in self tan or squinting at a tiny ingredients list on a moisturiser, you'll probably find Fiona enjoying something to do with food - cooking it, eating it, cajoling her friends into trekking across London to try a hyped pop-up in a dirty car park.
Come to think of it, the hot dinners and beauty products are probably about even.