The best drugstore foundations that are seriously on par with luxury splurges
We've rounded up the best drugstore foundations for every skin type, with each offering long-lasting coverage and smooth application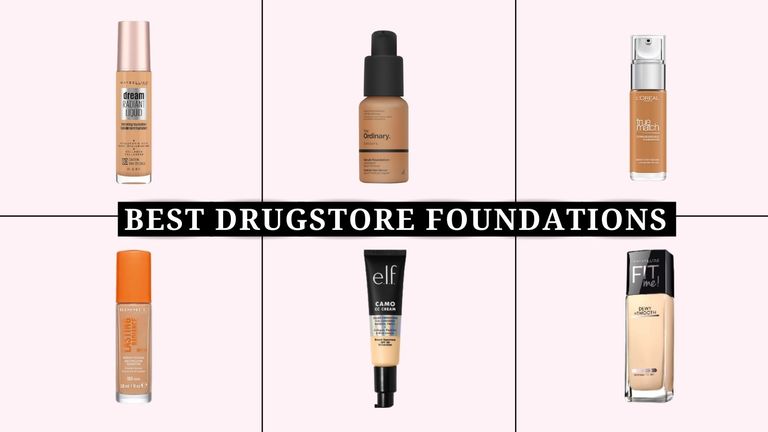 (Image credit: Future and Respective Brands)
As makeup goes, it's a bit trickier to find the best drugstore foundation than it is great mascara or lipstick at the same price. To find your holy grail, it's important to assess your skin's texture, desired level of coverage, and formula perks among other considerations.
If you can afford to spend a bit more on just one makeup product, you should buy a long-lasting, foolproof foundation you can afford. Why? Because a great foundation is the baseline of your whole beauty look—get it right and you're set. If you don't, well, we've all seen what happens when bad foundation happens to good people.
Just because it's a bit harder to find a great budget foundation, that's not to say there aren't bargains to be had out there that are worth merit. When it comes to the best foundation, price isn't always a true indication of quality. And the truth is not everyone has unlimited amounts of cash to drop on one piece of makeup, so that's where the best cheap foundations that also deliver in quality can come in.
Thanks to meaty research budgets and top-tier development teams, big brands such as Maybelline and Rimmel are able to deliver excellent formulas at very democratic prices. This investment in formula and an unusually flattering finish is why Maybelline Dream Radiant Liquid is our pick of the best cheap foundations overall. It's also worth keeping an eye on disruptive beauty brands for bargain sophisticated formulas, which is why The Ordinary Serum Foundation is the best budget foundation for oily skin.
How to choose the best drugstore foundation
There are some ways in which the best budget foundation will never match up to a high-end buy. To avoid any label stigma, it's best to remind yourself that ultimately, makeup is brandless when worn, so when shopping for a drugstore pick, develop a blind spot for fancy packaging and extra add-ons you might not necessarily need. A few tips:
Tubes vs bottles: Slick, airless pumps and magnetic lids can indeed be very seductive, but once it's on your face it doesn't really matter if your base came out of a plastic tube or a beautiful bottle. In fact, with cheaper foundations, it's sometimes actually better to go for a tube formula, as those budget glass pumps can get a little bit messy.
Look for ingredient MVPs: Formula is crucial, and there are plenty of cheap and readily available hydrating ingredients that brands can include to achieve a luxurious texture that convincingly dupe those at a luxury price point. Look out for hyaluronic acid, vitamin E, and glycerin, as well as polymers, as these tend to give foundation a flexible feel and stop it from sinking into lines.
Invest in tools and technique: Using the best foundation brushes and tools you can get your hands on and learning how to apply foundation to maximize a flawless finish can also help ensure no one is the wiser, and that you get the ultimate bang for your buck.
Light over full coverage: When in doubt, go sheer. Aiming for light, slightly more sheer, and hydrating formulations is a good rule of thumb in general with budget picks. Yes, they might need a touch-up before your after-work cocktails if you have oily skin, but they're definitely more forgiving than high-coverage foundations at the same price, which can come off a bit mask-like.
Prep skin: The final thing to bear in mind is skin prep. Less sophisticated foundation formulas can lack the skincare add-ons of their pricier counterparts. But if you ensure your skin is smooth, well-moisturized, and you learn how to use face primer correctly, you can still achieve great high-end results with a cheaper foundation.
The best drugstore foundations, as chosen by our experts
1. Maybelline Dream Radiant Liquid
Best overall drugstore foundation
Specifications
RRP: $12.99/£9
Shades : 20
Coverage: Light to medium coverage
SPF: No
Special ingredients: Hyaluronic acid, collagen
Reasons to buy
+
Glowing finish
+
Flattering blur effect
+
Hydrating yet lightweight
+
Good for dry skin
As a general rule, if you only have a few bucks to spend, then head to a Maybelline counter—you won't be disappointed. Maybelline Dream Radiant Liquid Medium Coverage Hydrating Foundation combines a blendable coverage with a juicy-looking finish, thanks to light-reflecting particles that quite literally put your complexion in the best light. Don't worry, it isn't sparkly—more of a flattering soft-focus glow that blurs over lines and pores.
When first pumped out onto the back of the hand or brush, the texture does feel slightly rigid, but once you get it moving it blends nicely enough. It also doesn't settle into lines or drag over rough skin, making it one of the best foundations for dry skin. The 20-shade-strong range is commendable at this price, although it would be better if we got a few more options at the very deepest end of the spectrum. Simply put, it's one of the best drugstore foundations for a laundry list of reasons.
2. The Ordinary Serum Foundation
Best drugstore foundation for oily skin
Specifications
RRP: $6.70/£5
Shades : 21
Coverage: Semi-matte medium coverage
SPF: No
Reasons to buy
+
Weightless feel
+
Extremely blendable, resists pooling in lines
+
Alcohol-, gluten-, nut-, oil-, paraben-, and sulfate-free
+
Vegan, cruelty-free
Reasons to avoid
-
Won't suit very dry skin
They rocked our world with their affordable skincare products, so it's no wonder The Ordinary's first color cosmetic got everyone talking too. From the name, you might expect this to be very light and hydrating, and while it certainly contains some moisturizing ingredients, it's actually a far better fit as one of the best foundations for oily skin or combination skin.
This is because it offers medium coverage with a soft, semi-matte finish. The silicone base, which gives it that unique 'serum' feel, is brilliant at smoothing over enlarged pores or texture irregularities, as well as helping the pigment grip onto skin. This perk is extra effective if your natural oil tends to melt foundations. Compared to other best drugstore foundations, it feels very light despite its matte finish, which is a gift for anyone whose skin already feels overloaded.
3. L'Oréal Paris True Match Super Blendable Makeup
Best drugstore foundation for dry skin
Specifications
RRP: $10.99/£8
Shades: 37
Coverage: Medium coverage
SPF: 17
Special ingredients: Pro-Vitamin B5, vitamin E
Reasons to buy
+
Excellent shade range
+
Very hydrating
+
Natural, blendable finish that matches not only skin tone, but also undertone
Reasons to avoid
-
Low SPF
-
Bottle is prone to spillage
If you have dry skin, it can be tempting to stick to BB creams for their hydrating properties. The downside of that choice is that many of us need more coverage (and shade-matching) than a BB can offer, and certainly more lasting power.
Thankfully, this is one of the best drugstore foundations to get the job done, and then some. This option combines the skincare boost of BBs with slightly higher levels of pigment and better grip. The water-based formula includes Pro-Vitamin B5 and vitamin E, both of which hydrate. It feels very comfortable, not heavy or greasy, and the 37 "true to you" shade range is truly, pioneeringly, inclusive (15 years and counting!), which is shockingly still rare at this price point.
4. Makeup Revolution Fast Base Foundation Stick
Best drugstore foundation for quick coverage
Specifications
RRP: $11.22/£8
Shades: 18
Coverage : Medium to full coverage
SPF: No
Reasons to buy
+
Very good value
+
Handy stick form
+
Can be used to contour and highlight
Reasons to avoid
-
Shades can get confusing
On the topic of best drugstore foundations, stick foundations aren't for everyone (if you like a barely-there base, steer clear), but if you need heavier coverage and tend to reapply during the day, you could do a lot worse than this bargain twist-up by Revolution.
As the name suggests, it's best used in specific areas to speedily cover redness, pigmentation, or veins, and once it's on you'll get a good 8+ hours of coverage. The texture is nice and spreadable once you get blending, so it melts into skin nicely and won't leave tidemarks. There's a good shade range for light and dark skins, and the stick format makes it very handy to chuck in your bag with no fear of spillage. The super accessible price point also means you can have one for both your work drawer and gym locker should you wish.
5. Rimmel Lasting Radiance Foundation
Best drugstore foundation for mature skin
Specifications
RRP: $13.80/£9
Shades: 12
Coverage: Medium coverage
SPF: 25
Special ingredients: Peptides, antioxidant complex, vitamin C
Reasons to buy
+
Buildable coverage
+
Active skincare ingredients
+
Long-lasting dewy glow
+
Hydrates skin for up to 24 hours
Busy days = tired skin. Sometimes we know a full eight hours' sleep just isn't going to happen, so we turn to the next best thing to wake up our complexion: makeup!
This loose and light-reflecting foundation offers sheer coverage with one pump but can be built up to something more opaque when needed. It has a lovely glow, thanks to the inclusion of illuminating particles and is very strong on the skincare side of things, with energizing peptides, stable vitamin C, SPF 25, and nourishing plant seed oils.
What more could you want? Well, as ever with budget bases, a few more shades would be nice. This has 12, with a decent offering for light and medium-deep tones but not much to offer for very dark skin tones. Let's hope that changes soon, as this really is an excellent foundation that should be available to everyone.
6. e.l.f. Camo CC Cream
Best full-coverage drugstore foundation
Specifications
RRP: $14/£10
Shades: 20
Coverage : Full coverage
SPF: 30
Special ingredients: Collagen, peptides, niacinamide
Reasons to buy
+
Highly transfer-proof
+
Color correcting
+
High SPF
Reasons to avoid
-
Can feel dense and heavy on the skin
If you have a lot of long days in your diary, white shirts in your rotation, or unpleasant makeup smudges on your phone, this could be the drugstore foundation for you.
Everything about this formulation is designed with all-day transfer-proof wear in mind. And it boasts skin-healthy benefits, leveraging a hydrating ingredient blend to improve skin texture and tone. This blend includes hyaluronic acid, niacinamide, collagen, and peptides, all of which lock in moisture for a more refreshed complexion. Upon application, you'll notice and feel its smooth grippy texture, which helps product stay where it's supposed to be. That aside, it also features SPF 30.
Compared to other best drugstore foundations, the coverage is on the fuller side, so might not be the best if you don't like a 'made-up' look. However, if 'made-up' is exactly what you're going for, minus the usual shirt-collar paranoia, then this is a great option for the price.
7. Maybelline Fit Me! Matte + Poreless Liquid Foundation
Best matte drugstore foundation
Specifications
RRP: $7.99/£6
Shades: 40
Coverage: Light to medium coverage
SPF: No
Special ingredients: Micro-powders
Reasons to buy
+
Shade variety
+
Easily blendable and buildable
+
Smooth application
+
Dermatologist- and allergy tested
With over 77,000 reviews across retailers, Maybelline Fit Me! Matte + Poreless Liquid Foundation has amassed a cult-following with good reason: It delivers exceptional results and arguably works better than similar, more expensive options. Yes, we're willing to die on this hill.
Fit Me! Matte + Poreless doesn't settle into fine lines and accentuate texture; rather, it absorbs oil, mattifies shine, and "erases" the appearance of pores, thanks to micro-powders infused in the formula. Ideal for normal to oily skin, it promises all-day wear and finish; as hyperbolic as that claim seems, beauty savants and beginners say it lives up to the hype. For minimal touchups whenever you're in a pinch, we recommend pairing this option with Maybelline Fit Me! Matte + Poreless Powder, which can be worn on top of foundation to set makeup in place.
8. Maybelline Fit Me! Dewy + Smooth Foundation
Best dewy drugstore foundation
Specifications
RRP: $7.99/£6
Shades: 24
Coverage: Light coverage
SPF: 18
Reasons to buy
+
Long-lasting radiant finish
+
Smooth, lightweight formula
+
Evens skin tone and minimizes oily shine
+
Dermatologist tested, allergy tested, non-comedogenic, fragrance-free
Reasons to avoid
-
Weaker coverage, especially for concealing pimples and blemishes
-
Some shoppers say it makes them look greasy and sweaty
A crowd-pleaser that moisturizes the complexion, evens skin tone, smooths texture, and imparts a radiant finish. Contrasting its matte counterpart, Fit Me! Dewy + Smooth Foundation is far more luminous, sheer, and hydrating, making it ideal for normal and dry skin. And while it may have fewer shades, it adapts well to match a variety of tones and undertones. All in all, it's a stunning lightweight option, which feels incredibly velvety and smooth when applied, and won't weigh down or fade over time. It should come as no surprise that shoppers en masse say it's one of the best drugstore foundations, if not number one in its league.
9. Neutrogena SkinClearing Oil-Free Makeup
Best drugstore foundation for acne-prone skin
Specifications
RRP: $11.14/£8
Shades: 14
Coverage: Light and natural coverage
SPF: No
Special ingredients: Salicylic acid
Reasons to buy
+
Doubles as makeup and skincare, targeting blemishes
+
Great for sensitive skin
+
Not cakey
Reasons to avoid
-
Drying
-
Thinner consistency that could do better at covering discoloration
Neutrogena SkinClearing Oil-Free Makeup is peak drugstore cosmeceutical and acne care, serving as both a preventive measure and remedy for zits. This solution leverages a lightweight, breathable formula and the brand's MicroClear® Technology, which is proven to dissolve oil and deliver salicylic acid to the source of breakouts (and even the best foundation brushes can be a hotbed of bacteria when not cleaned regularly, so be sure to keep up with your brush hygiene to avoid pimples!). Your complexion will reap the benefits of controlled shine, natural coverage, and a versatile skin/makeup pick-me-up—all at an accessible price.
10. Essence Makeup My Skin Perfector Loose Finishing Powder
Best drugstore powder foundation
Specifications
RRP: $5.99
Shades: 6
Coverage: Light and natural coverage
SPF: No
Reasons to buy
+
Buildable formula
+
Blurs imperfections
+
Free of parabens, oil, perfume, alcohol, acetone, and gluten
+
Vegan, cruelty-free
Reasons to avoid
-
Limited shade range
-
Fallout
From the curator of top-performing mascaras, My Skin Perfector Loose Fixing Powder locks foundation and makeup in place without looking cakey. One of the best powder foundation offerings on our list, this has a buildable lightweight formula that blurs imperfections, delivers a natural matte finish, and doubles as a setting powder. The question is, what can't this magic powder do? Since its container is compact, this powder is the ideal portable travel companion (yay, TSA-approved!). Not to mention, it's second-skin smoothing properties won't settle into fine lines.
11. L'Oreal Infallible Fresh Wear 24HR Foundation
Best waterproof drugstore foundation
Specifications
RRP: $15
Shades: 30
Coverage: Light to medium coverage
SPF: 25
Reasons to buy
+
Long-lasting and buildable formula
+
Smooth texture and application
+
Doesn't grab onto dry patches
L'Oréal is the leader of drugstore foundations, and Infallible Fresh Wear 24HR is tangible proof of the brand's steadfast innovation and exacting detail for quality. This foundation harnesses a breathable, thin-liquid formula to provide long-lasting coverage, and resist sweat, water, and transfer. Blendable and highly pigmented in color, the liquid applies smoothly and evenly for all skin types, without caking, creasing, or looking patchy. It won't rub off try as you might, and if you're really on a tight budget, Infallible Fresh Wear doubles as a full-proof concealer.
As woman&home's Beauty Channel Editor, Fiona Mckim has tried more beauty products than she's had hot dinners and nothing makes her happier than raving about a brilliant find on womanandhome.com or her instagram grid (@fionamckim if you like hair experiments and cute shih-tzus). Fiona joined woman&home as Assistant Beauty Editor back in 2013, working under industry legend Jo GB, who taught her everything she needed to know (clue: learn about ingredients and employ extreme cynicism).