Foundation brush vs sponge: Which is better to apply makeup for flawless coverage?
Makeup artists explain how to decide between a foundation brush vs sponge to ace your base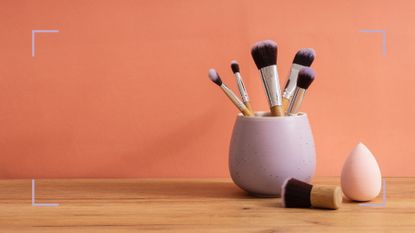 (Image credit: Future/Getty)
woman&home newsletter
Sign up to our free daily email for the latest royal and entertainment news, interesting opinion, expert advice on styling and beauty trends, and no-nonsense guides to the health and wellness questions you want answered.
Thank you for signing up to . You will receive a verification email shortly.
There was a problem. Please refresh the page and try again.
You've found your dream base and now you're wondering whether to use a foundation brush vs sponge to apply it. The good news is that, according to makeup artists, there's no right or wrong way to do it. Both tools have their benefits, and with the right technique, you can use either to create a seamless finish.
Finding the best foundation for your skin type is just one of the many factors to consider when perfecting your base. How you apply said foundation and what tool (or tools) you choose to use will have an impact on the final finish, too. Two applicators that are popular among makeup artists and beauty editors alike are foundation brushes and makeup sponges. But before you reach for one, consider what each has to offer.
Here, we've quizzed the experts on the key differences between using a foundation brush vs sponge to apply your base. Plus, the experts reveal the best foundation brushes and tools in their kit. Read on to discover which tool is right for you.
Foundation brush vs sponge: your expert guide
When should you use a foundation brush?
Foundation brushes come in various shapes and sizes and can be used to apply all foundation formulas including liquid, cream, and the best powder foundations. "A really thin liquid foundation like MAC's Face and Body works so well with a foundation brush," says Valeria Ferreira (opens in new tab), a celebrity makeup artist, who recommends using light application with a brush to blend it in.
"Consider your application technique when picking a brush," continues Ferreira. For painterly strokes, a flat brush is best. To really buff the foundation in, go for a dense round brush. Or, use multiple foundation brushes as British makeup artist Hannah Martin (opens in new tab) recommends. "I tend to switch between my Ciate London x Hannah Martin Base Brush for applying the foundation and a flat foundation brush for perfecting and blending."
When should you use a sponge?
Sponges are equally versatile and can be used to apply different foundation formulas. "They work amazingly well with thicker foundations and matte formulas," says Ferreira, who admits to using both a brush and a sponge when applying makeup on her A-list clients. "A sponge will absorb more liquid than a brush, resulting in more of a diffused, second-skin finish," she continues. "You dampen the sponge and dilute the formula, helping the product to really sink into the skin for a flawless finish with no flaky coverage – something that's especially beneficial for anyone who already invests in skincare for dry skin."
Foundation brush vs sponge: key differences
Foundation finish: According to Ferreira, "the material and shape of your tool will determine your foundation finish." Generally speaking, a sponge delivers a more diffused, natural look, whereas a brush can create a more even, smooth finish.
Hygiene: It's worth noting that brushes are more hygienic than sponges (the bacteria live deeper in a sponge), so it's important to clean your sponge after every use. "Dirty makeup tools are a breeding ground for bacteria so I do suggest cleaning sponges after each use and cleaning brushes once a week," says Martin.
Practicality: "Brushes are often bulkier than sponges, taking up more space in your handbag. For on-the-go touch-ups, a sponge is a better option that will save you space and can be used to apply different products like powder and concealer," says Ferreira.
Product waste: "As sponges absorb more product than brushes, you end up wasting some of your foundation when using a sponge," warns Ferreira. You will end up using up more foundation because of this. A brush will allow you to use less product (and waste less).
How to apply foundation with a foundation brush vs sponge
Wondering how to apply foundation with your chosen tool? "The secret to a seamless, second-skin finish is to get the product living comfortably on the skin, rather than just sitting on the skin," says Ferreira. To do this, you need to dedicate enough time to blending in your base. To start, Ferreira likes to give the skin an overall evenness with a foundation brush – "at this point, I'm looking for a wash of product."
As many makeup artists will agree, it's better to start with less product and build up the coverage as and where needed. Follow Ferreira's advice and begin with a soft-bristled foundation brush (or stippling brush) to buff in a light layer of your base. The general rule advocated by makeup artists is to start at the center of the face and blend outwards. This way, you can leave areas bare and build up coverage just where it's needed for a skin-like finish.
"Then I use a lighter foundation or concealer in certain areas to highlight bone structure," continues Ferreira, who notes that "a sponge is great for strategic application and a more detailed finish." Her sponge of choice? The Beauty Blender Original (which is also known to be a favorite of Meghan Markle) To use, wet the sponge and squeeze out the excess water to fluff it up, then bounce the product onto your skin. As for foundation brushes, "I love the classic Bobbi Brown foundation brush as well as Zoeva and Spectrum foundation brushes."
Martin also recommends having spare clean brushes in your kit. "When applying cream or powder products, have a spare clean brush to hand that can be used to blend and diffuse edges so the makeup looks as seamless and as natural as possible."
Is a foundation brush better than a sponge?
Martin certainly thinks so. "As a traditionalist, I would always prefer to use a brush across all formulas whether that's liquid, cream or powder, but many avid sponge users would say the same of sponges," says Martin. "Detailed eye makeup can really only be achieved using makeup brushes."
Foundation brush vs sponge: W&H verdict
Ultimately, this comes down to what you prefer. And while both tools work well on their own, we're in agreement with Ferreira and think the best option of all is to use them together. If you find that foundation brushes leave behind streaks, a damp beauty blender is a great second step to really diffuse your base and settle the product into the skin. We find that sometimes a foundation brush on its own isn't enough to really push the product into the skin, whereas using a brush followed by a sponge can make it appear as though you're not wearing any makeup at all. Of course, if you prefer a fuller coverage finish, a dense foundation brush alone will suffice and can easily be used to build up light layers until you reach your desired coverage.
Emma Stoddart is a freelance beauty journalist and self-confessed skincare aficionado with over five years' industry experience. Emma has worked for some of the UK's top women's titles including Net-A-Porter, Stylist and Grazia. Her experience spans online and print as well as producing editorial shoots with some of the industry's biggest artists, including Val Garland. Asides from working with them behind the scenes, she's also had the chance to interview the likes of Patrick Ta, Pat McGrath, and Sam McKnight for all their insider tips and tricks.