How to air dry hair: Why you should let your hair air dry at least once a week
Could learning how to air dry hair give it the health boost it needs?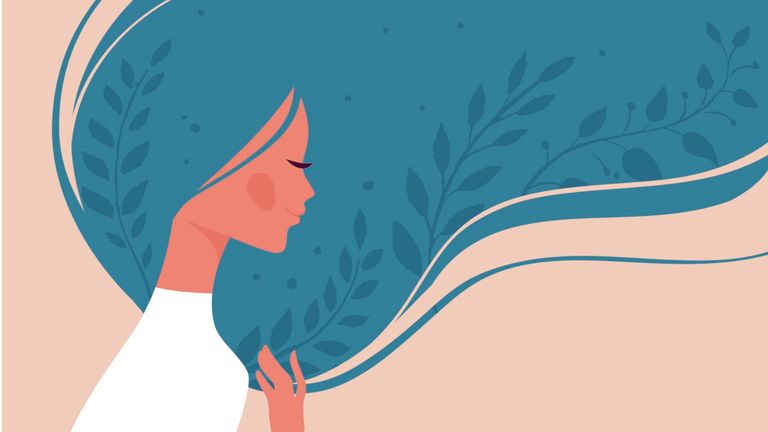 (Image credit: getty images)
How often do you blow dry and how often do you air dry hair in a week? I'm going to make a sweeping generalisation and predict that, for most people reading this, the former outnumbers the latter. Like all good generalisations, I've employed some strapping statistical muscle to back it up, as the Philips Global Beauty Survey for our beloved best hair dryers are the most popular home beauty device, with 76% of women saying they use one, compared with 41% for hair straighteners and 30% for hair curlers.
For many of us, blow drying our hair slips as seamlessly into our morning routine as brushing our teeth or flicking on the kettle, but at what price? The inconvenient truth is you can learn every expert tip in the book and use heat protector religiously, but your 'do still won't take kindly to a daily blast with air so hot it could crisp bacon given the time.
Deep down, we know this.
We know it in the same way we know that nothing good comes from Facebook scrolling after 10pm, or that opening a bottle of red to have one small glass is a lie we tell ourselves.
However, with hair, there's more at play than just legal self-sedation or the urge to check up on old classmates. We have been sold the dream of hair dryers as an essential tool of femininity, here to make our lives easier, our crowning glory swishier and, if we look further back, to emancipate us from expensive and time-consuming salon dependence, too.
A brief history of the hair dryer
The first-ever hair dryer, invented by French salon owner Alexander Godefroy, was a seated contraption composed of a gas chimney pipe with a bonnet attached, plus a valve to allow steam to escape and avoid instances of accidental head poaching.
Godefroy's creation didn't exactly set the world alight, but it must have sparked something, as by the early 1900s canny women were using vacuum cleaners to achieve the speed-dry convenience they craved. This isn't as terrifying as it sounds. In those days, air was sucked into the front then out of the back of household vacuums via a hose attachment. It probably wasn't all that different to those gaspingly inefficient wall-mounted tube dryers in public pool changing rooms.
By the 1920s, handheld steel and zinc hair dryers appeared for use in the home, and while their weight, wattage and shocking safety record has been much improved upon since then, their design is still pretty recognisable as what we use today.
Meanwhile, in the salon, hood dryers of both rigid and soft bonnet varieties took off from the 1930s right through the middle of the century. Ladies of the day would keep to frequent appointments, sit under the hood and have their style set. The cultural significance of this is explored in Maria Teresa Hart's excellent essay for The Atlantic, The Hair Dryer, Freedom's Appliance, where she writes, "This was an unsettled time for American women. First they joined the workforce during the war effort, in the 1940s. Later, they were driven back into the home. During these postwar years, the salon became a cherished second space for women outside the home."
By the 1960s, this expectation of not just having hair, but a hair "do" was deeply embedded, which intersected with plastic fanaticism and the resulting boom in affordable technology to bring the hair dryer into the home of the everywoman. "So, now you can wash, dry comb and set your hair at home – in just 45 minutes! And do it in luxurious comfort," whispers a seductive 1961 ad for the Ronson Hood 'n' Comb Hair Dryer.
Who could say no to that? These devices give us the hair of our dreams, every single day, all from the comfort of our bedrooms! It's no great wonder that three-quarters of us have taken up the offer by 2019.
Why should I let my hair air dry?
I'm not saying any of the above isn't true. My hair dryer does make my hair look nicer, it's definitely comfortable to use and a home blow dry is undeniably quicker and more convenient than visiting a salon. However – sorry, you knew this was coming – that still doesn't mean that it's a great idea to blast your hair dry every single morning.
Many hair experts insist that blow drying doesn't have to be damaging, but this comes with the iron-clad caveat that you must dry your hair as per recommended guidelines. And what are those exactly? Well, since you asked, it's usually along the lines of:
Only get the dryer out when hair is maximum 10% wet, but you mustn't towel dry it to get to that stage.
Use a wide-toothed comb, never a brush, to detangle. Yes this will take a bare minimum of 25 minutes to work painfully through your sodden locks.
Stick to the lowest heat and speed settings throughout the blow dry and hold the dryer six inches away from your head at all times. Your guess is as good as mine as to how we're supposed to perform that manoeuvre at the backs of our heads…
Does that sound like a typical home-drying experience to you? Unless you have the patience of a saint and the morning grooming window of a WAG, probably not. To pick up my sweeping-generalisation stick, I'd say more of us employ a "quick blast at max heat and speed" method, so maybe it's best if we invoke the mantra of liberal mothers of teenagers everywhere instead?
Be good, and if you can't be good, be careful.
How to care for your hair when drying
In this context, being careful means accepting that you're probably not always blow drying the "good" way, so why not care enough to leave your hair alone once a week? To some of you regular readers air drying will be a fait accompli. Particularly in a post-lockdown world, where many of us scaled back our beauty routines in favour of a more low-maintenance approach - like ditching no makeup makeup for an actual bare face - and plan to stick with it in the brave new world. If so, gold stars for you! Proceed to the product recommendations.
For anyone who feels a bit wobbly about navigating hair-wash day without electrical intervention, I've got you. This is all about timing and judicious product use.
Of course, there are occasions where the confidence boost of a blow dry is non-negotiable, but what about lazy Sundays, working-from-home days or when it's so humid or rainy it's going to ruin any style you sweat to create anyway? Next time muscle memory leads you to grab your hair dryer on one of those particular mornings, ask yourself, could this be a low-stakes opportunity to let it air dry instead?
Breaking the hair habit of a generation isn't easy, but once you've put down the dryer, done your hair a favour and nobody has shrieked at the sight of you in uncoiffed form (which, trust me, they won't) you'll find it gets easier every time.
Have I persuaded you to give air drying once a week a try? If so, gold stars for you! Proceed to the product recommendations...
The best air hair dry products
Sachajuan Ocean Mist
The best product for air drying fine, straight hair
Less is more with fine strands. Flat roots and flyaways are probably your biggest issue on air-drying days, but most root boosters have to be blow dried in and smoothing serums can be a bit heavy.
Instead, look to texturising or "beach" sprays, which give hair a bit of control and some guts but don't feel heavy or slick. Mist into damp, detangled hair, then twirl strands around your fingers intermittently as it dries. Resist the urge to brush again and you should get some sexy natural texture out of it.
Oh, and ignore that hackneyed advice about plaiting hair when it's damp for a similar effect. Most of your hair will refuse to dry bound into a plait, emerging soggy and crushed. The bits that do dry will probably look more crimped than beachy.
L'Orèal Professionnel Techni Art Pli Shaper
The best product for air drying thick straight or wavy hair
One obvious route to not drying your hair every day is also not washing it every day, and you are blessed with a hair type that can get away with eking out a blow dry.
The trick to creating a style that stays fresh is not overloading it with styling products or hairspray on the initial blow dry. Use a heat-activated modelling spray like L'Oreal Professionell Techni Art Pli shaper for lasting hold without claggy residue. Naturally, dry shampoo is crucial for in-between days, then if you are washing and air drying, use frizz-proof hair oil without silicones, which can weigh hair down.
Aquis Lisse Luxe Hair Towel
The best product for air drying curls and natural texture
Curls need a particularly gentle touch when washing and drying, as A-list stylist and curl expert Jennie Roberts explains, "Physical care is a big contributor to how your curls will turn out. Never towel dry; it will cause friction and rip the cuticle, making it frizzy.
Always apply products in the shower on wet hair. Squeeze out excess water with hands, use a primer product to lock in the curl pattern, then leave the shower. If the hair is still too wet, gently squeeze with an old T-shirt or microfibre towel like the Aquis. Place curls gently and then don't touch until nearly dry."
Curly Ellie Lasting Hold Styling Serum
The best product for air drying type 2 and 3 curls
"I swear by CurlyEllie," says Jennie, "a great range of six products that will do everything you want it to – shine, flexibility, moisturised smooth curls."
Obia Naturals Twist Whip Butter
The best product for air drying type 4a to 4c curls
"These curls require slightly heavier products for conditioning and treatments, says Jennie. "Obia Naturals is a great range – it really understands what this hair type needs. There are products for everyday care, as well as styling naturally, using twists and coils."