Cheap places to travel for a five-star experience in 2023
The cheapest places to travel to can also be some of the most beautiful and luxurious. These are the affordable holiday destinations to add to your wishlist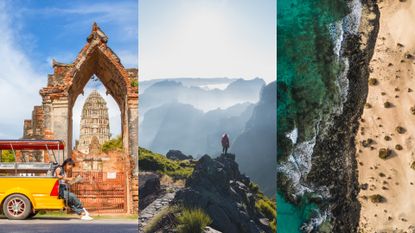 (Image credit: Getty Images)
The best cheap places to travel in 2023 are also some of the most scenic and luxurious. While travel can be expensive, a little bit of careful planning means you can explore the world on a budget, making the most of affordable destinations across the globe.
There are more affordable luxury vacation destinations around the world than you might realize, ranging from dynamic capital cities like Lima and Prague to more affordable European islands such as Madeira in Portugal and Kythnos in Greece. Whether you want to pamper yourself with a relaxing spa break or stay in a private villa with its own amazing swimming pool, these destinations offer the opportunity to experience five-star luxury without the five-star price tag thanks to lower living costs.
"Consumers have become savvier to value post-pandemic," Laura Lindsay, Skyscanner's Trends and Destinations Expert, explains. "Consumers are increasingly shopping around and looking for simple travel hacks to ensure they get the most for their money, like being flexible in terms of dates and destination. The year looks set to be a year of new discoveries as emerging, pocket-friendly destinations come to the fore."
Whether you're looking for the best holiday deals or want to explore hidden gems in Europe, these destinations are the best place to travel for a luxury break, on a shoestring budget.
The best cheap places to travel in 2023 for a five star experience
1. Madeira, Portugal
Average cost of a hotel room per night: $88 / £71
Average cost of a three-course meal: $33 / £27
Affordable luxury extra: Enjoy a hydrotherapy session at the Thalasso Sea Spa (opens in new tab) from $33 / £26.
Laura Lindsay, Skyscanner (opens in new tab)'s Trends and Destination Expert, predicts that Maderia, arguably one of the best islands in Europe thanks to its dramatic coastline, will be one of the most popular cheap places to travel to in 2023, with a 22% price drop compared to 2022. The beautiful island of Madeira is already comparatively cheaper than other tourist destinations in Portugal, with the cost of living in Madeira 12% lower than in Lisbon, the capital of Portugal, according to stats from Numbeo (opens in new tab).
Maderia's varied landscape consists of charming villages, stunning mountain views, and unspoiled coves making it truly one of Europe's hidden gems - and getting around the island is easy. The most popular method of transport is the local bus system - Horários do Funchal - with a prepaid ticket costing around €1.35 (approximately $1.50/£1.20).
2. Chiang Mai, Thailand
Average cost of a hotel room per night: $22 / £17
Average cost of a three-course meal: $9 / £7
Affordable luxury extra: A one-hour Thai massage can start from $5.50 / £4
Chiang Mai is surrounded by pristine rainforests, gentle waterfalls, and photogenic rice fields, and is a sought-after destination for its old-world charm and blissfully calm vibes. As with the rest of Thailand, Chang Mai's night markets mean delicious street food is available in abundance, and dining out can cost you as little as $1.
As the seat of the mighty Lanna Kingdom until 1558, Chiang Mai's historic core remains protected by parts of its ancient city wall and moats. Elsewhere in this northern Thai city, Chiang Mai's Buddhist influences are apparent, as it's home to hundreds of ornate Buddhist temples, which make for an affordable day out. Visit Wat Phra Singh, which dates back to the 14th century, with its distinct winged roofs and intricate wood carvings; classic examples of Lanna-style architecture to soak up the culture of this fascinating area of Thailand.
Luxury accommodation is much more affordable across Thailand. Last summer, we stayed at the luxurious Thai Akara - Lanna Boutique Hotel (opens in new tab) in Chang Mai Old Town for just $86/£70 per night - a very affordable price tag for a boutique-style hotel, which offered a serene pool area, plush bedrooms, and beautifully-maintained grounds.
3. Bali, Indonesia
Average cost of a hotel room per night: $36 / £27
Average cost of a three-course meal: $15 / £11
Affordable luxury extra: Book a yoga retreat for as little as $15 / £11 per day
Though it may seem like Bali has been overrun by tourists and digital nomads in recent years, the island remains surprisingly affordable when looking for luxury accommodation. In fact, it's home to some of the best hotels in the world. With stunning natural beauty and a landscape composed of volcanic peaks, emerald rice terraces, and dotted with tumbling waterfalls, the most popular activities in Bali take advantage of the island's natural features.
"I found Bali to be very affordable," travel writer Jen Ruiz, founder of Jen on a Jet Plane (opens in new tab), told us. "I stayed in my own private room with a separate entrance, en suite bathroom, and breakfast included for $11/£9 per night. It was easy to find healthy meals at reasonable prices and transportation, even by rental car or scooter, didn't break the bank. There were added luxury extras too; I had a luxurious flower bath for $25. I paid $60 for a private guide, driver, and photographer for a day - since it can be difficult to get good pictures as a solo traveler."
Head to the beachside city of Kuta for its energetic bars, the honeymoon destination of Seminyak for surfing opportunities, or uncover the Banyu Wana Amertha Waterfall after a short hike through a banana plantation on Northern Bali. Finally, make time for the art galleries and markets of Ubud, as the town remains strongly deep-rooted in its identity as Bali's spiritual and cultural center. Prices in Ubud restaurants are slightly higher than in other parts of Bali in our experience, so if you want to eat cheaply we advise you to veer away from the town center.
4. The Albanian Rivera, Albania
Average cost of a hotel room per night: $49 / £40
Average cost of a three-course meal: $28/ £23
Affordable luxury extra: Enjoy a wine-tasting tour at one of the many vineyards across Albania, with prices starting at $31 / £25
Albania has been steadily rising in popularity over the last decade, thanks to its reasonable prices, jaw-dropping natural scenery, and pretty archaeological towns, such as Butrint and Apollonia. The Albanian Riviera offers roughly 150km of largely unspoiled beaches and mountain vistas, located in the southwest part of Albania on the Ionian sea coast between Vlore in the north and Sarande in the south.
"The Albanian Riviera offers a great range of beach locations, with the likes of the city of Saranda (Sarandë), a popular choice," Giacomo Piva, travel industry analyst and co-founder of Radical Storage (opens in new tab) explains to us. "A week's hotel stay in Saranda can start from as little as £158 ($168) in the peak summer season in July. With Mirror (Pasqyra) Beach nearby, as well as Lekuresi Castle nestled inside a forest, and incredible views across the bay to Corfu (where I might add, travelers pay three times the price!) this city is a great alternative for travelers looking for cheaper options."
Luxury experiences along the Albania Riviera include yacht trips and some of the best cruises in the region, as well as wine tasting at Albania's many vineyards. Albania is one of the oldest wine-producing countries in Europe and its beautiful landscapes make for a stunning backdrop to sample local blends.
5. Sofia, Bulgaria
Average cost of a hotel room per night: $64 / £51
Average cost of a three-course meal: $38 / £31
Affordable luxury extra: For a luxurious afternoon, try window shopping on the glamorous Vitosha Boulevard, which houses high-end designer stores in a beautiful setting
Sofia is a cultural haven, with so much to explore in the Bulgarian capital, making it one of the best European city breaks for sightseeing. The city is home to the National Opera and Ballet of Bulgaria, the National Palace of Culture, the Vasil Levski National Stadium, the Ivan Vazov National Theatre, the National Archaeological Museum, and the Serdica Amphitheatre, all of which can be experienced by tourists from a reasonable price. Skyscanner travel expert Laura Lindsay predicts that Sofia will be one of the most popular cheap places to travel to in 2023, with an 18% price drop compared to 2022.
Getting around Sofia is easy and relatively cheap, though we'd advise avoiding cabs if you're on a budget, as they tend to veer towards the more expensive side, especially in the city center. Sofia operates a good public transport service, which includes trams, buses, trolley-buses, and the metro, with prices starting at as little as $1.20/£1 to travel around the city. Sofia also has a relatively compact center so exploring on foot is easy.
6. Fuerteventura, The Canary Islands
Average cost of a hotel room per night: $100 / £80
Average cost of a three-course meal: $32 / £26
Affordable luxury extra: Fuerteventura has some of the best beaches in the Atlantic that are the perfect spot for enjoying some fresh seafood by the ocean
If you want to save on a holiday in the sun all year round, head to the bigger Canary Islands - Tenerife, Gran Canaria, Lanzarote, and Fuerteventura - which offer both almost guaranteed sunshine and some great package deals, as well as reasonable restaurant prices. "Greece and Turkey are amongst the best cheap places to travel in summer, but if you want an all-year-round option, we'd recommend the Canary islands," Steve Witt, travel expert and co-founder of Not Just Travel (opens in new tab) tells us. "The day-to-day cost of living is very affordable by UK standards, with the benefit of brilliant sunshine for most of the year."
Out of the four most popular Canary Islands, Fuerteventura was named by Which? (opens in new tab) as the best-value Spanish island overall, with an average cost of £535 per person per week. While the main towns in Fuerteventura are more overdeveloped, visitors can head to smaller destinations such as Playitas, a fishing village on the southeast coast, where local prices are lower and the beaches are less crowded.
7. Siem Reap, Cambodia
Average cost of a hotel room per night: $40 / £30
Average cost of a three-course meal: $10/£7
Affordable luxury extra: A three-hour cooking class starts at $24 / £18
This resort town in northwestern Cambodia serves as the gateway to the grounds of Angkor Wat, which is believed to be the world's largest religious monument. Built in the 12th century, the temple complex is emblazoned on the Cambodian flag as its national symbol. Strewn across 500 acres of land, explore the stone ruins on a tuk-tuk or by bicycle, or uncover the mysteries of Angkor Wat on a guided tour. A one-day pass to visit the ruins will set you back $36/£30.
If you're feeling templed out, try some of the affordable attractions on offer in this area. Learn to make amok, a coconut milk curry, by participating in a cooking class, or find out more about the devastating impact landmines have had on the people of the country at the Cambodia Landmine Museum (opens in new tab).
Siem Reap is one of the best places to visit in January thanks to the low volume of both rain and crowds after the festive holiday period is over.
8. Kythnos, Greece
Average cost of a hotel room per night: $92 / £30
Average cost of a three-course meal: $25 / £20
Affordable luxury extra: Head to Kythnos Hot Springs for an incredible natural spa experience, with tickets starting at $13 / £12.50
While the more famous Greek islands such as Santorini and Mykonos are notoriously expensive, head to the lesser-known islands like Kythnos, Tinos, and Agistri and you'll still experience all the hallmarks - white-washed roofs, panoramic sea views, and delicious Greek dishes in bustling tavernas - for a fraction of the price.
Kythnos, in particular, is one of the best places to visit in Greece and offers a chance to fully switch off from everyday life with quiet Greek beaches that aren't swamped with tourists and a relaxed, bohemian atmosphere. While Kythnos may be one of the least explored of the Cyclades islands, its know for its warm hospitality and stunning scenery. Get lost in the maze-like Dryopida and its winding pathways, or while away an afternoon with some fresh seafood in one of the many traditional tavernas.
"Eating out on the more affordable Greek islands can offer exceptional value," travel expert Steve Witt explains. "Even if you're staying all-inclusive we always encourage guests to support local businesses, as eating out is so affordable and fun. Look for places that are popular with locals to find the hidden gems that are off the tourist trail."
9. Luang Prabang, Laos
Average cost of a hotel room per night: $31 / £25
Average cost of a three-course meal: $20 / £16
Affordable luxury extra: Enjoy a sunset cruise along the Mekong River, with prices starting at $43 / £35
Luang Prabang is a bustling city in landlocked Laos, nestled on the banks of the Mekong River. This means the scenery is spectacular at every turn, with the UNESCO World Heritage site also famous for its numerous waterfalls nestled in the jungle. Luang Prabang is a great starting point for anyone who wants an introduction to the culture and natural landscapes of Laos. Affordable excursions include day and evening cruises along the Mekong, with lunch and dinner options available, as well as exploring the impressive Kuang Si Falls, shopping at vibrant night markets, or experiencing the dramatic Pak Ou Caves, all of which can be arranged for under $50/£40.
Visiting the country six years ago, we found that the average price for a hotel room was around $27/£22. This price has risen slightly over the last decade, but you can still rent a room for very little in this part of Southeast Asia, with similar price points in neighboring countries of Thailand, Vietnam, and Cambodia. As always, it's usually local, family-run restaurants and bars that offer the best value for eating out, and the street food is incredibly cheap - and delicious!
10. Prague, Czech Republic
Average cost of a hotel room per night: $70 / £57
Average cost of a three-course meal: $41 / £33
Affordable luxury extra: Experience a private dining experience to sample traditional Balkan cuisine from $60 / £49
While a reputation as a Mecca for hen and stag parties may characterize the city, majestic Prague has plenty more to offer in terms of both luxury experiences and authenticity. With awe-inspiring architecture, sumptuous and cozy hotels, and a fascinating culinary history, there's much more to Prague than tacky nightclubs and rowdy pubs. Take in the incredible views from Prague Castle, enjoy coffee and cake at the stylish Cafe Louvre (opens in new tab), a meeting point for literary greats and famous philosophers, or push the boat out with a meal at the acclaimed Spices Restaurant (opens in new tab), housed in the luxurious Mandarin Oriental Prague (with prices starting at around $18/£15 for a main dish).
While inflation across Europe has seen the days of gasp-inducing prices behind us, Prague is still considerably cheaper than other European city breaks, with its low-cost restaurants, reasonable hotels, and attractions making it an affordable option for a weekend city break. Transport in Prague - an area where many destinations can easily hike up the overall holiday cost - is also purse-friendly. Prague's public transport network is reliable, safe, and very cheap; for example, the 50-minute journey from the airport to central Prague costs just $1.80/£1.50.
11. Goa, India
Average cost of a hotel room per night: $33 / £27
Average cost of a three-course meal: $9 / £7.30
Affordable luxury extra: Ayurveda treatments start at around $18 / £15 while one-day retreats start from around $60 / £50.
While beautiful Goa may have fallen victim to its own success as its tourist scene has boomed over the past decade, that's not to say travelers can't enjoy its outstanding natural landscapes and luxurious hotels away from the crowds during the low season (May to September). Hostels are incredibly cheap, with prices starting as little as $5/£5 and food is very reasonably priced, with a street food and market scene similar to Southeast Asia. Goa is made up of different areas - some of which, particularly those in the north such Baga and Calangute, are more touristy than others - and 36 beaches that stretch along the Arabian sea with colorful huts lining sandy shores.
It's worth doing your research and picking the right destination, with areas such as Cavelossim, in South Goa, offering budget, family-run accommodation close to the beach and bustling towns, with everything you need for an affordable adventure. When we visited Goa seven years ago, the food was delicious and very affordable, with seafood curries with a side of rice (it's worth noting that typically dishes are fish, seafood, or vegetarian in Goa) costing just $1.20/£1 in local restaurants.
Ayurveda - a holistic view of wellness that originates in India more than 3,000 years ago - is a big part of Goan culture and travelers can find affordable Ayurveda yoga retreats, detox camps, and beauty treatments across the region, with prices for Ayurvedic massage starting at just $11/£9.
12. Istanbul, Turkey
Average cost of a hotel room per night: $35 / £26
Average cost of a three-course meal: $6 / £4.50
Affordable luxury extra: A traditional Turkish bath package, which includes body scrubbing, washing, and a massage costs around $45 / £34
Stretching across the Bosphorus Strait, the ancient Byzantine ruins, soaring minarets, and the buzzing bazaars of Istanbul straddle two continents. Many of Istanbul's most popular sites are in the Sultanahmet District and the Hagia Sophia Mosque, the Blue Mosque, Topkapı Palace, and Grand Bazaar top every first-timer's list for an introduction to the city's illustrious history.
Make time to shop the covered stalls of the Grand Bazaar, which takes up an entire city quarter. As one of the largest covered markets in the world, over 4,000 shops span a total area of 30,700 m², and you can haggle for colorful woven carpets, mosaic glass table lamps, and hand-painted ceramic ware to take home a budget-friendly souvenir from your trip.
If you want an affordable luxury vacation at an even better price, Turkey is one of the best places to visit in November as it's still fairly warm, but as it's the end of the tourism season, you'll get the best prices on hotels and there's plenty of great flight deals to be found.
13. Lima, Peru
Average cost of a hotel room per night: $50 / £38
Average cost of a three-course meal: $11 / £8
Affordable luxury extra: A 10-minute paragliding excursion from Miraflores is $65 /£49
Not only is Lima a sprawling metropolis and the sophisticated capital of Peru, but the city's also recognized as one of the world's top culinary destinations. Its thriving gastronomic scene sees influences from African, European, and Arabic communities. And its Chifa cuisine tastefully blends Peruvian and Chinese flavors for delectable soups, fried rice, and stir-fries.
Base yourself in the upscale district of Miraflores, a neighborhood south of downtown Lima, which is home to some of the best restaurants in Lima, department stores, and lively nightclubs. Stroll (or jog, or bicycle) along El Malecón, Lima's scenic cliff-top walkway dotted with parks, sculptures, and cozy cafes with pretty views over the Pacific Ocean. Lima is one of the best places to visit in June, July, or August when the weather is driest.
14. Krakow, Poland
Average cost of a hotel room per night: $36 / £27
Average cost of a three-course meal: $18 / £14
Affordable luxury extra: A two-hour vodka tasting session is $44/£33
Poland's second-largest city, Krakow, boasts a lively atmosphere. Afternoons spent exploring the towering Wawel Castle or picnicking on the city's green spaces like Planty Park can easily transform into nights out at the boisterous bars, with the festivities going on until the early hours. Drinks are cheap in Krakow, with a pint of beer typically costing $1.85/£1.50. You also might want to check out one of the many food tours around the city where travelers can sample local delicacies such as pierogi (sweet and savory dumplings) teamed with flavored vodka shots, with prices for a four-hour tour starting at just $25/£20.
Krakow's well-preserved Medieval core draws many to the city. Market Square is the lifeblood of Krakow's Old Town, where you can sip on coffees at sun-shaded cafes, and explore landmarks like Town Hall Tower and St Mary's Basilica. Then in the evenings, frequent the bars hidden in the cellars of Medieval buildings. Architecture buffs will be impressed by the city's display of Baroque, Romanesque, Gothic, Renaissance, and art nouveau-influenced structures, which record over a thousand years of Krakow's history.
One of the best places to visit in September or October, you'll avoid the summer crowds if you travel in early Fall and get better prices on accommodation, too.
15. Fez, Morocco
Average cost of a hotel room per night: $25 / £19
Average cost of a three-course meal: $11 / £8
Affordable luxury extra: A traditional 75-minute spa experience at five-star Palais Amani (opens in new tab) costs $78/£59
Founded in 789 A.D by Idriss I, Fez is one of Morocco's oldest cities. Situated in the country's northeast, it's often recognized as Morocco's cultural capital. Spoil yourself with a stay in a riad, a lavish home with a courtyard garden that was originally built for society's most wealthy individuals. Many of the riads have now been restored and converted into boutique hotel accommodations. Some come equipped with Instagram-worthy pools and a wealth of wellness facilities, making them the ultimate luxury stay.
Fez is best known for its buzzing souks selling pottery and leather goods, mosques, and artisan shops which can be found in the media, a crowded warren of 9000 narrow alleyways. Morocco is one of the best places to visit in March, April, or May when the weather is warm but the intense summer heat hasn't yet set in.
16. Guatemala, Central America
Average cost of a hotel room per night: $67 / £54
Average cost of a three-course meal: $22 / £18
Affordable luxury extra: Try an authentic Mayan Cocao Ceremony in the jungle, with prices from $40/£32
If you're planning a trip to Central America, Guatemala is one of the cheaper countries to visit, while still offering a luxury experience. Guatemala's stunning jungle landscapes and ancient Mayan ruins mean that its allure for travelers is often compared with that of Mexico. But, if you're on a budget, the cost of living in Guatemala is considerably cheaper. For example, according to stats from Numero (opens in new tab), restaurant prices in Guatemala are approximately 18% lower than in Mexico. While Guatemala is considered generally safe for tourists, travelers should exercise some caution when visiting, keeping on top of local advice and official government travel advice (opens in new tab).
Natalie Greaves, Touring and Adventure Lead at Barrhead Travel (opens in new tab), has called Guatemala one of the destinations to watch in 2023. "Guatemala is a hidden gem." she told us. It has a rich Mayan heritage, with the small city of Antigua being a must-do stop on a tour. Antigua has suffered terribly with earthquakes over the years but has been impeccably restored. A day in Antigua would typically include a hike up a volcano, a visit to the ruins of Tikal, an afternoon salsa lesson and an evening spent wandering around the cobblestone cafes and bars. The south-American treasure also has the added advantage of very low costs while you're traveling."
Travel writer Jen Ruiz told us, "Next on my list for cheap places to visit is Guatemala. I'm going next month and have plans to eat pizza cooked on a volcano, as well as to visit the Hobbit Village [hobbit-style houses nestled into the mountainside in an area known as Hobbitenango (opens in new tab) overlooking the Panchoy Valley]. I found a flight on budget airline Frontier for an approximately $300 roundtrip to and from Guatemala [from the US]."
Booking tips for cheap places to travel
---
A few simple travel hacks when it comes to booking your next holiday can go a long way in terms of saving costs. We asked Laura Lindsay, Skyscanner's Trends and Destinations Expert, for her top three pieces of advice for booking cheap places to travel in 2023.
Cover all bases for flights: Flexibility when looking for flights is key if you want to get the biggest saving, explains Lindsay. "Searching by multiple dates and airports will give you the best chance of a bargain. You could also try setting up email price alerts, which will ensure you're the first to know as prices drop with any additional discounts or added supply."
Mix and match flights to save money: "Mix and matching the airlines you choose to fly with can seriously cut costs. Fares don't have to be booked as returns; look at flying out with one airline and back with another to save money. You can easily compare prices at a glance on Skyscanner's search tool."
Consider all destination options: Do your research into emerging destinations, Lindsay advises. "The pandemic saw new destinations rise in popularity as travel corridors shone a light on some surprising gems. Swapping your usual break on the Costas for Albania's Riviera, for example, could be an unexpected delight." Could there be a similar destination option that's below the radar? It's worth checking out whether you could enjoy a similar type of trip, for much less.
Lauren is the former Deputy Digital Editor at woman&home and became a journalist mainly because she enjoys being nosy. With a background in features journalism, Lauren worked on the woman&home brand for four years before going freelance. Before woman&home Lauren worked across a variety of women's lifestyle titles, including GoodTo, Woman's Own, and Woman magazine.