18 City Breaks With A Twist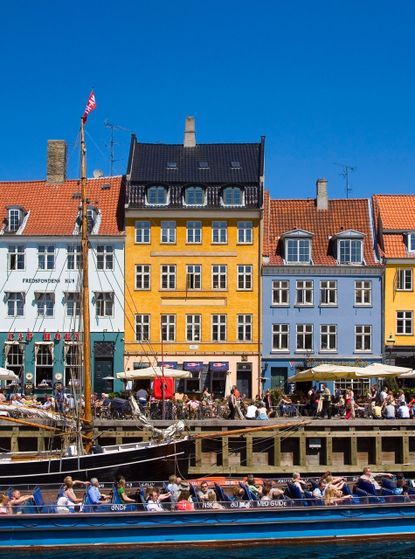 (Image credit: Rex Features (Shutterstock))
Looking for an adventure off the usual tourist trail? Discover our pick of 18 unusual cities to inspire your next holiday choice
Scandinavia isn't always the obvious choice for a sunny weekend break, but Copenhagen is emerging as one of the hottest new destinations for a quick getaway. The best way to explore the quirky, colourful streets? By bicycle - almost all the locals cycle everywhere, and it's the best way to get around. Copenhagen is also home to Europe's oldest tea shop, AC Perch's Thehandel: a must for all tea lovers!
Find more travel ideas (opens in new tab)
Seville, Spain
Spain's city of incense and oranges might only be a two-and-a-half hour flight away, but Seville feels like a whole new exotic world. This serene, quiet city is a world away from the bright lights and even brighter sunburns of an old-time Spanish holiday. But at night it comes alive with tapas and a fiery passion for flamenco. Also, don't miss the beautiful Alcazar Gardens.
Ljubljana, Slovenia
If you're after a European holiday with a difference, then Slovenia is definitely the destination for you. Underestimated to say the least, Slovenia is quite simply beautiful. Capital city Ljubljana is a cultural hot spot: why not indulge in an evening at the Ballet Theatre of Ljubljana? Ljubljana also boasts a wealth of unique architechture, including the stunning scarlet red People's Loan Bank Building in the city centre.
Dubrovnik, Croatia
Dubrovnik has seen a soar in popularity in the last few years as a tourist destination. Our advice? Get in there quick! As if the stunning blue seas and warm orange rooves weren't welcoming enough, then the six week summer festival should. If you're looking for a spring getaway, the fabulous Dubrovnik Libertas Film Festival, which takes place every April, could be just the ticket.
Tallinn, Estonia
Tallinn might be the capital of Estonia, but it's relatively quiet as a tourist city. Make the most of its off-the-beaten-track status and explore this sprawling walled city. Not to be missed is the Tallinn anual flower festival, which takes place every summer in the setting of the old medieval city. Tallinn is also home to several magnificent art galleries, making it the perfect cultural weekend destination.
Split, Croatia
Do you really need travel insurance?
It may feel like an extra expense but travel insurance can give you peace of mind should the worst happen when you are travelling. The best travel insurance policies should cover most things, from emergency medical expenses and repatriation to flight delays and trip cancellations. You can even choose policies specifically tailored to your type of trip, such as cruise or backpacking insurance.
Compare Travel Insurance Quotes at GoCompare (opens in new tab)
Situated on the Eastern shores of the Adriatic Sea lies the beautiful Croatian harbour town of Split. Split is famous for its excellent sea food, and Nostromo is the best fish restaurant in town. Appropriately located by the old fish market, it's a tourist-free zone with locals favouring it for special occasions. Also not to be missed is the Vidilicia terrace. Perched on the edge of Marjan Hill, the views from the platform are breathtaking.
Alghero, Sardinia
Easily one of the best coastal resorts on the Italian island of Sardinia, Alghero is perfect if you're searching for somewhere hot and historic. There is evidence of human inhabitation in the area from as early as four millenia BC! Dating back to the slighty more recent medieval era, the Old Town is a maze of narrow lanes and piazzas - perfect for an afternoon wander. Find more travel ideas
Annecy, France
On the French-Swiss border lies the picturesque, historic town of Annecy. At the centre of the town is the famous Palais de l'Isle castle. Over the centuries it has been used as a court, a mint and even a jail in World War Two. Another absolute must is taking the bus out of town down to Lake Annecy - sunbathing heaven even into September.
St Petersburg, Russia
St Petersburg is having somewhat of a cultural revolution of late. Cool and eclectic new bars, art spaces, supper clubs and restaurants are giving the once cold and unfriendly Russia an interesting and curious appeal. It's also stunning if you can brave the cold snow; frozen St Petersburg is a romantic gem.
Nashville, America
If you've been watching More4's Nashville you know why this city has made the cut. It's everything you'd expect it to be - neon signs, cowboy boots, incredible music, mouthwatering southern and soul food, stetsons and rowdy honky-tonk bars. If you love country music you'll love Music City.
Londonderry/Derry, Northern Ireland
As the UK City of Culture 2013, Londonderry is awash with exciting events, making it the perfect year to visit. Home of the Troubles, it has a rich and interesting history, but it's also a pretty city to stroll around with amazing food - the local seafood is not to be missed. This year it's home to the 10-day All Ireland Fleadh, the world's biggest Irish festival and the always-controversial Turner Prize.
Puerto Princesa, Philippines
Not your average city, Puerto Princesa is part of Palawan, a stunning tropical island that makes up part of the Philippines archipelago. It's one of the least dense populated cities in the Philippines and is acclaimed for being green and clean. It's known for its white sandy beaches, emerald green sea, natural lagoons and amazing seafood. It's also UNESCO protected, so hopefully it'll stay this way.
Montréal, Canada
It may be smaller than Toronto but Montréal has much more charm. This beautiful skyscraper city is rich with culture and no longer torn down the middle (with the French-speaking on one side and English-speaking on the other) as it used to be. It has a flourishing arts and music scene, explosion of foodie eateries, markets and restaurants, and has a cool Parisian vibe about it.
Addis Ababa, Ethiopia
Ethiopia's rising economic growth is giving the country confidence, making it a great time to visit. Addis Ababa is the country's capital and is rich in culture with a plethora of museums, a vibrant nightlife and buzzing restaurant scene. It has an interesting mix of tradition and modernity, wealth and poverty. A city packed with surprises.
Puerto Iguazú, Argentina
Ever since Foz de Iguazú won its place amongst the new seven wonders of nature in 2011, the nearby (18km) city of Puerto Iguazú has flourished in its wake. The falls are of course wondrous - spread-eagled along the Argentine-Brazil border, it's higher, wider and with several times the flow capacity of Niagara Falls, consists of 275 falls and reaches a height of 82m. Impressive. But the city is also home to some of the best hotels and spas in the country, and has a plethora of shops and restaurants to keep you busy.
Istanbul, Turkey
Istanbul is a must-see city that should be on everybody's hit list. It's stunning - rich in culture, architecture, and has a host of boutique hotels, rooftops bars and gourmet restaurants to keep you entertained. Its East meets West, modern meets tradition atmosphere generates an incredible energy and buzz about the place that won't disappoint.
Kosice, Slovakia
This year Kosice is the host for the European Capital of Culture, which means it'll be the location for loads of cultural events with a strong European dimension. From dance to film, music, art and literature, if you're a culture vulture then this is the city for you. It's also a great place to visit if you're interested in architecture; its well-preserved historical centre, with Gothic, Renaissance, Baroque and Art Nouveau-style buildings make it a great place for a stroll.
Bagan, Burma
Burma, Myanmar, whatever you prefer to call it, this country is spectacular. The country's combination of Buddhist temples, golden pagodas, ruins, jungle and rich history, mean it's fast-become a popular tourist destination. Yangon (previously Rangoon) has struggled to keep up with the tourist demand, but Bagan is quieter, despite the fact that it's home to the land of a thousand pagodas. If you plan to visit Bagan go now before its appeal is discovered by the masses. Find more travel ideas