This Le Creuset casserole dish is a household essential—and there's 24% off for Amazon Prime Day
A Le Creuset casserole dish is a must-have for any home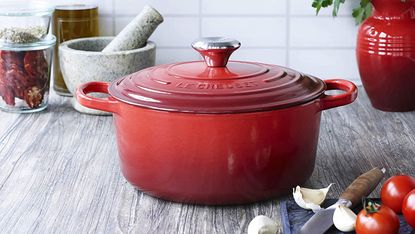 (Image credit: Amazon)
If there's one piece of cookware every home should have, it's a Le Creuset casserole dish. And luckily for us all, one has just gone into the Amazon Prime Day sale—while stocks last.
As Lifestyle Editor at woman&home HQ, there's nothing I love more than browsing the latest homeware drops, and recommending the household essentials that you simply must have.
But in amongst all the newest trends and exciting new releases, I reckon there's one piece of classic cookware equipment that absolutely no home should be without—a Le Creuset casserole dish.
While Le Creuset is undoubtedly a pricey brand, their cooking equipment is popular (and almost unparalleled) for a reason. Their items are built to last, and fantastically made, so that you can pass them down through the generations.
And if you're looking to sweep up a bargain to begin (or add to) your Le Creuset collection, then you're going to want to know all about the incredible discount on their 20cm casserole dish for Amazon Prime Day (opens in new tab)...
---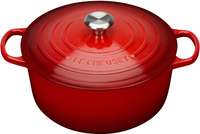 (opens in new tab)
Le Creuset 20cm casserole dish: $278.22 $212.84 (save $65.38) (opens in new tab) / £200 £153 (save £47) | Amazon (opens in new tab)
For Amazon Prime Day only, there's a huge 24% off this Le Creuset casserole dish—that's $65 off of the original $278 price-tag. Le Creuset is one of the more higher-end kitchenware brands, meaning their products can be expensive. So when you spot a rarely discounted product, it's a wise idea to snap it up as quickly as you can. This deal will only be available over Amazon Prime Day (ending on 22nd June), so we'd recommend grabbing it before it goes...
A cast iron casserole dish is a fantastic place to bag a bargain on Le Creuset if you've been on the hunt for an investment piece for a while.
While the brand also sell some of the best induction pans, mugs, and baking essentials, their casserole dish is one of their best product offerings because of how multi-functional and hardy it is.
In their casserole dish, you can whip up anything from sauces to soups (and of course, casseroles). It's perfect for boiling vegetables or potatoes, and making curry or pasta dishes. In fact, it can even be used to make bread or cakes.
---
More Le Creuset Amazon Prime Day deals:
---
The Le Creuset casserole dish can also be used on both the hob and in the oven, so you don't need to worry about transferring food to another dish.
If that wasn't enough, the Le Creuset dish comes in a variety of gorgeous and striking colors—including cerise red, coastal blue, and soleil yellow. The 24% off Amazon Prime Day deal is only applicable to the cerise color, which is more than okay with us given how stunning it would look in our kitchen!
Make sure you snap this fabulous deal up while you still can...