Helen Mirren's Best Fashion Moments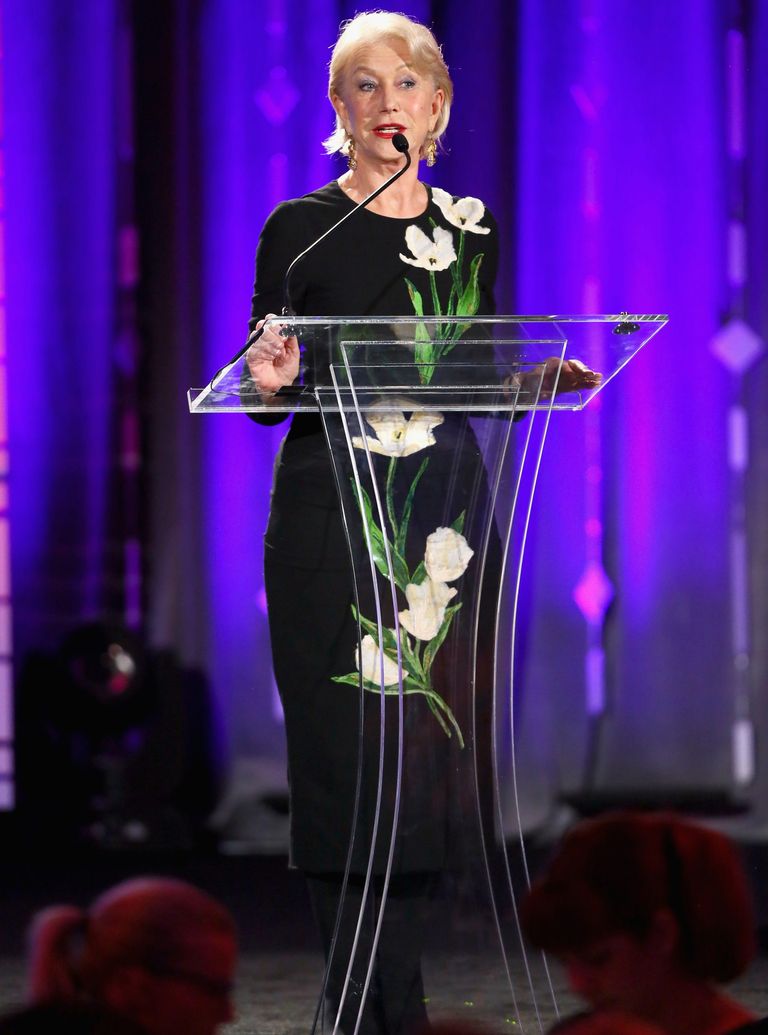 (Image credit: Getty Images for AARP)
The actress always nails red carpet style. Swoon over her best looks here...
Helen Mirren chose a gorgeous, embroidered, floral frock to present her 'Red' co-star Morgan Freeman with a Career Achievement Award at the annual Movies For Grown-Ups Awards. While presenting the award, the actress took the opportunity to plant a kiss on the actors lips as congratulations. The two are currently filming a big screen adaptation of the Nutcracker due to be released at the end of the year.
Helen's outfit choices have inspired us many a time. The 71 year-old is not afraid to be daring with her style, but she is skilled at knowing what suits her. From full-skirted dresses to suits (but always with an emphasis on her teeny waist), she truly is one of our biggest fashion inspirations. Click through to see her most stylish moments...
Helen Mirren at Screening of The Comedian
Helen is bang on trend for spring as yellow is set to become the ?it? colour of the season. This ensemble has a vintage glamour feel to it, with the faux fur stole and leather gloves. We love this effortlessly elegant look from Helen - perfect for a night out!
Helen Mirren attends London premiere of Collateral Beauty
Helen Mirren wowed on the red carpet last night, while promoting her new film Collateral Beauty, at the London premiere. Matching the carpet on which she was walking, Helen opted for a stunning red dress, complete with lace detailing from designer Jacques Azagury. Proving she doesn't adhere to the typical style rules she paired her dress with some rocky black boots.
Helen Mirren promotes new film Collateral Beauty
Helen has been on the campaign trail of her latest film for the last week, showing off a host of fabulous outfit choices. One of our favourites is this blue lace number, she wore for the New York premiere. Making a clear statement, Helen paired her dress with a pale blue faux fur jacket complete with a 'say no to fur' pin badge.
Helen wears high street too!
She's arguably one of the most famous actresses in the world, but Helen Mirren still occasionally shuns all of the designers that are no doubt clamouring to dress her, and opts for the great British high street instead. At the 43rd annual Chaplin Award Gala, Helen stole the limelight on the red carpet in a dress by fashion favourite LK Bennett. The Occa dress was from their spring/summer 2015 collection but is sadly no longer available.
Helen Mirren Style: 'Eye In The Sky' film premiere
Proving that she really can wear any trend, Helen opted for an androgynous suit for the 'Eye In The Sky' film premiere this week.
Embracing this season's trend for suit, Helen's beautifully cut style, paired with a crisp blouse and slicked-back hair, showed she means business. A red lip pop was all she needed to take her look to the next level.
Helen Mirren Style: Hail, Caeser! Photocall
For the Hail, Caeser! photocall in Hollywood last night, Helen Mirren opted for a chic tailored dress and contrasting grey cardigan, completing the minimal look with pared down make up. Even in grey she looks great!
Helen Mirren Style: Screen Actors Guild Awards
Magpie alert! On the Screen Actors Guild Awards red carpet, Helen stood out in a dazzling floor-length dress designed by Jenny Packham.
Helen Mirren's Best Fashion Moments
At the School of Rock Broadway premiere in New York, Helen ditched her usual frocks for a laidback, grungy look inspired by the show.
Helen Mirren Style: At the Woman In Gold reception
The actress looked elegant at last night's Woman In Gold cocktail reception in New York, wearing a long sleeved floral daisy dress, nude tights and the same orange heels worn at the Gotham Independent Film Awards.
Helen Mirren Style: At the Gotham Independent Film Awards
At last night's Gotham Independent Film Awards, the ever-beautiful Helen recycled the Dolce & Gabbana dress that she wore earlier this year. The actress edged out her look by contrasting the bright playful print with a black boxy clutch and tangerine heels.
Helen Mirren Style: At New York Fashion Week SS16
This week, she proved that once more in a tweed peplum dress that she sported on the front row for Badgley Mischka's show at New York Fashion Week SS16. The stylish number nipped in at the waist, and was made all the more chic with her choice of accessories; a snakeskin-effect bag and a pair of strappy shoes.
Helen Mirren Style: At the 45th Giffoni Film Festival in Italy
The fearless fashion icon pulled off one of her best looks yet at the star-studded 45th Giffoni Film Festival in Italy. Cut from colourful organza and adorned with children's drawings, her Dolce & Gabbana ensemble was equal parts elegant and playful.
Helen Mirren Style: Winning Her First Tony Award
Last month, Dame Helen Mirren stepped out in yet another dazzling dress as she graced the red carpet of the Tony awards in New York. With a plunging neck line, studded with eye-catching jewels, she was a vision of elegance in this cascading white gown which she teamed with a swipe of red lipstick. The 69 year-old style icon beat stiff competition from fellow Brits Carey Mulligan and Ruth Wilson, as well as Elisabeth Moss and Geneva Carr, to take home the gong for best performance by a leading actress in a play. Her first ever Tony Award, congratulations Helen! On receiving the award for her role as the Queen in The Audience, Dame Helen proclaimed "Your Majesty, you did it again."
Helen Mirren Style: At the Premiere of Woman In Gold
Dame Helen Mirren stunned at the New York premiere of Woman In Gold earlier this year. With a sheer neck line, studded with eye-catching jewels, she was a vision of elegance in this black number which she wore with black stilettos. In the film, Mirren, who has an Oscar, four Baftas and four Emmys, plays Jewish holocaust survivor Maria Altmann. The motion picture is based on a real life story and Mirren, now 69, stars alongside Ryan Reynolds and Katie Holmes.
Helen Mirren Style: At the Roundabout Theatre Company's 2015 Spring Gala
Not many people can say they've been to a star-studded a night especially in their honour, but if anyone deserves it, it's the wonderful Helen Mirren! She attended the Roundabout Theatre Company's 2015 Spring Gala at the Waldorf Astoria, titled 'There Is Nothing Like A Dame'.
The evening celebrated her artistic achievements, and she was honoured with the Jason Robards Award For Excellence In Theatre. She chose a stunning Carmen Marc Valvo illusion gown, which highlighted her incredible curves perfectly for the occasion.
Helen Mirren Style: At the 65th Berlin International Film Festival
Helen didn't make an appearance on the BAFTAs red carpet this year - instead, she waited to wow us at the premiere of her new film, Woman In Gold, at the 65th Berlin International Film Festival Berlinale. Attending the event with co-star Ryan Reynolds, the 69 year-old showcased her stunning figure in a green lace Dolce & Gabbana dress with sleeves and fishtail silhouette.
Helen Mirren Style: At the Moet British Independent Film Awards
Last night as the stars arrived for the Moet British Independent Film Awards at the Old Billingsgate Market in London, it was Helen Mirren who stole the limelight. The national treasure ,who turns 70 next year, proved age is nothing but a number as she slipped into an elegant off-the-shoulder black lace dress, paired with a sparkly clutch, statement earrings and a swipe of classic red lipstick.
Helen Mirren Style: At the Moet British Independent Film Awards
The Oscar-winning actress who recently became Brand Ambassador for L'Oréal Paris' Age Perfect Skincare and Excellence hair colour collection, revealed a youthful lit-from-within glow and immaculate make-up, which perfectly complemented her new perky blonde bob.
Helen Mirren Style: At the BAFTAs
The queen of BAFTA night, Helen Mirren received her coveted BAFTA Fellowship award in a sweeping navy Jacques Azagury semi-sheer gown. The delicate beaded bodice embellishment lit up for the cameras - and so did Helen's magnificent Asprey chandelier earrings.
Helen Mirren Style: She Is To Receive The BAFTA Fellowship
The ultimate honour in the acting world is to be awarded for your years of talented performances and w&h friend and cover star Helen Mirren can look forward to that accolade at the forthcoming BAFTA Film Awards next month, it has been announced. Dame Helen will receive the BAFTA Fellowship on February 16 as recognition of her 'exceptional' contribution to film and television. Joining a long list of iconic silver screen greats, previous winners of the coveted Fellowship include everyone from Charlie Chaplin and Elizabeth Taylor to Judi Dench and Martin Scorsese. But it's no surprise to see Helen invited to join such an outstanding list. With four BAFTA wins and a further seven nominations, Helen has also scooped no less than one Academy Award, three Golden Globes and four Emmys. To celebrate Helen's fabulous news, we've brought you her highlights from the red carpet; it's not just her performances she's famed for - her style choices consistently hit the high notes too!
Helen Mirren Style Highs
Helen Mirren Style Highs
Helen Mirren Style Highs
Helen Mirren Style Highs
Helen Mirren Style Highs
Helen Mirren Style Highs
Helen Mirren Style Highs
Helen Mirren Style Highs
Helen Mirren Style Highs
Helen Mirren Style Highs
Helen Mirren Style Highs
Helen Mirren Style Highs
Helen Mirren Style Highs
Helen Mirren Style Highs
Helen Mirren Style Highs
Helen Mirren Style Highs
Helen Mirren Style Highs
Helen Mirren Style Highs
Helen Mirren Style Highs
Helen Mirren Style Highs
Helen Mirren Style Highs
Helen Mirren Style Highs
Helen Mirren Style Highs
Helen Mirren Style Highs
Helen Mirren Style Highs
Helen Mirren Style Highs
Helen Mirren Style Highs
Helen Mirren Style Highs
Helen Mirren Style Highs
Helen Mirren Style Highs
Helen Mirren Style Highs
Helen Mirren Style Highs
Helen Mirren Style Highs
Helen Mirren Style Highs
Helen Mirren Style Highs
Helen Mirren Style Highs
Helen Mirren Style Highs
Helen Mirren Style Highs
Helen Mirren Style Highs
Helen Mirren Style Highs
Helen Mirren Style Highs
Helen Mirren Style Highs
Helen Mirren Style Highs