These are the best Dyson Black Friday deals to shop right now
Follow our guide to the best Dyson Black Friday deals, with major savings on beauty tools and household appliances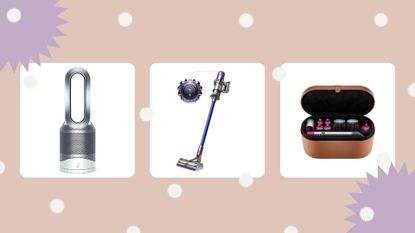 (Image credit: Future)
We've rounded up the best Dyson Black Friday deals across retailers, so you can invest in the premium brand for less.
Over the years, Dyson has become a do-it-all brand, with consumers becoming lifelong loyalists. From styling hair to suctioning dirt, the brand's products simplify everyday problems with high-grade tech and ingenuity. But top quality comes with a price, as Dyson is by no means cheap.
Until now.
In the lead-up to Black Friday, many retailers have already discounted Dyson products. In the U.S., Dyson vacuums are 30% off at QVC, while air purifiers are 40% off at Wayfair. In the UK, shoppers can save up to £150 on Dyson vacuums at John Lewis and Currys.
Finally, the brand itself is offering three-digit price cuts on its vacuums (and more!) over on the official Dyson website (opens in new tab).
Current Dyson sales in the U.S.
Best Dyson Black Friday deals in the U.S.
Current Dyson sales in the UK
Best Dyson Black Friday deals in the UK
Today's best Dyson deals
If you can't wait until Black Friday, fear not: We've scoured the most popular Dyson retailers on the net to find the cheapest prices offered right now.
What to buy in the Dyson Black Friday sales
Dyson vacuum cleaners: Over the years, the Dyson brand name has become synonymous with quality vacuum cleaners, so if there's one thing to look out for in the Dyson Black Friday sales, it's one of their iconic hoovers.
Dyson hair tools: A few years ago the brand launched their now-cult hair dryer the Dyson Supersonic. It has since become one of the best hair dryers on the market for all types of hair. Its popularity led to the brand's all-in-one styling tool the Dyson Airwrap, which is one of w&h's best hair straightener brushes thanks to its ability to simultaneously style and dry hair.
Dyson fans: If there's one home gadget that has become a sure-fire status symbol, it's a Dyson fan. The brand's fans look sleek in the house, emit cool hair without the rumbly noise of a traditional fan. You can use it to purify the air, or a de-humidifier if the space you have is a little damp. You can also get ones that are both cool and heat to keep you comfortable throughout the year.
Dyson Black Friday deals: What to expect in 2021
This year Black Friday takes place on November 26th, which is likely to be the day when you'll get the best deals. Last year, due to the coronavirus pandemic, many retailers ran deals throughout November and bigger deals across the whole Black Friday week. This year we expect most deals to be released on Black Friday, Cyber Monday, or over the weekend in between.
When it comes to which products to expect deals on, vacuum cleaners are a big contender. The brand's original line of products always sees good discounts for Black Friday, with impressive models—including cordless versions—having money taken off them.
It's less likely that we'll see any money off the brand's fans or haircare tools, however, if there are bargains to be found we'll list them here. Any sales on fans or haircare tools or Black Friday Dyson hairdryer deals should be snapped up quickly as they don't come around often and will be sold out quickly.