Dyson Black Friday 2022: Where to find the cheapest deals and best discounts on vacuums, fans and hair care
We've found the best Dyson Black Friday deals available online, and highlighted all the places where you can get major savings on the brand's popular appliances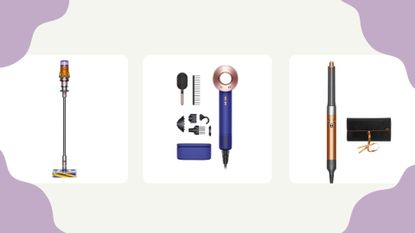 (Image credit: Future/Dyson)
Notable Dyson Black Friday deals and sales have began across a range of retailers stocking Dyson products, with savings of well over £100 / $100 to be found this week – making it a great chance to invest in the premium brand for less.
Over the years, Dyson has become a 'do-it-all' brand – from the best hair dryers and hair styling products to the best vacuums. The brand's products simplify everyday problems with high-grade tech. But of course, top quality comes with a price to match, and Dyson is by no means cheap. Thankfully though, many of their products are discounted across retailers during the Black Friday sale, making it one of the best times to shop their items if you can't justify the full RRP during the rest of the year.
Black Friday falls this week, on Friday 25 November. And the Dyson Black Friday deals have begun, with huge savings already to be had of up to $200 / £200 off! While Dyson are running their own brilliant deals, you can also find discounts across retailers including Amazon, Best Buy, John Lewis and Target. We've rounded up the very best discounts we've seen across the web this week below.
The best Dyson Black Friday deals to shop now
Where to shop Dyson deals currently available in the UK
Best Dyson Black Friday deals 2022 in the UK
Today's best Dyson deals
If you can't wait until Black Friday, fear not; we've scoured the most popular Dyson retailers on the net to find the cheapest prices offered right now.
Where to shop Dyson deals in the US
Best Dyson Black Friday deals 2022 in the US
Will Dyson have Black Friday sales this year?
Yes – as seen above, on both sides of the pond, the discounts on lots popular Dyson products for Black Friday 2022 are well underway. Deals are up for grabs at both Dyson and third-party retailers. But there's an extra incentive to shop Dyson itself; the retailer is also offering an extended Christmas returns policy, which means that any machine purchases made online through Dyson or at one of their stores between 1 November and Christmas Day 2022 can be returned until 23 January 2023. In the UK, Dyson also promises a best-price guarantee during the Black Friday sales.
At other retailers across both regions, such as Currys, Amazon, Bed Bath and Beyond, and in John Lewis' Black Friday sale, prices are also being slashed on Dyson products ahead of the arrival of Black Friday officially on 25 November, and Cyber Monday on 28 November. However, buying through Dyson will mean that you can also take advantage of their two-year warranty and the extended returns policy.
We'll be keeping you up to date with the very best Dyson Black Friday discounts we see across the web here, so be sure to bookmark this page.
What Dyson products were in the sale last year?
There were discounts across almost all of Dyson's ranges during last year's Dyson Black Friday sales. In the US, Dyson vacuums were 30% off at QVC, while air purifiers were 40% off at Wayfair. In the UK, shoppers enjoyed savings of up to £150 on Dyson vacuums at John Lewis and Currys.
One item that is almost never subject to discounts at Dyson is the brand's hairdryers. The brand is famous for its bestselling, and much-loved, Dyson Supersonic hair dryer, but the premium product isn't often reduced in price. This is partially due to the product's popularity and also due to the fact that stock supply is an issue for the Supersonic, so it is normally only sold at full price when it is available.
While Dyson hair dryer deals are rare, we have seen a few deals on this prized beauty tool in the past and during 2022's Black Friday sale. If it is put on sale, it is normally as a package, alongside other hair accessories and hair dryer attachments – as is the case this year, evidenced in the above deals.
Hair dryers aside, the Dyson Black Friday deals we've seen over previous years have included brilliant deals on a variety of home-tech products, including the retailer's hugely popular cordless (and corded) vacuums.
Last year, for example, the Dyson Cyclone V10 Animal was discounted by $150 at Dyson US, while the Dyson V11 Absolute Cordless Vacuum Cleaner saw a £150 price cut at Currys in the UK, going from £599 to £449. Generally, a discount of $200 was the highest price cut we saw in 2021. But so far in 2022, we have seen price cuts of up to $220 off at Dyson – so it seems the deals this year are already outperforming last year! If that's not a sign to get shopping, we don't know what is...
What to buy in the Dyson Black Friday sales
If you're planning your sales shopping but aren't sure what you might actually want to purchase, it's worth considering the brand's entire offering, and how each product category might suit you.
It's also well worth taking a look at the discounts that each item has during the Dyson Black Friday sale, to see how much money you might be able to save by picking it up during the shopping event, as opposed to any other time.
Dyson vacuum cleaners—Over the years, the Dyson brand name has become synonymous with quality vacuum cleaners, so if there's one thing to look out for in the Dyson Black Friday sales, it's one one of their iconic cleaning machines. Often, these are subject to the biggest discounts during shopping events like Black Friday and Amazon Prime Day, so if you're in the market for a new vacuum and like Dyson's offering, it really is worth purchasing one during the deals. You might unnecessarily pay an extra $150/£150-$100/£100 if you don't!
Dyson hair tools—A few years ago the brand launched its now-cult hair dryer, the Dyson Supersonic. It has since become one of the most popular hair dryers on the market for all types of hair. Its popularity led to the brand's all-in-one styling tool the Dyson Airwrap, which is one of w&h's best hair straightener brushes, thanks to its ability to simultaneously style and dry hair. They also sell their Corrale hair straightener. As mentioned, these items are very rarely on offer, even during Black Friday. So if you do happen to spot a deal, we'd seriously suggest picking it up, if you're serious about purchasing one of these items. They are absolutely a pricey option, but can offer fantastic results if you are willing to make an investment.
Dyson fans/air purifiers—If there's one home gadget that has become a sure-fire status symbol, it's a Dyson fan/air purifier. These look sleek in the house, emit cool air without the rumbly noise of a traditional fan, can purify the air, or act as a dehumidifier if your space tends to get a little damp. You can also get fans/air purifier that offer both cool and heat options to keep you comfortable throughout the year. Like the vacuums, these fans/air purifiers tend to see fantastic discounts during Black Friday, so it's one of the best times to snap these items up if you've already decided you want to buy one.
Does Dyson go on sale for Cyber Monday?
Yes – if last year is anything to by, it's likely that there will also be Dyson deals during Cyber Monday (the Monday after Black Friday) which this year falls on 28 November.
It hasn't been confirmed by the brand, but usually, there are deals to shop on Dyson's vacuums, air purifiers, fans and (rarely) hair care products until the end of Cyber Monday, in accordance with the discounts on other retailers websites. However, Dyson do tend to run their deals until stocks last, so while there may well be price cuts available this coming Monday, if you wait until then, we can't guarantee your favorite items won't be sold out.
As such, we'd still advise buying the Dyson product you want at a discount ASAP, to ensure you don't miss out! Having monitored the sales constantly throughout the Black Friday week, items have been going out of stock and not returning. So like we said, don't wait until Monday for products you are super keen to buy! If you are simply browsing though, and are happy to see if there are any great deals come Monday, it could be worth holding out to see if the products mentioned above see any further discounts.
Does Dyson accept returns?
Yes - if you find you're not happy with a Dyson product you've bought online, outside of shopping events you can return the machine for a full refund within 30 days of the delivery date. Dyson will cover the cost of return shipping, which is a big bonus, as this isn't a given with many retailers at the moment.
But as mentioned, Dyson are offering an extended Christmas returns policy, meaning that any item you buy from now can be returned until 23 January next year.
You can also return the item in-store if you wish, although this may be a bit trickier given that there are only 200 physical Dyson stores across the world!
Is it worth paying for Dyson?
Whether or not to invest in a Dyson product is a personal decision, and will likely depend on your own budget and priorities.
For some, the higher cost simply can't be justified, especially at the moment. but for others, Dyson products are well worth the investment, whether you're after home products or beauty products.
Dyson's vacuums, for example, are relatively unmatched on the market, bar perhaps some brilliant models from Shark. But for plenty of households, their performance, durability, and the way they facilitate such easy cleaning mean that the cost is a price they are willing to pay, in order to keep their home dirt and dust-free for years to come. Most Dyson vacuums even have the two-year guarantee for peace of mind.
Products like the Dyson Airwrap and the Supersonic hair dryer are also worth the investment for many, due to the hairstyles they can help you to create – whilst also being far gentler on your hair and causing less damage to your locks thanks to the advanced technology of the product.
Overall, the decision to purchase a Dyson product is yours and yours alone; though it's well worth noting that if the cost feels off-putting to you, the Dyson Black Friday deals are a brilliant opportunity to help the investment feel much less daunting.
Amy Hunt is an experienced digital journalist specialising in homes, interiors and hobbies. She began her career working as the features assistant at woman&home magazine, before moving over to the digital side of the brand where she eventually became the Lifestyle Editor up until January 2022. Amy won the Digital Journalist of the Year award at the AOP Awards in 2019 for her work on womanandhome.com.