Best Dyson vacuum cleaners—which model is right for your home?
We've found the best Dyson vacuum to suit every budget, cleaning need, and house size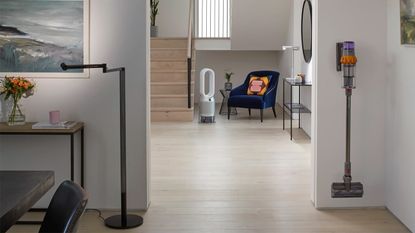 (Image credit: Dyson)
woman&home newsletter
Sign up to our free daily email for the latest royal and entertainment news, interesting opinion, expert advice on styling and beauty trends, and no-nonsense guides to the health and wellness questions you want answered.
Thank you for signing up to Woman & Home. You will receive a verification email shortly.
There was a problem. Please refresh the page and try again.
Choosing the best Dyson vacuum is a tricky task given how synonymous the brand is with covetable, high-quality products. But while their reputation might precede them, how do Dyson vacuums really perform on hard floors, carpets, and cars, and which one is the very best option?
The brand offers a huge range of models, so knowing which one to pick can feel like a daunting decision. But if you feel overwhelmed at the prospect of choosing the best vacuum for your home, we can help.
Our expert homes appliance tester put a range of Dyson models to work in her home to bring you properly tried-and-tested feedback on how they perform. Each one was used on both carpets and hard floors, to see how well they actually cleaned the home. Below you'll find the model chosen as our best Dyson vacuum pick overall, as well as choices for those on a budget or shoppers with a bit more to spend.
How we tested the best Dyson vacuum cleaners
Why you can trust Woman & Home Our expert reviewers spend hours testing and comparing products and services so you can choose the best for you. Find out more about how we test.
To bring you the most accurate insight, we rigorously tested a range of Dyson vacuum cleaners in our real-life home. Factors that were considered during testing included:
Design—did it look good, and how easy was it to store and to move around the home?
Ease of use—how straightforward is the user experience? Was it simple to assemble and use?
Tools and attachments—what additional extras does it come with? And were these actually useful?
Performance—how well does it clean on both carpet and hard floors? Did it pick up both smaller pieces of dirt and dust, as well as easier-to-catch larger items?
Value-for-money—Dyson vacuums can be pricey, so we assessed whether each one lived up to its price tag, or whether we honestly thought it wasn't worth the spend.
As with all our home buying guides—including our best cordless vacuum guide and our best robot vacuum guide—we've shared both the pros and cons of each model below to help you assess which one is the right choice for your home and needs.
The best Dyson vacuum cleaners
1. Dyson Cyclone V10 Animal
Best Dyson vacuum overall
Specifications
RRP: $499.99 / £349
Power: 21.6W
Weight: 2.6kg
Dust capacity: 0.76L
Standard run time: 60 minutes
Full charge time : 3.5 hours
Reasons to buy
+
Great for carpet and hard floor
+
Impressive run time
+
Handy for homes with pets
Reasons to avoid
-
Run time drops drastically when used on full power
-
Can be noisy
The Dyson Cyclone V10 Animal combines the best features of the various Dyson models into one easy-use vacuum. With a solid run time, a range of useful attachments and the ability to transform it easily into a handheld, it ticks all the boxes of a well-performing, reliable vacuum.
It gave the whole house a standard, regular clean without running out of battery (the battery lasts around 60 minutes) and it was really easy to carry between rooms and upstairs. With four tools included—a mini motorized tool, a quick-release mini soft dusting brush, a combination tool and a crevice tool—the vacuum can reach every crevice.
It's worth knowing that the battery time drops by about two-thirds when used in full power mode though: we found it lasted for around 20 minutes before it needed charging. That aside, it tackled everything from pet hair and mud to toast crumbs and cobwebs, and even did a solid job of cleaning the interior of a family car. Its digital motor is incredibly powerful yet manages to be quiet on the job: the vacuum has been designed to absorb vibrations rather than accentuate them, meaning it's one of the quieter models out there. (Although it's definitely louder when used in full power mode.)
The neat dimensions of the Cyclone V10 Animal are also in its favor as it can be easily stowed away and its docking station takes up very little space.
The Dyson Cyclone V10 Animal Cordless Vacuum Cleaner was provided by AO.com for this review.
2. Dyson V7 Animal
Best budget Dyson vacuum
Specifications
RRP: $349.99 / £250
Power: 100W
Weight: 2.32kg
Standard run time: 30 minutes
Full charge time : 3.5 hours
Dust capacity: 0.54L
Reasons to buy
+
Great for homes with pets
+
Certified "asthma and allergy friendly"
+
Soft roller head suitable for hard floors
Reasons to avoid
-
Runs out of battery quickly when used in a stronger mode
-
Smaller dust capacity compared to some other Dysons
The Dyson V7 is a classic. Not quite as technologically sophisticated as some of the models we tested, it's sturdy and reliable, offering a decent clean and respectable battery time. (Unless it's used in MAX mode, which drops the battery life down to about five minutes.)
Like all the best cordless vacuum cleaners, it's also great to use as a handheld, and comes with a range of easy-use tools. Of these, the crevice tool was our favorite—we thought it was great for getting into tight spots, as well as for getting into the deepest, darkest corners of a car boot.
Where it really comes into is its own is with pet hair. While it struggled with some longer hairs during our testing, it was consistently brilliant at picking up shorter hairs, which is essential for any home with dogs or cats. It is certified asthma and allergy-friendly due to its filtration system, which captures allergens and blows out cleaner air in their place (without releasing any of the allergens in the process).
Best of all is the price: at $349.99 / £250, it's the most affordable model on our list, and it really does perform well for the price if you have your heart set on getting a Dyson.
3. Dyson Outsize Absolute Cordless Vacuum Cleaner
Best premium Dyson vacuum
Specifications
RRP: $899.99 / £699
Power: 610W
Weight: 3.56kg
Dust capacity: 1.9L
Standard run time: Up to 120 minutes
Full charge time : 4.5 hours
Reasons to buy
+
Suitable for hard floors and carpet
+
Laser head
+
Incredible run time
Reasons to avoid
-
Heavy
-
Very expensive: an investment purchase
The first thing you should know about the Dyson Outsize Absolute? It does everything, but on a bigger scale than you've probably ever encountered. The vacuum's High Torque XL cleaner head is 25% bigger than other cleaning heads, making it feel that bit more efficient. In addition, it can hold an incredible amount of dirt before it needs emptying—almost two liters, to be precise.
As well as that, it can run for a jaw-dropping two hours in its 'Eco' mode before it requires charging, with its digital-display head allowing you to track battery life to the second. (That run time drops drastically to around six or seven minutes when used in 'Powerful' mode, however.)
One other element that's 'big', however, is its weight. We did find it cumbersome to move around, and at over 3.5kg, it's the heaviest model on our list. But don't let that deter you. It's a brilliant option for larger homes, and we found it worked brilliantly on both carpet and hard flooring. Compatible with both hard flooring and carpet, it also comes with a range of different attachments, enabling it to tackle any job. We were particularly impressed by its ability to handle hair, with its hair screw tool meaning the vacuum didn't so much as blink when tackling pet hair.
This voluminous vacuum also features Dyson's genius Laser Slim Fluffy cleaner head, which offers literal laser-lit precision to ensure you don't miss any dust or dirt. While it did require a level of focus that vacuuming isn't perhaps typically associated with, it's all about a next-level attention to detail when vacuuming, and it was grimly fascinating to see how much dirt and debris was on a floor that initially looked clean to the naked eye. Between that and the various attachments, there's no excuse not to have the cleanest floors ever. Now that massive dust tank makes sense...
Yes, the price is high for the Outsize Absolute but this is very much a case of getting what you pay for. From nailing the basics (run time and dust capacity) to offering impressive tech, it covers all bases and is a great buy if you've got money to spend on a vacuum that will almost certainly guarantee your cleanest-ever floors.
The Dyson Outsize Absolute Cordless Vacuum Cleaner was provided by Very.co.uk for this review.
4. Dyson Omni-glide
Best Dyson vacuum cleaner for hard floors
Specifications
RRP: $399.99 / £349.99
Power: 230W
Weight: 1.9kg
Dust capacity: 0.2L
Standard run time: 20 minutes
Full charge time: 3.5 hours
Reasons to buy
+
Lightweight design
+
Easy to navigate around tricky spaces
+
Perfect for hard floors
Reasons to avoid
-
Short standard run time
-
Small dust capacity
Specifically created with hard flooring in mind, the Dyson Omni-Glide is particularly ideal for kitchens and bathrooms. One thing we really loved about using it was how easy it was to navigate tricky areas: it's designed to be able to move in every direction with minimal fuss. It can even lie flat to reach underneath the really hard-to-reach spaces in a home—this is incredibly impressive although we did find this quite difficult to master.
Unlike some other Dyson models which require a trigger to be constantly held, this model is operated with a button, which makes cleaning—be it kitchen cleaning or living room cleaning—a lot easier. It's really simple to convert into a handheld, and we were impressed by its ability to eat up everything from breakfast bar crumbs to dried-up mud on the hallway linoleum. (Check out our guide if you've ever wondered how to clean your laminate floors really thoroughly though)
If you've got a bigger house that you vacuum from top-to-toe regularly, this might not be the one for you: we found the 20-minute battery power a tad frustrating. However, if you're looking for a vacuum cleaner that you can use to blitz your kitchen or other hard-floor rooms once a day, look no further.
5. Dyson Micro 1.5kg
Best lightweight Dyson vacuum
Specifications
RRP: $399.99 / £299.99
Power: 21.6W
Weight: 1.5kg
Dust capacity: 0.2L
Standard run time: 20 minutes
Full charge time: 3.5 hours
Reasons to buy
+
Easy to lift
+
Comes with 3 x attachments
+
Perfect for hard floors
Reasons to avoid
-
Smallest capacity for holding dirt
-
Shorter standard run time than other models
Looking for a lighter-weight vacuum option that can still pack a punch? The Dyson Micro could be what you're searching for. Clocking in at 1.5kg, it's the lightest Dyson created to-date.
With three easy-to-attach heads, we found it made reaching tricky spaces—such as high-up corners and underneath the sofa—entirely fuss-free. Particularly engineered for hard floors, we were impressed by how well it cleaned the floor and skirting boards of a busy family kitchen and communal hallway, with its Micro Fluffy cleaner head working wonders to attract dust. It was simple to transform into handheld mode, and we loved how easy its combination tool made cleaning up high, behind radiators and between sofa cushions.
While its cleaning abilities are impressive, do be aware of its specs before you buy. You will probably need to empty it after each clean as it can hold just 0.2 liters of dirt before it needs emptying, and it has an estimated battery time of 20 minutes (it lasted 19 minutes for us). If you use it in boost mode, this drops down to just five minutes.
If you plan to use your Dyson to regularly clean your whole home, it might be best to look at a different model, as we found it mildly frustrating to have to stop-start our clean. However, if you're looking for a nifty, lightweight vacuum for use as-and-when—and that's on the cheaper end of the Dyson price spectrum—it's a great option.
6. Dyson V15 Detect
Best Dyson vacuum for tech fans
Specifications
RRP: $699.99 / £599
Power: 660W
Weight: 3kg
Dust capacity: 0.76L
Standard run time: 60 minutes
Full charge time: 4.5 hours
Reasons to buy
+
LCD screen
+
Range of attachments included
+
Adapts to different floor types
Reasons to avoid
-
Expensive
-
Smaller dust capacity compared to other models
By its very nature, the Dyson V15 Detect Absolute has been designed to turn every vacuuming session into a deep clean. Thanks to its incredible motor and Root Cyclone technology, this one will appeal to tech fans too.
We loved its laser head, which highlighted the volume of imperceptible particles that lurk in the typical home. This was further hammered home by the vacuum's LCD display, which tells you exactly how much has been sucked up, whether used in stick form or handheld. In fact, it's almost an information overload. Sure, it's interesting to know but it's also kind of horrifying...
The vacuum's hair screw tool means it's more than capable of capturing loose hairs but this resulted in a slightly frustrating situation with the hopper. Emptying the vacuum took a little longer than expected as the suctioned-up hair kept getting caught around the sides of it, meaning it wasn't a simple click-and-bin job.
That aside, the vacuum performs really well. Its suction power is fantastic thanks to its digital motor, and the LCD screen is a constant reminder of how thorough the clean is. In fact, it was so powerful that it almost sucked up the linoleum when we tested it on some crumbs in the kitchen!
We also thought it was pretty lightweight to carry around: 3kg feels like a small price to pay for getting your floors quite so clean. It performs well on both carpet and hard floors and comes with a quartet of tools to ensure it can carry out any cleaning job. Finally, its design is super-neat: it is compact and can be stored easily on the wall thanks to its dock charger. Also worth mentioning are the gold and purple details, which we loved.
7. Dyson V8 Animal Cordless Vacuum Cleaner
Best Dyson vacuum for carpet
Specifications
RRP: $399 / £299.99
Power: 21.6V
Weight: 2.56kg
Dust capacity: 0.54L
Standard run time: 40 minutes
Full charge time: 5 hours
Reasons to buy
+
Great for pet hair
+
Comes with a range of attachments
+
Slim design for easy wall docking
Reasons to avoid
-
Shorter battery life when used in more powerful mode
-
Also requires regular emptying
Another model in the Animal range, the V8 is ideal for giving carpets a thorough clean without the need for more manpower. We found its MAX mode (which admittedly only lasted for around six minutes before the vacuum needed charging) was amazing at tackling dried-on dirt, while its Powerful mode offered a great all-over clean for around 40 minutes before it needed a recharge.
It also comes with a great range of attachments, meaning you're covered for everything from cornices to dashboards. Particularly impressive is the low-reach adaptor tool, which drops the cleaning head to a 90° angle, allowing you to clean under sofas without having to get on all-fours. While many vacuums can adjust flat, they still require you to crouch down to reach low-down areas; this vacuum needed a bend of the knees at most.
As with all Dyson vacuums, swapping the various attachments around is fool-proof (they can be swapped over with the click of a button) and its handheld mode made up-high cleaning easy—without making our arms ache!
What to consider when buying a Dyson vacuum cleaner
With higher price tags than some other vacuum cleaners on the market, buying a Dyson vacuum cleaner is an investment. With that in mind, it's important to consider which one would best suit your requirements. Factors to consider include:
Weight—how easy is the vacuum to carry around the home? If you're looking for a lighter-weight model, it's important to check how much it weighs before you shell out. The lightest Dyson we tested was the Micro, which is a featherlight 1.5kg.
Cord or no cord?—does the Dyson come with the option to be mains-powered, or does it only operate when cordless? And which of the two would you prefer?
Run time—how long do cordless Dyson vacuum cleaners run before they need to be charged up? If you're likely to regularly use your vacuum across the whole home, you might find it frustrating if it constantly needs charging. Equally, if you only need to tidy a smaller area, a shorter run time would be suitable.
Storage—how and where will you store it? Can it be wall-mounted, and, if so, where will you position it in your home?
Suction power—how powerful is the model's suction technology, and how does this measure up with the type of cleaning you'll be doing?
What type of floor does it work on?—some Dyson vacuum cleaners are suited to hard floors or carpets only, whilst others can be used with relative ease on both. Making sure you choose one that reflects the flooring in your home is crucial.
Attachments—what extras does it come with, and how can they further enhance how they clean your home's carpets or hard floors?
Cost—finally, how much are you happy to spend on your Dyson? They might not be the cheapest brand out there but a Dyson makes for a long-lasting investment, with a range of price-points available.
Are Dyson vacuums really worth the money?
If you're looking to make a vacuum cleaner purchase that will last and that you can rely on then yes, absolutely. With Dyson, you're paying for a product that will endure—you can feel confident that it won't need replacing in a year's time.
And the figures back it up: Dyson is statistically the UK's leading vacuum brand, as well as the US's most trusted vacuum brand.
That said, if the machines are simply outside of your budget, check out our guide to the best Dyson alternatives.
It's a name that arguably goes hand-in-hand with innovation and quality, meaning your floors will look spotless every time thanks to the machines' ease-of-use and smart tools. And Dyson's range is one of the most impressive too—offering a vacuum to suit every set of user needs.
Additionally, all Dyson vacuums come with a guarantee of either two or five years, depending on the model. Dyson will either repair or replace your machine, as well as offer ongoing support if required, for that extra peace of mind.
Why are Dyson vacuums so expensive?
Yes, Dyson's prices are higher than some of the other vacuum cleaner brands that are out there. But these prices are arguably reflective of the quality of their products. With Dyson's vacuum cleaners ranging from handheld and robot to upright and stick, all the vacuum cleaners have been crafted to offer the best possible cleaning experience.
After all, Dyson vacuum cleaners are built with technology at their core, and the price you pay for owning one of them means that you have a product that has been rigorously tested by the smartest brains in the industry, and that will last you years.
One prime example of this is the Dyson Hyperdymium motor, which is the result of two decades of research and work. Lightweight and incredibly powerful, which was launched in 2020 via the Dyson V11 and offers the brand's most powerful cordless suction to-date.
However, you can use woman&home's latest Dyson discount codes to make a saving on your purchase.
Sign up to our free daily email for the latest royal and entertainment news, interesting opinion, expert advice on styling and beauty trends, and no-nonsense guides to the health and wellness questions you want answered.
Katie Byrne is a contributor to woman&home and a writer whose interests span everything from homes and interiors, to pop-culture, travel, business and self-development. A former digital editor, her freelance journalism has featured across a wide range of print and online titles, including Raconteur, Digital Spy and more. When she's not writing, she loves reading (and has the groaning bookshelves to prove it...), dreaming up new décor ideas for her flat and devouring Netflix's latest true-crime series with her husband. You can find her on Twitter: @katie_b123.