Kitchen trends 2022: The most in-demand design ideas and colors of the year
Discover the biggest kitchen trends of 2022 that will leave you feeling inspired and motivated to freshen up your space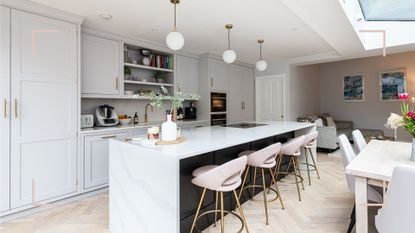 (Image credit: Herringbone Kitchens)
woman&home newsletter
Sign up to our free daily email for the latest royal and entertainment news, interesting opinion, expert advice on styling and beauty trends, and no-nonsense guides to the health and wellness questions you want answered.
Thank you for signing up to . You will receive a verification email shortly.
There was a problem. Please refresh the page and try again.
Discover the hottest kitchen trends 2022 has to offer and the kitchen design and decor ideas that are proving most popular so far this year.
Whether remodeling or building your dream kitchen from scratch, the latest in-demand trends will aid your design journey. From bold cabinetry colors and intriguing invisible kitchens to more functional ideas—such as concealed storage or the incorporation of smart-tech—there are plenty of options for every kitchen, no matter what the size or style.
Interior designers are sharing insights through the latest interior design trends for 2022 that sustainability and a greater connection with nature will be at the heart of many of the biggest decor ideas this year.
This desire to be closer to the natural world and incorporate it into our homes is reflected in this year's interior paint color trends being unveiled by big names in the paint industry too.
You will also see this theme, amongst others, in the top kitchen trends of 2022, as handpicked by interior designers and kitchen experts...
Top kitchen trends 2022
1. Sustainability
2022's kitchens will give a nod to Mother Earth, and not just through design and decor ideas. Sustainable living has never been more important and when it comes to kitchen cleaning, eco-friendly products will increasingly be making their way into our homes.
"The need for sustainable product is becoming the biggest drive in the market," says Lizzie Beesley, Head of Design at Magnet (opens in new tab) kitchens.
"People don't want to compromise on aesthetic or price but are far more aware and will make choices accordingly. The full life cycle of a product from a sustainable source, low carbon footprint manufacturing, to end of life recycling will be challenged by the consumer."
"Sustainability is a key trend for 2022," agrees Charlotte Campbell, Harvey Jones (opens in new tab) Kitchen Designer. "In-frame handmade kitchens which never need to be thrown away and can be updated with new paint colours and different handles and knobs."
2. Kitchen zoning
With more of us working from home than ever before, creating zones within open-plan living spaces is not so much a want as a need for those who need to use their home as their office in 2022.
"Having areas for dedicated purposes maintains the seamless sense of flow that we all love in open-plan designs," says Chris Dance of InHouse Inspired Room Design. "However, it also allows a sense of mental separation between areas—whether designed for cooking, eating, working, or anything else."
Even if a complete kitchen overhaul isn't on the cards, small changes, such as a simple built-in folding desk attached to a kitchen wall, can make all the difference.
"Invest the time and money into ensuring that your home is a relaxing—and functional—haven," recommends Dance. "Whether this is a built-in folding desk, or getting a dining table that turns into a standing desk—there are so many ways to ensure that your home can successfully do all the things you need it to."
And of course, creating multi-functional 'zones' in your kitchen is a concept that everyone can benefit from. If you host regularly, you might want to consider how you can better utilize your space to allow you to entertain guests whilst cooking, or help you shut away clutter and mess when guests arrive.
3. Modern Country
A desire for a more rustic, country-inspired look in kitchens has been driven by the last few years in lockdown that saw a huge migration of people from big cities to more rural locations. Even for those who stayed in urban environments, recreating a country-inspired kitchen with a modern-feel is set to be a huge kitchen trend in 2022.
"Country-style has experienced a revival, perhaps in part due to the emergence of cottagecore and the stylish rural properties that continue to feature on our Instagram feeds," explains Alex Main, Director of bespoke kitchen company The Main Company (opens in new tab).
"As we enter 2022, this desire for a country-inspired interior has evolved slightly, with a softer colour palette and more modern approach to this timeless trend."
"We're seeing many more homeowners experimenting with materials, creating a contrast between the classic and contemporary to create truly innovative and unique kitchen designs. Exposed beams and distressed brickwork continue to remain popular, but these are cleverly off-set by metallic accents, high-specification appliances and eye-catching lighting."
4. Soft shapes
In 2022 and beyond, we will see more rounded shapes adding elegant and beautiful corners to the kitchen. Softer forms are alluring and appealing because they exude luxury and sophistication. They are also more ergonomic and feel more natural to use, whilst aesthetically every view is taken care of, rather than creating abrupt stops.
"Rounded corners will be particularly popular in kitchen islands when it comes to kitchen trends in 2022," predicts Emma Cowburn, Harvey Jones Kitchen Designer.
"The majority of worktop features, especially for breakfast bars, use contrasting materials like wood and quartz composite, with different level thickness. A curved seating area is more sociable (think of a round table vs. a long narrow table). Beyond 2022, I'd predict we'll also see more curved cabinets on the islands, but keeping the perimeter at right angles – this will make the islands more interesting, individual, and more of a statement piece to introduce personality."
5. Patterned tiles
If your kitchen floor has seen better days, it might be time to consider a revamp. Patterned tiles are tipped to be popular in 2022, having become a steady favorite in recent years.
"Many homeowners have found themselves looking for new ways to inject character into their homes," explains Jayne Adamson, marketing manager at Verona. "Floors no longer need to be plain and dull."
"For homeowners who are boldly confident with their design choices, colored patterned tiles span a spectrum of trend-led shades, including inky blues and blush pinks," says Adamson.
The Pantone Color of the Year for 2022 is a bright periwinkle blue that would look great in a patterned tile, but using colors is not for everyone, as Adamson points out: "But for those new to experimenting with pattern tiles, monochrome designs offer a comfortable middle-ground."
6. Outdoor 'smart' kitchens
The rise of smart-tech in our homes has seen a steady increase in recent years. And 2022 might just be the year when kitchen smart-tech makes its way outdoors too, according to expert predictions for kitchen and garden trends in 2022:
"Outdoor kitchens with smart tech are the natural progression from indoor smart kitchens," explains Duncan Aird, co-founder and designer at Outdoor Kitchen Expert. "Homeowners will be able to set up and control their outdoor kitchens from their smartphones with a whole host of Wi-Fi enabled appliances and equipment."
Aird suggests a few ways you can incorporate the smart outdoor kitchen trend into your garden. His ideas include:
Ambient LED lighting—which allows you to properly illuminate your outside space
HD weather-resistant smart TVs and projectors—that can be hidden away until required
Integrated surround-sound AV systems—connected to your chosen streaming service
WiFi-enabled BBQs, grills and smokers—allowing you to cook to your exact specifications from your phone
WiFi-controlled heating features—such as fire pits and wireless smart heaters
But above all else, Duncan Aird recommends considering a high-tech canopy. "Enabling use of your outside space year-round, the canopy blades can be adjusted at the touch of a button to track the sun or tilted to catch a breeze," he explains. "Rain sensors can also automatically close the roof to keep from a passing rain shower."
7. Veined marble
Marble in the kitchen is nothing new, but vein-centric slabs of the stunning stone are about to hit the big-time this year.
"Veined marbles will be a particularly big kitchen trend in 2022," Greenwood predicts, "especially when partnered with metallic finishes and detailing. Creamy and dark grey marble with dramatic veining so it's interesting to look at. Marble offers instant luxury and prolonged durability—the stone isn't porous so if you spill red wine it doesn't absorb or stain."
Marble can be expensive and if you're keen to achieve the look but on a budget, investigate laminate options. They might not have the same prestige as a classic marble kitchen counter, but you can get really good quality dupes these days that will look and sometimes even feel like the real thing.
8. Open display shelves
2022 will see the continued rise of open display shelves, with this social-media-fuelled trend continuing to appear in kitchen designs and social media hacks for how to organize a pantry.
"Floating shelves highlighted with hidden LED spotlights will become big, and are perfect for pieces of sculpture and different home accessories," says Greenwood. "Already seen in other parts of the home for years, it takes your kitchen from just a functional place to cook to more of a special place to entertain."
9. The invisible kitchen
Some of the best kitchen trends for 2022 are practical, rather than design-led, and smart new kitchen storage ideas are set to be a big theme this year.
This contemporary concept celebrates the 'no kitchen' kitchen. As a highly-functional space we use all day long, from breakfast through to dinner, kitchens are highly populated with practical appliances, tableware and more that can often feel overwhelming within the space – especially if that space is on the small side. This modern new trend is about hiding the kitchen almost entirely to make the room feel more streamlined and minimalist.
"Clever storage solutions are undoubtedly most useful for smaller kitchens, as they utilize every inch of space to ensure every pot, pan, and utensil has its place," says McDonald. "However, they are also highly efficient in bigger spaces, for homeowners who want a systematic approach to kitchen design."
A fan of the hidden kitchen is Daniel Bowler, Director for Eggersmann UK who says, "With the open-plan kitchen in use morning, noon and night, concealing appliances, cookware, the sink and general kitchen clutter behind closed doors creates a non-kitchen look."
Contemporary cabinetry that doesn't feel like that of the kitchen, more like a living room sideboard or a concealed library bookcase, conceals all evidence of a working kitchen.
"Resembling living room furniture rather than classic kitchen cabinets, the hidden kitchen can incorporate a wealth of storage space to keep the room looking organised and streamlined 24-7."
10. Incorporating a pantry
The buzz word for all kitchen designers right now is 'pantry', as this on-trend storage solution becomes the height of fashion for the modern kitchen. A pantry provides multipurpose storage; from dried food goods to kitchen gadgets and appliances, all manner of kitchen must-haves can be hidden inside a pantry. This fashionable yet effective storage solution is a really simple way to create a happy, useable kitchen space because it's so much easier to organize a kitchen when you have this key extra storage area.
While the dream is a walk-in pantry that can act as a separate entity to the rest of the kitchen layout, it might not be an option within your existing kitchen layout. But fear not, because freestanding can be just as fabulous.
"By including a single piece of furniture you can completely transform your kitchen, by creating more surface space and keeping clutter out of sight" advises Nerine Vacher, Kitchen Designer at Neptune Fulham. "Even in the smallest of kitchens, it is easy to insert a freestanding piece, meaning you don't have to commit to a total kitchen refresh if a pantry is what you're after."
11. Brass detailing
Brass is the latest on-trend finish for all kitchen fixtures and fittings, from taps to faucets this finish offers a luxe touch. And the good news is a little can go a long way, because the small things can often make the biggest difference. None more so than a change of handles on kitchen cupboards and doors.
And best of all, updating the door furniture on your existing kitchen cabinets can be totally transformative with minimal budget and with very little effort. Simply changing the handles can elevate your scheme, welcoming a whole new vibe to the overall look without the need for a full-scale renovation. By swapping out existing knobs or handles for on-trend brass alternatives adds instant on-trend style and elegance to any kitchen scheme.
12. Classic Shaker-style cabinetry
Shaker-style cabinetry is set to be as popular as ever in the years to come, thanks to its classic appeal. A Shaker kitchen dates incredibly well because the look is timeless.
"Achieving a classic Shaker silhouette, cabinetry is in-frame rather than a lay-on style. We have a beaded frame for a traditional look or simple square frames for a more contemporary aesthetic. Cornices, skirting boards, columns, and pillars are the signature pieces in each collection. They bring the kitchen together and are carefully designed to define the style of the kitchen," says Tom Howley, Design Director at the eponymous kitchen brand Tom Howley (opens in new tab).
13. Natural porcelain surfaces
Inspired by the beauty of nature, Caesarstone (opens in new tab), the pioneers of quartz worktops, have introduced new porcelain surfaces to add natural elegance to kitchen design. "Porcelain presents a remarkable new aesthetic that is redefining kitchen countertops, with richer colors, bolder designs, larger patterns, and wonderful tangible textures," explains Mor Krisher, Caesarstone's Chief Designer.
"We took the stone back to its roots – to a raw, warm, earthy place – employing a range of colors, from delicate tones and pastels to warm shades in bold and dramatic patterns. Our goal was to emphasize the stone's materiality rather than attempt to flatten it, to pull out the texture. The feeling should be natural above all."
14. Multi-purpose islands
Kitchen islands are evolving to be all-purpose for a central focus, providing storage, a workspace, cooking countertops, and much more. "An island offers a social aspect to a kitchen that works well for both entertaining and the day-to-day," says William Durrant, owner of Herringbone Kitchens.
"Seating transforms an island and allows for an additional more casual seating space and drawers, wine fridge or open bookcases on the rear of the island look great whilst also being very functional. From a design point of view, it's the perfect opportunity to be brave with colour and add a pop of colour, one that is bolder than the rest of your kitchen cabinets for it to really stand out."
15. Statement chimneys
Kitchens are taking inspiration from how we anchor the living room around the mantelpiece – because chimney breasts and mantel designs are a huge trend for kitchens in 2022 and beyond.
"In the past, kitchens had simple brackets and shelving mounted over the cooking area. Today we've built on this traditional idea to create striking chimney designs with intelligent storage solutions and space for state-of-the-art extraction," says Tom. "From a design point of view, it's all about proportion! This chimney breast and mantel shelf demonstrate that stunning architectural features can be created from scratch and still work harmoniously with the scale and style of your kitchen.'
16. Stand-alone display dressers
Standalone dressers are having a renaissance as the trend for traditional country style proves popular. Display dressers for 2022 and beyond are best seen in stained oak and this Scandi-inspired aesthetic is proving incredibly popular. Explaining the recent popularity William adds, "Whether it has open shelving to display your favorite items or it has bi-fold or traditional doors these dressers provide great functionality, storage and they look beautiful too."
The nature of freestanding furniture gives an element of freedom for the homeowner to change the color or design of the surrounding kitchen as and when they choose, without making this trend redundant.
17. Clever storage compartments
From storage compartments hidden under breakfast bars to ultra-thin compartments beside the kitchen countertop and the fridge, every space has the potential for smart storage in modern kitchen designs – these are in fact key for the success of organizing a small kitchen.
"Cabinets such as within breakfast bars or pantry larders add storage, style, and impact to small kitchens. They are especially great as corner units with bi-fold doors keeping it neat, and tidy and doesn't obstruct the work flow of the kitchen when it's in use," explains William. "They also avoid clutter spilling into the kitchen worktops and we love how they are almost secret doors into Narnia."
What color kitchens are in for 2022?
1. Shades of blue
The last few years have seen rich shades of blue—ranging from indigo and royal to navy and jewel—become more and more popular. And 2022 will continue to see beautiful deep blues become even more prominent, working their way into the hearts of our homes in both the bathroom trends of 2022 and via cabinetry, accessories, and paint colors in the kitchen, too.
"While a blue kitchen was unheard of five years ago, the color has proven itself to be incredibly easy to work with," says Neil McDonald, Design Manager at Moores. "Sales of dark blue kitchens surged amongst both house-builders and consumers last year. This will continue to dominate kitchen design in 2022."
"This is a trend for everyone, whether you're wanting a contemporary or traditional kitchen," says Dance of InHouse Inspired Room Design. "A rich burst of color will provide depth and interest to a modern kitchen with handleless, glass-fronted cabinets, while traditional shaker kitchens will be freshened up."
Dark blue also provides the perfect backdrop if you have metallic accents too—such as antique-style golds and coppers. And if you don't already have them, they too will make for a stylish finish to any kitchen in 2022. "Brass finishes are not going away anytime soon, from taps to door handles," says Jenni Greenwood of Greenwood Interior Design.
2. Green tones
Darren Watts, Showroom Development & Design Director at Wren Kitchens (opens in new tab) revealed that the start of this year has seen a surge of people opting for green cupboards in their kitchens - from muted sages to bolder, darker tones.
"Greens create a peaceful and relaxed environment for the home. If you're feeling braver and want to have fun with colour, green tones are the perfect colour option for kitchens," says Darren.
"Emerald green is going to be big this year, with the regality of the jewel tone easy to incorporate in a smaller way via a crockery collection, or via decorative artwork," adds Dayna Isom Johnson, trend expert at Etsy.
"Symbolizing harmony and growth, it's the perfect color to remind us to find balance this year. We're already seeing shoppers looking for ways to incorporate this hue, with searches for emerald green decor up 60% on Etsy over the last few months."
One of the most popular colors in 2022 bedroom trends too, green adds a sense of calm and tranquillity to any room, making it an especially good choice for any space where you intend to work from home.
3. Monochrome and two-tone design
Black-and-white is stepping back into the spotlight in 2022, with everything from kitchen splashback ideas to cabinetry. "We think 2022 will see a marked trend in monochrome and two-tone kitchens," says George Bond of the George Bond Interior Design Studio, "with more geometric notes and splashes of color for added drama."
Whether you opt to incorporate it via cabinetry, marble, tiles or via kitchen-friendly wallpaper, the key is to not go too over-the-top with this look. Be selective with where and how you use it. As shown in the kitchen above, incorporating a statement piece of black furniture in a kitchen with a white design is an effective way to make your kitchen pop.
Darker colors might be best avoided in smaller spaces, unless used as an accent tone. Don't be put off though: you can still look to incorporate statement accessories (such as prints, vases or some best cookware items) that give a nod to the trend.
4. Statement black
Brooding dark shades have been taking over interiors in recent years as homeowners have gained confidence in using dark, saturated colors.
Kitchens are the latest space where this commitment to color has finally taken hold. No longer a room where the 're-sale' factor means homeowners are afraid to deviate from timeless tones, 2022's kitchen trends have seen both sellers and buyer's embrace bold colour and statement black walls.
"Dark and dramatic black paint finishes have a way of adding ambience and sophistication to a kitchen" explains Tom Howley, Design Director at Tom Howley.
"An entirely black kitchen can be beautifully impactful, but can be used in more nuanced ways to change the feel of the space. Used on the main run of base and wall cabinetry, black can look luxurious and majestic with a timeless, intimate appeal. If you're not feeling as brave, why not opt for a statement black island counter, or maybe black accessories like taps and handles?"
5. Modern pinks
In recent years shades of pink have come a long way, leaving behind the notion of a sugary one-shade-suits-all. The modern color palette of pink paint colors sees elegant dusky shades of pink that intrigue and add a sophisticated touch to any room, especially kitchens for 2022.
When used in the kitchen, pink excites and delights with an unexpectedness, that only adds to the wonder. Pink is the stylish alternative to a warm neutral that pairs perfectly with all tones of fixtures and fitting, especially on-trend brass and matt black.
6. New neutrals
While daring colour dominates the headlines there's still a lot to be said for softer, neutral shades that can still add color without it being overtly statement. The timeless appeal of white has moved on to that of on-trend greys, which will remain a steadfast favourite for years to come in both kitchens and bedroom paint color trends too.
"Color continues to dominate kitchen trends, with colorful kitchens having a huge impact in the market and getting great attention, from initial consultation to final installations" says Andy Briggs, Interior Designer at Optiplan Kitchens. "But no matter what colours or materials are on-trend we still see a demand for the 'safer' tones like warm greys. This is always to be expected as a kitchen is a significant investment, and trends will come and go."
Introduce a contrasting paint colour on the walls to add depth and a splash of more vibrancy to your overalls scheme, without compromising on the neutral aesthetic of the actual kitchen itself.
7. Mixed color combinations
Using two-tone color in a kitchen helps add to 'kitchen zoning' or the 'broken-plan' trend and combining color is a great approach to adding an interesting twist to your overall scheme.
This trend sees color used more liberally, whether it be a lighter shade on the upper level cabinets of a kitchen design paired with a darker shade on the base units, or a striking color used to highlight the kitchen island. Introducing a splash of contrast color with an island feels less committal than using the color through the rest of the kitchen design.
This trend is ideal for small spaces, where the lighter colour makes the wall cabinets feel less intrusive to the space, while the darker base units act as an anchor for the color scheme.
Digital Editor - Woman & Home
An internationally published digital journalist and editor, Rachael has worked as a writer and editor for both news and lifestyle websites in the UK and abroad including Metro UK, Homes & Gardens, Ideal Home, GoodTo.com, honey.nine.com.au and body+soul.
Rachael's published work covers a broad spectrum of topics and she has written about everything from the future of sustainable travel, to the impact of the coronavirus pandemic on the world we live in, to the psychology of colour.