The handy cleaning hacks you need to know for a sparkling home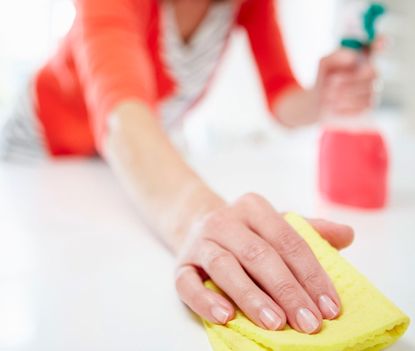 woman&home newsletter
Sign up to our free daily email for the latest royal and entertainment news, interesting opinion, expert advice on styling and beauty trends, and no-nonsense guides to the health and wellness questions you want answered.
Thank you for signing up to . You will receive a verification email shortly.
There was a problem. Please refresh the page and try again.
Who doesn't love a gleaming, sparkling home? Coming back to a squeaky clean abode is one of life's small pleasures.
And they do say that the best things in life are simple - and we reckon that's especially true when it comes to cleaning products.
Instead of paying a small fortune for the latest grime-busting products, it's easy to find simple cleaning solutions that are already in your kitchen.
Often, it doesn't take a brand new bunch of expensive products to get your home, clothes and everything else looking their best. In fact, you could have the perfect cleaning solution right under your nose.
And in other cases, getting your belongings and home looking good is a matter of simply cleaning in the right way, rather than scrubbing for hours on end.
So discover other uses for rubber gloves, lemon halves, and even dishwasher water with these clever cleaning hacks...
Top tip for washing white t-shirts
Getting stains out of white tops can be one of the most frustrating cleaning jobs around. But one mum has sussed out a way to make it easy. One lady, Ashley Baxter, from Scotland, revealed she's picked up a handy cleaning tip from a Mrs Hinch fan page, using a cheap bottle of Milton sterilising fluid - often used to clean baby bottles. She said that she simply mixes one part Milton to three parts water in a large bowl, before soaking the clothes for two hours - and then putting on a white wash. Ashley posted an amazing photo comparing the top with the stains to how it looked after washing, and the result was pretty amazing - and so simple!
The best way to clean your jewellery
Have your favourite jewels lost their sparkle? Over time even the best quality jewellery can start looking dull and discoloured. Instead of paying through the nose for a jewellery to clean your favourite pieces there are a few do-it-yourself tricks you can try. For a diamond, use a splash of vodka on a cleaning cloth. The high-alcohol content will dissolve grease and dust, but don't try it on softer stones. For pearls, the best way to clean them is with shampoo. Because they are quite porous they collect dirt easily but the sodium laureth in shampoo when mixed with a bit of water should be enough to lift off marks. For a fix that requires very little effort, place your jewellery over night in a glass of sparkling water the co2 will bring back its sparkle and brightness and leave your precious metal looking as good as new.
Check out these simple cleaning tips
Wear a sock on your free hand when dusting to give a quick polish as you go. Stock up on cleaning materials in advance of starting your spring clean. Baking soda and white vinegar are versatile along with plenty of cloths and gloves Use spring cleaning as a chance to organize your kitchen cupboards ? through out any food that s out of date and give the shelves a good clean while your at it A great way to remove pet hair from upholstery quickly and easily is with a slightly damp sponge and a rubber glove
Start from the top...
For each task, start at the highest point in the room and move from left to right... Don't forget to dust on the very top of doors, picture rails and furniture, as that is where all the dust collects and then falls offs!
Streak-Free Windows
A small slug of dishwasher rinse aid in the water when you wash windows makes them shiny and streak free!
Pick a cloudy day to wash windows
Always try and wash your windows on a cloudy day. If it is too sunny, the window cleaner will dry too fast and you'll be left with smears and streaks. Use an old newspaper to wipe the interior side of the glass horizontally and the exterior side vertically. Not only can you determine if any streaks are inside or out but the finish is fantastic too.
Use lint rollers on lampshades
Lampshades can collect a large amount of dust without you even realising. Use a standard lint roller to remove any dust with very little effort required.
How to refresh plastic containers
Get the leftover curry stains out of plastic containers by putting a solution of washing up liquid, bleach and water in them and microwaving until boiling point. Once cooled, pour away and rinse.
Use a pastry brush to remove crumbs
Toast crumbs are notoriously difficult to get to but using a pastry brush can help sweep away the annoying trapped bits.
Clean your bathtub with grapefruit
If you have an issue with bathtub rings and soap scum simply cut a grapefruit in half, sprinkle some rock salt on top and then scrub away. Not only will it have your tub sparkling in no time but your bathroom will smell divine too.
Deep clean shower heads
After having a shower, fill a sandwich bag with baking soda and vinegar and tie it around the showerhead using an elastic band. Leave this to soak overnight then any debris will come off easily with an old toothbrush.
Clean awkward sized glassware with rice
If you struggle to clean certain vases, bottles or wine glasses due to their strange size then try this tip. Fill bottle with uncooked rice, water and washing up liquid, cover and shake until clean. Then rinse and leave to dry.
Use a toothbrush for cleaning keyboards
Instead of a wipe, take a damp toothbrush and use it to clean the difficult bits in between your keyboard. The bristles can reach all the difficult spots with very little effort.
Clean surfaces with water and vinegar
Mix water and vinegar together with a 50:50 ratio to create an efficient and cost effective cleaning solution. Plus, you can use it on a variety of surfaces.
Toothpaste to the rescue
When your white trainers or shoes need a little clean up, scrubbing with toothpaste will do the trick
Clean TV and computer screens with coffee filters
Using paper towels or cloth wipes can create static and attract more dust to your TV or computer screen when cleaning. So use a standard coffee filter instead as a way of leaving your screen clean and clear.
Clean iron with salt and foil
If you've got a build up of dirt and grime on the bottom of your iron then simply turn it on (no steam) and iron a piece of aluminium foil with some salt sprinkled on top. The salt will attract the grime and remove it.
Mop in a figure of eight
Always create a figure of 8 to ensure that all dirt particles are picked up effectively and easily. Use cold water instead of hot and mop from the top of the room to the bottom, so that you are always standing on an un-mopped floor.
Steam clean your microwave
Clean your microwave by mixing two tablespoons of white vinegar and a few drops of your favourite essential oil with water and blast it for five minutes. You?ll be left with a shiny clean microwave that smells amazing with zero scrubbing required.
Restore water-marked furniture with a hairdryer
If water rings have damaged your coffee table, or other wooden surface, then try holding a hairdryer close to the stain, on a high setting, and watch it disappear.
How to unblock a sink
When your sink water is taking longer to drain away, pour ½ cup of baking soda and ½ cup of vinegar down. Cover with a wet cloth, wait 5 to10 minutes for the potion to work, then flush with hot water!
Freshen up smelly trainers
Sprinkle some baking soda inside your trainers and maybe a little in your gym bag, to take away that stinky smell. Just tap it out before you wear them again.
Get rid of pet hair
Use a rubber glove to get rid of pet hair from upholstery and fabric; when damp, the glove has just the right texture to grab fuzz.
How to clean your blender
When you've used a blender, rinse quickly then half fill with warm soapy water; whizz for a few seconds, rinse again and it's amazingly clean!
Dusty Blinds?
A simpler way to clean shutters or Venetian blinds is with vinegar, water and a sock used like a sock puppet.
Your Solution For Metal
WD-40 is a standby must for fixing squeaky hinges, and cleaning stainless steel and fire hearths.
The Beauty Bag Stain Remover
Use hairspray to remove stains and make-up on clothes - spray on the area, let it sit for a few minutes, wipe with a damp cloth, then wash as usual.
Lemon Fresh
Use half a cut lemon to get rid of stains and smells on chopping boards - up the power by sprinkling with salt first. Half a lemon left? Put it upside down in a saucer of water in the fridge and it'll make the fridge smell fresh and last for ages without drying out.
Stain Removal Tips: Sweet Treats
Chocolate Gently scrape off any axcess. Hold the back of the fabric under cold running water. Rub a biological laundry detergent into the stain. Soak in cold water for 15 minutes, and gently rub at the stain every three to five minutes. Chewing Gum Place the clothing in a freezer bag, seal and place in the freezer for about two hours. Place the fabric on a sturdy surface and peel off the gum while it's still frozen. You can also try soaking the fabric in lemon juice. Ice Cream Scrap off any excess. Rinse thoroughly with cool water; don't use warm because ice cream has protein in it and warm water will set the stain. Rub a biological laundry detergent into the stain as for chocolate.
Stain Removal Tips: Drinks
For red wine Blot the stain with a paper towel before it soaks in, sprinkle with salt and rinse with warm water. For white wine Run cold water over the stain, then spray with a washing-up liquid solution and dab with an enzyme detergent. Coffee Boil some water and stretch the fabric over a bowl. Carefully pour the water through the stain from about a foot above. Apply a few drops of laundry detergent; rub into the the stain then rinse. Or soak it in a detergent solution before washing. Juice Use a clean cloth to remove as much of the wet liquid as possible. Dab gently rather than scrubbing, particularly on delicate fabrics - you could damage them an spread the stain. Pre-treat with a stain remover before washing.
Stain Removal Tips: Condiments
Tomato Sauce If it's Bolognese rather than ketchup, carefully scoop off as much as you can with a spoon - gently so you don't spread the stain. Then use a clean, dry cloth to dab the area. Hold the back under cold running water and flush the fabric through. Soy Sauce Run cold water through the back of the fabric. Gently rub liquid laundry detergent into the stain and leave for three minutes; rinse thoroughly. On white clothes you can use a bleach solution on a sponge; dab into the stain and rinse. Repeat then wash as usual. Salad Dressing Blot the stain gently first to remove excess grease. Many people recommend dishwasher soap; apply to the stain and use an old, clean toothbrush in circular motions to gently rub into the stain. Rinse with hot water. Wash at the highest heat for the fabric. Mustard Immediately bloth the stain - don't rub it. Flush through the back of the fabric with cold running water, then treat as quickly as possible with a stain remover. Rinse well with hot water and wash as usual.