How to clean a mirror – expert tips for a streak-free finish every time
From how to clean the glass without leaving streaks to what you should never use, these expert tips have you covered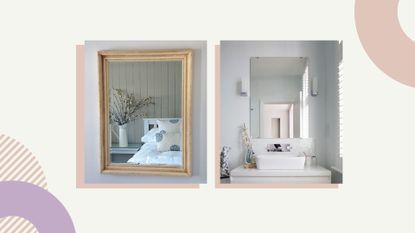 (Image credit: Future)
Master the art of cleaning mirrors without leaving streaks and residue with our simple step-by-step guide on how to clean a mirror to a pleasingly professional standard.
Like when cleaning windows or cleaning a TV screen, knowing how to clean a mirror is somewhat of an art form to clean without leaving behind any telltale streaks and smears. It's all about using the right remedies and applying the best techniques, according to the professional cleaners we spoke to.
In our expert guide, we'll show you how to achieve brilliantly clean mirrors every time and also answer one of the most frequently asked questions of what you should never use to clean a mirror to prevent any potential damage.
How to clean a mirror like a pro: in 5 easy steps
"Cleaning a mirror is less about the best cleaning product and more about the techniques and tools you're using," explains Lily Cameron, cleaning supervisor at professional cleaning company Fantastic Services.
To master the techniques like a professional here's what you'll need:
A spray bottle
Distilled water
White vinegar
Corn starch
Rubbing alcohol
1. Make a DIY cleaning solution
When it comes to a cleaning solution the professionals prefer a homemade, natural remedy, and here's why: "Natural cleaning solutions work better because there's no chance of chemical residue left behind on the mirror," explains Lily.
To make your own effective cleaning solution Lily recommends the following: "Combine half a cup of distilled water, half a cup of white vinegar, and 1 tablespoon of cornstarch in a spray bottle and shake it well." When cleaning with vinegar when it comes to mirrors it has to be a diluted solution and used sparingly (more on that later).
"If you have particularly hard water, we'd recommend using distilled water to make up the solution in order to keep your mirror streak-free," advises Kerry Hale, bathroom expert at Mira Showers.
2. Pre-clean the surface
Spot cleaning is an all-important part of the process to ensure you don't end up making more of a mess in an attempt to clean the overall surface of your mirror.
"Pre-treatment, before you wipe the mirror, prevents residue spots from turning into streaks," explains Lily. "Soak a cloth in rubbing alcohol and scrub the mirror to remove any set-on residue."
"Repeatedly clean the cloth so nothing sticks to it. For more stubborn areas, such as the corners, use an old toothbrush or cotton pads," Lily advises.
3. Apply the solution to a cloth not directly onto the mirror
After you've pre-cleaned the surface with rubbing alcohol to remove any build-ups, it's time to clean the mirror with the DIY solution. Alternatively, you can also use a glass cleaner but always look for a natural solution to avoid using harsh chemicals.
"Apply the mirror-cleaning mixture directly to a soft cloth, preferably a clean microfiber cloth," advises Lily, "avoid sponges."
"For best results use a microfibre cloth," agrees Kerry, explaining why: "Kitchen towels disintegrate during the cleaning process so will leave fibers on the surface."
Spraying the cloth rather than the mirror ensures you don't wet the glass to the point where the cleaning solution is likely to seep behind the glass or drip down onto the surfaces below. It's this problem that leaves some to believe white vinegar should not be used to clean mirrors, so it's important to avoid overexposure.
"This method allows you to clean one area at a time as opposed to wiping the whole glass because the cleaner drips to the bottom of the mirror and begins to dry," Lily explains.
4. Wipe in a shaped formation
As we alluded to earlier, cleaning mirrors effectively is very much due to the technique and way in which you wipe the surface clean.
"Work from edge to edge, from top to bottom in quick "Z" movements," advises Lily. "Avoid using circular motions, because they'll only smear the liquid on the mirror and spread any remaining residue instead of cleaning it. Your arms will also get tired and you'll have to put in a lot more effort."
5. Stand back to check every angle
Once you're done with wiping in the formulated way it's important to stand back and inspect the results, to ensure a perfect streak-free finish from all angles.
"Once you're done, stand in another spot and look at the mirror from a different angle to see if any areas still need cleaning," suggests Lily.
If any streaks remain the best practice is to buff them away. "Use a dry cloth to polish the area," suggests Andrii Gurskyi, co-founder of a New-york-based professional cleaning service HomeClean and owner of Mr. Glazier Windows. "This will help to remove any remaining streaks and leave your mirror sparkling."
How do you get smears off a mirror?
Mirrors are items that get dirty very easily and even the tiniest dust particles can be visible to make them appear dirtier than they actually are. Lily offers a few additional tips to help you prevent smears and streaks when cleaning your mirrors including:
Start with rubbing alcohol: "This prevents you from dragging the residue with the cleaning solution when you're doing the "Z" swipes. If you miss that step, you'll end up getting marks on your mirror."
Scrub the mirror glass in advance: "Scrub first, instead of trying to remove the spot by spraying solutions on it."
Avoid using soap: "Soap on the mirror only leads to more streaks."
Using corn starch: "This helps remove any hardened residue from the surface of the mirror."
Applying the cleaning solution directly to the cloth instead of the surface of the mirror prevents the liquid from accumulating in the corners, making its way underneath the mirror, and causing more damage.
Don't use a damp cloth to wipe the mirror, because it can make a bigger, streaky mess.
Avoid using paper towels because they leave behind a lint-like residue, streaks, and smudges all over the glass. The best tool for the job is a soft microfibre cloth or a squeegee. A regular rag will also suffice.
Avoid touching the surface of the mirror with your fingers because this leaves unsightly marks and smears.
Check the date if you're using commercial glass cleaning products and avoid using ones that have expired. They can leave the glass blurry.
"Rubbing alcohol can be used to get smears off an already cleaned mirror," suggests Nigel Bearman, owner of commercial cleaning company Daily Poppins. "Pour a rubbing alcohol liquid into a spray bottle and spray this onto the smeared mirror. Once the rubbing alcohol has dried on the mirror, use a foam glass cleaner or microfibre cloth to clean and buff the mirror. "
What should you never clean mirrors with?
You should never clean mirrors with any form of abrasive sponge because this could potentially scratch the surface of the glass – something you want to avoid at all costs.
"Avoid using rough or abrasive materials, such as paper towels or scouring pads," says Andrii, "as these can scratch the surface of your mirror."
Additionally consider what cleaning solutions to avoid. "When cleaning your mirrors, stay away from suds," says Lily. "Many homeowners think that soap will help clean their mirrors perfectly, but it actually creates suds, which smudge when the glass dries out. It's actually one of the most common reasons for streaks and smudges."
"Baking soda is a really common household ingredient that many people use in cleaning chores. However, it's also a harsh cleaner and there is a high chance it will scratch a glass surface, such as a mirror," warns Lily. "For such a task, use vinegar on its own or stick to commercial glass or window cleaner."
"Avoid using harsh chemicals such as ammonia or bleach, as these can damage the mirror's reflective surface," advises Andrii.
If you have an antique mirror it's especially important to avoid any harsh chemicals that could strip the smokey patina from the surface of the glass. With an antique mirror, the aged look is what gives the glass its charm, so the last thing you want to do is risk discoloring it or damaging the already distressed surface.
Can you use newspaper to clean mirrors?
Many swear by using newspaper as one of the most effective and inexpensive tools for cleaning mirror surfaces because of its absorbency and lack of lint particles left on the glass surface.
"In the past, using newspapers has proven a handy and affordable method to clean mirror glass. Indeed, it works quite well, but there are a few things to keep in mind before trying this method," says Lily. "The type of newspaper ink plays a significant role in its cleaning effectiveness. If you go for the wrong type, it may leave more smears on the glass. Otherwise, wiping the mirror with newspaper will produce streak-free results and a bright shine."
However, Nigel advises against it altogether, saying: "In the past, newspapers have been a firm favorite for cleaning mirrors but due to the ink solution in modern newspapers this is now advised against. The new ink used in many newspapers can leave smears due to the solubility of the ink."
Tamara is a highly experienced homes and interiors journalist, with a career spanning 19 years. Now the Lifestyle Editor of womanandhome.com, she has spent the last 16 years working with the style teams at Country Homes & Interiors and Ideal Home, and it's with these award-winning interiors teams that she gained a wealth of knowledge and honed her skills and passion for shopping, styling and writing about every aspect of lifestyle and interiors.
With a keen eye for the latest interior trends, there's not a lot she doesn't know about home decor – whether it's what colour we should be painting our living rooms next season, or if the latest 'must-have' buys are actually worth investing in.
A true homes and interiors expert, Tamara has served as an ambassador for leading interior brands on multiple occasions, including appearing on Matalan's The Show and presenting at top interiors trend events such as the Autumn Fair and Spring Fair.