That TikTok shower hack you're trying might actually be ruining your bathroom
To have a steamy mirror or to not have a steamy mirror? That is the question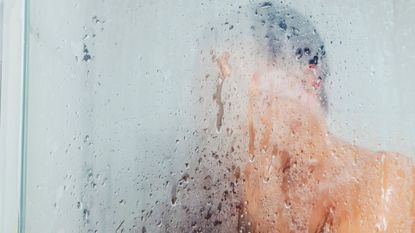 (Image credit: Getty Images)
Shower steam can make your mirrors dirty, and TikTok users figured out a peculiar hack to help prevent this. Apparently, though, it could be ruining your bathroom.
When you take a shower every day, especially a hot one, mirrors tend to fog up from the steam, especially if you don't have a strong fan going while showering. What's even more annoying is when you go to wipe away the steam from your mirror or window with a hand towel, and then your mirror is left with streaks and marks, forcing you to break out the Windex again.
Plus, let's be honest, does anyone know how to properly clean a shower anyway?
People on TikTok, however, have found a super cheap shower hack to prevent this - covering your mirror with a thin layer of soap of shaving cream before showering.
Right, we know what you're thinking - doesn't this make the mirror even dirtier? TikTokers like @neat.caroline have proved this theory wrong, saying that the method for applying the soap or shaving cream is what makes this hack effective.
After covering your mirror with a layer of the product of your choosing, take a microfiber cloth or a squeegee and wipe the mirror down, ensuring that the product gets rubbed into the mirror enough that you're still able to see your reflection. This takes quite a bit of effort depending how thick the consistency of your product is.
When this is all done, your mirrors should remain fog-free for a few days whenever you take a shower.
Although the shower hack may sound strange (but not as strange as the TikTok hack of eating oranges in the shower), people have actually been doing this for years since it's proven scientifically to be successful. The soap on the mirror stops the water molecules from sticking to it - and instead of causing that annoying steam on the mirror, it slips off and drips directly below the mirror.
However, while the hack sounds good in theory, but might not necessarily be in practice.
Bathroom expert Evan Jones explains (opens in new tab) why this hack, although effective, can actually be quite dangerous.
"One of the problems I have with this hack is that although it keeps the mirror steam free, it doesn't get rid of the condensation and the water that would have been on the mirror will settle elsewhere," he says. "This water can cause dampness that allows mold to form. You are far safer using an extractor fan than rubbing soap on your mirrors."
According to the CDC (opens in new tab), having mold in the bathroom can cause a plethora of annoying and health concerning symptoms, like a stuffy nose, wheezing, and red or itchy eyes, or skin.
So if you're looking for a better way to get the steam off your mirrors and the dampness out of your bathroom when you take a shower, you're better off using an effective exhaust fan, or even leaving windows or the door open to air out the space. Alternatively, you could make the bold choice to take colder showers, but we understand not everyone has teh strength for such a thing.
Madeline Merinuk is woman&home's US lifestyle news writer. She covers celebrity, entertainment, fashion, and beauty news but is also obsessed with internet trends - you can find her reciting trending TikTok sounds out loud at any given time.
After winning multiple student journalism awards for her investigative work, she graduated from Hofstra University in 2021 with a B.A. in Journalism. After graduating, she worked at today.com, the digital site for the Today Show, where she wrote pop culture news and interviewed big-name personalities like Emily Ratajkowski, Haley Lu Richardson, Emma Corrin, and more.
Her personal interests, in no particular order, are: cheese, Joni Mitchell, reading, hot yoga, traveling, having multiple chapsticks in every handbag at all times, and dancing to ABBA songs as if she were in the Mamma Mia movies.