Eating oranges in the shower is the latest bizarre TikTok trend - but there are surprising benefits
We can't say eating oranges in the shower has ever crossed our mind, but maybe now we'll start...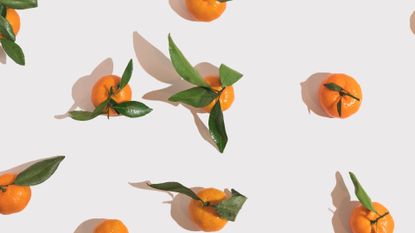 (Image credit: Getty Images)
TikTok's newest lifestyle trend is eating oranges in the shower - and it might promote more benefits than you'd think.
When it comes to a list of general "no-no's" in life, eating in the shower is pretty much at the top of the list for obvious reasons. First of all, no one wants soggy, shower-soaked food. Secondly, you probably want your shower to smell like a branch of eucalyptus or a field of lavender - not your Chicken Tikka Masala takeout. However, TikTok has recently discovered that there is one food you can and should eat in the shower - oranges.
We know, it sounds a little peculiar at first - but we can't judge what people are doing in the shower. Even the Queen had bizarre bath time rules - she'd enjoy a cup of Earl Grey tea while listening to BBC Radio 4 (which sounds ideal to us). TikTokers, on the other hand, are making a pretty strong case as to why oranges are the perfect edible companion for your next shower.
TikTok user @au.stino posted a video about why his routine of orange-eating in the shower works for him, claiming it's "probably one of the most ethereal things [you] can experience on this planet."
This video was met with understandable skepticism from viewers. "Sorry i do believe it's probably an amazing experience but i just can't let food/drinks go in bathroom air," someone commented.
However, to the surprise of many, there are some folks who have apparently been doing this for quite some time. "I've been saying this for years! No one believes me," another comment reads.
When one user commented asking for the original poster to further explain his theory on what makes eating oranges in the shower so special, he made a response video that, to date, has garnered over 7 million views.
He said, first and foremost, eating oranges in the shower eliminates any potential for making a mess. "Easy clean up and you can rip it open with no remorse," his response video reads. Plus, if you know how to clean your shower properly, this shouldn't be an issue anyway.
Additionally, in a strange but effective benefit, eating oranges in the shower can reduce stress - yes, seriously. "In a hot shower, the heat and humidity exaggerate the taste and smell of the orange," he says. "The smell of citrus has also been linked to stress relief."
When we think about it, having the aroma of citrus lingering in the air during a shower does sound quite nice - and, according to studies (opens in new tab), does provide stress-reducing benefits, helping to restore a "homeostatic balance" in your body. So, besides the fact that snacking on an orange in the shower might generally produce some pleasant olfactory sensations for your next scrub-down, it also can help give you a sense of calmness.
Apparently, however, this isn't a groundbreaking discovery for other people in different corners of the world. One user commented on @au.stino's explanation video saying that, in Iraq, men do this all the time. "Men in Iraq take oranges to bathhouses and eat them inside. It's an old tradition and it's great," the comment reads.
Another user pointed out that, in Morocco, this is common practice in bathhouses. "In Morocco when we go to the Hammam (bath houses) everybody brings clementines/oranges to eat," they said.
If you're looking to enhance your shower-time orange consumption experience, one user commented that they recommend using an orange that's fresh out of the refrigerator. Additionally, if you're looking for a whole slew of tips and musings about eating oranges in the shower, TikTok users have directed newbies and pros alike to the subreddit "showerorange," a whole thread on Reddit dedicated to eating oranges in the shower.
Madeline Merinuk is woman&home's US lifestyle news writer. She covers celebrity, entertainment, fashion, and beauty news but is also obsessed with internet trends - you can find her reciting trending TikTok sounds out loud at any given time.
After winning multiple student journalism awards for her investigative work, she graduated from Hofstra University in 2021 with a B.A. in Journalism. After graduating, she worked at today.com, the digital site for the Today Show, where she wrote pop culture news and interviewed big-name personalities like Emily Ratajkowski, Haley Lu Richardson, Emma Corrin, and more.
Her personal interests, in no particular order, are: cheese, Joni Mitchell, reading, hot yoga, traveling, having multiple chapsticks in every handbag at all times, and dancing to ABBA songs as if she were in the Mamma Mia movies.