The best 50th birthday gift ideas for her, from luxury perfume to designer accessories
Browse our edit of the best 50th birthday gift ideas for her to find the perfect present to mark this special milestone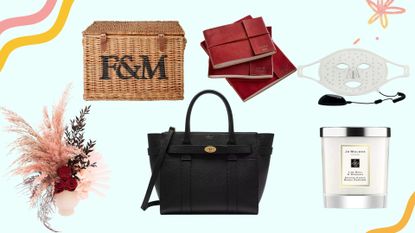 (Image credit: Future / Fortnum & Mason / Selfridges / Amazon / Not on the High Street)
These 50th birthday gift ideas are a thoughtful way to celebrate a loved one who is reaching the all-important milestone.
You want to truly honour and celebrate their first five decades on the planet while looking forward to what's ahead. The big 5-0 isn't like any other birthday and because of that, there's always a bit of pressure attached to finding the perfect present.
As you shop, it's important to consider what they already love, like timeless gold jewellery, or ones they want to try - like eating at one of the world's best restaurants. Our specially-curated edit of the best 50th birthday gifts are bound to impress even those who swear they don't want to celebrate half a century - and some could even work as 40th birthday gift ideas too.
We've largely included products in this list but consider experience-led gifts too, such as booking her into one of the best luxury hotels or one of the best spa breaks in the UK.
The best 50th birthday gift ideas
We've hand-picked 50th birthday gift ideas for every budget, whether you're looking for unique 50th birthday gifts that break the mold, or gift ideas for a couple, a wife, friend, or family member that they will treasure. From minimalist wardrobe essentials to some of the best cookbooks, there's something for everyone.
Where to buy 50th birthday gifts in the UK
Our pick of the best 50th birthday gift ideas
---
---
---
---
---
---
---
---
---
---
---
---
---
---
---
---
---
---
---
---
---
---
---
---
---
---
---
What is a traditional 50th birthday gift?
Traditionally, you bought something gold as a 50th birthday present. But with so many fantastic and unique gift ideas out there today, this no longer needs to be the case.
Tracy Kemp, director of the unique gift company Vintage Playing Cards, suggests personalising a gift for a bespoke touch.
"Buying something for the home is a great gift as the recipient will see it every day. Or, something bespoke is a brilliant idea too—as they know that the gift has been created especially for them."
We also love the idea of giving the gift of a new experience—or the chance to make new memories—as a birthday present.
How do you pick a meaningful gift for a 50th birthday?
We spoke with Emma Bridgewater who shared her gift-giving advice and wisdom. As the founder of the eponymous British pottery company, she has over three decades of designing and creating gorgeous personalized gifts.
"I love the idea of a gift that can last for generations," Bridgewater gushed. "So you are giving a gift which will continue to give pleasure for years to come. A personalized mug or bowl makes a really thoughtful and unique gift."
Naturally, her favorite gift holds sentimental value, an attribute to consider as we shop for 50th birthday gifts: "Beyond adding to my vintage pottery collection, I think my all-time favorite gift was the bundle of sticks which turned into a cherry orchard, an inspired present one year which produced beautiful clouds of blossoms in spring and baskets full of fruit in summer for years later—it has inspired me to give trees or shrubs as presents.
"It's certainly a unique present, and one that the recipient can enjoy for years to come."
Anna is an editor and journalist, specializing in SEO and digital content production. First carving her career in communications and advertising agencies in Berlin and Barcelona, Anna's former life saw her work for film studios and inside a fashion house, before she moved to Metro.co.uk where her career highlights include heading up the SEO desk during the Covid-19 pandemic. Anna's published work ranges from culture and films to human interest features and live news coverage.

In her spare time, she enjoys watching movies, discovering the next big thing in music, traveling, online shopping, and poring over poetry and magazines. When she's not consuming those things, she's probably writing about them.

Originally from Glasgow, Anna has lived in Berlin, Barcelona, and London, not to mention stints in Guernsey and Athens. When she's not struggling to navigate a new language, she's always chasing the next hot trend and perfect black dress (you can never have too many).
With contributions from