Summer tops with sleeves that are flattering, cool and stylish – including a divine M&S number currently on sale in all sizes for just £9.50!
Just because the summer season and warm weather has arrived doesn't mean you have to expose your arms in flimsy, strappy tops. We have found the best summer tops with sleeves for you.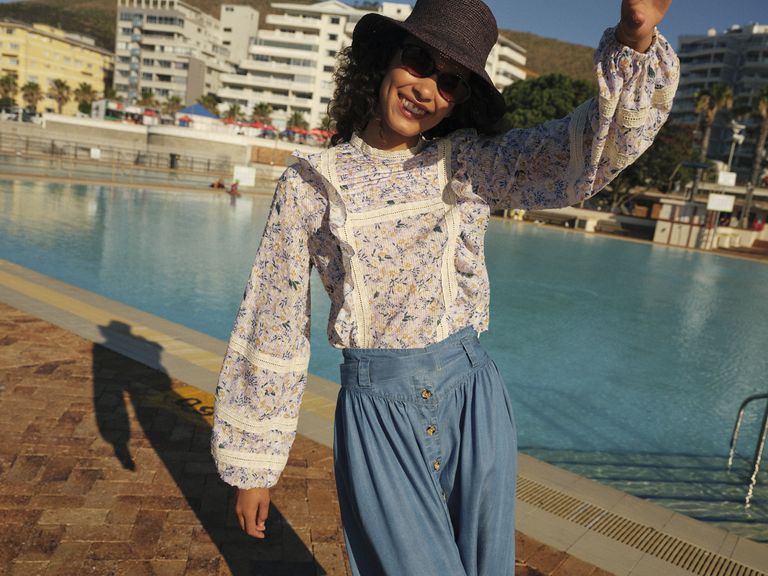 (Image credit: PPP)
Welcome to woman&home's online shopping guides, where we reveal where to buy the most popular and top-rated products. This guide is about where to the most flattering summer tops, but you may also be interested in our edits of best resusable face masks,summer sleepwear, stylish picnic essentials, and flattering swimwear styles for every shape.
There are lots of wardrobe staples that see us through summer... Linen dresses and jumpsuits being the first two that spring to mind. But let's face it, we're always looking for a great jeans and a nice summer top combo too (though in these lockdown days we're more likely to be wearing our summer tops with luxe joggers!).
For most of us, the thought of strappy summery tops fills us with dread. But, there is no need to panic, you can still look summery and feel great - all without your arms on show. You just need to pick the right sleeve style for your body shape (and make sure it's in a colour that suits you).
Key trends for summer tops
Voluminous, puffy sleeves are a huge trend at the moment - it's definitely the case of the bigger the better for this trend! If you want something fashion forward look for stiffer fabrics that hold their shape and look dramatic. If you want to subtly nod to the trend then choose summer tops made from softer material. The effect will still be there, but it will be much more classic.
How to choose a summer top with the right sleeve length for you
There are so many variations on sleeve lengths, from full length, to 3/4 length and short sleeves, plus everything in between. There are plenty of options, we recommend trying on a few different types and playing with proportions to find what works best for you.
However, as a general rule, if you are conscious of adding bulk to your arm area, look for styles where the volume starts from the elbow down. This will draw the attention towards your wrists - the slimmest part of your arm.
The best summer tops are made from breathable fabrics
Get into the habit of checking your clothing labels or the descriptions online when purchasing new items for the summer season. It will stop any of those unwanted surprises when you first wear your new item in the heat. Look out for:
Cotton – it is perfect for all climates, the natural fibres allow air to circulate and move freely through the fabric, making the heat more bearable.
Linen – it is known for keeping you exceptionally cool in the heat. The light weave and natural fibre allow for maximum breathability.
Silk – often an expensive option, and one that comes more hassle when it comes to washing it, but silk is very cooling in warm weather, and exceptionally comfortable against skin.
Sheer and cutout fabrics – If you want to cover up but keep cool then look out for transparent sleeves and cut out detail. A broderie style top is a great option.
Pale colours – opt for a white, cream or a pastel colour palette. Lighter colours such a as these do not absorb sunlight like dark colours do and will keep you cooler.
Top tip!John Lewis' sale has huge reductions up to 70% off styles at the moment. Use the size option button on the left hand size to avoid disappointment.
Summer tops with sleeves – the fashion team's shopping edit
Printed Pleat Front Short Sleeve Blouse
£9.50, M&S
VIEW NOW: Printed Pleat Front Short Sleeve Blouse
H&M Lyocell-blend wrapover blouse
£29.99, sizes 6-18, H&M
VIEW NOW: H&M Lyocell-blend wrapover blouse
Mango 100% organic cotton printed blouse
£29.99, sizes 6-14, Mango
VIEW NOW: Mango 100% organic cotton printed blouse
Matalan Falmer Embroidered Cover Up
£30, sizes 8-20, Matalan
VIEW NOW: Matalan Falmer Embroidered Cover Up
Peacocks Womens Pink Floral Ruffle Blouse
£12.80 (was £16), Peacocks
VIEW NOW: Peacocks Womens Pink Floral Ruffle Blouse
JDY White Floral Frill Neck Blouse
£18, sizes 6-14, New Look
VIEW NOW: JDY White Floral Frill Neck Blouse
Seasalt Cornwall Larissa Shirt
£42. 95, sizes 8-28, Seasalt
VIEW NOW: Seasalt Cornwall Larissa Shirt
Curvissa Printed off-The-Shoulder Blouse
£19.99, sizes 8-26, curvissa.co.uk
VIEW NOW: Curvissa Printed off-The-Shoulder Blouse
La Redoute Cotton Ruffled Blouse with V-Neck
£20, La Redoute
VIEW NOW: La Redoute Cotton Ruffled Blouse with V-Neck
River Island Pink Long Sleeve Smock Top,
£38, River Island
VIEW NOW: River Island Pink Long Sleeve Smock Top,
Oliver Bonas Two Tone Floral Print Wrap Top
£45, Oliver Bonas
VIEW NOW: Oliver Bonas Two Tone Floral Print Wrap Top
Next Broderie Square Neck Top
£28, Next
VIEW NOW: Next Broderie Square Neck Top
M&S Collection Pure Linen Checked Short Sleeve Blouse
£20 (was £25), M&S
VIEW NOW: M&S Collection Pure Linen Checked Short Sleeve Blouse
Monsoon Ellen Embroidered Blouse
£38.50 (was £55), Monsoon
VIEW NOW: Monsoon Ellen Embroidered Blouse
Oliver Bonas Floral Print Burnout Top
£49.50, Oliver Bonas
VIEW NOW: Oliver Bonas Floral Print Burnout Top
M&S Collection Satin Floral V-Neck Relaxed Popover Blouse
£25, M&S
VIEW NOW: M&S Collection Satin Floral V-Neck Relaxed Popover Blouse