Lightweight summer sleepwear that's also great for menopausal women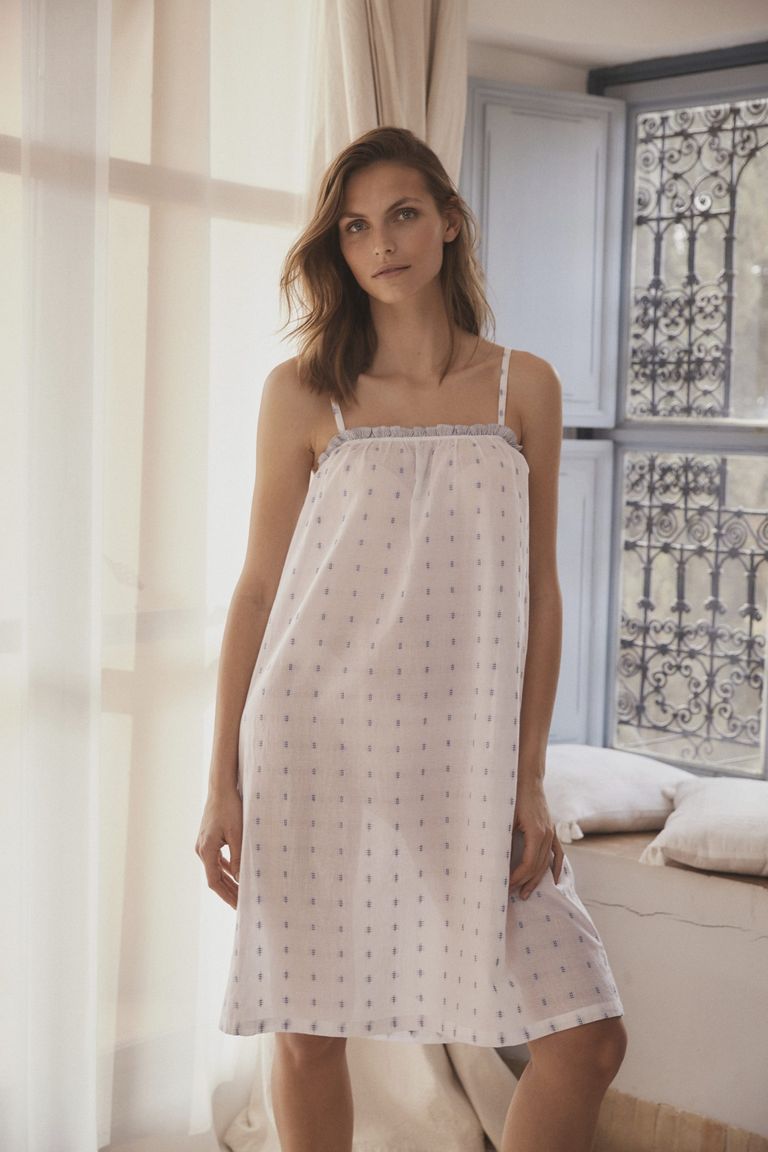 Welcome to woman&home's online shopping guides, where we reveal where to buy the most popular and top-rated products. This guide is about where to the best summer sleepwear to keep you cool, but you may also be interested in our edits of flattering swimwear styles for every shape, Monsoon dresses we're obsessed with and leopard print sandals.
Lightweight summer sleepwear is not only great for when summer comes around - it also helps menopausal women deal with night sweats!
Hot flushes and night sweats are common night-time occurrences, especially in the summer months and as your body changes with menopause these can increase dramatically.
As the seasons change so does your sleep routine, so you'll need to adjust your bedtime wardrobe for some cooling sleepwear. The best fabrics work hard to let the body breathe and wick away sweat and moisture as you sleep, so you can snooze without interruptions.
What should I wear for night sweats?
The first and most important thing you need to consider when shopping for cooling pyjamas is the material they are made from. 100% natural fabrics such as cotton, linen and merino wool are optimal choices for those overheating issues, as they're more breathable than synthetic fabrics.
However that's not to say that synthetic fabrics can't be worn. Many of the specialist menopause sleepwear brands use clever combinations of natural and synthetic fibres that are specially designed to draw moisture away from the body and into the fabric.
An example are leading menopause sleepwear brand Dagsmejan, who combine the finest natural fibres, with the latest sleep technology and innovative textile engineering. They use fabrics such as Lyocell which is more breathable than cotton, containing millions of invisible nanocapillaries in its fibres, which allow excess heat to be released. Its unique structure means it offers 50% better moisture management than cotton. They heavily focus on sustainability too - Lyocell is one of the most sustainable fabrics around, and their Nattwarm™ merino yarn is bluesign® certified.
Dagsmejan's most cooling nightwear claims to be softer than silk, cooler than linen and better moisture management than cotton. It features NATTCOOL™ a fabric which is eight times more breathable than cotton. This cleaver water wicking fabric also dries in a third of the time of cotton!
But there are loads of sleepwear options that will keep you cool throughout your slumber, without scarifying style or comfort.
Best lightweight summer sleepwear
Here's our pick of the best high street and specialist menopause brands...
Nightire 100% bamboo clementine short sleepwear set
£69, sizes, xs-xl, nightire.com
VIEW NOW: Nightire 100% bamboo clementine short sleepwear set
John Lewis 100% cotton chambray nightdress
£35, sizes 10-20, John Lewis & Partners
VIEW NOW: John Lewis 100% cotton chambray nightdress
The White Company Woodprint lace strap 100% cotton nightie
£49, sizes xs-xl, The White Company
VIEW NOW: The White Company Woodprint lace strap 100% cotton nightie
Dagsmejan NATTWELL™ fabric: Sleep t-shirt
£63.99, sizes s-xxl, dagsmejan.com
VIEW NOW: Dagsmejan NATTWELL™ fabric: Sleep t-shirt
Desmond & Dempsey 100% cotton palm printed set
£120, Desmond & Dempsey
VIEW NOW: Desmond & Dempsey 100% cotton palm printed set
The White Company 100% cotton stripe pjama set
£70, sizes xs-xl, The White Company
VIEW NOW: The White Company 100% cotton stripe pjama set
Urbanara 100% organic cotton pyjama set
£26 (was £49) urbanara.co.uk
VIEW NOW: Urbanara 100% organic cotton pyjama set
Marks & Spencer Cool comfort technology fabric nightshirt
£18, sizes 6-26, M&S
VIEW NOW: Marks & Spencer Cool comfort technology fabric nightshirt
Become HydraDerma fabric short sleeve night dress
£44.95, becomeclothing.com
VIEW NOW: Become HydraDerma fabric short sleeve night dress
Cucumber Clothing Raspberry ribbon tie top in 37.5® Technology
£89, sizes xs-xl, Cucumber Clothing
VIEW NOW: Cucumber Clothing Raspberry ribbon tie top in 37.5® Technology
Cucumber Clothing Raspberry shorts in 37.5® Technology
£65, sizes xs-xl, Cucumber Clothing
VIEW NOW: Cucumber Clothing Raspberry shorts in 37.5® Technology
Toast 100% cotton double soft pyjamas
£99, Toast
VIEW NOW: Toast 100% cotton double soft pyjamas
Piglet Blueberry 100% linen pyjama set
£90, sizes s-l, pigletinbed.com
VIEW NOW: Piglet Blueberry 100% linen pyjama set
Linen Shed Long 100% linen nightgown
£101, sizes xs-xl, linenshed.co.uk
VIEW NOW: Linen Shed Long 100% linen nightgown
Zayana Eco friendly cooling sleeved nightdress
£75, sizes s-l, zayana.co.uk