The Monsoon dresses the woman&home fashion team are obsessed with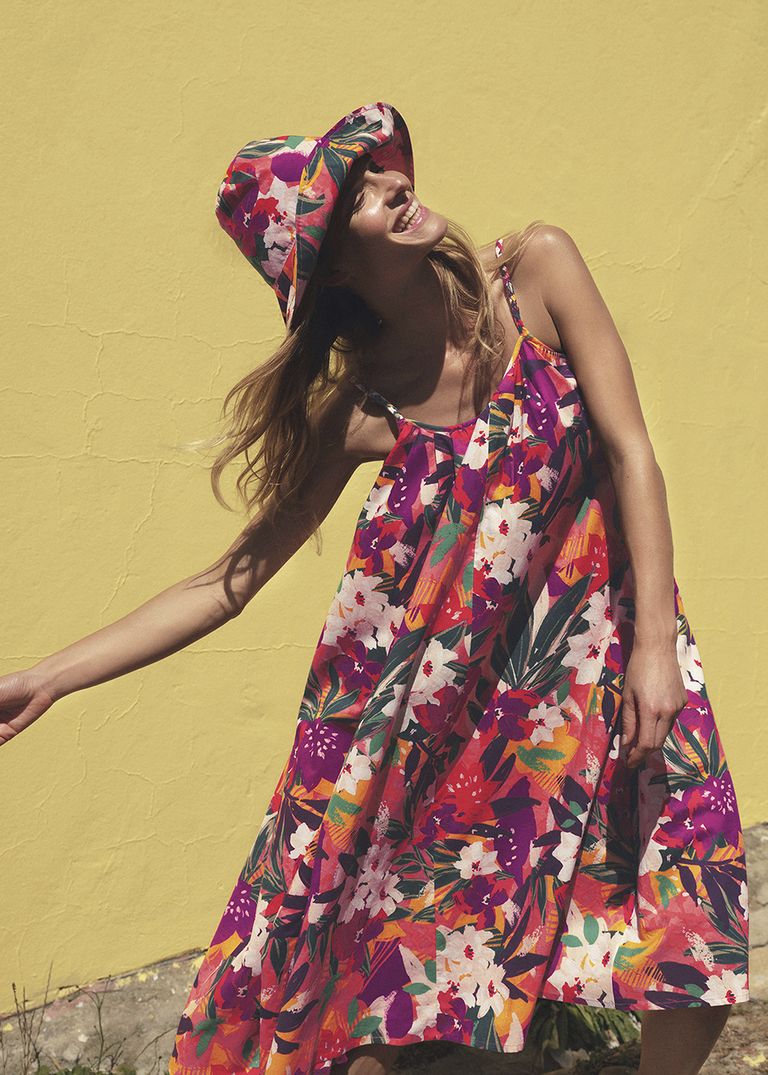 During the past few months, most of us started lockdown living in comfortable loungewear. But as summer approaches and we've adapted to spending more time at home, we've been craving looking and feeling stylish again - something that's instantly solved with a daytime dress.
You just can't beat a 'throw on and go' dress - no faffing around pairing tops and bottoms, just throw it on with your favourite pair of sandals and your ready to face the world.
Monsoon's vast selection of casual dresses are just perfect for socially distanced picnics, BBQ's and casual lounging. What we love about Monsoon's dresses is the huge variety of midi lengths; they also have tonnes of arm covering sleeve options and most importantly the quality. Focus is on fabrics that are kind to the environment - organic cottons, breathable linens and sustainable viscose mean the life cycle of these garments is long, so you'll be wearing them time and time again.
Monson is a brand that has focused on ethics and sustainability way before it was fashionable, meaning that compared to the rest of the high street they are way ahead of their game. This summer, over 50% of the entire collection was sustainably made and their goal for the not too distant future of 2023 is to have over 90% of their total range made with sustainable fabrics.
READ MORE: Everything you need if you're rediscovered the joy of cycling during lockdown
Helen Wall, Head of Monsoon Brand Communication, says, "This season has been completely changed by Lock down….We are seeing fashion in a whole new light as we begin to see ourselves differently. The season has become about optimism, quality and comfort. Over all it is about being kind to the environment and the people around us. Monsoon products are made with care and love with versatility in mind."
If you love colour and print Monsoon is certainly the place to head. Prints are energetic and optimistic with abstract florals, spots, palms and painterly stripes/ tie-dyes.
Best Monsoon dresses to shop now
Monsoon Alaska printed dress in organic cotton
£55, sizes,s-xl, Monsoon
VIEW NOW: Monsoon Alaska printed dress in organic cotton
Monsoon Ivy ditsy midi Bardot dress in sustainable viscose
£65, sizes s-xxl, Monsoon
VIEW NOW: Monsoon Ivy ditsy midi Bardot dress in sustainable viscose
Monsoon Denim shirt dress in recycled cotton
£60, sizes 8-22, Monsoon
VIEW NOW: Monsoon Denim shirt dress in recycled cotton
Monsoon Embroidered sustainable dress
£65, sizes s-xl, Monsoon
VIEW NOW: Monsoon Embroidered sustainable dress
Fitsy floral midi in organic cotton
£60, sizes s-xl, Monsoon
VIEW NOW: Fitsy floral midi in organic cotton
Monsoon Floral linen and organic cotton sundress
£65, sizes s-xxl, Monsoon
VIEW NOW: Monsoon Floral linen and organic cotton sundress
Monsoon Linen and organic cotton midi dress
£60, sizes 8-22, Monsoon
VIEW NOW: Monsoon Linen and organic cotton midi dress
Monsoon Heshna printed midi dress with linen and organic cotton blue
£60, sizes s-xxl, Monsoon
VIEW NOW: Monsoon Heshna printed midi dress with linen and organic cotton blue
Monsoon Sarasa printed maxi dress in lenzing ecovero blue
£60, sizes s-xl, Monsoon
VIEW NOW: Monsoon Sarasa printed maxi dress in lenzing ecovero blue
Monsoon Serenity spot print jersey midi dress
£60, sizes_s-xl, Monsoon
VIEW NOW: Monsoon Serenity spot print jersey midi dress
Monsoon Hope textured tiered midi dress red
£65, sizes 8-22, Monsoon
VIEW NOW: Monsoon Hope textured tiered midi dress red
Monsoon Tiered hem midi dress
VIEW NOW: Monsoon Tiered hem midi dress
Monsoon Sustainable fabric spot tiered midi dress in lenzing ecovero blue
£49, sizes s-xxl, Monsoon
VIEW NOW: Monsoon Sustainable fabric spot tiered midi dress in lenzing ecovero blue