The Winter Hats That Won't Give You Hat Hair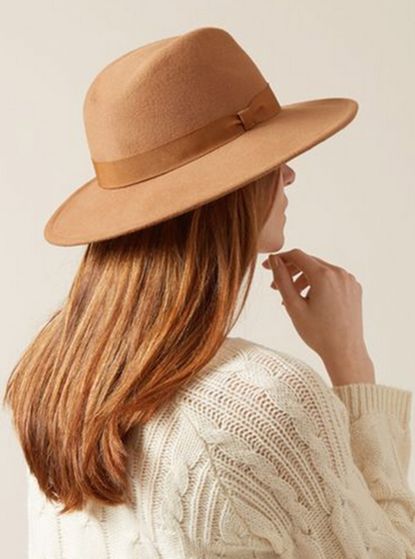 As the winter months roll in it's important to stay wrapped up warm and for many of us this means turning to our winter hat, scarf and glove collections. The only problem is that often when opting for a warm winter hat you hair can be left static, frizzy and a general mess when you take it off your head.
Tight fitting bobble hats are often the issue when it comes to hat hair, so the trick is to opt for something slightly more loose fitting and more gentle on your head and hair - such as the fedora style!
We've scouted the high street for the best winter hats that won't give you "hat hair", so you don't have to compromise on style and warmth!
Colour Blocked Hat, £144.95, (opens in new tab)Scotch & Soda, (opens in new tab) (opens in new tab)
This colour block hat is perfect for A/W and the grey and brown hues give it an autumnal feel. The gold bug brooch also gives the hat a bit of individuality, pair is with a chunky turtleneck knit for a winning wintry look.
Grey Marl Fedora, £22, Next (opens in new tab)
Grey fedoras are perfect for this time of year as they protect your hair from the elements and the colour makes this hat more autumnal. Pair it with a black coat, jeans and boots for a dressed-up everyday look that looks effortlessly put together!
Urbi Bobble Hat, £75, Iris (opens in new tab)
The stretchy material on this winter hat makes it slightly more forgiving on your hair, rather than clinging to your head it simply sits on top of your hair.
Francessca Fedora, £45, Hobbs (opens in new tab)
This camel fedora from Hobbs is great for adding to a relaxed winter look. Style it with your favourite winter coat and over the knee boots for added sophistication.
Faux Fur Pompom Hat, £25.99, Zara (opens in new tab)
The faux fur material covering this pom pom hat is silky on top of your head so prevents static hair. It's also incredibly cosy and soft - perfect for battling the cold winter months.
Check Baker Boy Hat, £15, M&S (opens in new tab)
The baker boy hat has made a comeback this year and is another great alternative to the traditional winter bobble hat. The oversized back design means the cap sits nicely on your head and doesn't flattern hair. This check one from M&S is an on-trend twist on the classic style.
Adella Fedora Hat, £25, Animal (opens in new tab)
A classic black fedora works all year round and is perfect for avoiding hat hair due to the fact it sits comfortably on your head and doesn't cling or compress hair your hair too much underneath. This timeless style works with a whole range of winter outfits and the brown trim gives it a seasonal edge.