Reese Witherspoon steps out for the first time since announcing her divorce in a slinky black dress
It's giving Princess Diana vibes...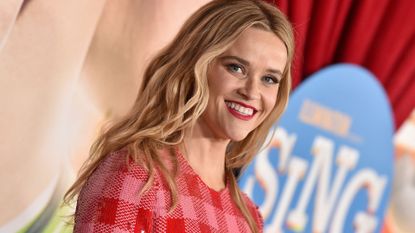 (Image credit: Getty Images)
In her first public appearance since her recent divorce announcement, Reese Witherspoon stepped out in a chic, slinky black dress - and it's making us think of Princess Diana's revenge dress.
Reese Witherspoon always looks amazing, but we're particularly obsessed with the look she sported on the red carpet for her new show, The Last Thing He Told Me. The premiere came just three weeks after the star announced her divorce from husband, Jim Toth - and whether it was intentional or not, we can't get over how amazing she looks in her sexy, black, revenge-style dress.
Jennifer Garner was also at the premiere, with the author of the novel The Last Thing He Told Me, Laura Dave, also present. The show, which is based on the novel, is also produced by Reese's production company Hello Sunshine, which has also produced hits like Daisy Jones & The Six and Little Fires Everywhere.
For this red carpet, Reese chose to rock a mid-length, sparkly black dress from Givenchy. The dress featured a one-shoulder neckline, as well as a high slit on her right leg for an added layer of glamour. She finished the look with a pair of sleek black pumps from Aquazzura, and wore her hair down with a deep side part with her signature fresh, blonde color.
This premiere came just three weeks after Reese announced her divorce on Instagram in a post that is now deleted from her account. The post read, "We have some personal news to share... It is with a great deal of care and consideration that we have made the difficult decision to divorce. We have enjoyed so many wonderful years together and are moving forward with deep love, kindness, and mutual respect for everything we have created together."
The couple shares a 10-year-old son, Tennessee, and Reese said is their "biggest priority."
"Our biggest priority is our son and our entire family as we navigate this next chapter," she continued. "These matters are never easy and are extremely personal. We truly appreciate everyone's respect for our family's privacy at this time."
We've always admired Reese for her strength and positive demeanor, and clearly she isn't letting her personal life slow her down, seeing as the star looked effortless at the premiere.
We also can't help but think that Reese's slinky black dress is giving a bit of a nod to a former Royal's similar post-breakup appearance - and yes, we're talking about Princess Diana's iconic "revenge dress."
Princess Diana debuted her classic "revenge dress" at the Serpentine Gallery in 1994 - the same night that Prince Charles admitted to his affair with Camilla Parker Bowles on national TV. So, although there is reportedly "no drama" between Reese and Jim, we're loving the glamor her latest look gives.
Madeline Merinuk is woman&home's US lifestyle news writer. She covers celebrity, entertainment, fashion, and beauty news but is also obsessed with internet trends - you can find her reciting trending TikTok sounds out loud at any given time.
After winning multiple student journalism awards for her investigative work, she graduated from Hofstra University in 2021 with a B.A. in Journalism. After graduating, she worked at today.com, the digital site for the Today Show, where she wrote pop culture news and interviewed big-name personalities like Emily Ratajkowski, Haley Lu Richardson, Emma Corrin, and more.
Her personal interests, in no particular order, are: cheese, Joni Mitchell, reading, hot yoga, traveling, having multiple chapsticks in every handbag at all times, and dancing to ABBA songs as if she were in the Mamma Mia movies.