Is Sam Claflin actually singing in Daisy Jones & The Six?
Fans of Daisy Jones & The Six are all wondering the same thing - is Sam Claflin actually singing in the show?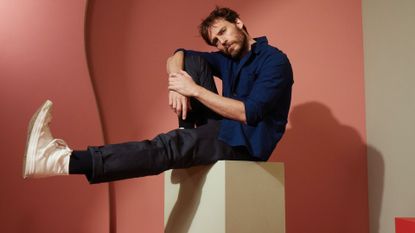 (Image credit: Getty Images)
With the rise in popularity of Amazon Prime's newest hit series, Daisy Jones & The Six, fans have been wondering, is Sam Claflin actually singing in Daisy Jones & The Six?
Daisy Jones & The Six is based on the best-selling novel of the same title by Taylor Jenkins Reid, and is about the rise and fall of the fictional 70s rock band Daisy Jones & The Six. The book, and now series, is loosely based on the dynamic of Fleetwood Mac - particularly that of Stevie Nicks and Lindsay Buckingham, which mirrors the complicated relationship between the two main characters of the series, Daisy (Riley Keough) and Billy (Sam Claflin).
In the show, audiences can see all of the members of the fictional band singing themselves, and playing their own instruments - but it's leaving fans to wonder if the cast is actually singing and playing, or if it's just a facade for the show.
Is Sam Claflin actually singing in Daisy Jones & The Six?
Sam Claflin who plays Billy actually posted a TikTok of him revealing how he learned to sing and play the guitar with different members of the band, revealing that, yes, he and his cast mates ARE actually singing and playing, all the way up to that crushing finale episode.
He also told AP about how scared he was to prepare for the role. "They said, 'OK, there's about 15 songs you're going to need to learn. Oh, and can you play guitar?" he recalled. "I didn't play guitar and I barely had sung. I never recorded anything. It was quite an immediate shock of terror and fear and pressure."
So, yes, Sam, Riley, and the rest of the cast really are singing and playing their hearts out. In fact, the crew actually attended an 18-month-long band camp to prepare to become, well, a real band.
"If we can't convince you that Daisy Jones & the Six are a real band we've got nothing," the show's co-creator Scott Neustadter told the LA Times. "That meant putting the actors through a rigorous 'band camp'... where for hours every day they would practice their instruments, learn Blake [Mills]'s brand new songs, work on their stage presence or otherwise just shoot the s— like real bandmates do."
As for Riley, who is Elvis Presley's granddaughter, might we add, she didn't have any singing experience before the filming of the show either - although you'd never know, judging by her amazing vocals in the show. In fact, she actually lied to the casting agents on the show about her singing abilities just so she could land the role.
"I think I blacked out on that meeting. I don't really remember what happened," she said during a panel in New York. "And then I auditioned like everybody else, and lied to them and told them l could sing." After that, she underwent rigorous vocal and music training, just like the rest of the cast - and as fans can clearly see, it paid off.
Madeline Merinuk is woman&home's US lifestyle news writer. She covers celebrity, entertainment, fashion, and beauty news but is also obsessed with internet trends - you can find her reciting trending TikTok sounds out loud at any given time.
After winning multiple student journalism awards for her investigative work, she graduated from Hofstra University in 2021 with a B.A. in Journalism. After graduating, she worked at today.com, the digital site for the Today Show, where she wrote pop culture news and interviewed big-name personalities like Emily Ratajkowski, Haley Lu Richardson, Emma Corrin, and more.
Her personal interests, in no particular order, are: cheese, Joni Mitchell, reading, hot yoga, traveling, having multiple chapsticks in every handbag at all times, and dancing to ABBA songs as if she were in the Mamma Mia movies.