Will there be a season 2 of Daisy Jones & The Six - and how does the ending of season 1 pan out?
Could the show that has inspired a '70s style resurgence return for a second season?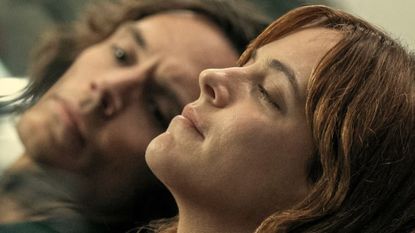 (Image credit: Amazon Prime Studios)
The finale episodes of Daisy Jones & The Six are right around the corner, which is leaving fans wondering - will there be a season 2 of Daisy Jones & The Six?
If you've been singing the recently released songs from Daisy Jones & The Six like Regret Me, Let Me Down Easy, and The River over and over again in your head, you're not the only one. The show, which was adapted from Taylor Jenkins Reid's hit novel of the same title, has been nothing short of a success, reaching No. 1 on Amazon Prime Video's Top 10 list in the US just hours after the very first episode was released.
With all of the success the show is reaching, along with its stars Riley Keough, Sam Claflin, Suki Waterhouse, Camila Morrone, and more, it's no wonder fans are wondering if the show will extend to a season 2, or if the 10 episodes that were originally promised will be it for the fictional band's story.
Plus, after the soul-crushing, tear-jerking season 1 finale (don't worry, we'll warn you when spoilers are ahead), we understand that you might need to extra confirmation so you can mourn the ending of season 1 properly.
Read on to find out what we know so far about season 2 of Daisy Jones & The Six.
As of right now, there's no word about a season 2 of the beloved '70s show. Way to "let you down easy," right?
Since there is no sequel to the book, there is a slim chance that a season 2 could happen, seeing as there's no material beyond the ending of the book. However, we've seen this done before with other shows like You on Netflix - and as we all know, that show is pretty damn successful.
Fans of the book know that the ending of the story between Daisy, Billy, and all of the other characters is pretty final - but Taylor Jenkins Reid is a genius, and we wouldn't put it past her to put that genius to work in writing a second season.
Plus, after that episode 8 ending, who would have known what liberties the writers would have taken with the story.
How did season 1 of Daisy Jones & The Six end?
Fans saw the rocky dynamic between Daisy and The Six's frontman, Billy. In a classic will they/ won't they trope, fans were left to watch episodes 9 and 10 (which released on Friday, March 24) where we inevitably saw the rise and fall of Daisy, Billy, and the band as a whole.

***warning - spoilers ahead***
If you've read the book, you know how the story ends. Daisy and Billy don't make it, and he stays committed to Camila and their family, before disaster strikes on their family and Camila, unfortunately, dies. We also find out that Julia, Billy and Camila's daughter, is the one conducting all of the documentary-style interviews, which ultimately bring the band together to tell their story.
In the show's finale, exactly the same thing happens. Daisy gets sober and has a daughter of her own, and continues to make music on her own. Karen also continues her own solo career, touring exactly like she wanted to. Warren marries a movie star, and lives a happy life with her and his kids. Graham moves home, and marries a hometown woman from Pittsburgh.
In a heartwarming series of scenes, we find out that Camila dies of cancer, and her daughter, Julia allows Daisy and Billy to see footage of her right before she died. She prompts Billy, in the video, to call Daisy to rekindle their relationship. Although we never find out exactly the details of their rekindling, we do know that they reunite at the end of the episode.
The show had taken liberties with the foundation of the book (leaving fans with questions like, why are there only FIVE members of Daisy Jones & The SIX?), we could have potentially seen the writers taking a slightly different path - but we're glad, ultimately, that they stuck to the true ending of the book.
Madeline Merinuk is woman&home's US lifestyle news writer. She covers celebrity, entertainment, fashion, and beauty news but is also obsessed with internet trends - you can find her reciting trending TikTok sounds out loud at any given time.
After winning multiple student journalism awards for her investigative work, she graduated from Hofstra University in 2021 with a B.A. in Journalism. After graduating, she worked at today.com, the digital site for the Today Show, where she wrote pop culture news and interviewed big-name personalities like Emily Ratajkowski, Haley Lu Richardson, Emma Corrin, and more.
Her personal interests, in no particular order, are: cheese, Joni Mitchell, reading, hot yoga, traveling, having multiple chapsticks in every handbag at all times, and dancing to ABBA songs as if she were in the Mamma Mia movies.