Is Daisy Jones and The Six based on a true story? Everything to know about the limited series
All of your questions about the book-to-TV adaptation, answered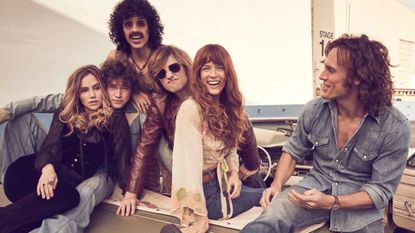 (Image credit: Amazon Studios)
If there's one message that continues to ring true in the world, it's that rock n' roll is here to stay - and Amazon Prime's new limited series, Daisy Jones & the Six, proves it.
The new series, based on the bestselling novel by Taylor Jenkins Reid, which premiered in early March 2023 with a stacked cast, has already sent fans of the book into a rock n' roll induced tizzy.
The 2019 novel centers around Daisy Jones and her band members, trying to navigate the jungle that is the 1970s music industry. Based loosely on the dynamic of Fleetwood Mac, the tell-all novel explores a rock band whose success is altered by addiction, relationships, and a slew of tumultuous events - and more than 20 years later, the band is ready to tell their story to the world, documentary style.
Here's all you need to know about the highly-anticipated series, including whether or not it's based on a true story, who's in the cast, and more about the show's premiere.
When do new episodes of Daisy Jones & the Six come out?
Daisy Jones & the Six, which is on Amazon Prime, released its first three episodes on March 3.
The rest of the episodes will be released periodically throughout the month of March, with episodes four through six coming out on March 10, seven and eight on March 17, and nine and ten coming out on March 24.
Needless to say, your Friday nights in March are going to be booked - so don't make plans.
Who's in the cast of Daisy Jones and the Six?
When casting the main character, Daisy Jones, it was imperative to pick someone who exudes '70s rock n' roll "it girl" vibes, and that they did. Riley Keough, the granddaughter of music legend Elvis Presley and daughter of the recently deceased Lisa Marie Presley, plays Daisy Jones - with Sam Claflin playing opposite Riley as Billy Dunne, the troubled rockstar and frontman of the band.
Other cast members include:
Camila Morrone as Camila Dunne
Will Harrison as Graham Dunne
Suki Waterhouse as Karen Sirko
Josh Whitehouse as Eddie Roundtree
Sebastian Chacon as Warren Rhodes
Nabiyah Be as Simone Jackson
Tom Wright as Teddy Price
Timothy Olyphant as Rod Reyes
When is Daisy Jones & the Six set?
ICYMI, Daisy Jones & the Six takes place in the '70s, following the titular band (neé The Dunne Brothers) on their journey to fame - and their eventual pickup of their female lead singer, Daisy Jones herself.
Fans have noted that one of their favorite parts about watching the show is getting to see the costumes that perfectly exude '70s rock energy. "they all feel as though you went back in time and plucked each piece from the decade!" one person commented on TikTok about the cast's costumes.
The costume designer for the show, Denise Wingate, shared a bit of her process behind curating the pieces for each character on Hello Sunshine's TikTok. "I didn't want it to look like a 70s costume movie," Denise says. "What I really wanted it to look like was real and authentic."
She also said that the cast loved to collaborate with her on finding perfect pieces for each episode. "We would always be texting each other pictures and ideas," she says fondly.
Is Daisy Jones & the Six based on a true story?
The answer is a bit complicated. In short, no, it's not exactly based on a true story, seeing as Daisy Jones & the Six is a fictional band and all of the characters in the novel are fictional.
However, author of the novel, Taylor Jenkins Reid, has said on multiple occasions that the novel is loosely based on a real band that we all know and love for their iconic contributions to soft rock.
What real band is Daisy Jones & the Six based on?
TJR has revealed in the past that DJ&TS is, in fact, based on Fleetwood Mac and the dynamic between the members of the legendary rock band.
"[W]hen I decided I wanted to write a book about rock 'n' roll, I kept coming back to that moment when Lindsey [Buckingham] watched Stevie [Nicks] sing 'Landslide,'" Taylor wrote in a guest post for Hello Sunshine.
"How it looked so much like two people in love. And yet, we'll never truly know what lived between them. I wanted to write a story about that, about how the lines between real life and performance can get blurred, about how singing about old wounds might keep them fresh," she continued.
Can I listen to music from Daisy Jones & the Six?
Fans will be delighted to know that you can actually stream their music on all music streaming platforms.
When Taylor wrote the novel, she wrote lyrics for a plethora of the band's songs, which can be found in the back of the book. One of the most central songs from the novel, "Regret Me," was the first to be available to stream ahead of the show's premiere, and the rest of the songs recently got released on all streaming platforms on their album, "Aurora."
Some of the popular songs on the album include "Let Me Down Easy," "The River," and eternal fan-favorite, even from the lyrics in the back of the book, "Look At Us Now (Honeycomb)," which fans got to hear a taste of in episode three.
Daisy Jones and Billy Dunne: The Aurora World Tour pic.twitter.com/ZxMzwGRGz4February 6, 2023
See more
In a delightful surprise, all of the songs are sung and played by the cast members. For not having been rockstars prior to shooting Daisy Jones, we'd say that's pretty impressive. In fact, the cast revealed prior to the show's release that they actually attended "band camp" to prepare for the show, where Sam, Riley, Suki, and the other cast members all learned their respective instruments and how to sing.
In an interview with Vanity Fair, Riley and Sam specifically revealed that they had undergone pretty extensive vocal training to prepare for the show. "I'm gonna go to this vocal coach, and he's gonna teach me how to f-cking belt, whatever I need to do to get this. It really became about pushing myself to do things I've never done before," Riley said.
Madeline Merinuk is woman&home's US lifestyle news writer. She covers celebrity, entertainment, fashion, and beauty news but is also obsessed with internet trends - you can find her reciting trending TikTok sounds out loud at any given time.
After winning multiple student journalism awards for her investigative work, she graduated from Hofstra University in 2021 with a B.A. in Journalism. After graduating, she worked at today.com, the digital site for the Today Show, where she wrote pop culture news and interviewed big-name personalities like Emily Ratajkowski, Haley Lu Richardson, Emma Corrin, and more.
Her personal interests, in no particular order, are: cheese, Joni Mitchell, reading, hot yoga, traveling, having multiple chapsticks in every handbag at all times, and dancing to ABBA songs as if she were in the Mamma Mia movies.